Leu Gardens in Orlando, formally known as Harry P. Leu Gardens is a natural oasis tucked away just outside Downtown Orlando. The gardens span over 50,000-square-foot of lush plants and natural scenery. This garden is known for its climate, which offers evergreen views. Visiting this botanical garden offers the chance to find various colorful flowers and plants. In addition to the gardens, you can also visit the Leu House Museum after seeing them.
Known for its lush gardens, this lush oasis is a tranquil escape from the city's bustle. The Harry P. Leu Gardens are a wonderful place to spend a day, but there are a few things you need to know. We have created a complete guide covering everything you need to know for your garden visit. Let's dive into the beauty of Lue Gardens in Orlando.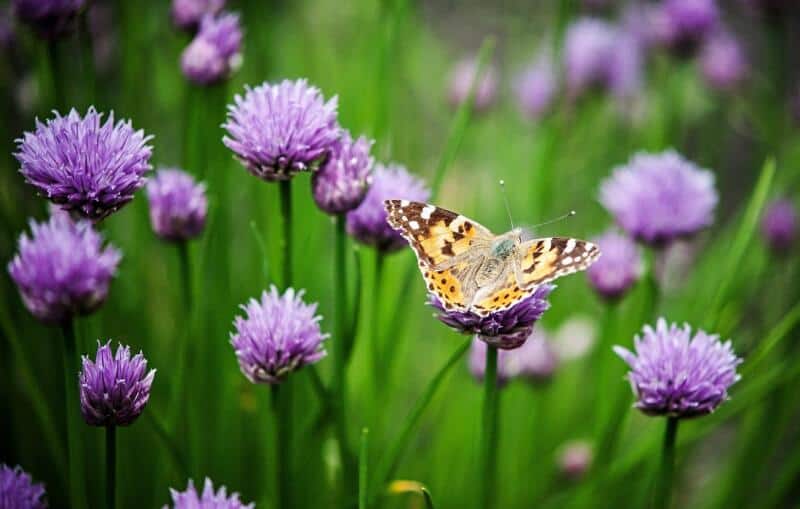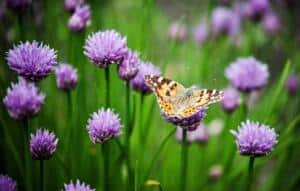 This post may contain affiliate links. Please read our disclosure and privacy policy for more information.
Why Visit Lue Gardens in Orlando?
Orlando's Leu Gardens offer several different areas to explore. As you enter the tropical stream garden, it feels like a tropical jungle in Hawaii! The gardens are the main attraction, but there is a gallery and some exhibits in the main house.
It is not surprising that the rose garden of Leu Gardens in Orlando, Florida is one of the most beautiful flower gardens in the world. Besides, it is Florida's most extensive rose garden. Be sure also to check out the Idea Garden and Butterfly Garden. In addition, you might also enjoy exploring the Herb and Arid garden if you are a green thumb.
You can either walk to the flower gardens or go for a walk in the woods. Forest bathing and reflection are fantastic in the woods. There are many historic trees, some dating back centuries! Strolling along the lakeside paths lined with palms and bamboo is a treat.
Harry P. Leu Gardens Offers
The Gardens
Flower Tree Collection
Unique Events all year long
Birds & Art
Leu House Museum
Garden House
About Leu Gardens In Orlando
The Harry P. Leu Gardens are semi-tropical and tropical gardens in Orlando, Florida. In 1858, the Mizell Family farmers first owned the Leu Gardens and Leu House Museum. Afterward, they came under the ownership of actress Helen Gardner and her husband, Duncan Pell. The Woodward family then took over the house and brought it to its current size. After Harry P. Leu and Mary Jane, the mansion was named in 1936.
Their gardens are home to more than 240 varieties of camellias, which they acquired worldwide. Leu deeded the house to the city in 1961.
The Location Of Lue Gardens
This 50,000-square-foot garden can be found outside Winter Park and is easy to reach from the I-4 to the downtown area. And, it can be easily reached from the Orlando Airport, a short, half-hour drive. You can see the interface from the road and free parking. The gardens are only a few minutes away from Park Ave in Winter Park.
Address Of Harry P. Leu Gardens
1920 N Forest Ave, Orlando, FL 32803
From Kissimmee and Attractions Area
Take I-4 East to Exit #85, Princeton Street. Turn right onto Princeton Street and follow the signs to Leu Gardens.
From the Airport Area
Take Semoran Blvd./State Road 436 and head north to Route 50/Colonial Drive. Make a left onto Route 50/Colonial Drive, and head west to Mills Avenue. Turn right onto Mills Avenue and head north to Virginia Avenue. Turn right onto Virginia Avenue and follow the signs to Leu Gardens.
From the Daytona & Altamonte Springs Area
Take I-4 West to Exit #85, Princeton Street. Turn left onto Princeton Street and follow the signs to Leu Gardens.
When To Visit Harry P. Leu Gardens?
The Leu Gardens in Orlando are always in bloom, so that you can visit them anytime, regardless of the time of year! Because the garden is located in Florida, October through April are the most comfortable months for walking about because of the weather. If you are visiting in the summer season, ensure you bring an umbrella for two reasons. One, it rains daily, and two, for shade from the relentless sun.
Leu Gardens is open from 9 am to 5 pm every week.
In the winter, the afternoon light is beautiful, and many consider this the best time to enjoy the dazzling lights and beauty of the Leu Gardens. Enjoying the garden in the sunlight is lovely, and there are lots of events at night.
Things To Do At Lue Gardens
Any visit here would not be complete without visiting the gardens. Ten different kinds of smaller gardens are within the Harry P. Leu Gardens. Rose gardens, idea gardens, white gardens, tropical gardens, etc. You must step into each one for the whole experience.
One of the most extensive collections of camellias in North America is at Leu Gardens. Between October and March, these flowers are in bloom.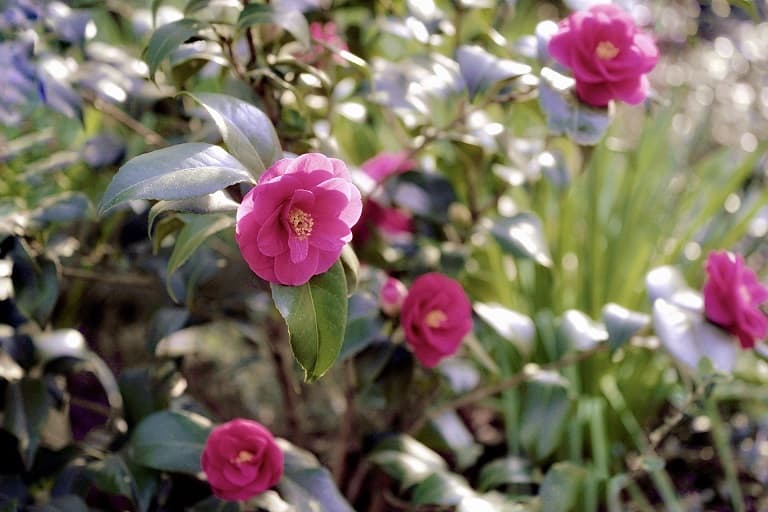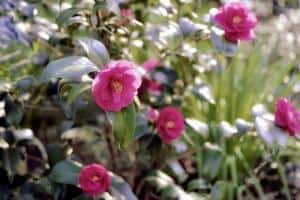 In summer, tropical flowers are also in bloom. Gulmohar and hibiscus bloom in abundance. Near the vegetable garden is a butterfly garden that's a favorite of children and adults alike. It's a pleasure to watch butterflies fluttering among the flowering plants.
The Plant Collection
There are thirteen different sections to explore at the Leu Gardens in Orlando. In addition to the main house, there are exhibitions and a gallery, but the gardens are most appealing. There are so many trees and plants that you can enjoy.
Arid Garden
Aroid collection
Azalea collection
Bamboo collection
Banana collection
Bromeliad collection
Camellia collection
Conifer collection
Cycad collection
Fern collection and more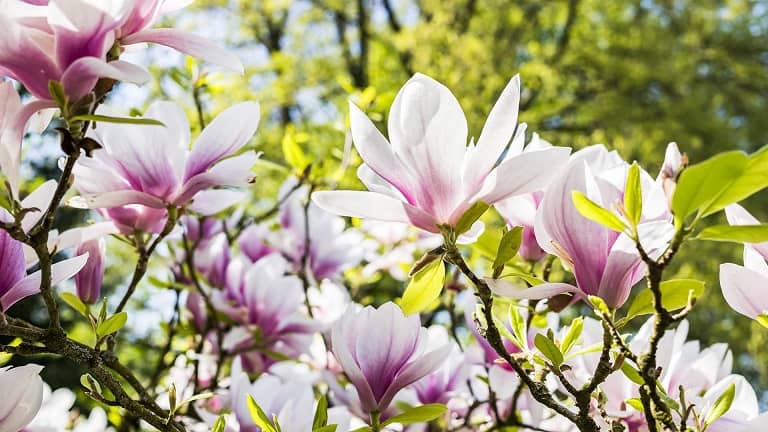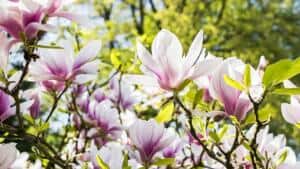 Art Exhibitions in Leu Garden
Leu Gardens is rich in arts and crafts. There are also several art collections dotted throughout the garden. There are famous pieces of art on display, such as the "Doves of Peace," "Girl on a Scooter," and the "Citrus Worker." Moreover, the Leu House Museum has an ever-changing collection of beautiful pieces that you can see. Some permanent exhibits are on display, as well as many rotating exhibits.
Outdoor Sculptures
As you wind your way through the gardens, you will encounter many different sculptures commissioned for Leu Gardens. These permanent collections have become guests' favorites, including the seven whimsical pieces in The Otfinoski Collection and the Citrus Workers.
Permanent Exhibits
Frank Farmer
Flowers For Janette is a six-foot by ten-foot piece by artist Frank Farmer in 1995. Frank Farmer's pieces are well known in Miami, Philadelphia, and New York. Created by painting enamel flowers on aluminum, this piece resembles an impressionistic rendering of flower groupings, yet the colors are solid and bold.
Other artists in the Garden House Welcome Center include:
Bill Rollo – Camellias Watercolor
John Catterall – Grove Diptych
Chrissie Mervine – Tree of Life Mosaic
The Leu House Museum
The Leu House Museum is a restored 19th-century home listed on the National Register of Historic Places. Four families owned the property before it opened to the public.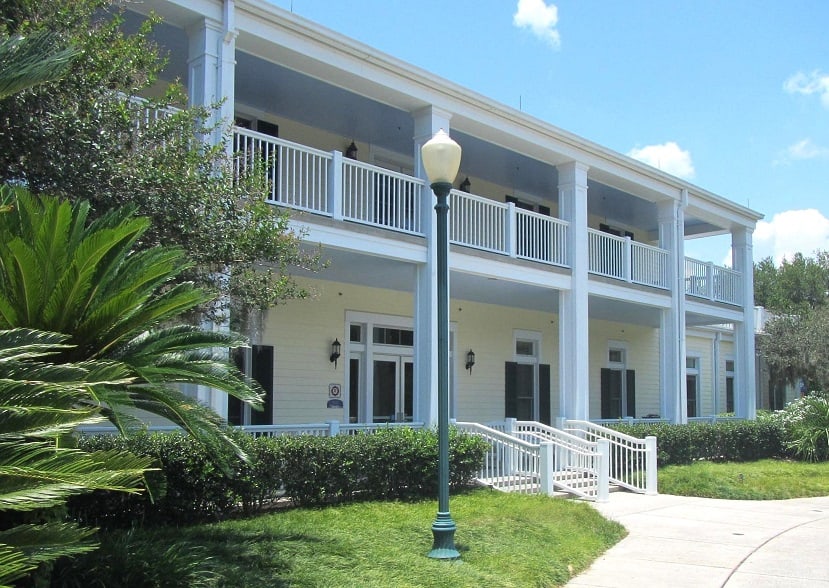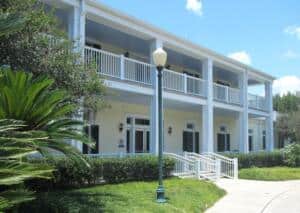 Leu's house has been restored and converted into a museum in the past year. In addition, the home is listed on the National Register of Historic Places of the state of New York. Both permanent and temporary art exhibits are displayed at the house, and visitors are invited to take a look.
The home's tall, expansive windows overlook the lush green grounds, and those alone will make you fall in love with it. In addition to the Spanish moss-covered trees, Lake Rowena could also be seen beyond them. This scene is adorable for visitors.
Events At Lue Gardens
All kinds of community events are held at the Leu Gardens in Orlando! The Leu Gardens movie night takes place every first Friday of the month, and there is an outdoor screening in the garden. This event only costs $7 and allows you to bring a picnic and drinks. They often have family movie nights, but most movies cater to adults.
Enchanted Fairy Doors – August 5 – October 31
It's the great fairy migration happening at beautiful Leu Gardens this summer! Explore the 50-acre gardens to find where the fairies live. This whimsical exhibit will feature 20 "New" one-of-a-kind fairy doors, which will inspire your child's imaginative world of mythical forests and secret gardens. You must find these beautiful doors and let your child's creativity do the rest.
Jazz'n Blues Concert – October 15
Are you ready for an incredible fall concert in Orlando's most beautiful garden? Enjoy a fantastic evening of jazz, blues, and a little bit of everything in between from some of the most popular bands in Central Florida. Pack a dinner picnic of your favorite foods and bring seating. Alcohol is permitted.
Haunting Tales – Friday, October 28
Leu Gardens' presents a spine-chilling storytelling event of the year! The Gardens' gates open at 6:00 pm for those who dare to venture in early. Goose-bump stories begin at 7:30 pm with the wickedest storytellers coming forth, one by one, to spin frightening tales.
Leaf It! – Scavenger Hunts – Now – July 31
During June and July 2022, an extraordinary scavenger hunt will take place in Leu Gardens, and all you have to do is find a leaf. Well, not just any leaf. A unique leaf is your guide. Find the leaf, and you will be rewarded with fun facts about the gardens. There are over 20 of these unique leaf to find. It's a great way to learn about some plants, a little history, and more! A fun scavenger hunt for all ages and a great teaching tool for children. Kids can come dressed up in their favorite explorer or detective costumes. You will be given a special map to help you guide you. Good luck!
Christmas At Leu Gardens In Orlando
Dazzling Nights
The gardens are illuminated during the holidays. Christmas lights and holiday music fill the Leu Gardens in Orlando during this time, decorated with Christmas lights. Music and interactive elements complete the transformation of the 50-acre Harry P. Leu Gardens into a stunning holiday wonderland. Tickets must be purchased in advance.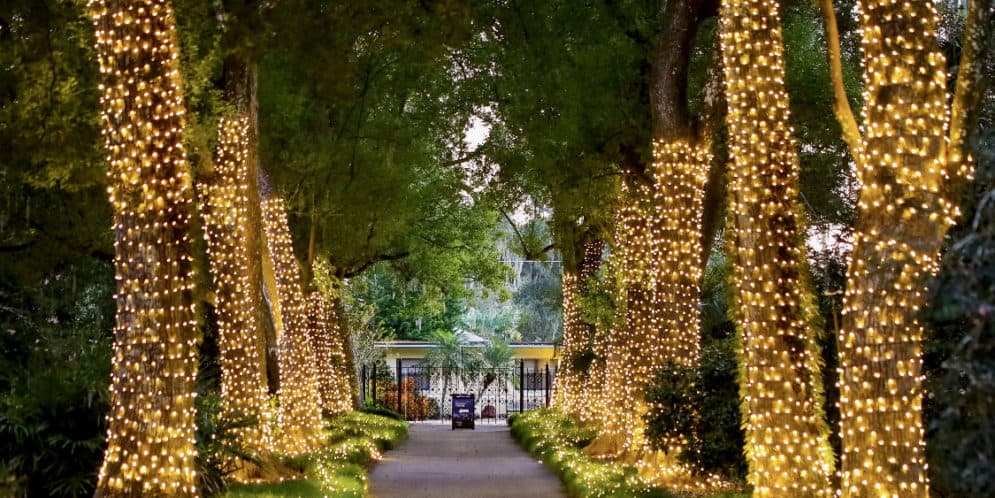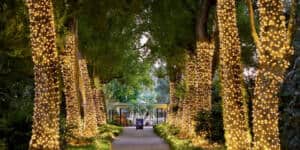 Photo Credit: Leu Gardens
Movie Night at Leu Gardens: National Lampoon's Christmas Vacation
Enjoy an outdoor movie in a beautiful garden. Blankets or chairs are recommended. You may bring a dinner picnic basket. Alcohol is permitted. This movie is rated PG13. Under 13 years of age requires an accompanying parent or adult guardian.
Weddings At Lue Gardens
You can easily arrange your weeding at Lue Gardens in Orlando, Florida. The Leu Garden is a fantastic wedding destination. You can also hold your wedding in a garden with white roses and camellias. What a lovely idea! You will be not only able to enjoy your guests' enjoyment of nature but also be able to enjoy excellent weeding at the same time. A small wedding with 25 members will cost $375. Traditional wedding with 26-27 people $750. For a large wedding, the cost is approximately $1500.
Harry P. Leu Gardens is an excellent venue for meetings and birthday parties. If you are looking for a stunning backdrop for a photo shoot, Harry P. Leu Gardens is the place to be. Leu Gardens is the perfect location for photographing family portraits, engagement photos, weddings, and gorgeous maternity photos.
Admission & Information
You can purchase admission tickets online or pay in person during your garden visit. A Daytime Garden Admission Ticket is valid for any day during daytime operating hours, is only valid once, and can be used any day during those hours. Classes and evening events are not included. Credit card payments are accepted.
For an adult, the ticket price is $15, and military and children under (4-17) have to pay $10. Children 3 or less can go for free.
Note: You can't enter the garden after 4 pm.
Free Entry Days At Leu Garden In Orlando For 2022
Free entry days at Leu Gardens are offered on select Mondays throughout the year.
Monday, July 4, 2022
Monday, August 1, 2022
Monday, September 5, 2022
FAQs
How long of a walk is Leu Gardens?
You can take as long as you like. Some people take one walk, others a five-hour walk to see Leu garden. With the sound of running water and even a small waterfall, a stroll down the tropical stream garden path is very relaxing.
Who is Harry P. Leu?
Mr. and Mrs. Harry P. Leu bought Leu House and land in 1936 to start the Leu Gardens. For their gardens, the Leus collected many types (240) of camellias from around the world in 1961.
Was Leu Gardens a Plantation?
Harry P. Leu Gardens were never a plantation. Originally planted with cotton, corn, and sugar cane, the estate initially belonged to Angeline and David W. Mizell in 1858, but it was not a plantation. The gardens are an extensive collection of plants and arts. The park is a beautiful place to give a visit. The garden offers thirteen small gardens that you have never experienced before. Besides, there are art exhibitions, birds, and different types of trees all over the 50 acres. The Leu garden Orlando is truly excellent eyesight for travelers.
How extensive is Harry P. Leu Gardens?
The P leu garden is quite long. You can take a one-hour or two-hour tour of the park. It is 50 acres of area for different plants and trees. Over 15,000 plants grow in the garden.
Can you bring food into Harry P. Leu Gardens?
Leu Gardens, Florida, allows small lunch bags to be carried by visitors. It is not permitted to picnic in the gardens except for special events.
How did Harry P. Leu make his money?
During the time of Mr. Leu, he owned a very successful industrial supply business.
Can dogs go to Leu Gardens?
No. You cannot take pets or food to Leu Gardens. The only exception is service dogs.
How far is Leu Gardens from Downtown Orlando?
The gardens are located 2.7 miles from Downtown Orlando (a 9-minute drive).
Closing Thoughts
There is a history to the Harry P. Leu Gardens that goes beyond their beauty. This is a fascinating place with a lot to see and learn. In addition to the gardens, birding opportunities, a pretty flower clock, and a museum, plenty of other activities keep you entertained. The Leu garden Fl is the true beauty of nature that you should not miss. The place is a fantastic place to visit; you go to Orland, Florida. The gardens are most beautiful in the spring. But make sure you bring sunscreen.
Looking for more gardens to explore? Start here:
We are a participant in the Amazon Services LLC Associates Program, an affiliate advertising program designed to provide a means for us to earn fees by linking to Amazon.com and affiliated sites.
Brit On The Move™ Travel Resources
Ready to book your next trip? Use these resources that work:
Need more help planning your trip? Check out our Resources Page, highlighting the great companies we trust when traveling.