Magnolia Plantation is one of the most famous places in South Carolina. There are decades of history, both great and dark, which gives the place a lot of character. Although the place's popularity gives the impression of a tourist trap, it's more significant than this. There is a lot to see and do at Magnolia Plantation, lots to learn, and if you are open-minded, it gives you first-hand insight into Southern History. This article will cover the history of Magnolia Plantation, the attractions, and everything you need to see, do and know about the place. I will also give you my take on the ethics of plantations as tourist attractions and how Magnolia Plantation.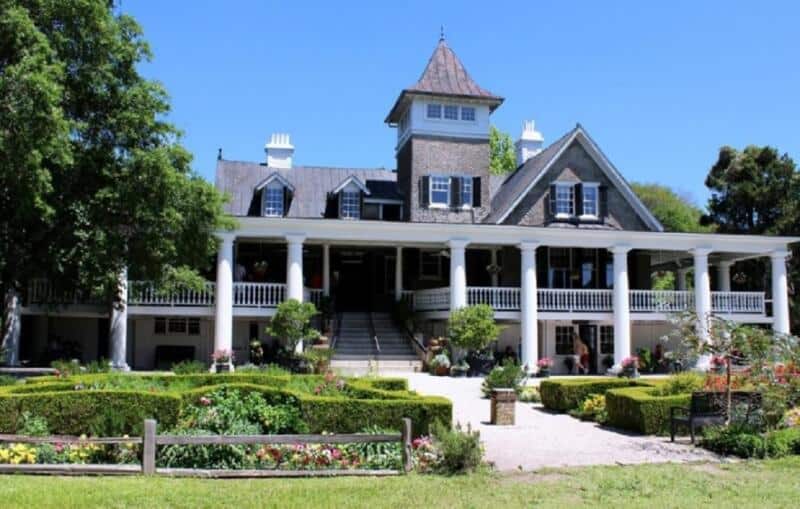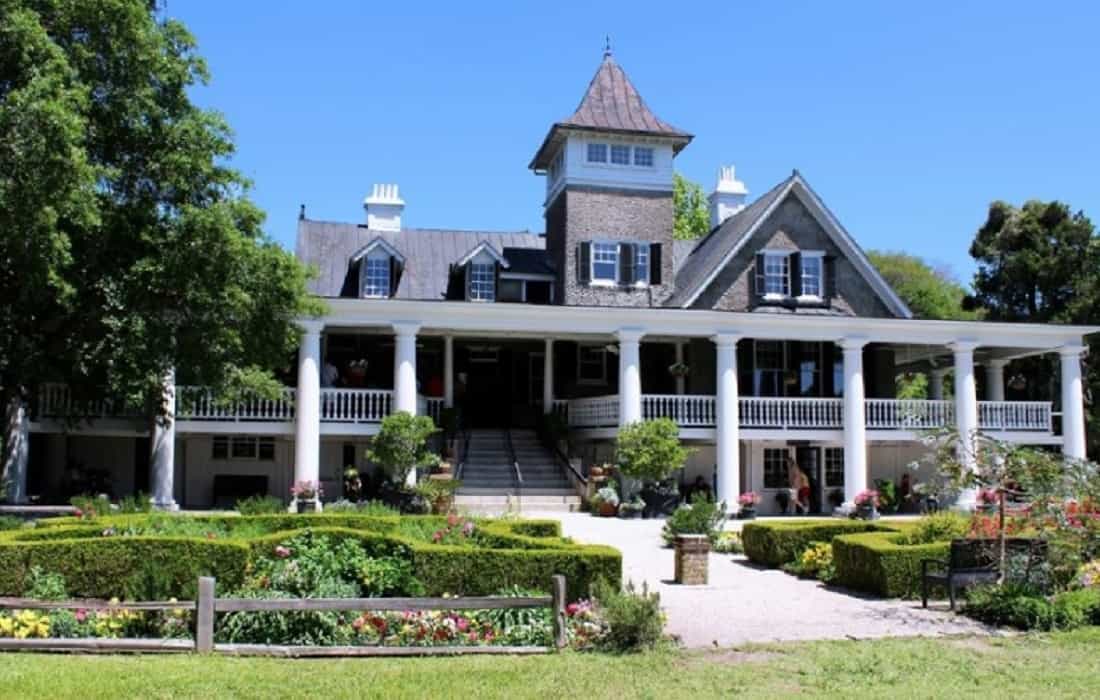 This post may contain affiliate links. Please read our disclosure and privacy policy for more information.
How Did Magnolia Plantation Land On My Radar?
Recently I've been on a journey with a dear friend to understand the trials and tribulations of black people in America through the eyes of a black person. In other words, I am learning what the experience is like firsthand without bias from news outlets, skewed agendas, or propaganda. I grew up in England. My experiences growing up were dramatically different from those of someone growing up in America.
As a part of this learning, I started to study the American slave trade and its connection to plantations of the south. I knew that plantations were considered "historical estates" and, in some cases, glorified as "romantic places to get married." I also knew that many of them offer tours which immediately implies tourism and profit.
What I wanted to understand is do these plantations cover up their dark past? Do they acknowledge and tell the story of slavery that was the backbone of their labor? Do they ignore or hide that fact that plantations were forced work camps?
When I started researching several plantations, and I admit I formed an early opinion of sheer disgust. My perception of visiting a plantation was akin to glamorizing slavery. It hasn't changed much; I still believe there's injustice. However, I did learn that not all plantations are equal in how they present themselves – and their notorious pasts.
Specific to Magnolia Plantation, I learned that progress is being made, slavery is acknowledged, and I am glad that I experienced it to form my own opinion.
If you are easily offended, not open to new thinking or perspectives, or hold on to the "glory of the Old South," this article is not for you.
My Experience Growing Up
I did not grow up in the United States, so my experiences are not the same as most that will read this. I grew up in a diverse community and early interacted with the black community. This made me ignorant or naive relative to the black communities' plight in America – more fuel for why I wanted to go on this journey. To understand how this was different, you need to understand the differences in how the majority of British Blacks arrived in England.
History Of The British Empire
Between the late 16th and early 18th centuries, The British Empire was composed of colonies and territories. Or, in other words, included countries it had taken control of. This included many Caribbean Islands and African counties. The first wave of mass immigration to Britain began during World War I. Britain called on "Afro-Caribbeans," aka black Caribbean people, to fill jobs left empty due to the drafts. This happened again in World War II.
Most colonies achieved independence by 1966, some following shortly after – some chose to remain. Until 1962 all Commonwealth citizens (those considered part of the British Empire) could freely enter the UK to work.
Now before everyone gets all fired up, let me address some facts:
Yes, The British Empire enslaved black people worldwide – long before America was discovered! And yes, the British Empire once rampaged through countries, robbing them of their independence and their assets, and then ruled over these counties as their own.
No, The British Empire as it was is not "innocent" or "immune" from its participation in the slave trade.
Yes, black people and other communities have and still do experience racism in England – however, nowhere near to the degree they would in the United States.
A simple example that should resonate with anyone is this: In England, a black person does not have to fear being shot if they get pulled over.
Now that that's out of the way, let's get back to the Commonwealth citizens who were entitled to migrate to England. Much of this migration was from Jamacia, Barbados, and Trinidad. By 1962, around 250,000 Afro-Caribbean migrants had settled permanently in the UK – 250,000 who chose to migrate.
The black community where I grew up in the 70s were the grandchildren of parents who made a conscious decision to move there. This community does not identify as "African" anything; instead, they are British or Black British.
So, where am I going with all this?
I do not have ancestral lineage to the north or south of America.
Throughout this article, I will refer to black people as "black," regardless of their ancestral lineage.
My generation and the two before me did not experience slavery firsthand in England.
Many of the black people I know in America have family members who grew up on plantations. These family members have obviously passed, but their children and the children after are still here.
This article is my representation of my personal experience at the plantation and my opinion.
The History of Magnolia Plantation
Magnolia Plantation may be a popular attraction or museum, depending on how you define it, but that's not how it began. When the manor wasn't there, it was just a regular old house for a couple that had just moved to the area. Thomas Drayton and his wife Ann Drayton moved to Magnolia from Barbados in 1676. At first, the pair just built a house to live in it. In front of it, they made a little garden, not knowing that that very garden would go down in history.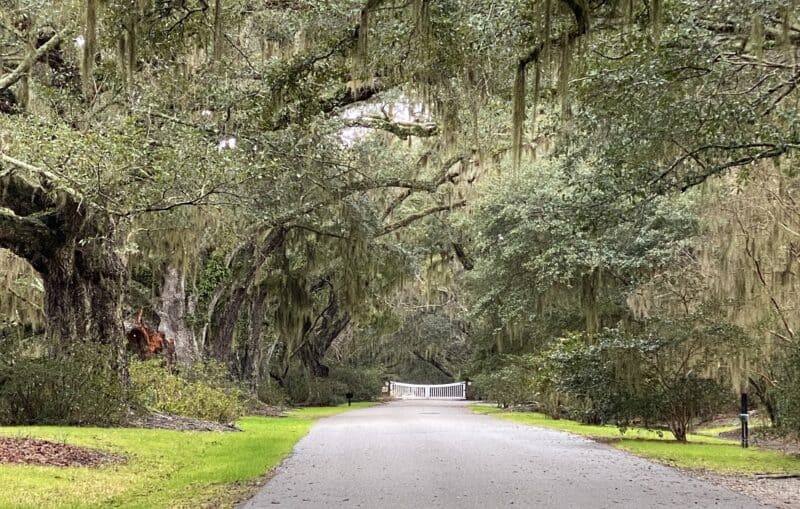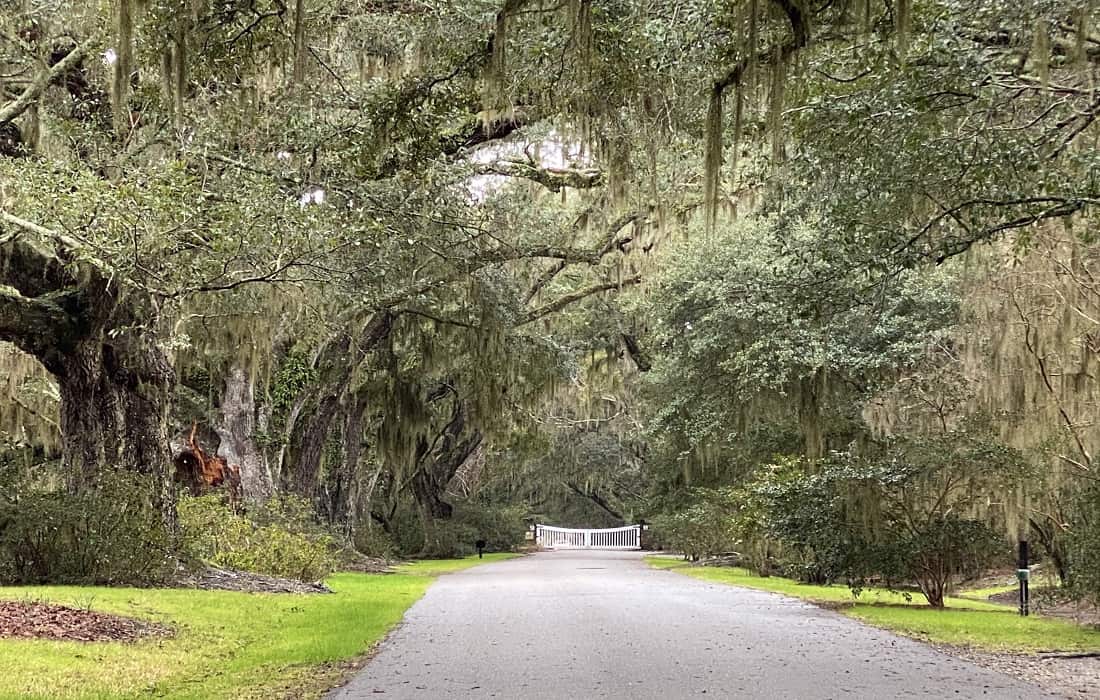 The American Revolution – 1765 Through 1791
British and American troops lived on the grounds during the American Revolution, and the Drayton sons served as troops. The plantation was an afterthought at the time. The primary purpose the grounds served was to provide housing to the soldiers.
Post-American Revolution
As the Drayton family got more affluent, they expanded the garden and made it a plantation. It was among the very first plantations in the US. At first, it was reasonably small, with just two people working the grounds. Eventually, the plantation grew more extensive, and enslaved people worked the lands to grow rice. As the years went on, the plantation grew more prosperous.
The Shift
In 1825, Thomas Drayton, the ground owner, was dying. He had inherited the property from his grandfather, the original Thomas Drayton. However, since Thomas didn't have any sons to leave the property to, he decided to pass the property down to his daughter's sons, Thomas and John Grimké. The only condition was that the boys would have to take her name as their last name and go by "Drayton" to receive the property. They could pass it down to their kids, and the Drayton name would live on. So they did.
Thomas was the older one, so he was meant to inherit the property, but before that could happen, he was shot in a hunting accident and died on the steps of the property. Because of this, John Grimké inherited the property instead when he was just 22 years old.
The shift here was that, unlike his family, he wanted to shed the dark past of the plantation. He hated the concept of slavery and wanted to make sure that the grounds wouldn't be known for that anymore. So, he transformed the whole area into a series of natural gardens instead.
Magnolia Plantation Under John Grimké
John Grimké was a minister. He got an education in clerical studies and married a woman he met while studying in New York, Julia Ewing. The two got married and moved over to Magnolia. Once his family settled there, John started working on the gardens full time. Some of the gardens were made specifically for his wife! For the next 50 years, John worked on those farms until his death.
Magnolia Plantation in the Civil War – 1861 Through 1865
Since Magnolia Plantation was one of the first of its kind, it held a name as a plantation where enslaved people worked. That made it a pretty massive target during the Civil War. Magnolia Plantation manor was attacked and burnt down. However, that just ended up being a fresh start for the place.
A few years down the line, the manor was rebuilt. The gardens that John set up were still there and are still there today! Throughout the years after that, The family renovated the mansion. Much expansion work was held there to restore its original beauty and give it a brand new life.
What used to be plantation grounds with years of painful history is now one of the largest public gardens in the US, where people flock around the year to experience it.
About Magnolia Plantation Today
Thomas and Ann Drayton initially built Magnolia Plantation. Even though the plantation and the entire property have been through several owners, it's always been in the family. Several hundred years later, today, Magnolia Plantation is still under the ownership of the Drayton family, but it's open to the public.
It is now listed on the National Registry of Historic Places.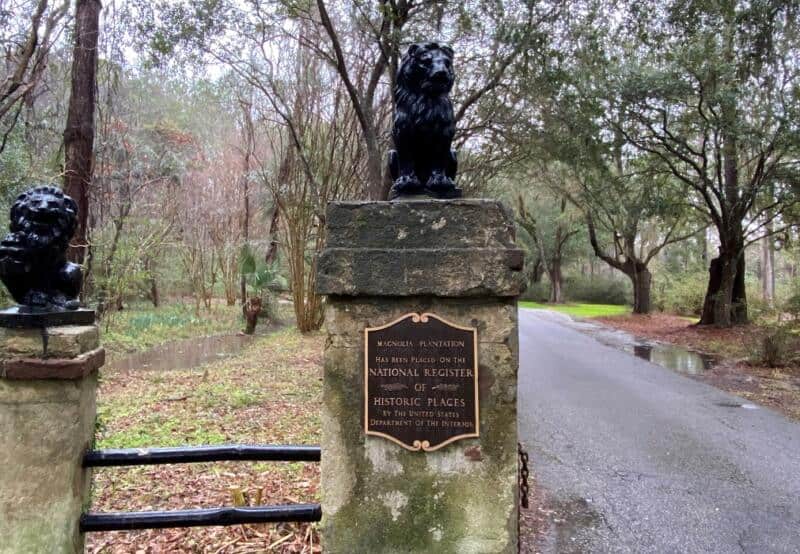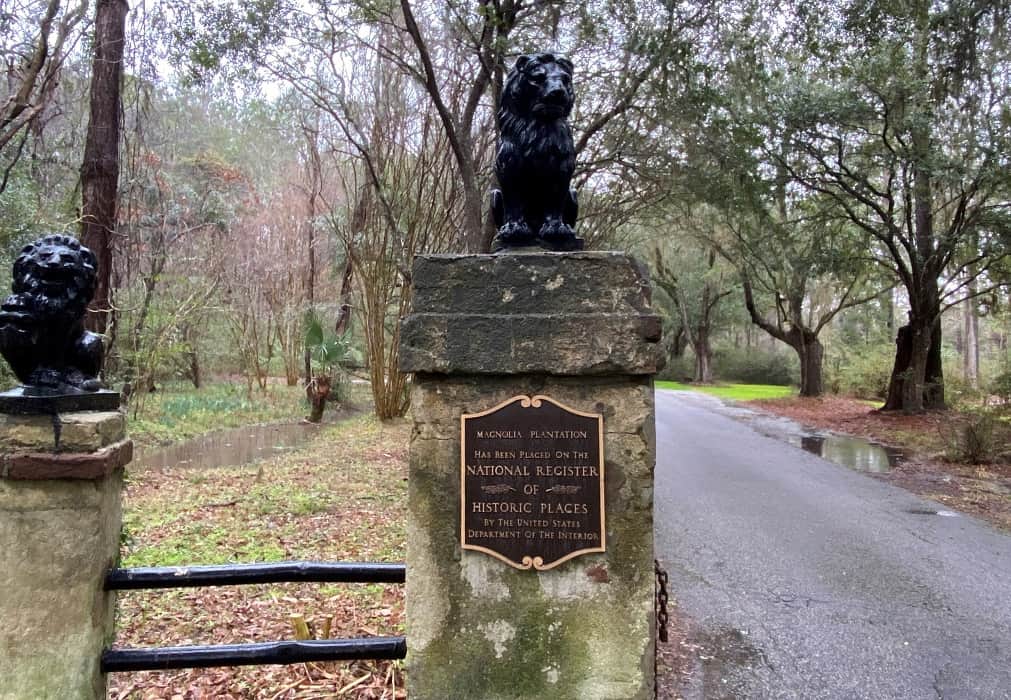 One of the things that set Magnolia Plantations apart from the rest of the plantations in the US is the fact that they don't shrug off the darker side of their history. They acknowledge that enslaved people had a significant hand in making the place what it is. The success of the property would've been impossible without them.
Deciding To Visit Magnolia Plantation
When I found out that we were going to Charleston, South Carolina, the first thing that came to mind was Magnolia Plantation. Having been persuaded to at least visit a plantation before putting pen to paper, I decided to give it a shot. Fortunately for me, this was a wise decision as there are some elements that I think warrant being on The National Registry of Historic Places.
My Experience At Magnolia Plantation
I learned a lot on this tour, perhaps more than I expected. This said, the main attraction – the house was underwhelming yet enjoyable. The gardens are the star attraction of the entire estate, not the house. I always enjoy touring estates, mansions, and so on, and I love history. Magnolia Plantation was as interesting to me for these reasons alone. Slavery aside, I found the estate fascinating.
Do I think Magnolia Plantation does a fair job representing history? Yes. Overall, I was relatively impressed. Like Germany, this plantation does not shy away or cover up the ugly side of history. However, it's not perfect – there's plenty of room for improvement.
Inside The Main House
Since Magnolia Plantation is still privately owned, not all property is open to the public. However, a major part of the main house can be visited. At the moment, ten rooms are open to the public.
Inside the main house, you can take guided tours that detail everything, from how the family lived there and how they went about their daily lives. The main house is still the way it was when it was first opened to the public. Artifacts collected over 350 years are up for display, from antiques and porcelain to fabrics and furnishings. There are even sections of the rooms dedicated to the family heirlooms passed down to all the generations of Draytons that lived on the estate!
I was stunned at the size of the actual plantation house. While it has a large porch, it is small inside. I was expecting a mansion dripping in silk and gold. You will be hard-pressed to find either. It is not luxurious or opulent in any way, shape, or form. To be frank, it's bland at best. I've visited tons and tons of historical homes, and one thing was clear to me. Despite the plantation staus, this family didn't have excess money. If they did, it was not spent on the house.
Historical Gardens
Even though John meticulously planned the gardens at Magnolia Plantation, they don't look like they were. All of the gardens carry an effortless, fairytale garden of Edan type of look. They're unique and almost seem unreal to the visitors that go there for the first time. The bridge that dresses the lake is beautiful. Looking at the lake, I could see (not agree) why someone might choose this place for nuptials. Photographically speaking, it's stunning. Even on a cold February afternoon, you can still see the beauty of these gardens.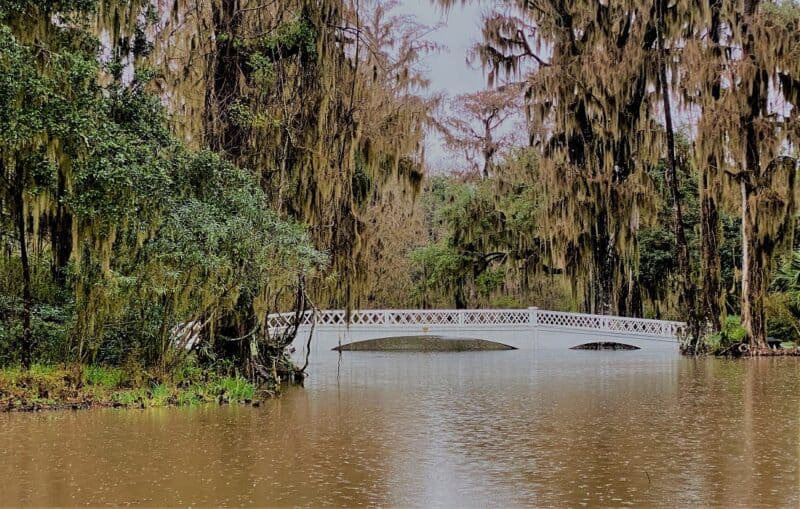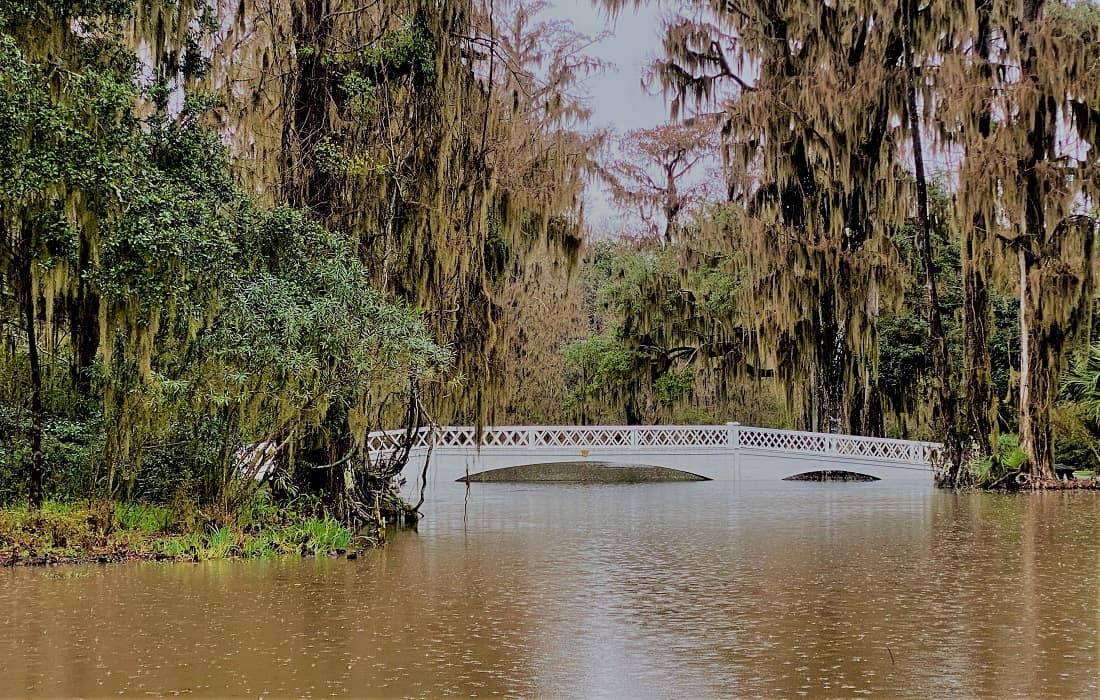 The family opened the historic gardens to the public in 1870; ever since they've been hosting people from all over the world who come to look at the thousands of plants and flowers in the gardens.
Zoo And Nature Center
Although most people visit Magnolia Plantation to see the main house or the gardens, the property also has a fantastic zoo and nature center. There are all sorts of native animals at the center, from insects and farm animals to more dangerous ones like foxes, bobcats, and even venomous snakes. The guides provide educational tours throughout the zoo and nature center.
The Conservatory
The conservatory at Magnolia Plantation allows visitors to view the whole property. It's a vantage point where you can see the "now" of the plantations while learning about the "then." Because of the beautiful location of the conservatory, it's also a popular event venue. Weddings, dinners, and other events are held there throughout the year. Keep reading for my thoughts on this!
The Peacock Cafe
The Peacock Cafe at Magnolia Plantation offers tea and snacks throughout the year. It looks like an average cafe from the first look, but the difference is that peacocks roam free in it! You could be having tea, and a peacock could brush past you. Live peacocks are the attraction that most people go to the cafe for.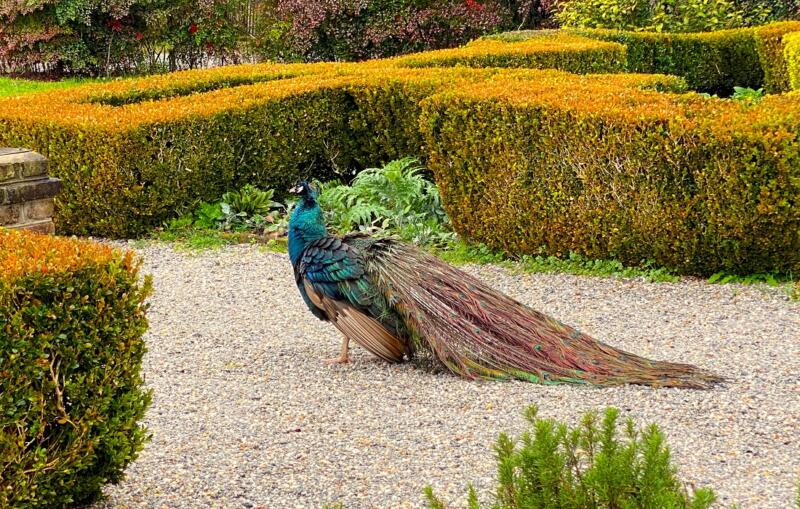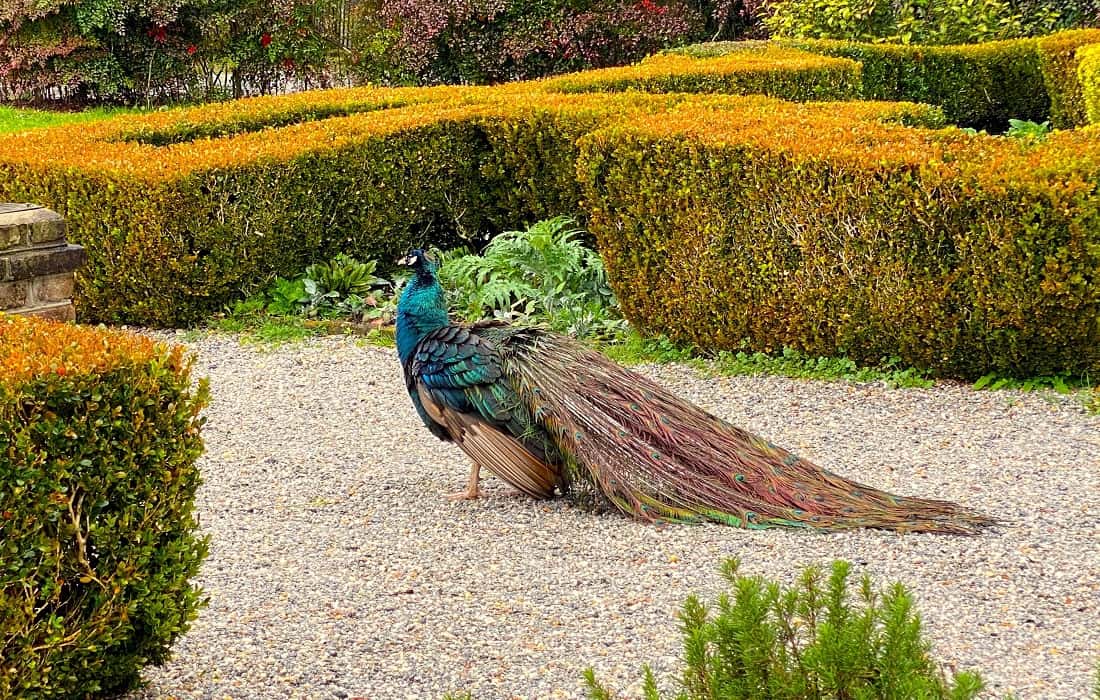 Gilliard Garden Center
There are lots of tiny cabins throughout Magnolia Plantation. One of them is the Gillard Garden Center. This is a cabin in honor of Tena Lena Gilliard, who was a greeter and revered employee at Magnolia during the turn of the 20th century. She was an employee at the facility for several decades and had made her mark. Gilliard once lived in the cabin that is now the garden center that bears her name.
Slavery at Magnolia Plantation
During the peak of slavery, in the 1800s, 235 enslaved people were owned by the Drayton family. They all worked on the grounds and lived in their own dedicated "slave cabins."
Because of the changes in behavior that John Grimké brought, things changed at Magnolia Plantation even before the Civil War. However, after the Jim Crow era of the 1920s, even though the enslaved people were no longer required to work there, many of them decided to stay. They worked as paid tenant farmers, workers, and gardeners at the farms. Their families continued to live on the estate for decades.
Oh, how noble this sounds. Only those that worked as paid tenants were part of the Share Cropping system. A term many do not understand. The now "free" slaves rented the land they once farmed for free. Fair enough, right? Only when a crop did not deliver rent was still due. To be blunt, this was not an even trade. The white man still got paid regardless of if the land produced a harvest. And the rent was paid in many more ways than money. Ask any third or fourth-generation black person in America that has a family member that was part of the Share Cropping system, and be prepared to hear horror stories.
Slavery to Freedom Tour
Visitors can opt to take the "Slavery to Freedom" tour. This tour starts with visiting the cabins the enslaved people lived in. Everything was restored and modeled to look exactly like the cabin was in the 17th Century. Everything right down to the furnishings is there the same way. That gives insight into how enslaved people lived while working the plantation grounds.
Outside Slave Cabin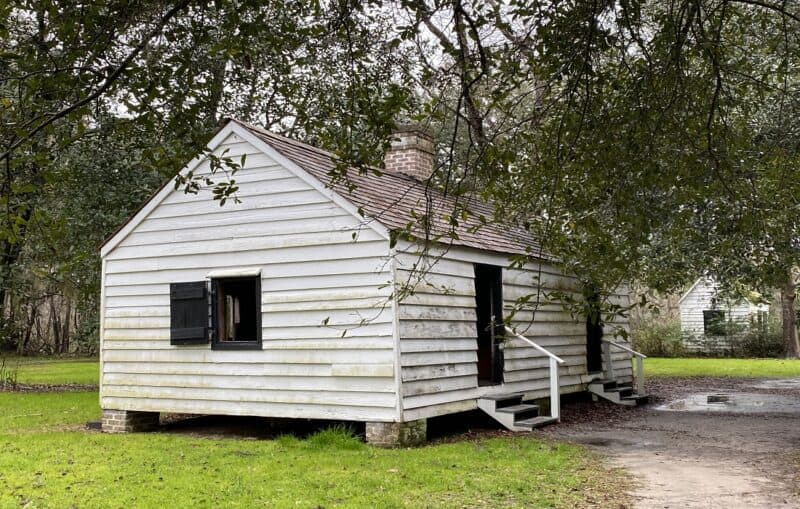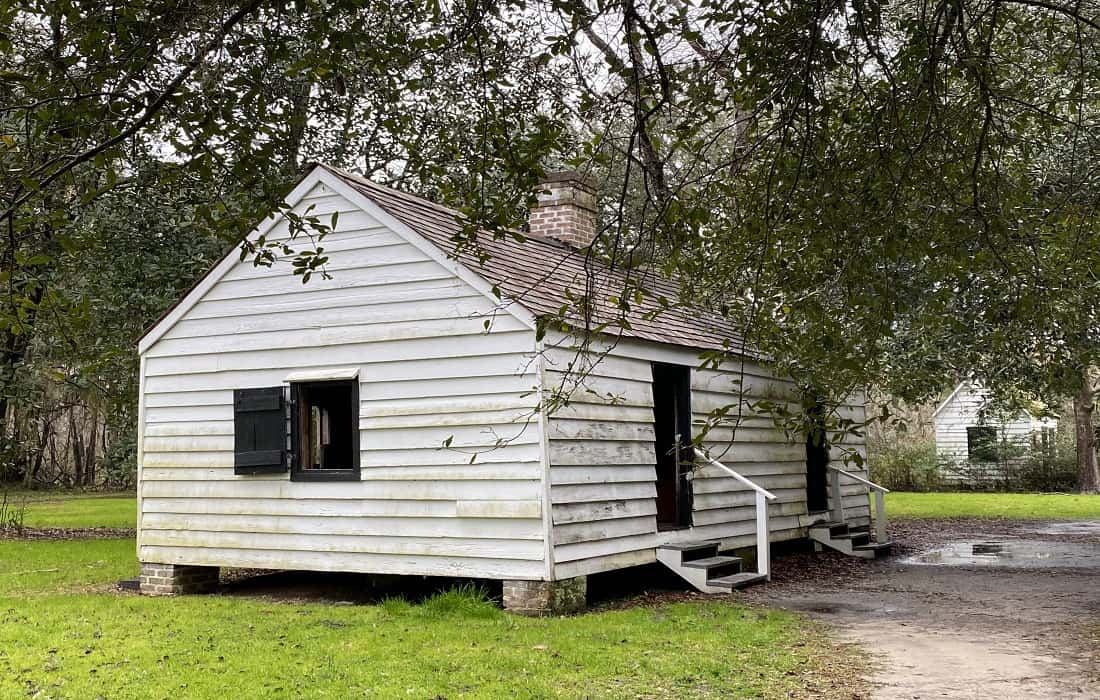 Inside Slave Cabin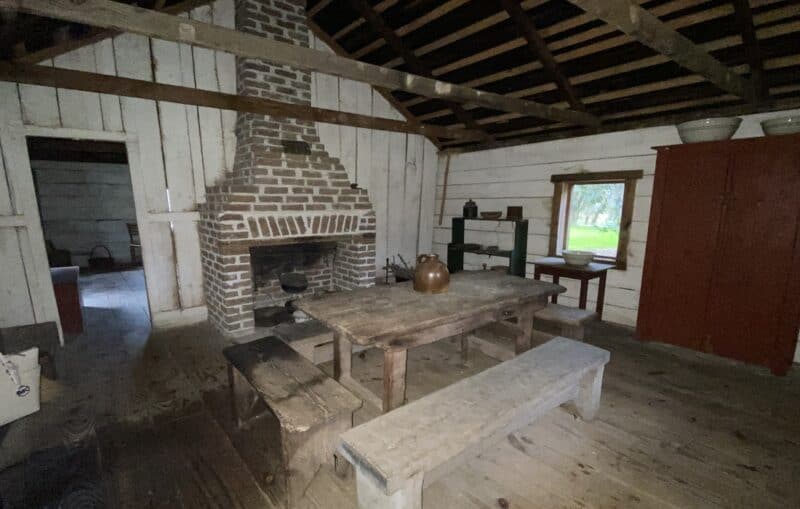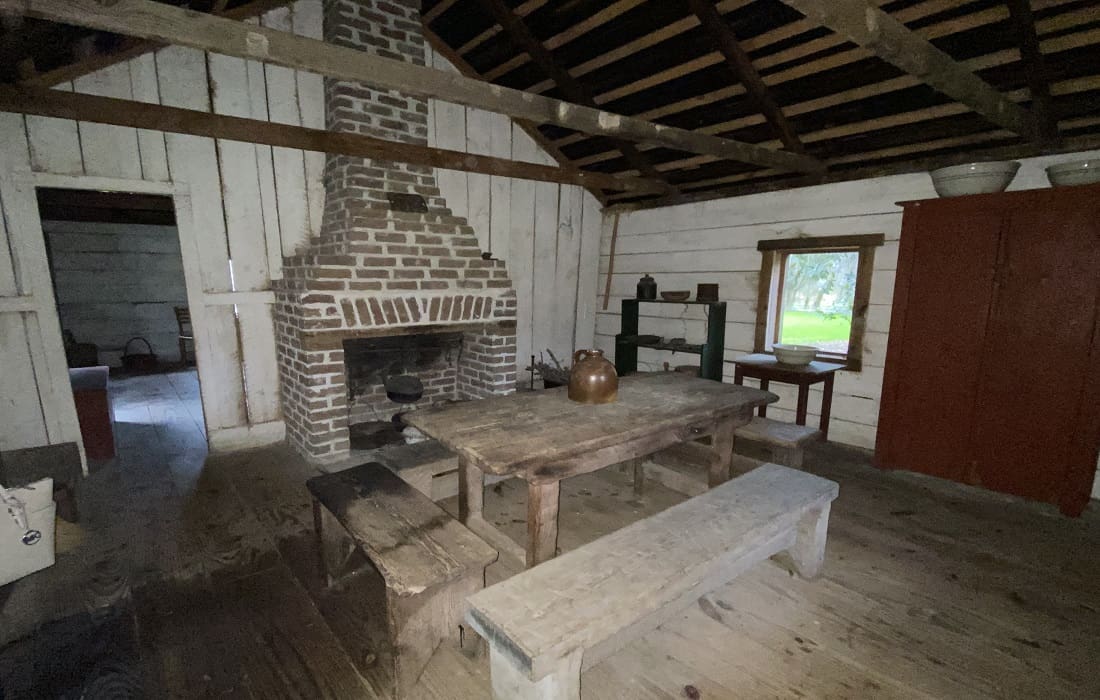 The tour starts with an educational lecture on the history of the slave trade in America. Afterward, a detailed discussion is conducted about the complete 350-year history of the land. The enslaved people are the center of discussion. Magnolia Plantation management ensures that they don't overlook the enslaved part of history. A complex topic that many plantations like to gloss over.
Magnolia Plantation acknowledges the enslaved people's work in the place. It's fascinating to see everything firsthand, but it's bleak. You roam through the different iterations of slave cabins learning about the progression of cabin conditions. For example, when slave cabins were first established, they were not on stilts. Humans lived in swamp-ridden houses, which meant their feet were permanently wet. Naturally, this was not good for the enslaved person's feet and could render them unworkable. So over time, the cabins were raised.
Slavery to Freedom is Magnolia Plantations' way of giving back by making sure the history of enslaved Black people at Magnolia is never lost. I will commend Magnolia Plantation for their Slavery to Freedom Tour. I found it extremely honest, accurate, and compelling. It sheds light on the horrendous living conditions of enslaved people. The cabins show the progression of living conditions which they certainly evolved. They were never humane.
Through Black Eyes
There was a young black couple on tour with me. I asked them what they thought about walking through the slave cabins and if they felt the tour was appropriate. Their response to me was, "they believed that this was an accurate representation and that it reminds them how far society has come." I asked them, "When you see this do you have any sensation of remorse, regret, disappointment, or anger towards America?" They said no. Then went on to add that it's a stark reminder of what the past relieved could be and that we are making progress in the right direction.
Controversy and Criticism
I have two pieces of criticism for Magnolia Plantation.
First Criticism – Slavery to Freedom Tour
The Slavery to Freedom Tour is an add-on tour. This means that you can tour all of Magnolia Plantation and never learn about the slavery here. And, you have to pay an additional fee to take the Slavery to Freedom Tour. I disagree with the concept of people being allowed to tour a plantation and only seeing the glamorous romanticized gardens and manors. This, to me, presents a false illusion that does more damage than good – it enables ignorance.
Without understanding where the labor came from and the history, a plantation can be presented as just an elegant Antebellum home or a museum. Given that the backbone of these lucrative operations relied on slavery, I firmly believe everyone who visits should be required to take the Slavery to Freedom Tour.
Not requiring this is shitty for several reasons:
Visitors are given the option to choose to ignore the full story.
It indirectly promotes callowness.
This is an opportunity to educate every visitor on all aspects of history – not just the pieces we like.
It's a kick in the teeth to families that were enslaved here.
It is a real F*** you to Black people in America.
Bottom Line: The Slavery to Freedom Tour should be required for all that visit and it should be included in the ticket price. I know lots of people will disagree with me on this and that's totally fine.
Second Criticism – Events and Weddings At Magnolia Plantation
Plantations have a dark and painful history, so most people don't celebrate events like weddings there. Magnolia Plantation has put in a lot of work to ensure they preserve the history of the enslaved people and have a program that educates them. This is great, but continuing to offer weddings is absurd. Who would want to say "I do" at a plantation that all associate with slavery? Plenty of people still believe it's appropriate, hence continuing these weddings.
Weddings At Plantations
Researching the different opinions on the ethics of a wedding on a plantation, I came across this an article about couples that chose to get married on a plantation and defended their decisions. Here's what Mrs. Helms had to say:
To her, these plantations are acknowledgments of the country's past. The criticism against plantation weddings, Helms said, largely comes from social media and people who don't live in the South.

"Because of the world we live in now, it's all about race and everyone wants to put everyone in a different category," she said. "I think it's a shame because everyone's so accepting, and social media is dividing people because people get so offended by everything."

Source: Brides And Grooms Who Got Married At A Former Slave Plantation Are Speaking Out About Criticism Of The Venues
Helms chose to leave her name out of the article, and her face was blurred out. Why do this if what she believes is just? Dear Helms, have you ever read anything other than what social media feeds you? Have you ever talked to a black person about slavery, or did you get a silver spoon from daddy that made you feel exonerated from any moral compass?
Again, I know tons of people will disagree. I can hear them screaming "southern history" and "where do we draw the line." Let's draw the line here, people – it's abhorrent. It is not appropriate to hold a wedding on a plantation. Lastly, many plantations have changed their names to exclude the word "plantation" for this sole reason.
A Good Example To Follow
Whitney Plantation is the only museum in Louisiana with an exclusive focus on the lives of enslaved people. During a visit here, you will learn about the history of slavery on a southern Louisiana sugarcane plantation. And, they DO NOT allow weddings!
Given the sensitive nature of the museum's focus, Whitney Plantation does not allow weddings or other private events. If you have an event in mind that is in keeping with the mission and values of the museum, you may submit a request.

Source: Whitney Plantation
Everyone who visits the Whitney Plantation, located on the west bank of the Mississippi less than an hour's drive from New Orleans on Louisiana's historic River Road, receives a card. Each bears the story of a different slave, derived from interviews with more than 2,300 former slaves conducted by the Federal Writers' Project in the 1930s.

Source: National Geographic
Magnolia Plantation and all the others should take note. There is a right and wrong way to approach the darker side of history.
Tours At Magnolia Plantation
Historic House: This is a guided tour throughout the main house at Magnolia Plantation. Visitors get to tour the ten rooms that are open for public viewing.
Slavery to Freedom: This is a comprehensive tour that details the slavery period on the plantation. Visitors go through the cabins and the workrooms and learn all about the harsh history of the place. This tour comes complimentary with the Garden Admission ticket. However, it's not included with the tour of the actual house.
Nature Tram: The Tram tour goes all around the outside of the property. There are beautiful landscapes throughout the tour, and a guide is present the whole time, describing the hidden secrets of the property.
Nature Boat: This tour isn't available all year round. When it is, the boat rides along the river in Magnolia Plantation. The guides tell the visitors all about the rice fields, the river culture, and those that are lucky even get to see the alligators out and about!
Audubon Swamp: This is a black water cypress and tupelo swamp that visitors can explore. The grounds were for rice cultivation centuries ago, but today have a more "modern" look. A walk through this Tour makes everyone wonder why the name "Swamp" still exists because it doesn't even look like one!
Historic Garden Walk: Finally, we have what may be one of the most famous tours at Magnolia Plantation. Visitors can walk through the beautiful gardens that have been the same since the 1600s. While also learning about rice cultivation and the role of the property during the American Revolution and the Civil War. With that, they can also learn about all the little things that most people would miss on their own!
Gift Shop At Magnolia Plantation
Magnolia Plantation gift shop is located on the first floor of the main house. There are lots of unique and great gifts to choose from here. There are tons of historical books documenting South Carolina, the slave trade, and the Magnolia Plantation.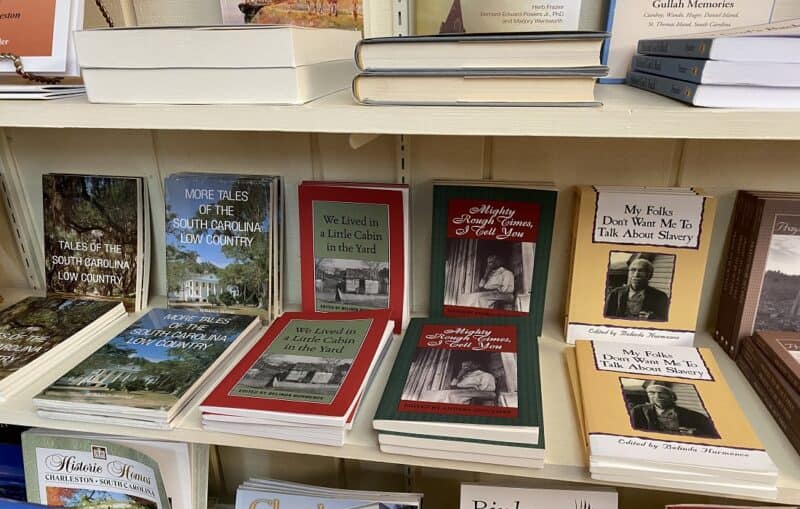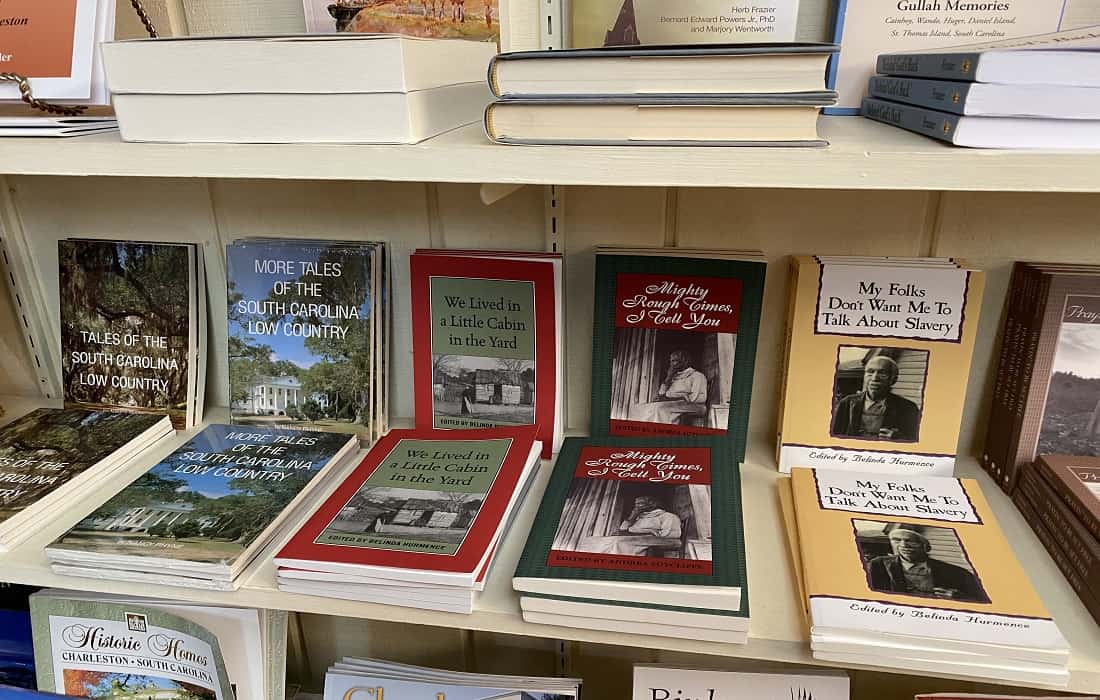 Frequently Asked Questions About Magnolia Plantation
What are the days and hours of operation?
Magnolia Plantation is open every day of the week, from 9 am to 5 pm.
Does Magnolia Plantation sell tickets online or in advance?
No, Visitors must purchase the tickets at the gate.
What is included with Admission?
With General Admission, visitors can walk through the historic gardens, visit the zoo, the conservatory, the peacock cafe, the swamp, and even the biking trails. Any changes in these areas would be for the guided tours.
Does Magnolia Plantation Allow Dogs?
Yes, leashed dogs are welcome at Magnolia Plantation all year round.
Is there food On-Site?
Yes, visitors can get food and refreshments at The Peacock Cafe.
Can we bring in our food and drinks?
Visitors can bring their food and non-alcoholic beverages with them. There are also several picnic tables onsite free for use.
Is there a place to leave our luggage during our visit?
If visitors arrive with luggage, they can leave it at the administration office while they explore.
Is there parking on site?
There is free parking on site.
Is photography allowed?
Photography is not allowed inside the main house. However, guests are free to take personal photos on the outside grounds.
Closing Thoughts
Magnolia Plantation is more progressive than I anticipated with its acknowledgment that enslaved people lived and worked there. They've done a reasonable job ensuring that black history isn't left behind for those willing to pay to learn. Where it all crumbles is Magnolia Plantation still flirts with the ideology that there's some form of southern charm to be celebrated in life on a plantation.
Does Magnolia Plantation cover up its dark past? Do they acknowledge and tell the story of slavery that was the backbone of their labor? Do they ignore or hide the fact that plantations were forced work camps? The answer is this: They acknowledge it all if you are willing to pay to hear about it, and they are quite happy to ignore it if that suits you.
Looking for more historical posts? Start here:
We participate in the Amazon Services LLC Associates Program, an affiliate advertising program designed to provide a means for us to earn fees by linking to Amazon.com and affiliated sites.
Brit On The Move™ Travel Resources
Ready to book your next trip? Use these resources that work:
Need more help planning your trip? Check out our Resources Page, highlighting the great companies we trust when traveling.