It's hard to imagine a more serene place to spend an afternoon than Cedar Lakes Woods and Gardens in Williston, Florida. You can spend all day in this enchanting botanical Florida garden and never become bored. Floridians, pay attention! There's a new weekend adventure right around the corner. An excellent place for nature lovers, outdoor enthusiasts, and those looking for fresh air and true Florida beauty. In addition to being beautiful, this garden is a slice of paradise that you would never expect to find in Florida. Here's why you should visit Cedar Lakes Woods & Gardens in Florida next time you have a free day.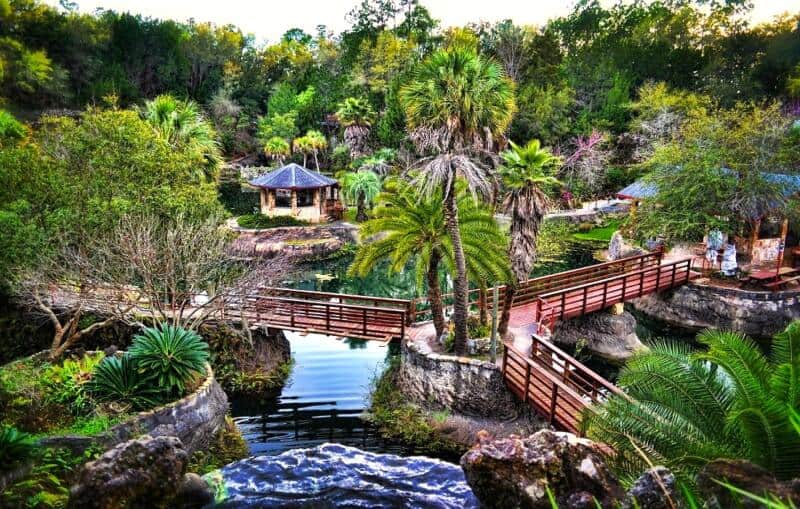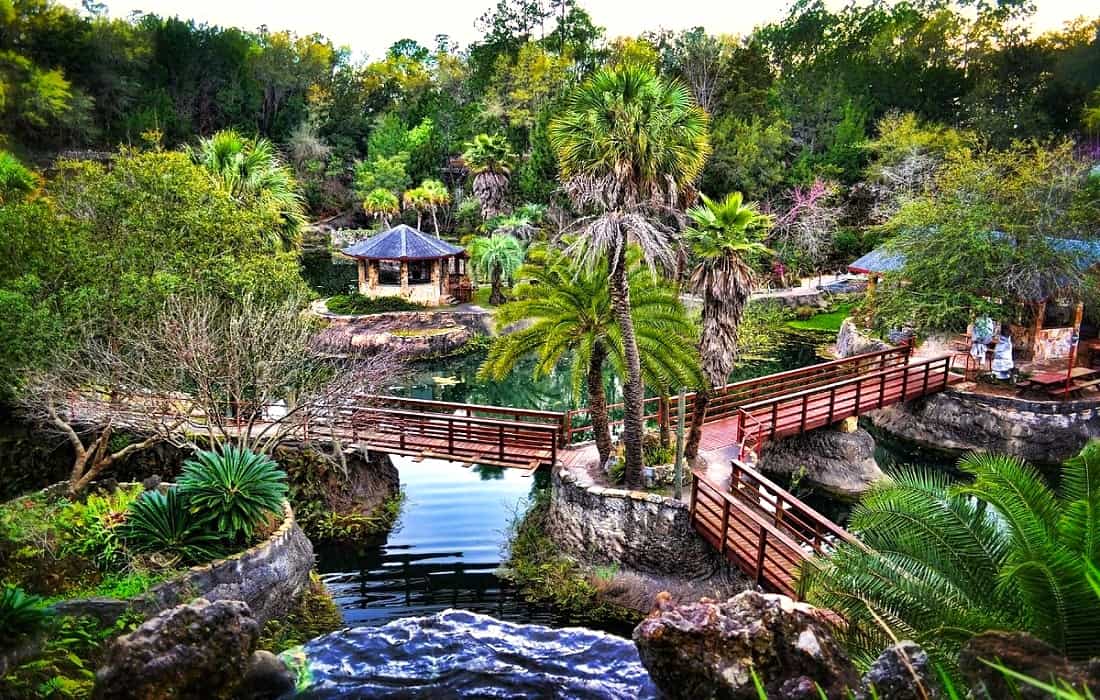 This post may contain affiliate links. Please read our disclosure and privacy policy for more information.
Photo Credits: Cedar Lakes Woods and Gardens
About Cedar Lakes Woods & Gardens
Dr. Raymond Webber founded Cedar Lakes Woods & Gardens in January of 2014, which opened to the public that month. Ray discovered the abandoned lime rock quarry in 1991, abandoned for over 100 years. This began the creation of the gardens 27 years ago. He originally intended to use the quarry as a giant fishing pond when he bought the property for his private use. Old mining remnants were dug out, and the old swampy, polluted quarry began to be transformed. To this day, Cedar Lakes Woods and Gardens is easily one of the most unique and spectacular botanical gardens globally.
The gardens are often referred to as Cedar Lakes Gardens and Cedar Lakes Botanical Gardens, but the official name is Cedar Lakes Woods & Gardens.
Why Visit Cedar Lakes Woods and Gardens?
This botanical garden has over fifty unique gardens for you to explore. The park is complete with trails, bridges, gazebos, hammocks, waterfalls, ponds, forests, gardens, and wildlife. It's the perfect place for a relaxing day out. There are 20-acres of botanical gardens for you to roam. And this garden is dog-friendly, so you are welcome to bring Fido! The trails are well-marked, and it typically takes visitors about 1 1/2 hours to complete the walk. There are many benches and resting areas along the way.
It's a spectacular location for photography – think engagement photos!
When you arrive, you will receive a hand-drawn map by Dr. Raymond Webber himself to help you explore. Dr. Raymond Webber is often available onsite. If he's there, he will show you around.
Location Of Cedar Lakes Woods and Gardens
Address: 4990 NE 180th Ave, Williston, FL 32696-6683.
The Gardens
The walkways and walls of the gardens were built rock by rock, rolled in by wheelbarrows, and placed by hand. He created islands and concrete walkways throughout the quarry, separate pools, waterfalls, pavilions, gazebos, and bridges of Brazilian walnut with the help of a small team of workers. Ray took up gardening as a hobby to add greenery to his creation. Ray found that gardening was just as much a passion as fishing, and today he has created one of the most beautiful botanical gardens you will ever see, filled with hundreds of species of plants and flowers along the quarry walls. Temperate and semitropical plants can thrive in the quarry because of the nearby trees and the quarry's topography.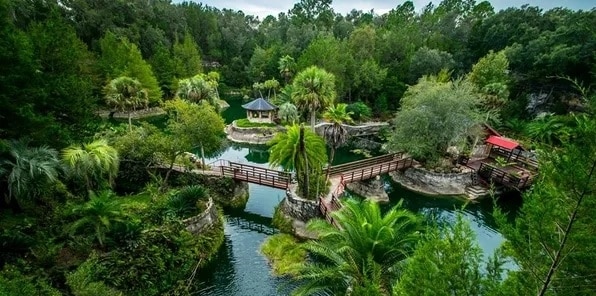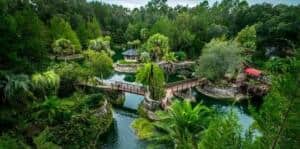 The Wildlife
Among the wildlife visible along the trail are birds of prey, owls, doves, butterflies, turtles, frogs, and other creatures. The domesticated animals at Cedar Lakes Woods & Gardens are a black English cocker spaniel named April, several ducks, pheasants, a goose, a squirrel named Delilah, several Koi fish, and a 100-pound blue catfish named Big Ben. There are many benches and picnic tables throughout the trails to allow visitors to sit and enjoy the spectacular views. Bring a picnic lunch to snack on while enjoying these views.
Events At Cedar Lakes Woods and Gardens
Though the year the garden hosts events, here are some planned for this year:
Reggae in the Gardens
Summer Daze Car Show
Annual Garden Show and Spring Festival
Christmas At Cedar Lakes Woods and Gardens
Every year at Cedar Lakes Woods and Gardens, they host Christmas in the quarry.
During Christmas, the pathways are lit up, and there is holiday caroling, cookies and cocoa station, food vendors, and more! The walkthrough light show is a one-of-a-kind holiday light spectacular that the whole family will enjoy.
Opening Hours
The park is open ALL holidays except for Christmas Day!
Open daily from 9:30 AM – 5:00 PM and closed on Wednesday.
Is Cedar Lakes Woods and Gardens free?
No, Cedar Lakes Woods and Gardens has an admission fee:
Adults (Ages 13+): $12.00

Children (Ages 6 – 13): $7.00

Children 5 and Under: Free

All Military (with ID): $6.00
Can you walk around Cedar Lakes Woods and Gardens?
Yes, that's precisely why you should visit to walk around the 20 acres of botanic gardens!
Camping at Cedar Lakes Woods and Gardens
There is no camping onsite within the garden. However, if you want to camp, you can do so next door at The Devil's Den Spring. Devils Den offers Cabins and has an RV Park and Tent Campground.
Where To Stay Close To The Gardens
You can stay next door at The Devil's Den Spring or Two Hawk Hammock.
My recommendation is to stay at the brand-new Quality Inn Suites built in 2014 in Dunnellon, about 24 miles away. If you stay here, you can also take in the Rainbow River.
If none of these appeals to you, here are the other options in the area:
Can you get married at Cedar Lakes Woods and Gardens?
Yes, you absolutely can, and what better plan to get married than in a botanical garden! Can you imagine how stunning the photography would be?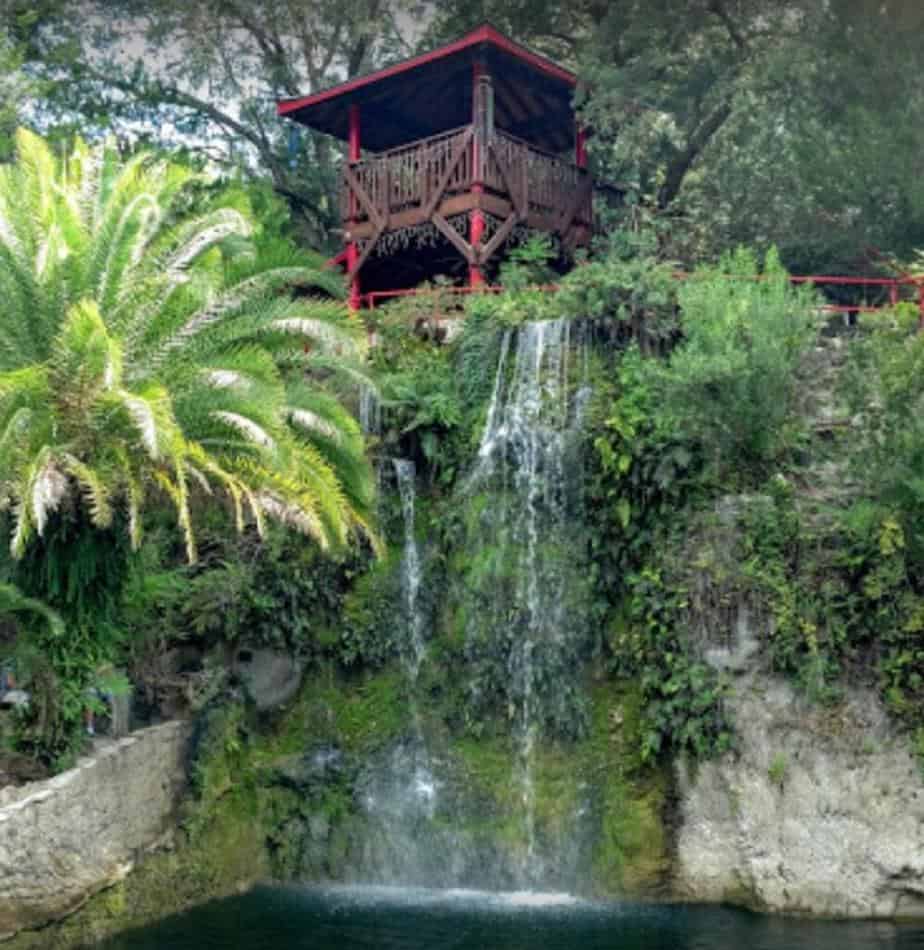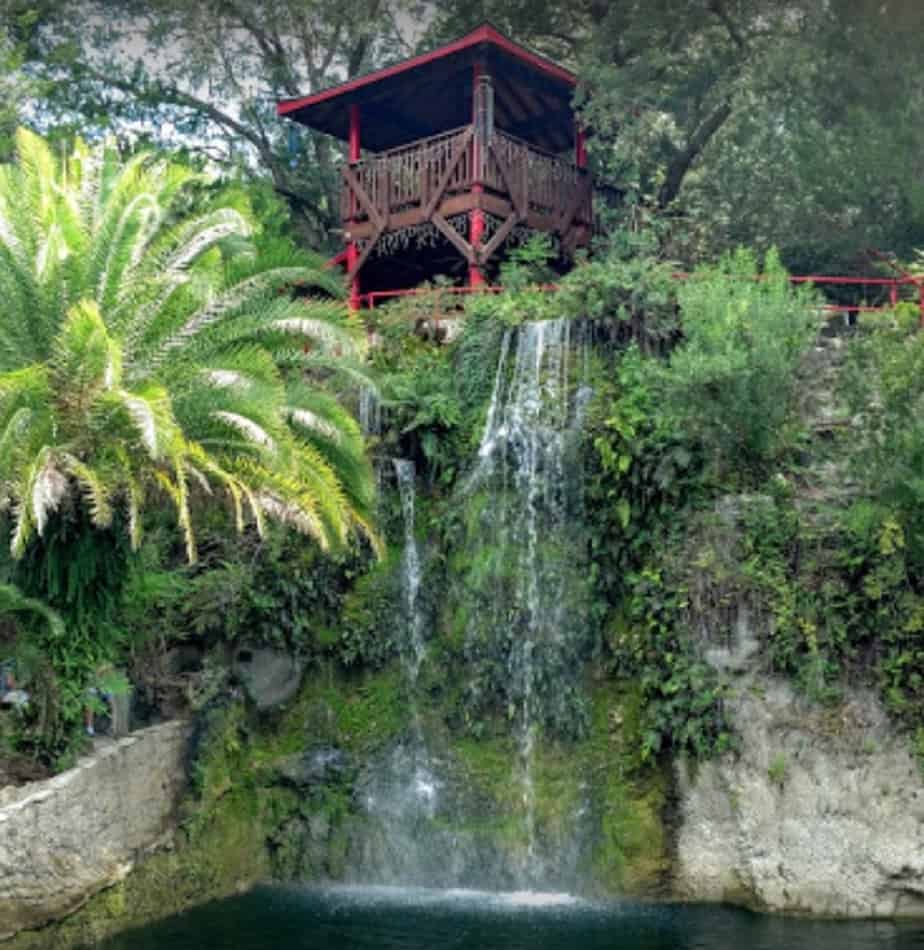 Is Cedar Lakes Woods and Gardens Wheelchair-friendly?
Unfortunately, Cedar Lakes Woods and Gardens is NOT handicap accessible.
The gardens are built into a lime rock quarry, so there is a steep ramp to access the lower levels. That said, they do have some beautiful overlooks along the upper trail. It is not perfectly level throughout the entire trail. There are changes in elevation and rocky and bumpy portions.
There are accessibility ramps to get onto the overlook trail that circles the quarry rim. This view offers scenery of the lakes and gardens beneath. The overlook trail has a few slight inclines and an occasional patch of rugged surface, so accessibility is very much dependent on the design and size of the wheels on one's mobility scooter/wheelchair. Guests have visited with several different models and successfully ventured through the upper trail.
While the garden does allow anyone to venture to the lower level of the gardens, you need strong help and confidence to use this ramp with a wheelchair or similar mobile device.
The restrooms are considered wheelchair accessible, as they were built more recently with wheelchairs and powerchairs in mind.
Things To Do Near Cedar Lakes Woods & Gardens
The Devils Den does not take an entire day to visit. Once you've completed your dive or snorkeling, you'll be ready for another adventure. Or, if you've decided to stay in the area, here are some other attractions close by that are worth checking out:
Cedar Key
Cedar Lakes Woods and Gardens
Ichetucknee Springs State Park
Ginnie Springs
Manatee Springs
Ocala National Forest
Silver Springs
The Blue Grotto
Two Hawks Hammock
Address: 4990 NE 180th Ave, Williston, FL 32696, USA
Looking for more posts on things to do in Florida? Start here:
We are a participant in the Amazon Services LLC Associates Program, an affiliate advertising program designed to provide a means for us to earn fees by linking to Amazon.com and affiliated sites.
Brit On The Move™ Travel Resources
Ready to book your next trip? Use these resources that work:
Need more help planning your trip? Check out our Resources Page, highlighting the great companies we trust when traveling.