Florida National Parks – The 11 You Need To See
Florida is one of the most unique places in the world. It's got everything from Disney World, the beaches, epic museums, and incredible wildlife. But there's one aspect of Florida that many people don't account for, the National Parks.
While Florida isn't typically known for its National Parks, it's got eleven great ones! Don't believe it? In this post, we will take a closer look at Florida National Parks and all of the great things they offer!
If you're a fan of National Parks, you're bound to find your fair share of great ones in Florida. Here are the Eleven National Parks in Florida you need to see!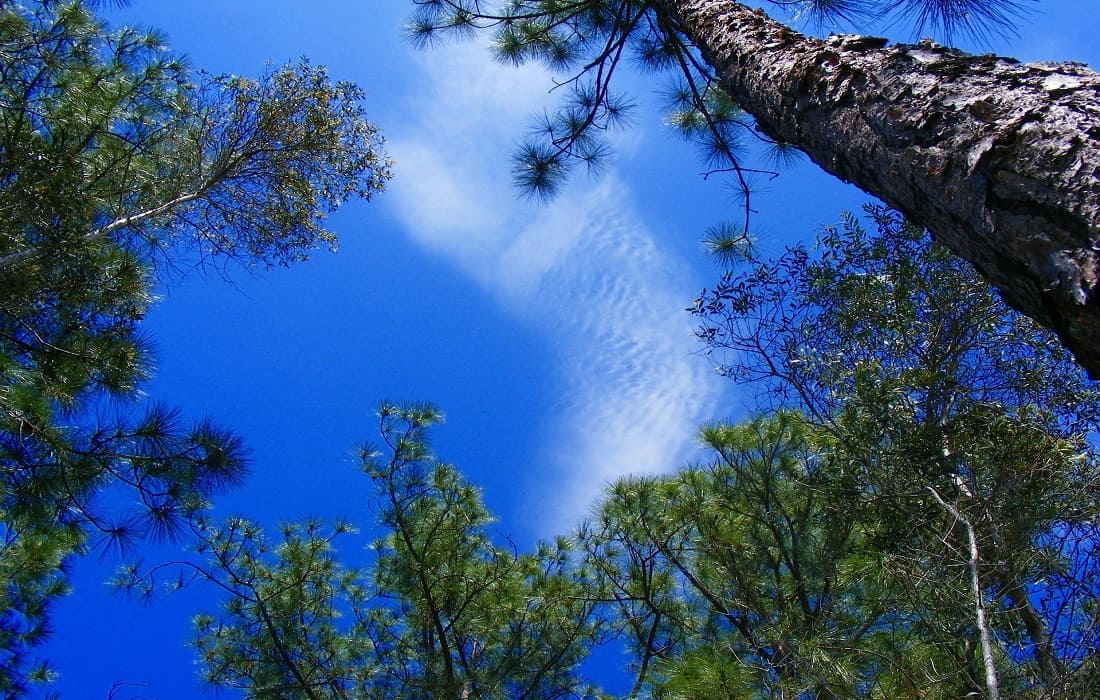 This post may contain affiliate links. Please read our disclosure and privacy policy for more information.
1. Big Cypress National Preserve
Big Cypress National Preserve is one of the unique national parks in the entire country. Instead of being all serene and tidy, this one's an actual swamp! This National Park is 729,000 acres of a natural swamp!
It gets its name because it's filled with Cypress Trees, and that sight alone is pretty remarkable, but that's not all the place is suitable for. Visitors can trek through the swamp to take in the unique views.
Viewpoints like the Kirby Storter Boardwalk make it an even better view than you could get from below. There are also over 200 species of birds here that you can take a closer look at!
The Kirby Storter Boardwalk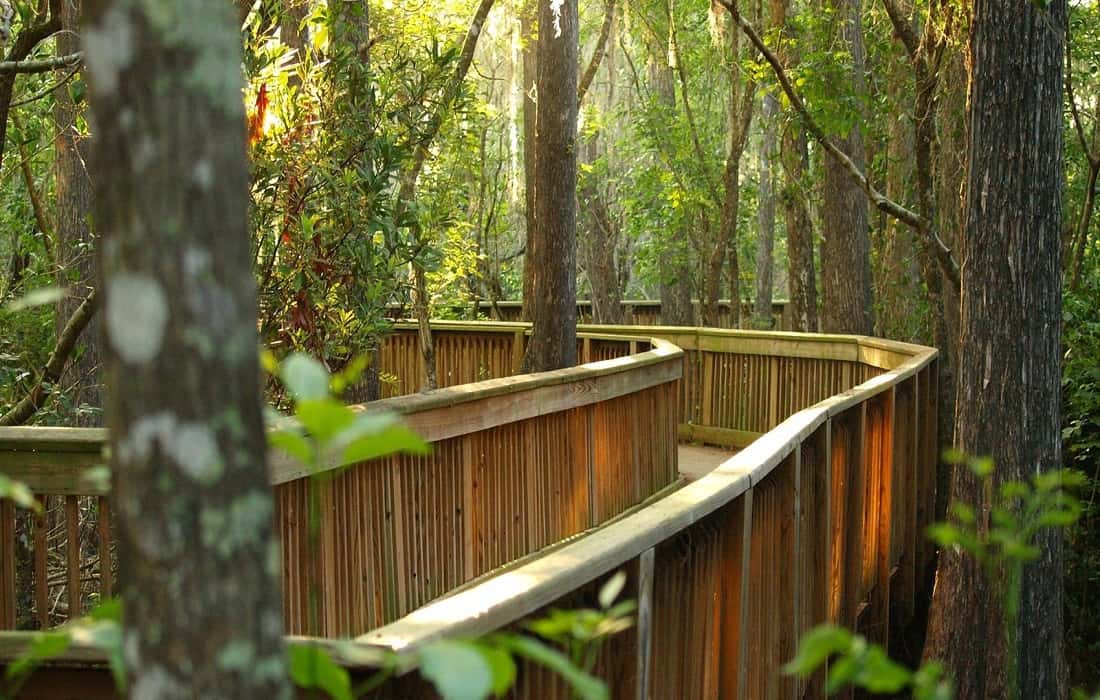 Photo Credit: Big Cypress National Preserve
You can even go canoeing through the whole place and camp on the grounds to get up there! This one is an actual outdoors person's dream!
Address: 33100 Tamiami Trail E, Ochopee, FL 34141
2. Biscayne National Park
Most National Parks are known for being green and lush, so Biscayne National Park often surprises people – it's mostly just water! 95% of the entire park is water. It's also a history-rich park! Evidence of 10,000 years of human history is here, too, from prehistoric tribes to shipwrecks and pineapple farmers to presidents.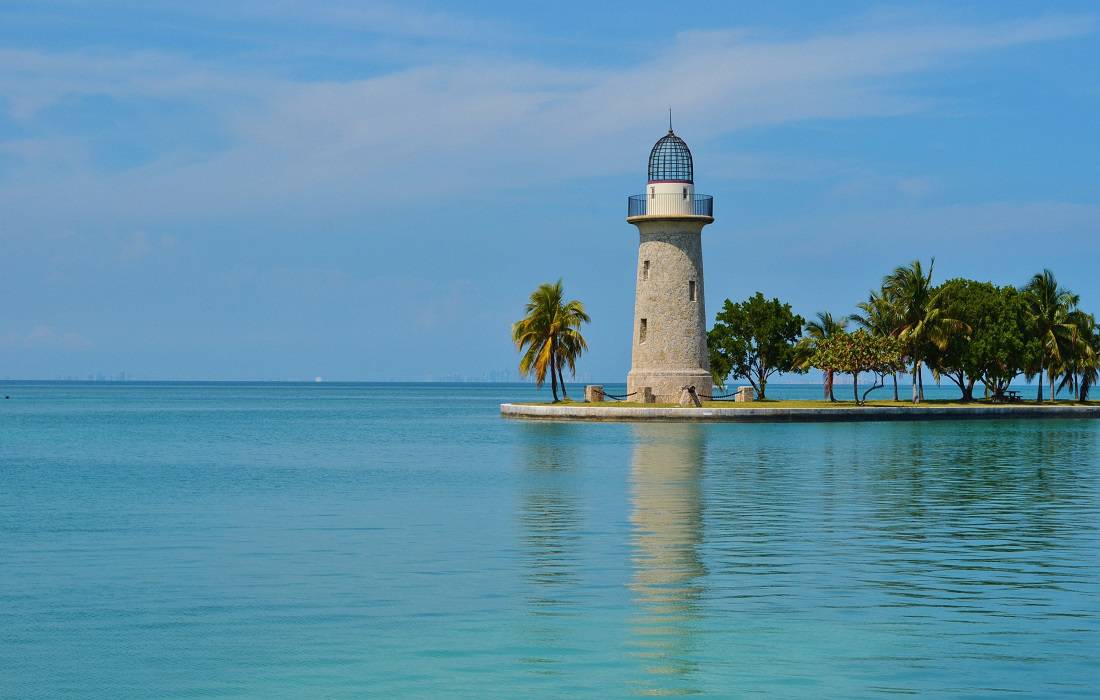 Photo Credit: National Park Foundation & Carol McGunagle, Share the Experience
If you like water-based activities, this park will be great for you! Visitors can take in the views from the visitor center and the boardwalk, but the experience is underwater.
They offer scuba diving, canoeing, kayaking, and much more! Those who want to explore Florida's aquatic life should keep this on their list!
Address: 9700 SW 328th Street, Homestead, FL
3. Canaveral National Seashore
While we're on the topic of totally out-of-this-world National Parks, we must mention Canaveral National Seashore. This national park is vital to Florida's survival because it acts as a natural barrier to any storms that may come its way. Still, it's also got something that no other national park has, a perfect view of a rocket launching site.
As it's right next to the Kennedy Space Center, visitors in the park can easily take an up-close look at rockets being launched. Besides that, there's the Windy Castle Trail, where you can explore hundreds of different species of birds and animals! A perfect middle ground between nature and cutting-edge technology.
Lastly, it's home to one of the most scenic shorelines on the east coast of Florida!
Pro Tip: If you like boating, consider Titusville and find your private island to chill out on!
Address: S Washington Ave, Titusville, FL 32796
4. Castillo De San Marcos National Monument
This national monument protects the 17th Century Castillo, first made during Spanish rule. The structure itself has quite a dark history. They made it specifically to imprison Native Americans, but today is just a national park that celebrates how this old structure has survived centuries.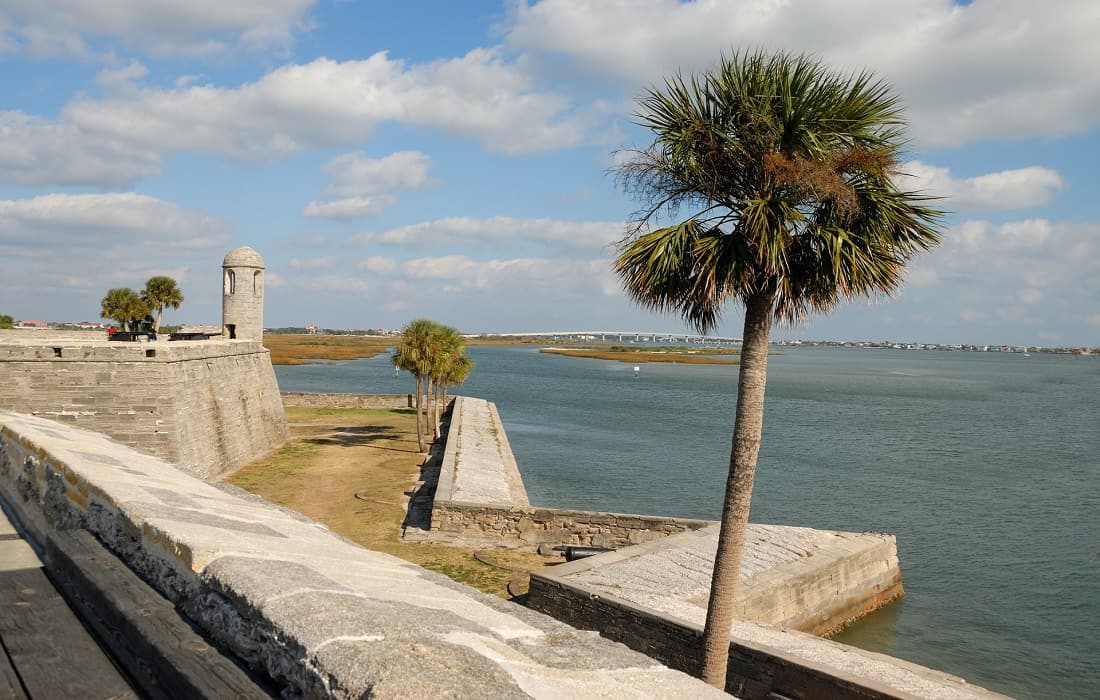 On the grounds, visitors can enjoy an entire tour that takes them through the detailed history, structure, and weapons demonstration, where they shoot cannons right off the roof. Everyone can experience the sheer vibrations that powerful weapons give out! There's no better place for history fiends than the Castillo de San Marcos National Monument.
Address: 1 S Castillo Dr, St. Augustine, FL 32084
5. De Soto National Memorial
De Soto was one of the prime grounds indigenous people fought to protect in the 16th Century. Conquistador Hernando de Soto set up a base there and ran his operations from those grounds for years.
The memorial has several tours that visitors can enjoy. The most exciting thing about the place is the live history demonstrations where they can immerse themselves in the history of the grounds!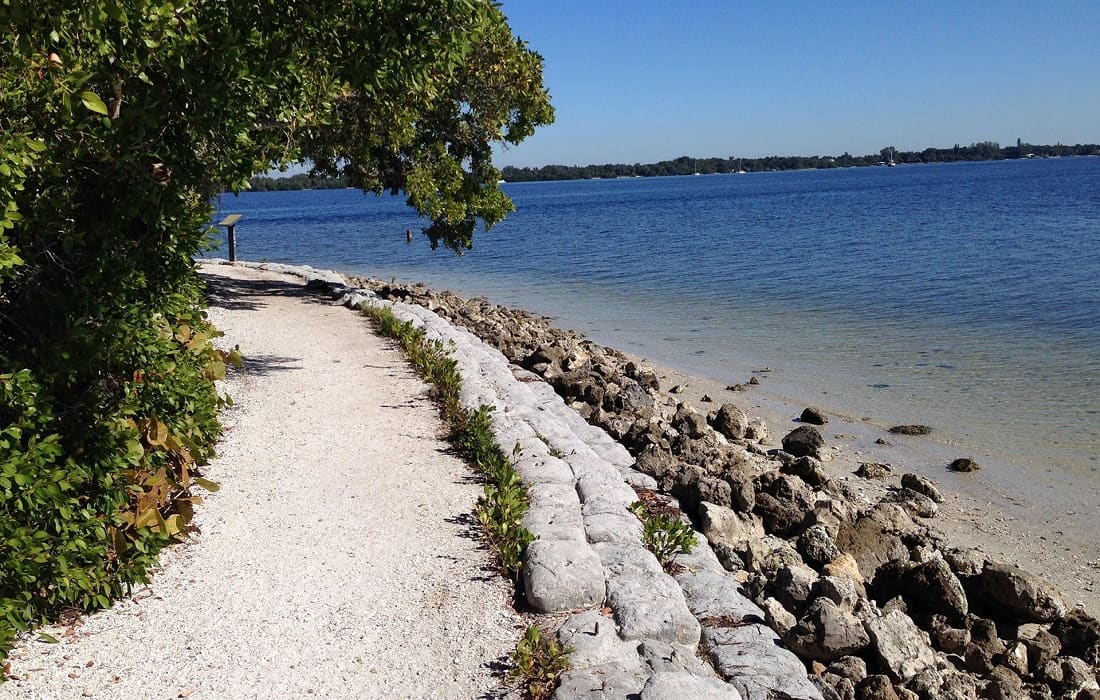 Photo Credit: Fredlyfish4 /Wikipedia Commons
Address: 8300 Desoto Memorial Hwy, Bradenton, FL 34209
6. Dry Tortugas National Park
A personal favorite of mine and a park that anyone visiting Key West should consider. This unique national park is so remote that it's only accessible via boat or seaplane. It's a long boat ride to get to it, but well worth it. Or, splurge on a charter seaplane to get there in less than an hour.
Dry Tortugas is almost 70 miles west of Key West and about 100 miles north of Cuba. This is the most remote National Park, comprised of seven tiny islands spanning 100 square miles.
Dry Tortugas National Park is 99% water. And the beaches here are impeccable. There is tons of wildlife above and underneath the water for everyone to visit. Visitors can camp on one of the seven islands, swimming, kayaking, snorkeling, and more!
Fort Jefferson
Construction of Fort Jefferson began in 1846 and continued for over 30 years. The fort contains over 16 million bricks, making it the largest brick building in the western hemisphere. And, despite being the largest, it was never actually finished.
Address: Florida – Dry Tortugas National Park
7. Everglades National Park
Perhaps the most well-known National Park in Florida, maybe even the most famous, is the Everglades. People from all over the world visit to catch a glimpse of an alligator. If you are in the Everglades National Park, your trip won't end without seeing one!
There is plenty to see and do with over 1.5 million acres throughout the national park. Visitors can hike, go trekking on a boat or a tram tour, or go bird watching throughout the impeccable locations throughout the park!
The Everglades is about forty minutes away from Miami, and day trips here are popular for people taking cruises.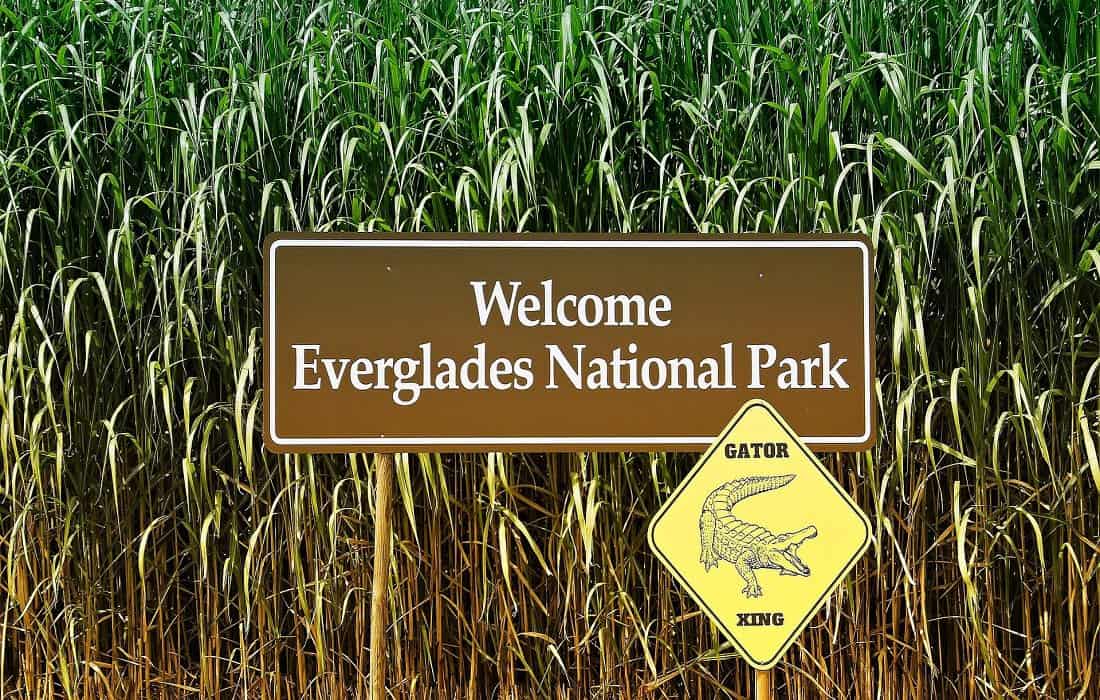 Address: Florida, Everglades National Park
8. Fort Caroline National Memorial Park
Fort Caroline National Memorial Park pays homage to the French and Spanish presence that dominated the area in the 17th Century. Those who want to know more about how armies try to take over territories would love to visit the place.
It's where the French tried to build a settlement but ultimately failed. The entire national park serves as a reminder that even the forces that were all-powerful and great sometimes failed too! Tours around the monument are great for kids and adults!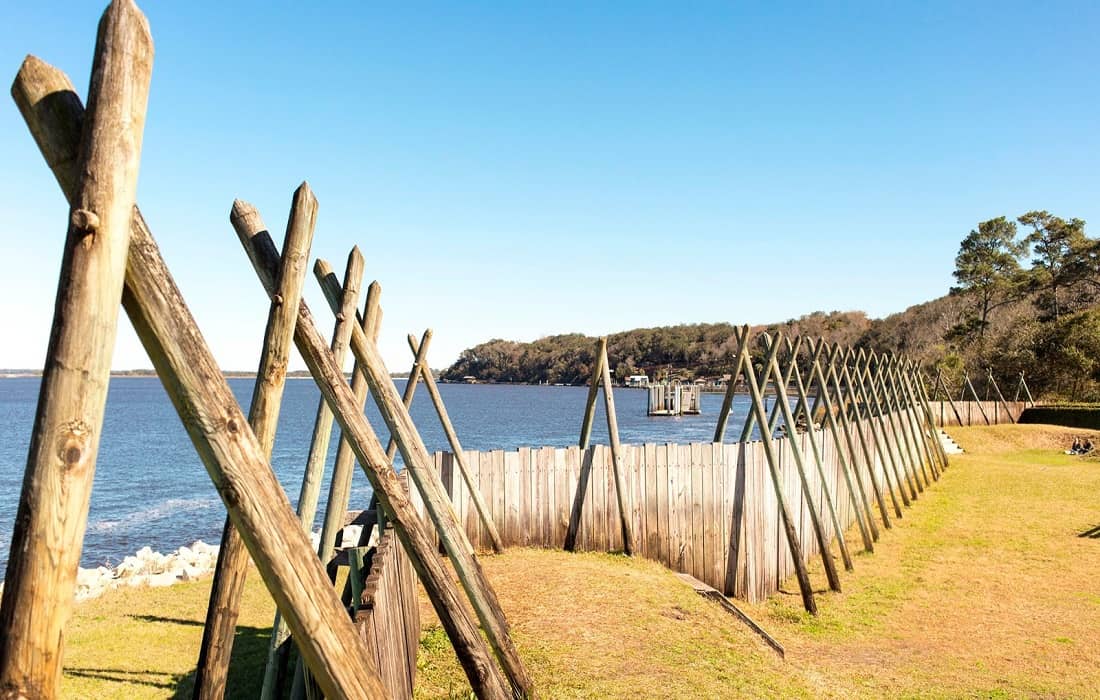 Photo Credit: NPS Photo/Stankiewicz
Address: 12713 Fort Caroline Rd, Jacksonville, FL 32225
9. Fort Matanzas National Monument
Fort Matanzas was built in 1672 by the Spanish, trying to safeguard themselves from the British troops that wanted to run them out. There are over 300 acres to explore. Throughout it, visitors can visit the wetlands, the infamous watchtower, and the maritime forest, to name a few.
The fort alone is a great place to visit for adults and kids. Tours through the area will give the visitors a rundown of everything that's happened to the site since it was first built in 1742. Afterward, you can even walk across the nature trail to look at all the local wildlife and flowers that make the place a beautiful wonder!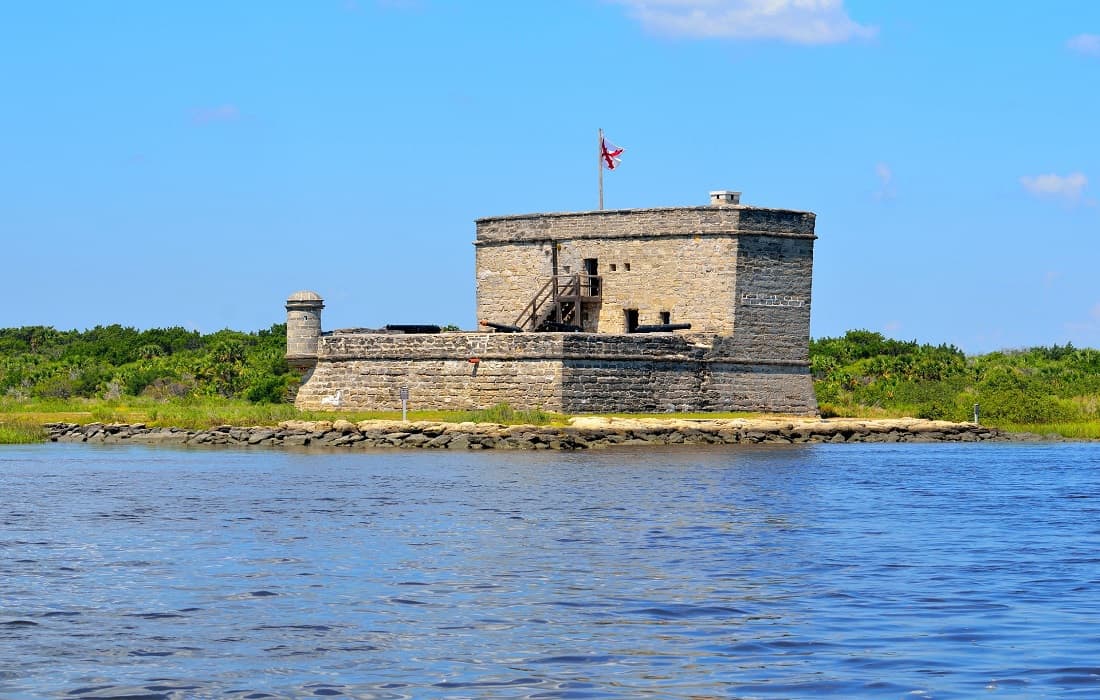 Address: 8635 A1A S, St. Augustine, FL 32080
10. Gulf Islands National Seashore
The Gulf Islands National Seashore is a destination people call one of the most magical places in the world. That's because it's so serene that it doesn't even look real! The park is split into 12 different areas, each offering a unique experience! Located in Florida's Panhandle, this northern stretch of islands is devine.
There are many activities for visitors here, including bird watching, fishing, swimming, kayaking, and exploring many beaches! Overall, it makes for a great day spent on your own or with your whole family!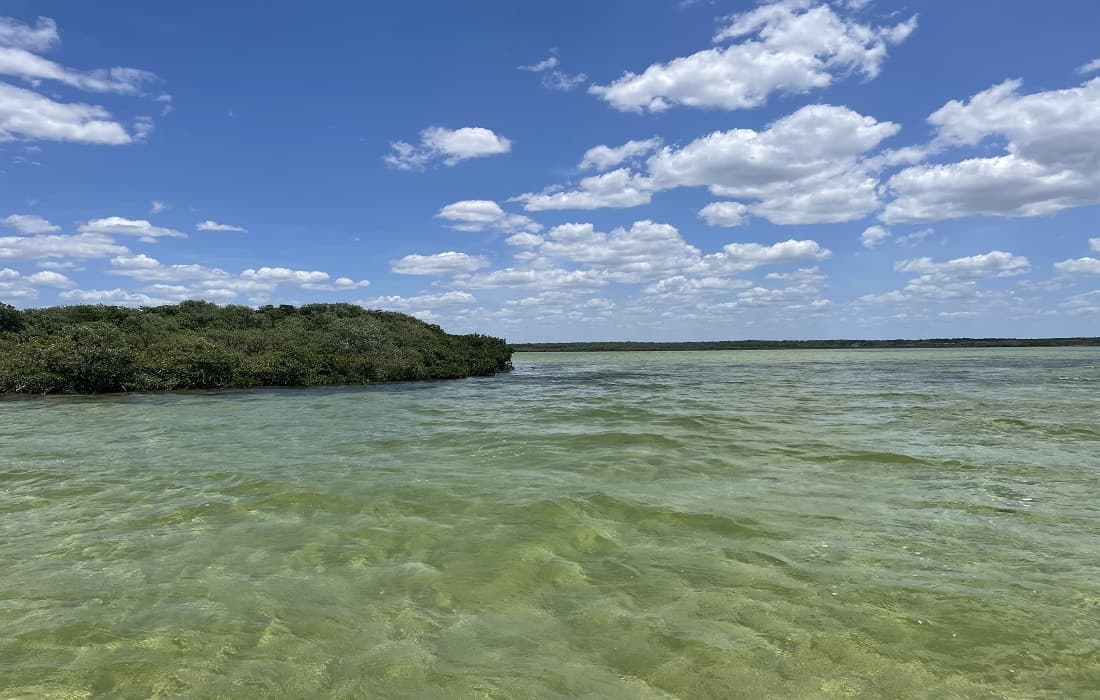 Address: 1400 Fort Pickens Rd, Gulf Breeze, FL 32561
11. Timucuan Ecological and Historic Preserve
The Timucuan Ecological and historic preservation is one of the largest ones in the country. It spans 46,000 acres and offers activities to bring visitors closer to the world around us and the world we left behind.
The main attractions of this park are the visitors center, Kingsley Plantation, and Fort Caroline.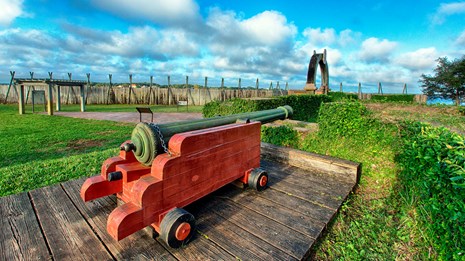 Photo Credit: National Park Service
Address: 12713 Ft Caroline Rd, Jacksonville, FL 32225
FAQs About Florida National Parks
Closing Thoughts
Florida is a place anyone can enjoy, and what better way to spend quality time with your family than by visiting some of the most amazing National Parks in the state? Throughout this post, we've looked at the great things each of the National Parks in Florida offers, so whenever you plan your trip, you can go to the ones that appeal to you the most! So get on out there, and explore the natural beauty of Florida!
Looking for more inspiration? Start here:
We participate in the Amazon Services LLC Associates Program, an affiliate advertising program designed to provide a means for us to earn fees by linking to Amazon.com and affiliated sites.
Subscribe to our newsletter and get the best travel tips and inspirational stories delivered monthly. No spam, no sales pitches – TRAVEL!
Brit On The Move™ Travel Resources
Ready to book your next trip? Use these resources that work:
Need more help planning your trip? Check out our Resources Page, highlighting the great companies we trust when traveling.