Wekiva Falls RV Resort is one of the best resorts for those that love the great outdoors, springs, and camping. Close to the best attractions that Orlando or Daytona Beach has, it's the perfect location to enjoy Central Florida's attractions while basking in Florida's wilderness. Add to this, the resort boasts a swimming pool that is a sulfur spring that flows into the nearby Wekiva River from a sandy-bottomed stream. The pool area has a fountain that blasts water, there are water slides and on weekends there's a DJ to entertain the guests.
This post may contain affiliate links. Please read our disclosure and privacy policy for more information.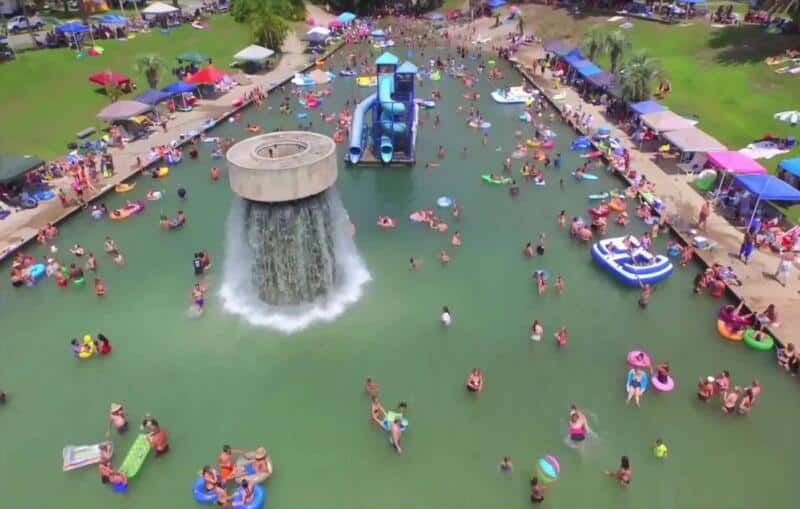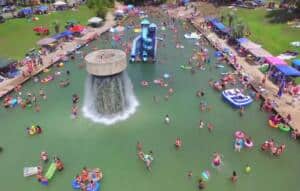 Photo Credit: Wekiva Falls RV Resort
Why Visit Wekiva Falls?
Wekiva Falls is a great RV resort with over 100 acres of pure fun! This resort offers campsites, cabin rentals, recreational areas, a heated swimming pool, and a natural spring-fed swimming area with slides! In addition, this RV resort is surrounded by more than 14,000 acres of the Rock Springs Run State Reserve and has tons of modern amenities so you can camp in style.
Here are a few reasons why you should visit this beautiful RV Resort:
Stay a weekend in a tent camp, park your RV, or rent a cabin at Wekiva Falls.
Enjoy the natural water of the lagoon fed by the spring.
Explore the Wekiva River and the beautiful spring runs that lead to it.
The History Of Wekiva Falls
Wekiva Falls was founded in the 1960s. Ideally located between Daytona Beach and Orlando, it was the perfect spot for a retreat away from the city. Back in the day, Orlando used to rely on citrus and cattle for its economy before Walt Disney arrived in the 1970s.
The founders realized that Orlando was overgrowing. Because of this, they decided to establish a large camping area close to the tourist places and not to the annoying city noises.
In a nutshell, Wekiva Falls was created to offer a place for people who want to escape the hustle and bustle of the city but want to be close enough to visit theme parks like Disney or Universal Studios.
The Location Of Wekiva Falls
You will find Wekiva Falls RV Resort in Lake County, exactly less than half a mile from Seminole County and in the unincorporated community of Sorrento.
Address: 30700 Wekiva River Rd, Sorrento, FL 32776, United States
What Is There To Do At Wekiva Falls?
Where do we start, there's so much to see and do at Wekiva Falls. Here's a run down of all things to do:
Explore the shallow sandy spring run that leads to the Wekiva River.
Have picnics on one of the 40 tiki tables around the lagoon.
Rent a kayak, paddleboard, or canoe.
Team up and play cornhole.
Play pickleball.
Compete at shuffleboard.
Fish off the marina's shore or rent a canoe for the best chance of catching a fish.
One weekend, jam with the local DJ at the lagoon, and there are always lagoon games for kids!
If you run out of things to do drive to Orlando, Daytona Beach, or visit some other the other springs near Wekiva Falls.
The Spring And Swimming Area of Wekiva Falls
Known as the "Lagoon", at Wekiva Falls, water is channeled up through a conduit that 'falls' into a manicured lagoon for swimming. It is a sulfur spring that has been capped and channeled through a pipe. On one end, it boasts a sandy beach, and the water flows into the nearby Wekiva River from a sandy-bottomed stream.
On an artificial concrete apron surrounding the lagoon, guests spread blankets, pitch canopies, and lounge on beach chairs. There are two water slides and a weekend DJ in the natural sulfur spring!
Day visitors enjoy the shaded pavilions on the ridge above the spring pool during the hot summer months.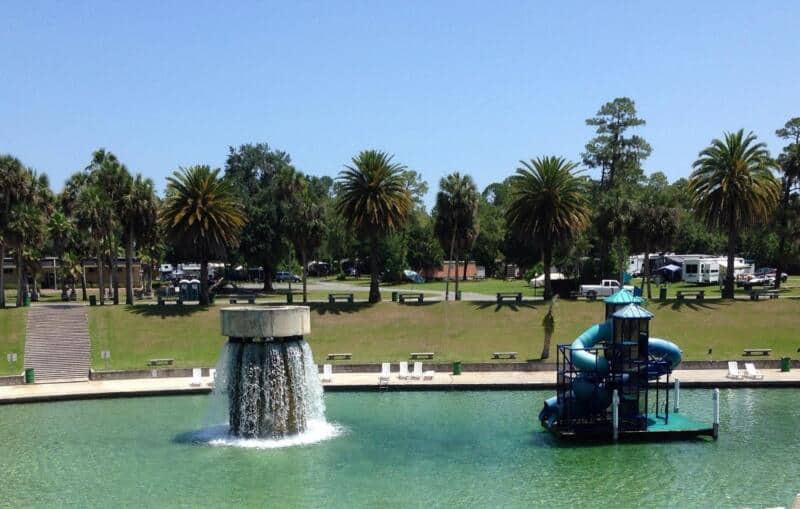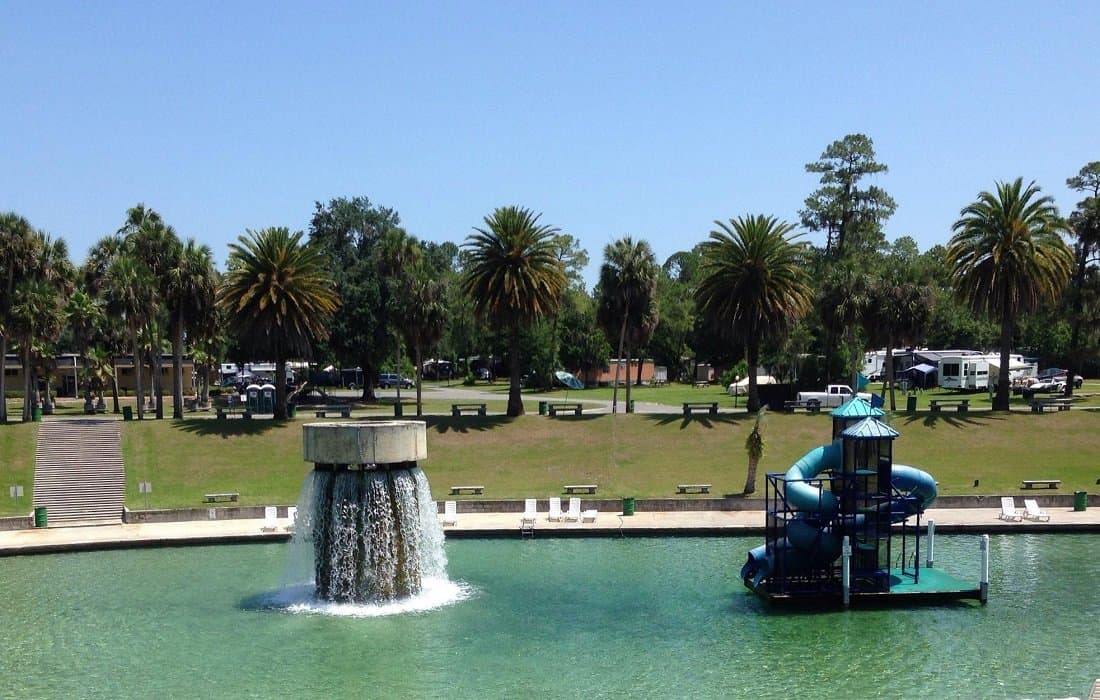 Kayak & Paddleboard Rentals
Wekiva Falls connects to the Wekiva River. This is a great place for kayaking, canoeing, or paddle boarding. You can bring your own vessel if you choose or rent one.
Rental Prices
$35 + taxes to single kayak for two hours
$40 + taxes to double or triple kayak for two hours
$45 + taxes to paddleboards for four hours
Paddle The Wekiva River
One of Florida's best-protected waterways, the Wekiva River, can be reached easily from Wekiva Falls. Multiple springs feed the river, which flows downstream to the north-flowing St. John's River. In the grassy area near the river at Wekiva Falls, kayakers and canoeists can launch their craft.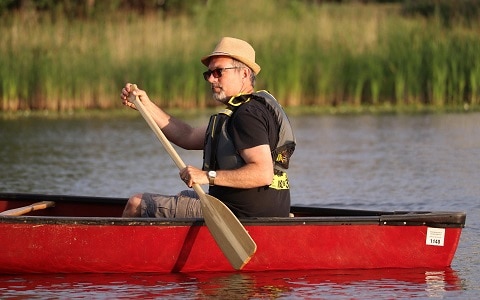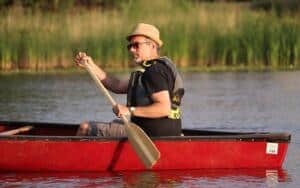 A kayaker can paddle upstream (turn right) for miles into the subtropical Wekiva River Aquatic Preserve and float back. The river has little development, and the flow is slow enough that you can paddle upstream and back for miles.
A shuttle might be a good idea if you plan to paddle downstream (that way, it's shady and scenic), but it can be tiring to paddle back against the currents if you plan to go far.
Amenities At Wekiva Falls RV Resort
Wekiva Falls offers good options so residents don't have to walk far and can get everything they need:
Magnolia Club: This is a club where residents can spend time together
Pelican Peak: Here, you will find a gym, a meeting room, laundry, and restroom facilities.
Marina & Tiki Bar: Drink some cocktails, socialize, rent kayaks or canoes, and attend karaoke nights.
The Lagoon & The Falls: This is the favorite place for all and arguably the star attraction!
Shopping: One place to shop is the Mastodon Market. Here you will find all the things you may need for a night or longer.
Getting to Wekiva Falls
Getting to Wekiva Falls is not a problem because it's so close to Orlando. Common Florida routes:
Orlando: If you are in downtown Orlando, look for I-4N until you reach W Lake Mary Blvd, pass Markham Woods Rd until Markham Rd. Then, look for the FL-46 W exit and cross at Wekiva River Rd.
Gainesville: Take US-441 S until you reach US-301 S, look for the intersection at FL-326 W and go to the end of FL-40 E to finish at FL-19 S. At the end of FL -19 S; you should look for Co Rd 42 E, cross at Co Rd 439 S and cross again at Burlington Ave. Finally, you must travel at FL-44 S, Co Rd 46A, pass FL-46 E, and then drive to Wekiva River Rd.
Daytona Beach: This is the easiest route because you must take I-4 W, hit FL-46 W, and finally cross at Wekiva River Rd.
Jacksonville: This is another straightforward route because you must take the I-95 S until you reach Daytona Beach and take the way we explained in the previous point.
What City Is Wekiva Falls In?
Wekiva Falls belongs to the unincorporated community of Sorrento and is very close to Orlando. Also, Wekiva Falls is in Lake County.
Day Passes
Sadly, day passes are suspended until further notice. The only way to experience this oasis is to stay overnight on site.
If you really love springs, then you need this book! Florida is home to over 1000 natural springs between the sun-soaked beaches of the Gulf of Mexico and the Atlantic Ocean, which have drawn people to the state for thousands of years. Long before theme parks came to town, the freshwater springs were the top tourist attraction in the state. Join us across the state to explore 40 of the best springs in Florida that you can still visit today. Filled with vivid photos from the past and present, this guide will show you a side of the Sunshine State you won't see in commercials. Complete with information on conservation and a key for activities offered, this book is a must-have for locals and tourists alike.
FAQs About Wekiva Falls
Which popular attractions are close to Wekiva Falls RV Resort?
Some of the biggest attractions are parks like Universal Studios, Walt Disney World Resort, Magic Kingdom Park, Disney's Blizzard Beach, Universal's Islands of Adventure, SeaWorld Orlando, Legoland, and many other attractions.
Here's the ultimate guide to all theme parks in Florida!
Are There Manatees at Wekiva Falls?
It is possible to see manatees in the Wekiva River during the winter months.
Is Wekiva Falls crowded?
Yes, most weekends it is very crowded. We recommend you go on weekdays or take advantage of the low seasons to enjoy these beautiful facilities.
Why does Wekiva Falls smell like sulfur?
The sulfur smell is because Wekiva Falls is a natural sulfur spring; this is what causes it to sometimes smell like sulfur.
Where is Wekiva Falls located?
Wekiva Falls is just outside of Orlando, in Sorrento.
Is Wekiva Falls a natural spring?
Yes, Wekiva Falls is a natural sulfur spring.
Spring Run that leads to the Wekiva River: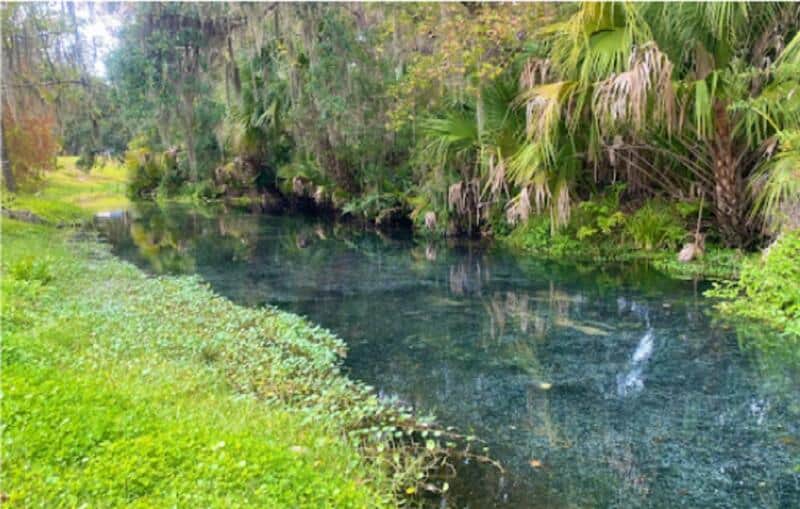 Does Wekiva Springs have RV camping?
Yes, Wekiva Springs has spaces specially designated for RV campsites.
Is Wekiva Falls free, and if not, how much does it cost to get to Wekiva Falls?
Currently, you can not get a day pass, so your only option is to stay on site.
RV Sites – $60-$78 per night
Tent Camping – $43-$67 per night
Rental Cottages (Cabins) – $124 – $164 per night
They also offer discounts on weekly stays and monthly rentals.
Are there alligators in Wekiva Falls?
Alligators can be seen, but it is rare to see them during the day. However, we always recommend you be alert and not go into swampy waters where you cannot see.
Can you walk around Wekiva Falls?
There are many hiking trails around Wekiva Falls, and you can enjoy them all day on foot or by bike.
Can you pay at the gate at Wekiva Falls?
It is possible, but we recommend making a reservation by phone or through the Wekiva Falls website.
Closing Thoughts
Water fans will love the experience Wekiva Falls has created. Campers and outdoor enthusiasts will want to come back time and time again. Few places offer up the atmosphere like Wekiva Falls – the perfect combination of nature and excitement!
Here are some of the most popular springs in Florida:
We participate in the Amazon Services LLC Associates Program, an affiliate advertising program designed to provide a means for us to earn fees by linking to Amazon.com and affiliated sites.
Brit On The Move™ Travel Resources
Ready to book your next trip? Use these resources that work:
Need more help planning your trip? Check out our Resources Page, highlighting the great companies we trust when traveling.