Silver Glen Springs is one of Florida's most popular and well-known springs. Silver Glen is a massive spring of crystal clear water frequented by many fans of snorkeling and boating and located in the Ocala National Forest. Accessible from the Silver Glen Run off of Lake George, this spring is a local favorite, and here's why!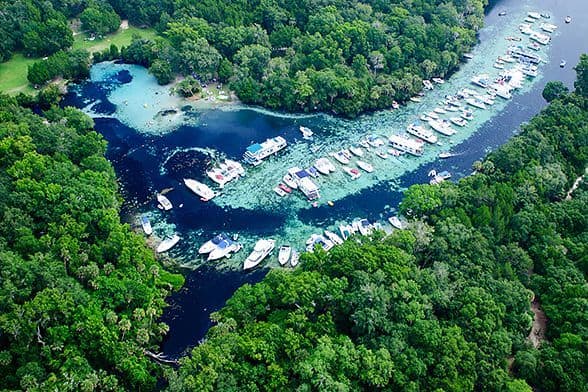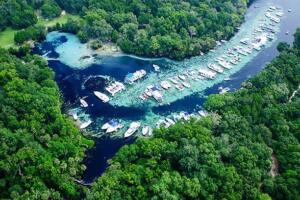 This post may contain affiliate links. Please read our disclosure and privacy policy for more information.
Why Visit Silver Glen Springs
If you've never swum in the spring before, here are some reasons to visit Silver Glen Springs:
The water is crystal clear, and there's a sandy bottom.
Paddling is a great way to explore here, and you can rent kayaks and canoes.
Enjoy a picnic or grill in lush tropical surroundings.
Go hiking, snorkeling, or float.
View the schools of fish beneath you.
Most importantly, if you can find the right spot without too many people, you'll feel like you are in the Caribbean. There's nothing comparable to relaxing for a day in natural spring. No sand, no sharks, and no saltwater!
The History Of Silver Glen Springs
Silver Glen Springs is an important archeological site in Florida's history, so you'll find a lot of early human settlement history here. There is archaeological evidence of the first natives from 3,000 years ago and some remains of settlements from more than 10,000 years ago.
Here, you can find a large mound of shells considered the remains of animal species and human beings inhabited those lands. In 1930 and 1940, many of these shells were extracted to create roads, and now they are protected to preserve their history.
In 1989, divers studied and found a network of tunnels with a length of 2000 linear feet.
Silver Glen Springs & Silver Glen Run
The Spring
The actual spring is at the end of the Silver Glen Run. There's a swimming section at the top where no boats are allowed. This is also the section you access by land. It gets packed here; it's just as busy as the section where all the boats tie up. Take a look for yourself; this photo is on a non-jam-packed day. The water is stunning and pristine, and this is a large spring. The water is a constant 73°F, crystal-clear with a sandy bottom. Plenty of space to swim, float, snorkel and soak up the rays. The challenge is it's so popular that it gets crowded. It's also worth mentioning that SCUBA diving is not allowed at this spring.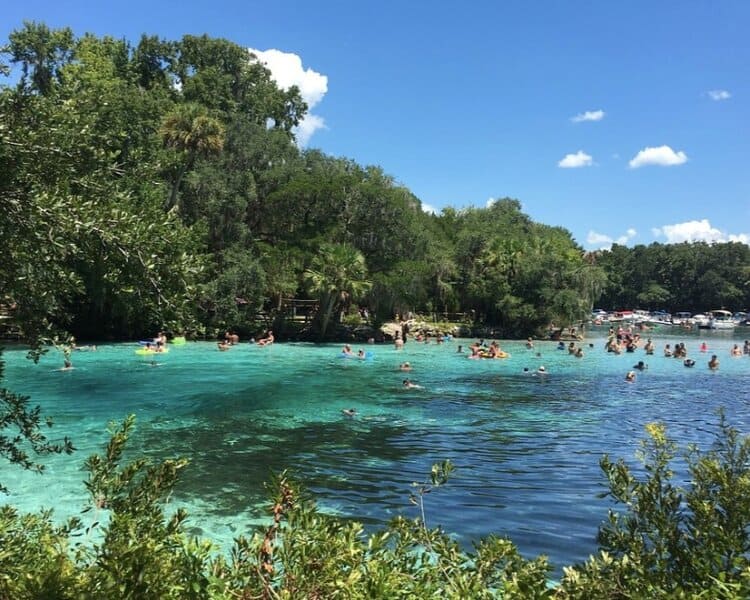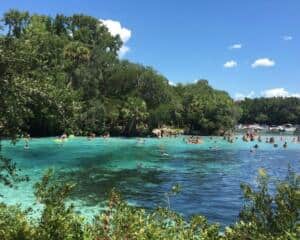 Photo Credit: Adventure Ocala
Note: There is no longer one-out-one-in entry at Silver Glen Springs on busy days. What this means is once it reaches capacity the gates close – period. And, the reservation system for parking is temporarily unavailable.
The Run
The Silver Glen Run is the section off of Lake George that connects up to the spring. You follow the run-up to the top to get to the actual spring. I love the run and loathe the spring. I've been to loads of springs, and Silver Glen is my least favorite by a long shot. It's not that it's not beautiful; it is. However, once you get up the run to the spring, you'll be met by row after row of boats tied together. It's loud, obnoxious, and frankly tacky. I know that some will say this is harsh. However, this has been my experience.
The run is quieter; although there is a lot of traffic coming in and out, it's much less packed than the actual spring. There should be a limit on the number of boats permitted up the run. Most springs do this to preserve the manatees; this one sadly does not.
Accessing Silver Glen Run
Most people access Silver Glen Run from Lake George, but you can access it from the park and canoe or kayak down. One other thing to keep in mind if you hang out in the lower section of the run is you are in alligator territory. Not that they aren't everywhere – they are. But they prefer the lake over the spring. It's also worth mentioning that most gators keep away because of the noise and traffic. Yet, once in a blue moon, a hand-fed gator gets too close for comfort. Park rangers do monitor alligators, and they are kept at bay. The bottom line is to pay attention to your surroundings and enjoy the run.
Pro Tip: If you are boating up the run, you need two anchors to moor. You can't stabilize your boat on the sandy bottom with just one anchor.
About Lake George
Lake George or Lake Welaka is located in Volusia County and is considered one of the largest freshwater lakes in Florida. This is the second-largest freshwater lake in Florida; only Lake Okeechobee is bigger. Lake George covers 46,000 acres and is 14 miles by 6 miles. Boaters visit Silver Glen Springs from the St. Johns River and Lake George.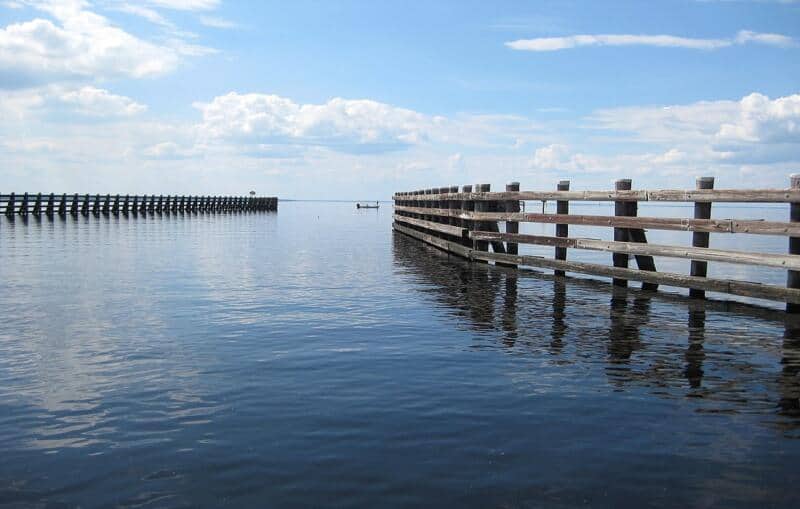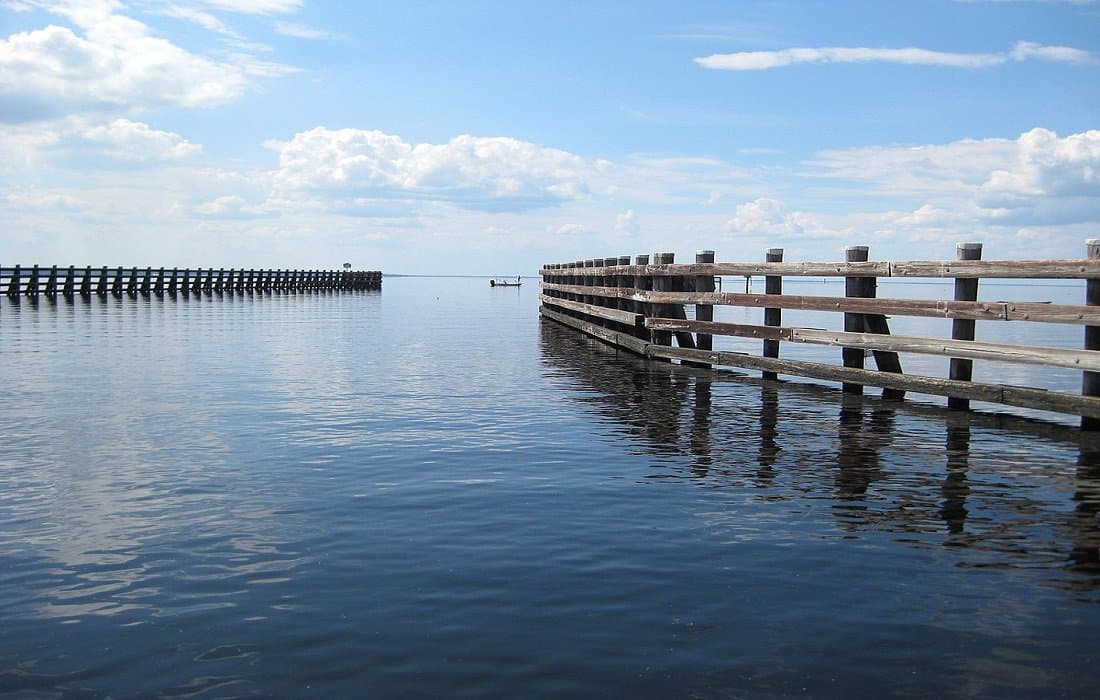 Image Credit: TampAGS, for AGS Media
Lake George's salt content is very unusual from area feeder springs along the St. Johns River. This mix of fresh and saltwater provides a sustainable habitat for marine life ranging from Atlantic stingray to various mullet species, striped bass, and blue crabs.
The blue crab population in Lake George is so vast that it supports one of the only freshwater blue crab fisheries in Florida. The nearby town of Palatka hosts an annual Blue Crab Festival that is worth checking out if you love blue crab!
The Location Of Silver Glen Springs
Finding the exact location of Silver Glen Springs may seem easy; you must go west of Marion County and reach Lake George. However, few people know that Silver Glen Springs is located on Lake County's edge and within the Ocala National Forest. This spring is near Salt Springs, an unincorporated community in Marion County.
Address: 5271 Florida 19. Salt Springs, FL 32134.
Getting to Silver Glen Springs
Silver Glen Springs is over 60 miles from major cities like Jacksonville, Gainesville, or Orlando. However, it is closer to Daytona Beach and Port Orange. You can take a plane outside of Florida to Daytona Beach International Airport or Ocala International Airport.
Are you in Florida and don't know how to get there? Here are the main routes that you can take from one of the big cities or nearby areas:
Orlando: Starting on I-4 Express, you should take a detour from FL-414 W, continue on FL-429 N, cross towards FL-44 E and reach County Rd 439. Then, you should look for FL-19 N/ Main St and go straight to Silver Glen Springs.
Jacksonville starts from Federal Highway US-17 S until it reaches State Road FL-19 S. It's just a long route without many detours.
Gainesville: Start from State Road FL-20 E, cross over to County Road 20A in Putnam County, go to County Rd 315 S and follow Co Rd 310 to FL-19S.
Daytona Beach: You should take I-95 N at Daytona Beach, merge onto State Road FL-40W and cross at State Road 19.
Ocala: This is the easiest route. Just take State Road FL-40 E and cross at FL-19 N.
Silver Glen Springs By Car
Silver Glen Springs sits on the edge of the Ocala National Forest; it's an easy drive from anywhere in Central Florida. The entrance to this spring begins from the Yearling Trail. Parking spaces are limited, and it gets packed on the weekend. If you plan to visit by car on the weekend, you will need to arrive early. And by early, we are talking about 8:00 am.
Silver Glen Springs By Boat
Most people boat to the spring. There are a few reasons why. First of all, Silver Glen Run alone is worth your attention. Secondly, Silver Glen Springs is a boating spring. Everyone in Florida knows that this place is a boating place.
You can launch from the St. Johns River and connect to Lake George or launch from Lake George.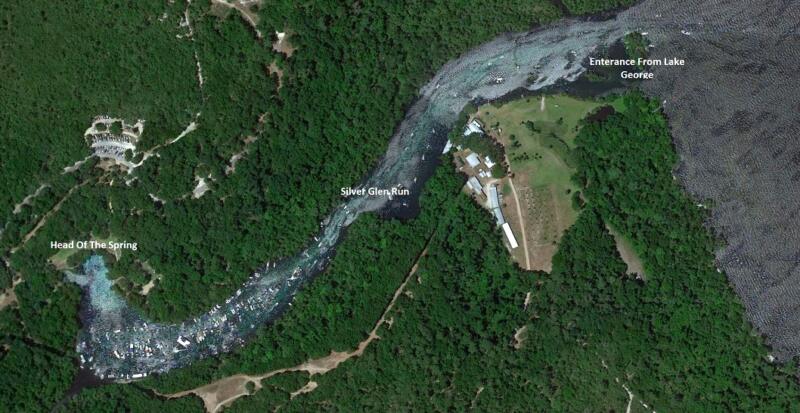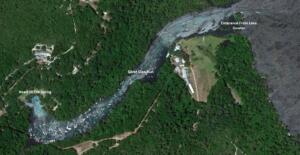 Boat Ramps on Lake George With Access To Silver Glen Springs
Astor Boat Ramp
55400 Butler Street, Astor, Florida 32102
Hours: Dawn To Dusk
Bass World Lodge Boat Ramp
209 Browns Fish Camp Road, Crescent City, Florida 32139
Hours: Open 7:00 am to 5:00 pm Labor Day until Christmas, rest of year open as late as 8:00 pm.
Drayton Island Ferry Public Boat Ramp
122 Drayton Island Ferry Road, Georgetown, Florida 32139
Hours: 24 Hours
Lake George Boat Ramp aka Volusia Wharf – Blue Creek Lodge Road Public Boat Ramp
58300 Lake George Road, Astor, Florida 32102
Hours: Dawn To Dusk
M-Port Marina and Boat Ramp
30600 NE 96th Place, Salt Springs, Florida 32134
Hours: Dawn To Dusk
Nine Mile Boat Ramp
Note: For small boats only.
West end of Nine Mile Point Road, then turn south to the boat ramp., Pierson Florida 32180
Hours: 24 Hours
Shell Harbor Park & Boat Launch
1800 Shell Harbor Rd, Pierson, FL 32180
Hours: 24 Hours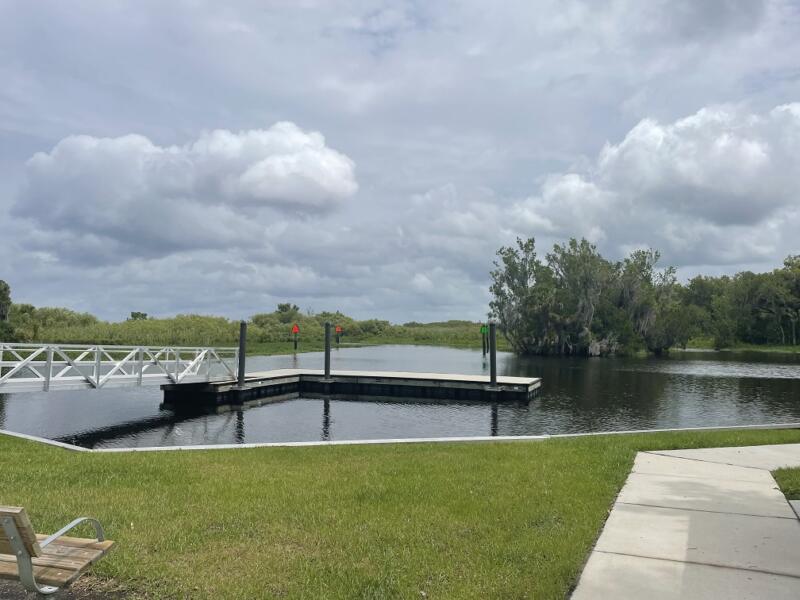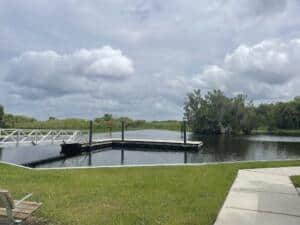 South Moon Fish Camp Boat Ramp – On St Johns River
End Of Camp South Moon Road, Astor, Florida 32102
Hours: Varies by day
There are a few other ramps further south on the St. Johns River that have access and a couple of boat ramps north of Drayton Island and at Little Lake George.
If you really love springs, then you need this book! Florida is home to over 1000 natural springs between the sun-soaked beaches of the Gulf of Mexico and the Atlantic Ocean, which have drawn people to the state for thousands of years. Long before theme parks came to town, the freshwater springs were the top tourist attraction in the state. Join us across the state to explore 40 of the best springs in Florida that you can still visit today. Filled with vivid photos from the past and present, this guide will show you a side of the Sunshine State you won't see in commercials. Complete with information on conservation and a key for activities offered, this book is a must-have for locals and tourists alike.
Frequently Asked Questions About Silver Glen Springs
How much does it cost to get into Silver Glen Springs?
As with many state parks in Florida, there are some admissions and fees to pay to use the facilities. Silver Glen Springs offers different options, depending on the person's need. You only pay to go in the spring if you access it via land. If you boat to the spring, there's no admission cost.
The admission fee for day-use is $8 per person on weekdays and $11 per person on weekends.
Ocala National Forest Springs Hopper Pass. This day-use pass is $70 + tax per person and is suitable for 12 months from the date of purchase. It provides entrance to recreation areas managed by Adventure Ocala, which include: Juniper Springs, Alexander Springs, Silver Glen Springs, Clearwater Lake, and Wildcat Lake. Available at Alexander Springs, Juniper Springs, and Silver Glen Springs.
$70 + tax on an annual pass to the Ocala National Forest that will allow you to enter the following places:

Juniper Springs
Salt Springs
Clearwater Lake
Wildcat Lake
Alexander Springs
Silver Glen Springs

$16 or $38 canoe rental
Are there alligators in Silver Glen Springs?
There are many Alligators in the Silver Glen Springs area, the St. Johns River, and Lake George. The rangers have control of these species so that accidents do not occur. However, we always recommend that you be vigilant.
Can you swim in Silver Glen Springs?
Swimming in Silver Glen Springs is the main activity many are interested in at this state park. In addition, the water temperature is maintained at 73°F and is comfortable for body temperature. Remember your snorkeling gear and GoPro; there's tons of underwater action!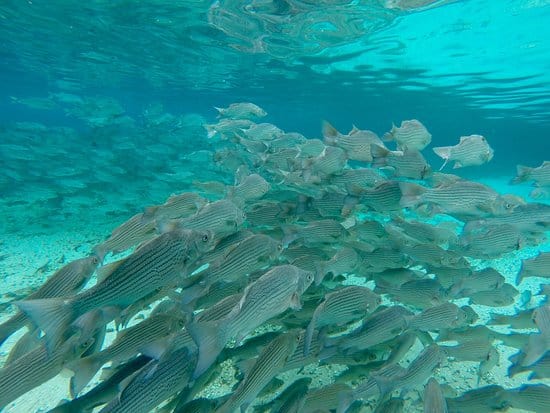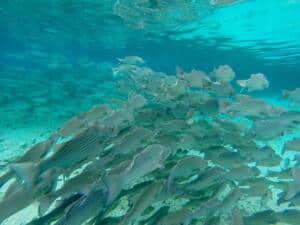 Is Silver Glen Springs crowded?
Some visitors say that it is a bit crowded on weekends, I say it's heaving. It is consistently at capacity on the weekend. We recommend that you always arrive early, especially on a wee.
Is Silver Glen Springs free?
It is if you arrive by boat. If by car or land, unfortunately, admission is not free. However, it is possible to get some discount in promotions made by the park or when buying an annual pass.
Can you walk around Silver Glen Springs?
Silver Glen Springs is within the Ocala National Forest, and there is a hiking trail at the state park entrance. In a nutshell, yes, it is possible.
What can you do at Silver Glen Springs?
Silver Glen Springs offers many options to keep you entertained, and some of these options are:
Boating: Here, you can find kayaks, canoes, and boat activities. However, be careful; this is a bustling area.
Picnicking and Gilling: The park has more than 50 picnic tables and 30 grills.
Kayak and Canoes: You can rent either and paddle the run.
Who lived at Silver Glen Springs?
Silver Glen Springs was home to settlers who bought Florida and Native Americans more than 3,000 years ago.
Can you pay at the gate to get in?
Yes, you may be able to pay at the entrance with cash or debit, or credit cards. In addition, you can go directly with your annual pass to the Ocala National Forest. On the other hand, you can buy the ticket by using their app.
Can you get married at Silver Glen Springs?
Currently, there are no facilities for weddings. If you have your heart set on getting married in the spring, then Silver Springs, Florida, is a good choice.
Is Silver Glen Springs wheelchair friendly?
Yes, the park has several facilities for people in wheelchairs.
Closing Thoughts
Florida is home to many state parks for the whole family to enjoy, and Silver Glen Springs is no exception. This natural park is the perfect opportunity to explore earthly paradises. Remember that this is one of the busiest springs in Florida, and if you are not arriving by boat, you will need to beat the crowds to get in. Lastly, the best section is Silver Glen Run if you want to avoid the crowds altogether.
Here are some of the most popular springs in Florida:
We participate in the Amazon Services LLC Associates Program, an affiliate advertising program designed to provide a means for us to earn fees by linking to Amazon.com and affiliated sites.
Brit On The Move™ Travel Resources
Ready to book your next trip? Use these resources that work:
Need more help planning your trip? Check out our Resources Page, highlighting the great companies we trust when traveling.