Kayaking Weeki Wachee Springs is one of Florida's most fantastic kayak routes. The water here is as clear as it gets, the river is loaded with wildlife, and it's a throwback to a slower pace of life. Manatees are a given; you'll encounter herds of them. Gators are a possibility, and you might even see otters. Navigating this water is one of Florida's most exhilarating experiences. It's also one of the few remaining places where old fishing cabins turned homes dot the picturesque river bank. The Weeki Wachee River rises from Weeki Wachee Springs. Flowing 7.4 miles from its headspring to Bayport in Hernando County, Florida, this short, fast-moving river meets the Gulf of Mexico.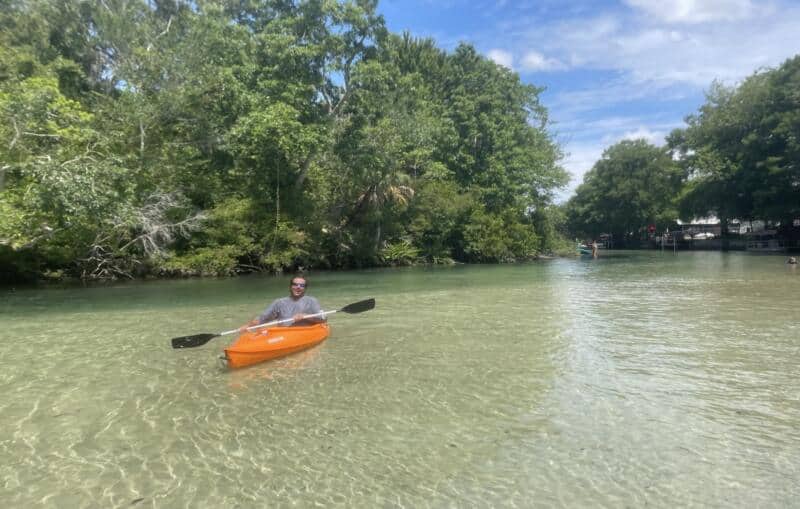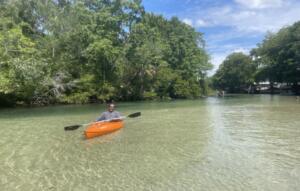 This post may contain affiliate links. Please read our disclosure and privacy policy for more information.
Why Visit Weeki Wachee Springs?
Weeki Wachee Springs is a state park offering one of the most beautiful springs you can find in Florida, and this is why you should visit Weeki Wachee Springs:
You can kayak Weeki Wachee Springs and down the river.
The park also hosts Buccaneer Bay and Buccaneer Bay Water Park.
Weeki Wachee Springs offer several camping programs.
The park is home to a live mermaid show ideal for children.
Weeki Wachee Springs park offers river boat tours to teach people about the importance of Florida's wildlife.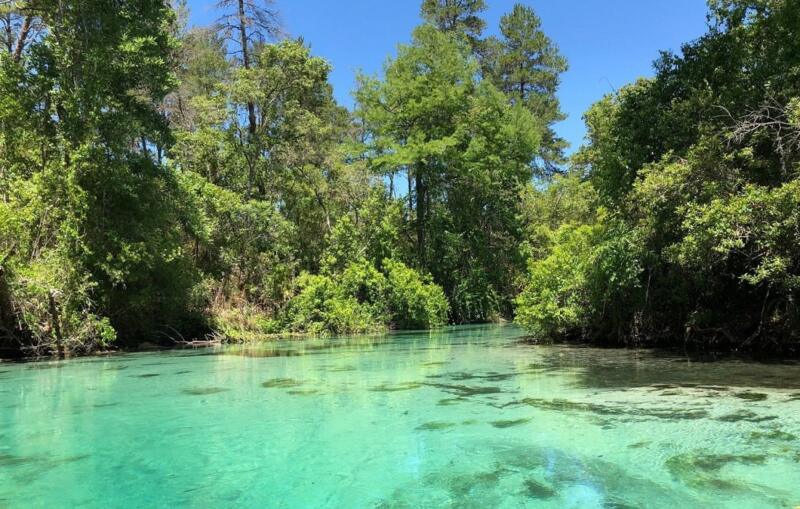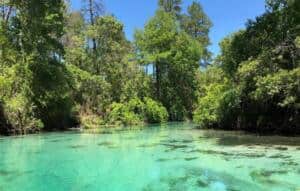 The History Of Weeki Wachee Springs
The spring we can find north of Tampa is called "Weeki Wachee" because the Seminole Indians called it that way in their native language (small spring). While not actually "small," as its name implies, it has a depth of more than 400 ft.
Newt Perry, a former U.S. Navy man, swim coach, and star swimmer turned event promoter, purchased Weeki Wachee Springs in 1946. This athlete cleaned the spring that was full of junk at the time.
Newt wanted to create a way for humans to perform underwater. He invented a method of breathing underwater from a free-flowing air hose supplying oxygen from an air compressor. This hose gives the appearance of people or mermaids breathing underwater.
Initially, an 18-seat theater was built. A newer theater with a capacity of 50 was created later, and the viewing windows were added. Newt sought out pretty girls and taught them how to perform ballet moves underwater and other tricks. As such, the mermaid shows of Florida were born.
This show was why Weeki Wachee Springs was an icon among all the tourist stops in Florida between 1950 and 1970. The spring had great fame, was the location of some famous movies, and was included in the maps in 1966 (including the small town of Weeki Wachee).
In 1982, slides and a sandy beach were built to allow people to sample the refreshing waters of Weeki Wachee Springs. Finally, the spring became a state park in 2008.
What City Is Weeki Wachee Springs In?
Weeki Wachee Springs is in the unincorporated community of Weeki Wachee and is located north of Tampa. Additionally, the spring is located on Spring Hill, a census-designated place in Hernando County.
The Location Of Weeki Wachee Springs
Weeki Wachee Springs State Park can be found in Hernando County, 48 miles north of Tampa. In addition to the state park, we can find a community called Weeki Wachee in Spring Hill. In case you do not have the complete address and you do not know where to find it, we will show it to you below:
Address: 6131 Commercial Way, Spring Hill, FL 34606, United States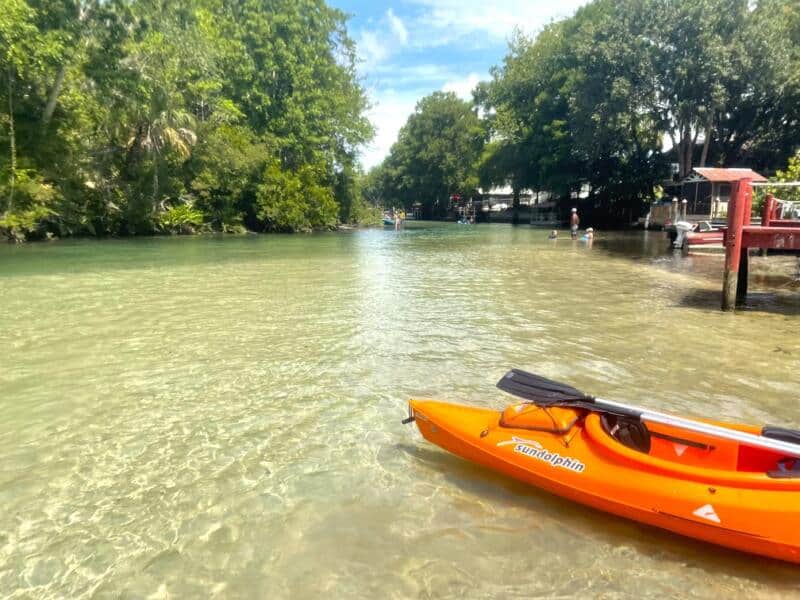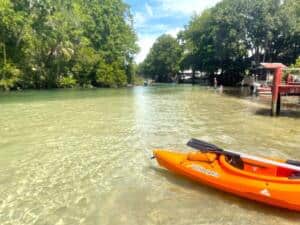 Getting to Weeki Wachee Springs
Getting to Weeki Wachee Springs is accessible. If you're outside of Florida and want to get there by plane, you can fly into Tampa and take the closest route to Weeki Wachee Springs. If you are in Florida, these are some of the easiest ways:
From Tampa: This is the easiest route. You should look for the road FL-589 Toll N and cross at FL-50W. Then you can find the park less than 7 miles away.
From Orlando: Start on FL-408 W, go to Florida's turnpike and drive to FL-50W until you reach the state park.
From Gainesville: Start on FL-121 S, drive to Hwy 41S and return to FL-121 S. Follow US-98 and end on US-19 until you reach Weeki Wachee Springs, State Park.
What Is There To Do At Weeki Wachee Springs?
There are tons of things to do! Paddling, canoeing, and kayaking. Picnicking and barbecuing. Swim at Buccaneer Bay. Watch the mermaid shows, camps with kids, boat tours, and more!
For a comprehensive guide on things to do at Weeki Wachee Springs read this: Weeki Wachee Springs State Park – The Complete Guide
Kayak Weeki Wachee Springs & The Weeki Wachee River
Quite possibly the main event for those that love kayaking! If you do, Weeki Wachee Spring is by far one of the most beautiful kayak routes in Florida. My all-time favorite is Kings Landing, but Weeki Wachee is a close second.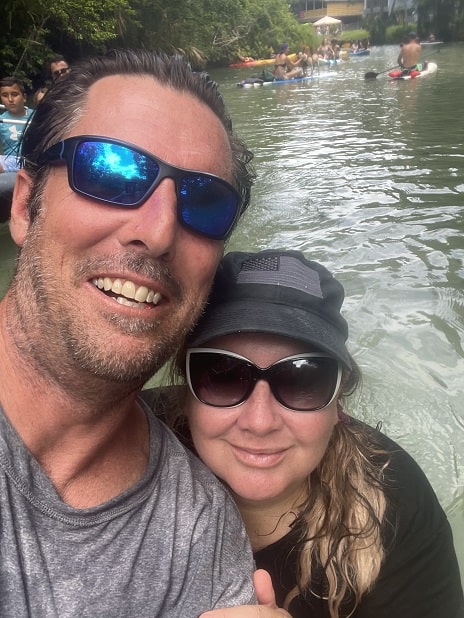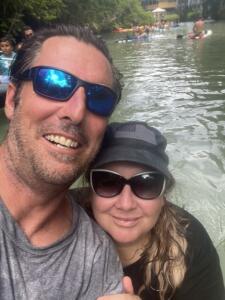 One unique thing about kayaking Weeki Wachee is that its old school. Think Huckleberry Fin, and you'll know where I am going with this.
When you start from the top, you will pass canal communities. However, once you reach Roger's Park and continue south, you will enter a region populated by mostly native locals. The spring is stunning, but the Weeki Wachee River is just as beautiful.
Most of the homes along the Weeki Wachee River are old fishing cabins converted or with additions. There are plenty of newer two-story homes, but the old one-story ones maintain the old-fashioned vibe of the area.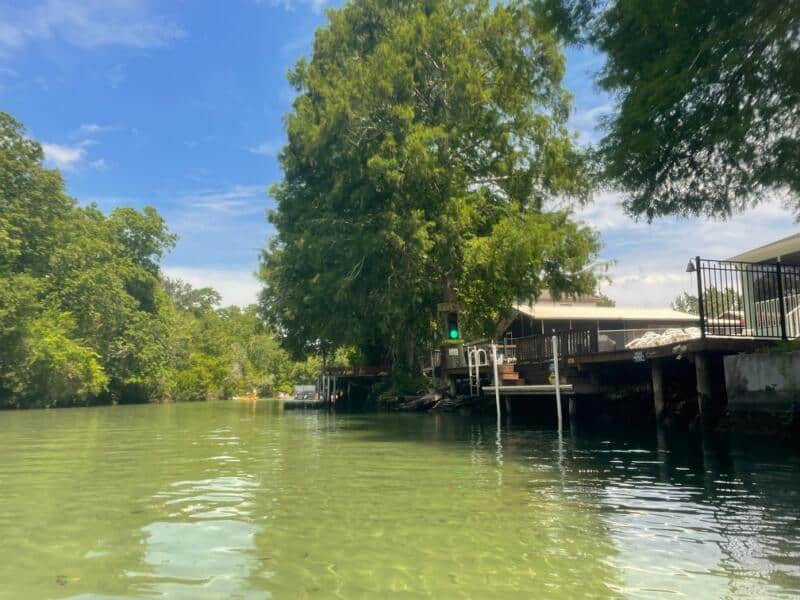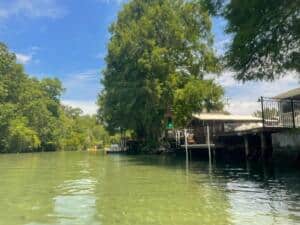 Manatees On The The Weeki Wachee River
Another unique element is no matter how many times you kayak, Weeki Wachee, be it up or down the river, you'll see manatees. I've been countless times and never not seen them. Sometimes it's a herd, sometimes a mother and calf. Other times a solo manatee chilling out. Regardless, they are prevalent in this water system. I also always see them from the Upper Deck when eating there.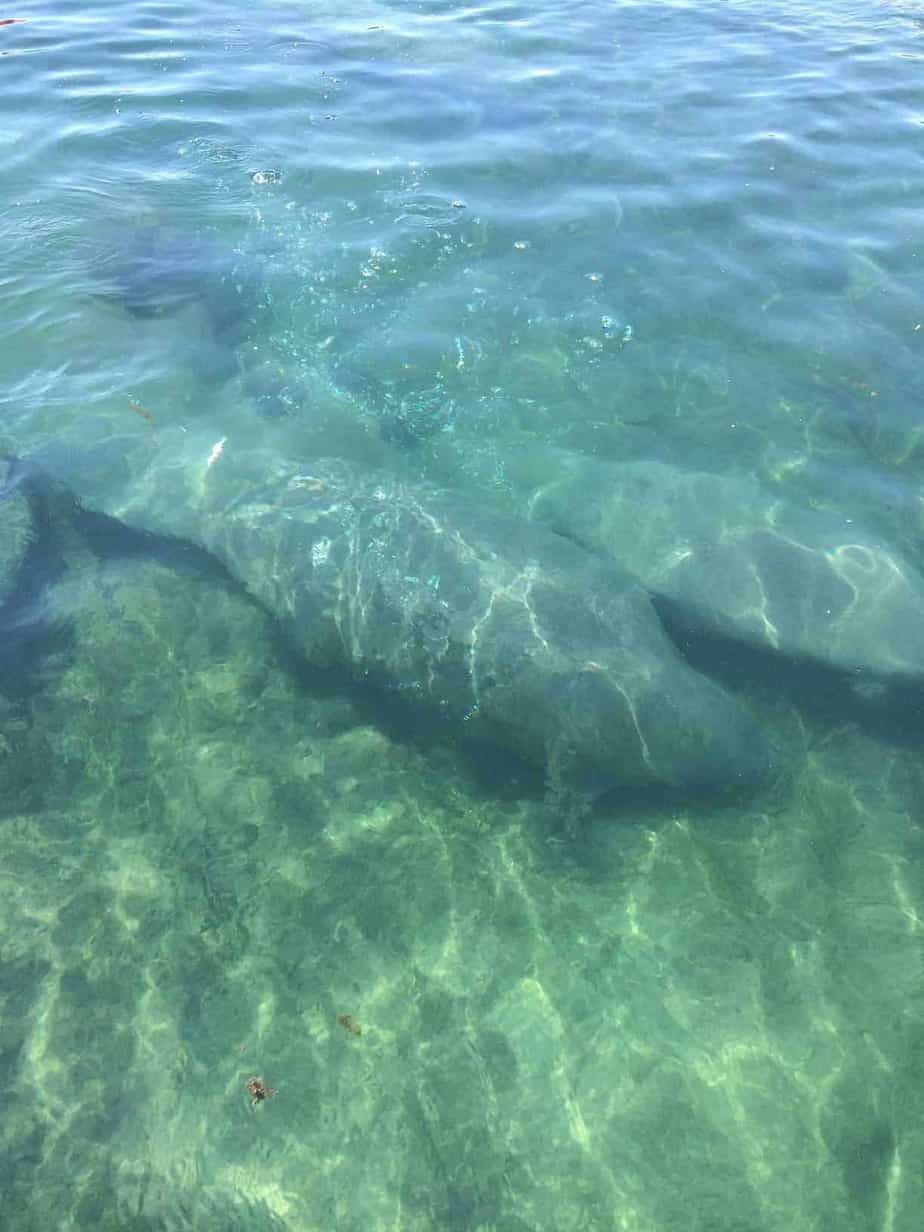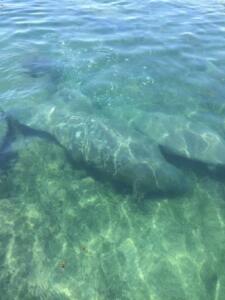 Weeki Wachee River Snack Boat
The Weeki Wachee Snack Boat is an unexpected treat for all. About a mile south of Rogers Park, where the river splits is where you'll find them. Along the river's edge is a pontoon boat decorated with copper manatees. It serves hotdogs, sodas, chips, and ice cream. This is not only a great spot to replenish, but it's also one of the prettiest places to stop for a swim.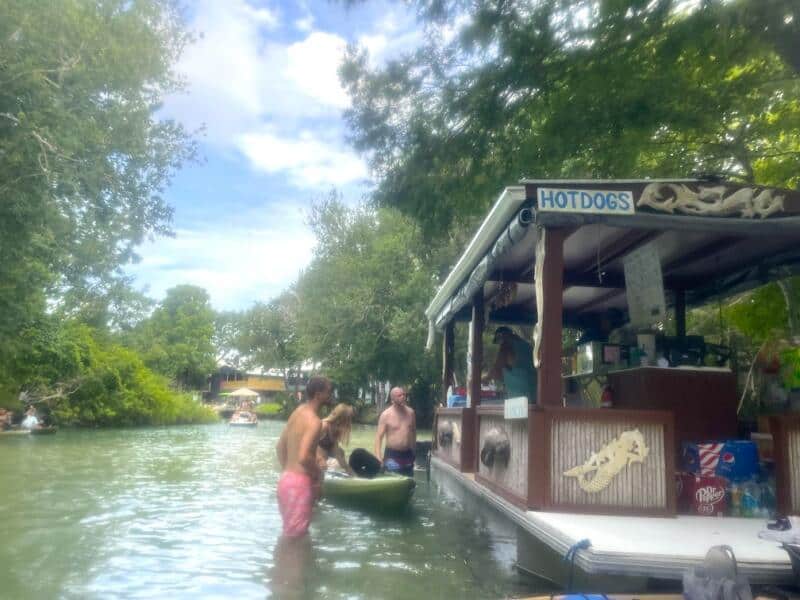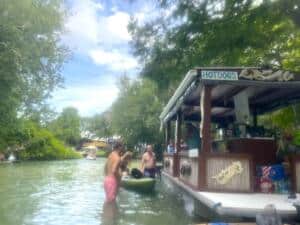 Enjoy the shady trees and cool water of this oasis along the river as you slow down and relax. We had no clue that this place was on the river, and boy, was it needed! We were thirsty and hungry. Naturally, we indulged in hot dogs!
Here's how clear and shallow the water is on this section of the Weeki Wachee River: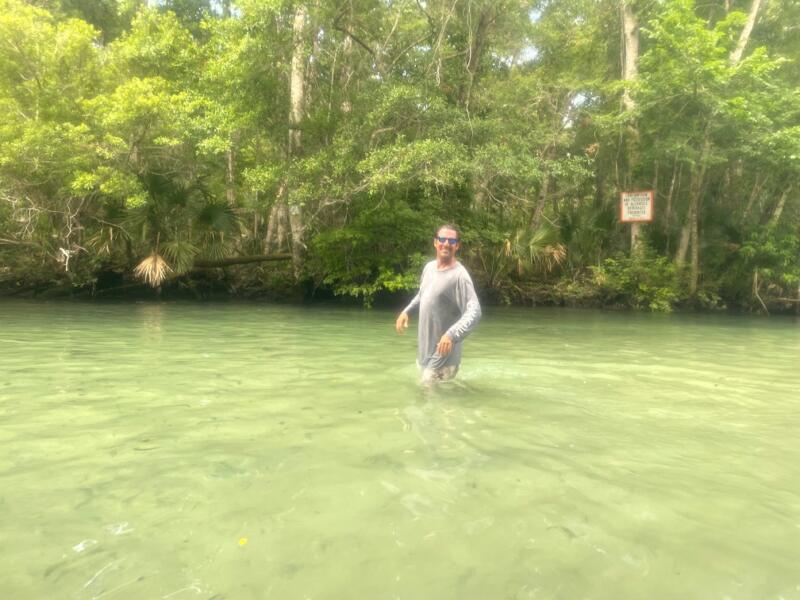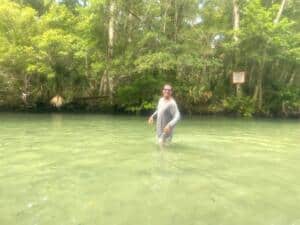 Where Do You Launch Kayaks from Weeki Wachee Springs?
You can launch your kayak at the launch site on U.S. 19 south of the intersection with S.R. 50 just across the parking lot and downhill from Weeki Wachee Springs State Park's main entrance. You'll find parking next to the outfitter on a narrow, unpaved road. During peak periods, you may have to park in the main parking area and walk down to this area if the parking area is full.
You can bring your kayak to Weeki Wachee Springs State Park. It costs $6 per vessel to use the park's private boat launch (reservations are required).
You can also access the water from Rogers Park at 7240 Shoal Line Blvd, Weeki Wachee Gardens.
Kayak & Paddleboard Rentals
Rentals At Weeki Wachee Springs
Weeki Fresh Water Adventures is the only kayak and paddleboard rental facility located on the river at Weeki Wachee Springs State Park in Florida (reservations are required).
You can rent an individual kayak for $32, a tandem kayak for $48, and a paddleboard for $32.
On the other hand, you can bring your vessel and launch for $6.
Rentals At Rogers Park
Friendly Mobile Kayaks
I've personally used Friendly Mobile Kayaks a few times. I found them on Facebook, and they saved what would have been a flop! We had tried to rent from Weeki Wachee River Rentals, but they were sold out. Not only did Cameron deliver the kayaks right to us, but they are the most economical option in the area. We only paid $25 per day per kayak. And, returning them was easy. We texted Cameron, who then met us to pick up the kayaks. It's also worth noting that they also rent clear kayaks.
Reserve yours here: Friendly Mobile Kayaks
Dirt Bag on his kayak we rented: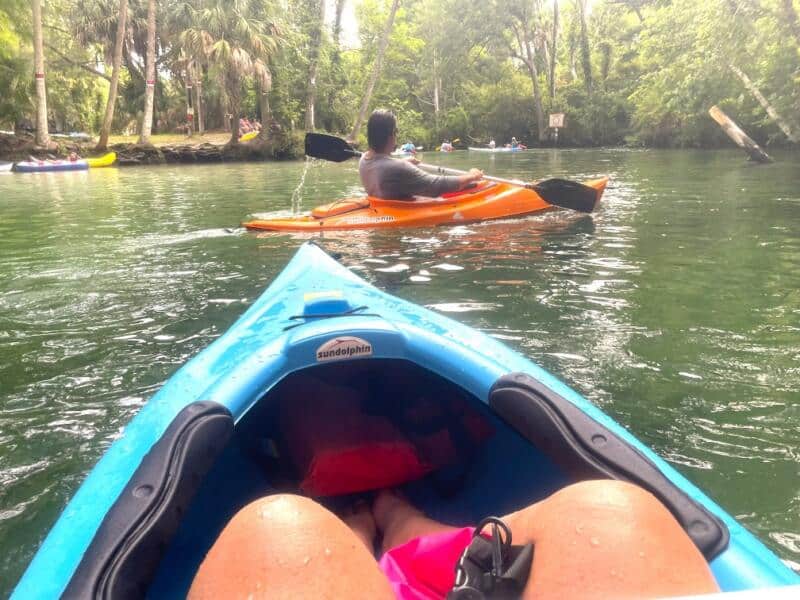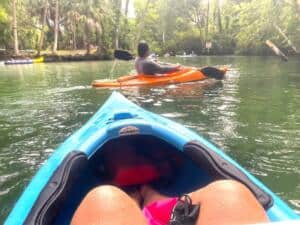 Easy Peasy Mobile Kayak Rental LLC
Family-run & operated Mobile Kayak Rental. Tandem Kayak – $80 · Duration Varies. And if you check out their site, they have a ton of other watercraft to rent to you.
Kayak Pick Up
If you plan to kayak the rivers, there are a few physical locations to rent from:
The Kayak Shack
They are conveniently located next to the Upper Deck Restaurant at Rogers Park. Reservations are not required but are highly recommended during peak season.
All Day Rental $35 – Phone: (352) 610-4169 – All rentals must be returned by 5 pm
Weeki Wachee River Rentals
It is located before the bridge that crosses Rogers Park. You can also rent small boats here. You cannot make a reservation here – it's first come, first served. Weekends are busy and sell out. I can tell you from experience that you have no chance of scoring a rental if you don't show up long before 8 am. Phone: (352) 596-2852 – All rentals must be returned by 4 pm
All Day Rental Prices
Boats – $100 – $145 depending on size
Canoes and Kayaks – $35 – $45 – depending on size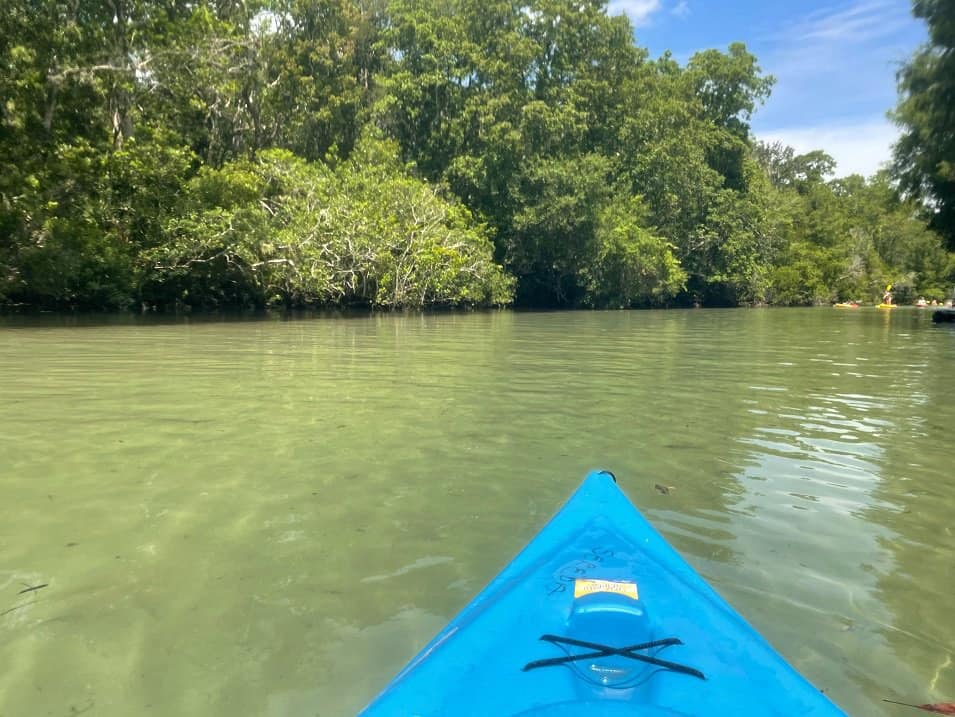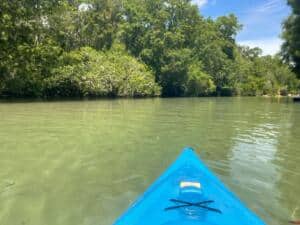 Do's and Don'ts of Swimming
There will be controversy surrounding this topic. There are tons of posts on Facebook from locals ranting about swimming in the Weeki Wachee river.
A dredging project is underway for the Weeki Wachee River to remove the sand from the riverbed. A limestone riverbed is a base for seagrass growth and winter refuge for local manatees. Seagrass will be planted in river areas after the dredging project is completed.
Kayaks are tethered to the river's edge, which causes erosion when people swim in the river. The manatees have less food for the winter because thousands of people repeatedly climb on the river's edge and tramp the seagrass. Jet skis and small boats have caused several feet of property damage to those who live along the river.
There are no signs or law enforcement advising visitors not to swim or stay in their boats. As such, almost all swim in the river – right, wrong or indifferent.
Upper Deck
About three miles down the road at Roger's Park is Upper Deck. This restaurant sits right on the Weeki Wachee River. The food here is fantastic, especially the lobster bisque and cajun shrimp! If you visit here, try to do so at sunset. It's not uncommon to see manatees swimming up and down. We saw four during one of our visits.
Mermaids at Weeki Wachee Springs
When we talk about a mermaid show in Weeki Wachee Springs, many people think of the typical shows that can be seen in theaters or on television. However, in the state park, we can find a live mermaid show under the water of this beautiful spring. Weeki Wachee Springs offers an excellent theater with over 500 seats (16 feet deep from spring level) and a once-in-a-lifetime opportunity for the whole family to see the mythical mermaids.
FAQs About Weeki Wachee Springs
Launch your kayak from Weeki Wachee Springs
You can bring your kayak, so you do not have to pay for a rental, but you must pay for the "private boat launch," which costs $6 per person or $10 per kayak.
Can you swim in Weeki Wachee Springs?
You can swim in the Weeki Wachee Springs and the Weeki Wachee River if you decide to kayak. However, it's a controversial topic. Locals are pushing for a ban on swimming due to the stain on the habitat.
Are There Manatees at Weeki Wachee Springs?
Yes, you can see manatees on the Weeki Wachee River when kayaking. You can also see some manatees in the state park.
Is Weeki Wachee Springs Crowded?
It depends on what season you visit the state park. However, we recommend you go in the off seasons if you want tranquility. And, definitely avoid the weekends if you can.
Is Weeki Wachee Springs Free?
No, Weeki Wachee Springs is not free. Almost all state parks charge a fee to enter and enjoy the facilities. The prices to enter Weeki Wachee Springs are:
$13 for adults
$8 for children between 6 and 12 years of age
Free only for children under five years old
How Deep Is The Spring At Weeki Wachee Springs?
Weeki Wachee Springs has a depth of more than 75 meters.
Are There Alligators In Weeki Wachee Springs?
It is possible to see alligators, but this type of animal prefers marshy waters. In addition, we recommend that you never approach one without the supervision of park professionals.
Can You Walk Around Weeki Wachee Springs?
Yes, there are hiking trails that you can walk along the lake or around the state park.
What Can You Do At Weeki Wachee Springs?
Some of the activities you can do at Weeki Wachee Springs are:
Paddling, Canoeing, and Kayak
Picnics
Swimming at Buccaneer Bay
Mermaid Shows
Camps for kids
Boat tours
Plus, you can get married here and learn a lot about the history of the spring and the area.
Can You Pay At The Gate At Weeki Wachee Springs?
Yes, you can pay at the entrance door. Usually, you can only pay at the door and not make reservations to buy a ticket, but you can do it to rent a kayak.
What Should I Know About Private Events and Weddings at Weeki Wachee Springs
Getting married at Weeki Wachee Springs should be a unique experience, so they are prepared with different packages for all kinds of weddings or private events. Some of the packages you should consider are:
Enlightenment package for ten guests
Celebration package for ten guests
The mermaid package for 30 guests
The manatee package for 75 guests
The peacock package for 125 guests
How Early Should I Get To Weeki Wachee Springs?
We recommend you arrive before the park opens. An ideal time would be before 9 am on weekdays and weekends.
If you really love springs, then you need this book! Florida is home to over 1000 natural springs between the sun-soaked beaches of the Gulf of Mexico and the Atlantic Ocean, which have drawn people to the state for thousands of years. Long before theme parks came to town, the freshwater springs were the top tourist attraction in the state. Join us across the state to explore 40 of the best springs in Florida that you can still visit today. Filled with vivid photos from the past and present, this guide will show you a side of the Sunshine State you won't see in commercials. Complete with information on conservation and a key for activities offered, this book is a must-have for locals and tourists alike.
Closing Thoughts
Weeki Wachee Springs and Weeki Wachee River are magical places where you will find mermaids, manatees, and alligators. Florida's springs offer some of the best ways to connect with Mother Nature. Weeki Wachee Springs State Park will give you peace and tranquility – it's one of the most beautiful springs to kayak in Florida.
Here are some of the most popular springs in Florida:
We participate in the Amazon Services LLC Associates Program, an affiliate advertising program designed to provide a means for us to earn fees by linking to Amazon.com and affiliated sites.
Brit On The Move™ Travel Resources
Ready to book your next trip? Use these resources that work:
Need more help planning your trip? Check out our Resources Page, highlighting the great companies we trust when traveling.