Unveiling the Top 9 Beaches Near Orlando
Hey there, fellow adventure-seekers! If you're like me, you've probably had your fair share of Orlando's dazzling theme parks and lively nightlife. But we all know that sometimes you need a break from the hustle and bustle, right? That's where the beaches come to the rescue, offering that much-needed breath of fresh air and a chance to unwind. It's like hitting the reset button on life!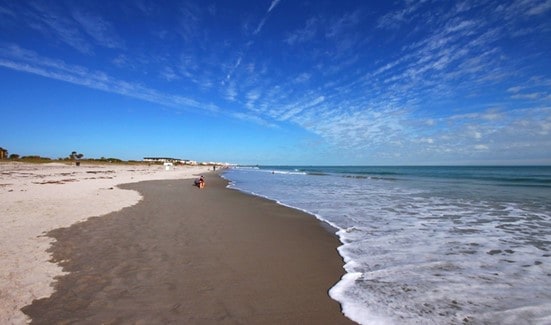 This post may contain affiliate links. Please read our disclosure and privacy policy for more information.
Now, I should mention that Orlando itself doesn't have its very own beach, but guess what? It's right in the middle of everything. That means you're just a short drive away from not one but two incredible coastlines: the Atlantic and the Gulf. So, within no time, you're soaking up the sun on these beautiful sandy beaches with water so clear it's like it's showing off.
And here's the best part—it doesn't matter what beachgoer you are; there's a beach near Orlando for everyone! Whether you're all about family fun, catching those waves, or just craving some peaceful downtime, a beach is calling your name.
So, what are you waiting for? Let me take you on a journey through my exploration of the breathtaking beaches near Orlando.
Cocoa Beach ( Approximately 50 Miles East Of Orlando)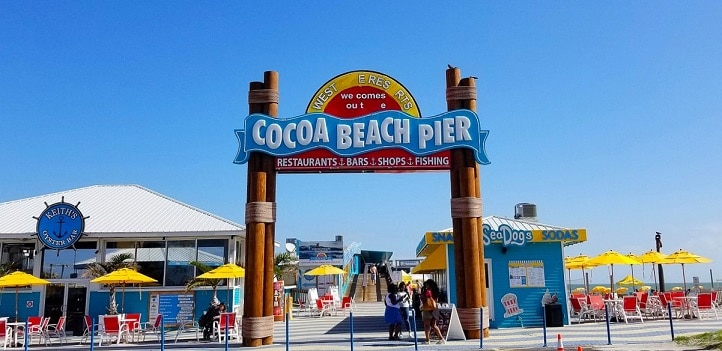 During my quest to find the perfect beach near Orlando, it didn't take me long to discover that Cocoa Beach was the real deal. This place is anything but ordinary. It's a sandy paradise where the soft, inviting sands and the crystal-clear waters practically shout, "Come on in!" Whether you're in the mood for building epic sandcastles, frolicking in the waves, casting your line for deep-sea fishing, or trying your hand at catching some waves, Cocoa Beach has got you covered.
Now, let me spill the beans about the real star of the show—surfing. Cocoa Beach takes its reputation as a surfing mecca seriously. It's here that I found the Ron Jon Surf School, the largest surf school in the entire U.S. Imagine this: you can catch a wave, learn to ride it like a pro, grab some seriously cool beach gear, and soak up the fantastic surf vibes. They even have the world's biggest surf shop; it's a surfer's paradise! You should check out the ultimate guide to Cocoa Beach.
During my visit, I was treated to a delightful surprise. I even spotted these gentle giant sea turtles nesting along the shore and even had the privilege of witnessing tiny hatchlings taking their first unsteady steps toward the sea. It's like nature put on a show just for us beach lovers.
Cocoa Beach is not only one of the closest beaches near Orlando, but it is also one of the most popular ones!
Daytona Beach ( Approximately 54 To 60 Miles Northeast Of Orlando)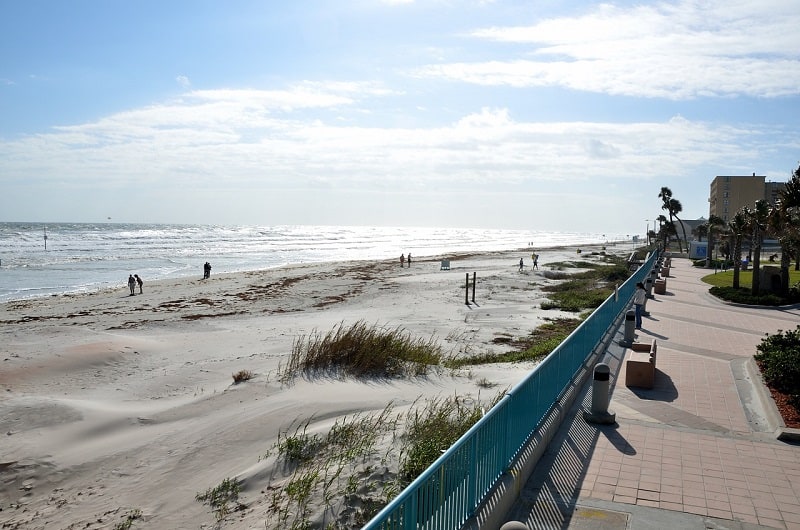 Picture this: traveling a short mile from Orlando to find yourself on the sandy shores of Daytona Beach, a place that's not just a gearhead's paradise but a treasure trove of arts, culture, and history. It's like the perfect beach cocktail with a twist.
Daytona Beach, folks, isn't your run-of-the-mill sandy escape. It's the kind of place where the sand is so packed that it's practically begging for you to drive your wheels right onto the beach. "Beach cruising" takes on a whole new meaning here. Imagine the sea breeze in your hair and the salty spray in the air as you cruise down the shore—it's a feeling you won't forget in a hurry.
Hold on, there's more! The Daytona Beach Boardwalk is like a wonderland for amusement enthusiasts. It's got rides that'll make you scream like a kid who just saw a ghost, games that'll test your skills (and your patience), and food that'll make your taste buds dance like nobody's watching.
New Smyrna Beach (Approximately 54 Miles West Of Orlando)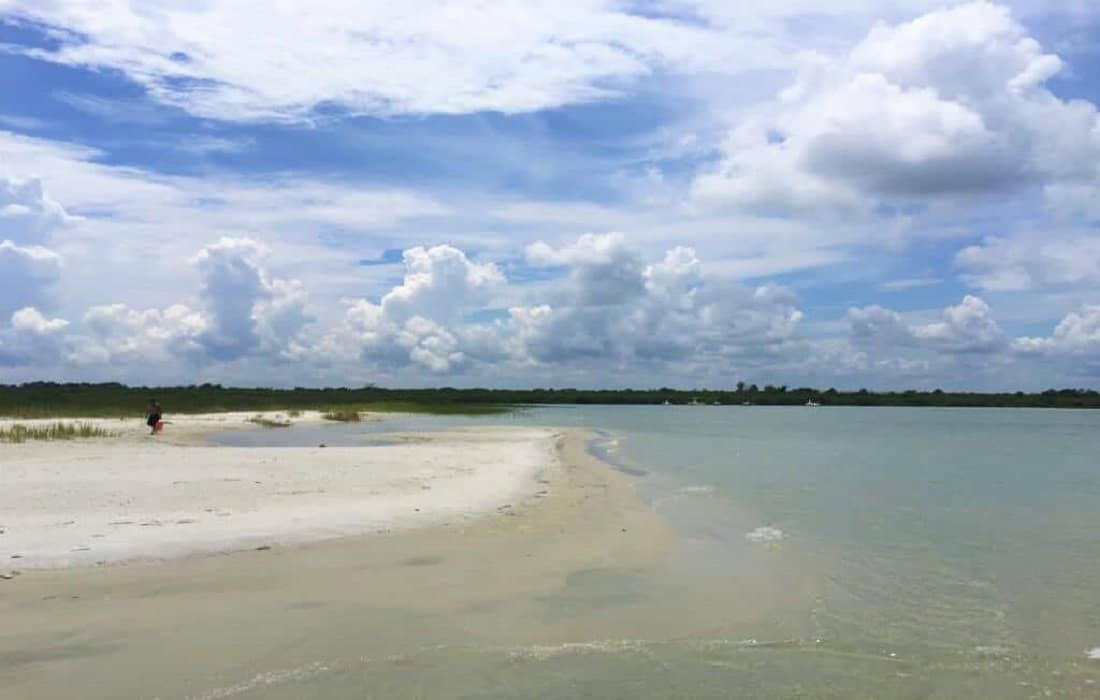 You see, if you're into surfing, New Smyrna Beach is heaven on Earth. I mean, I'm no pro surfer, but even a newbie like me was able to catch some excellent waves at this beach. And if you're not into the whole wave-riding thing, that's cool too because you can try paddleboarding, kayaking, or even some laid-back fishing in the lagoons and estuaries nearby where the water is so calm it's like glass.
New Smyrna Beach, where I rode some waves, explored charming shops, savored fantastic seafood, and watched the sun dip below the horizon. It's the kind of place you never want to leave, and I can't wait to go back! If you're curious and wondering how to spend time at New Smyrna Beach, you should check here. New Smyrna definretly ranks as one of my favorite beaches near Orlando.
Clearwater Beach (Approximately 90 To 110 Miles East Of Orlando)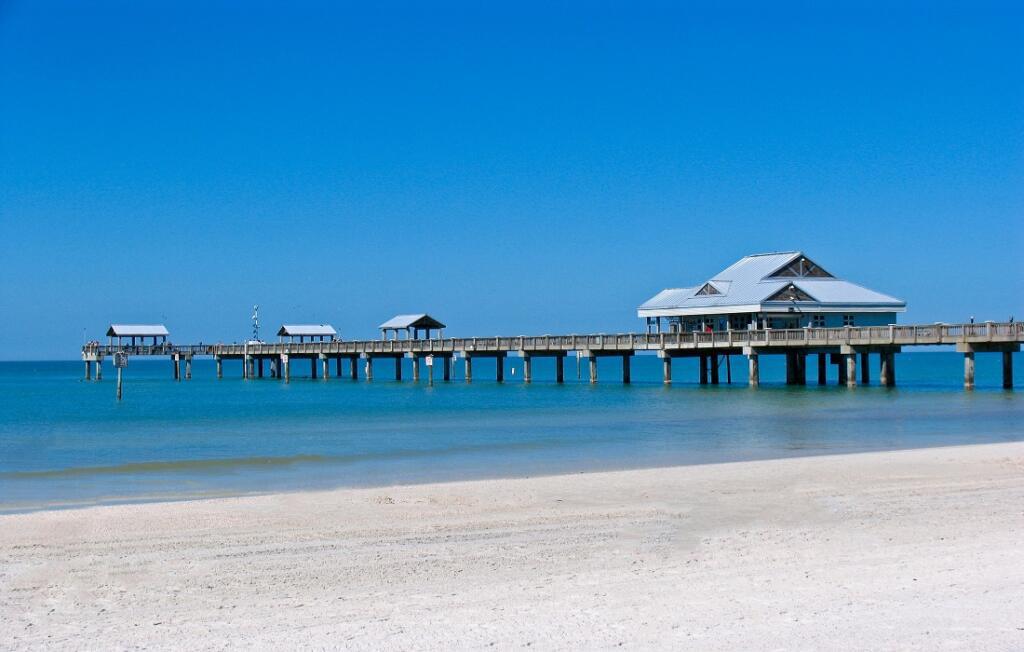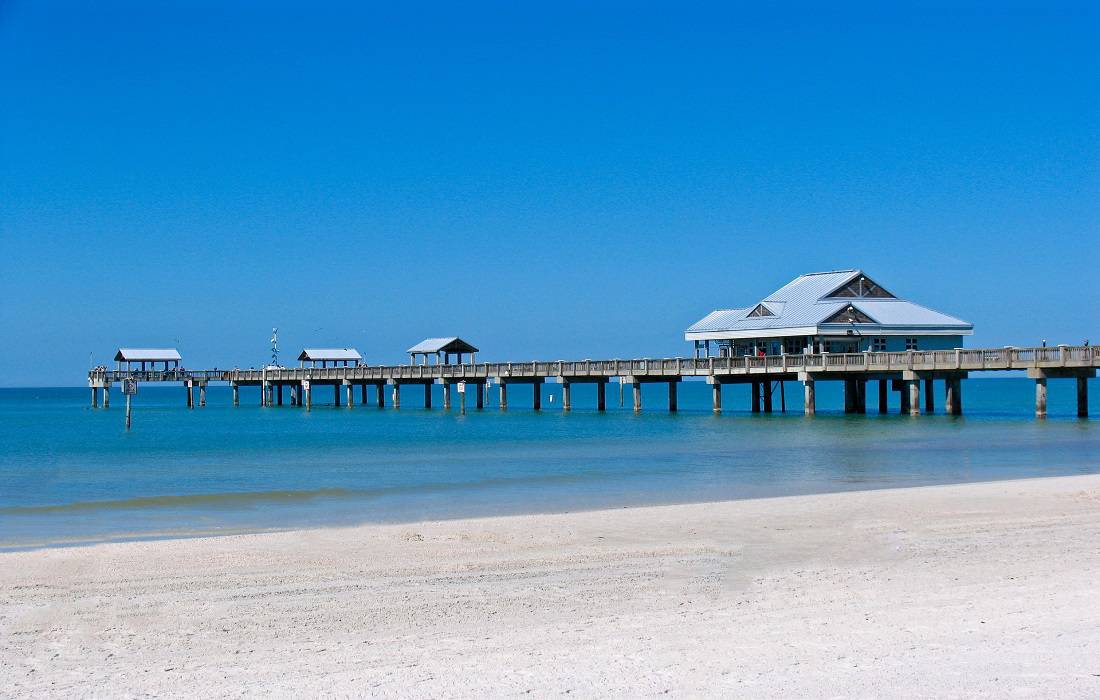 Now, as if New Smyrna Beach hadn't won my heart, I went out to explore more. So, if you're up for an adventure that takes you a bit farther from Orlando, let me tell you about my unforgettable journey to Clearwater Beach on the stunning Gulf Coast.
Clearwater Beach has this sand; oh, it's like a fluffy cloud for your toes. You have to kick off your shoes and experience it to believe it. And the sunsets here, oh my goodness! They're the kind that can turn even a grumpy sea turtle into a beach enthusiast.
Now, when it comes to fun, Clearwater Beach has got it all. You can take a dip in those crystal-clear waters, bask in the sun, or if you're feeling adventurous, you can go all out with activities like parasailing and jet skiing. The water is so clear that you'll think you're swimming in your slice of paradise.
But if all you want is to unwind, Clearwater Beach has got you covered. The peaceful vibes here are so contagious that you'll find yourself in an instant state of relaxation. Pair that with those awe-inspiring sunsets, and you've discovered the ultimate spot for a tranquil and rejuvenating getaway.
St. Augustine Beach (Approximately 100 To 110 Miles Southwest Of Orlando)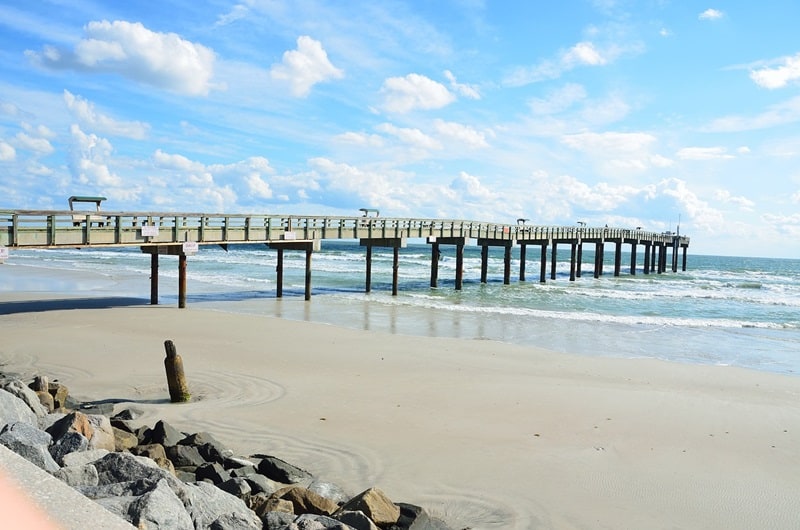 For an unforgettable beach adventure packed with history and natural beauty, you should visit St. Augustine Beach. It's just about a hop, skip, and a jump (well, more like a 1.5-hour drive) away from Orlando. Now, St. Augustine may be the oldest city in the U.S. where people have been living continuously, but trust me, it's got more than just a few wrinkles—it's brimming with charm, culture, and some seriously jaw-dropping coastline.
St. Augustine Beach boasts these massive, sandy stretches so wide you'd think they were on a never-ending quest for the perfect tan. It's the ultimate beach bum's paradise; it doesn't matter if you're soaking up the rays, frolicking in the waves, or embarking on a full-scale treasure hunt for the shiniest seashells.
Now, if you're itching to spice things up, how about a boat tour to spot some playful dolphins or jumping on a guided kayak adventure through the enchanting waterways in the area? Just remember, the best things to do in St. Augustine include a sightseeing boat tour, dolphin encounters, and so many more.
Flagler Beach (Approximately 75 Miles Northeast Of Orlando)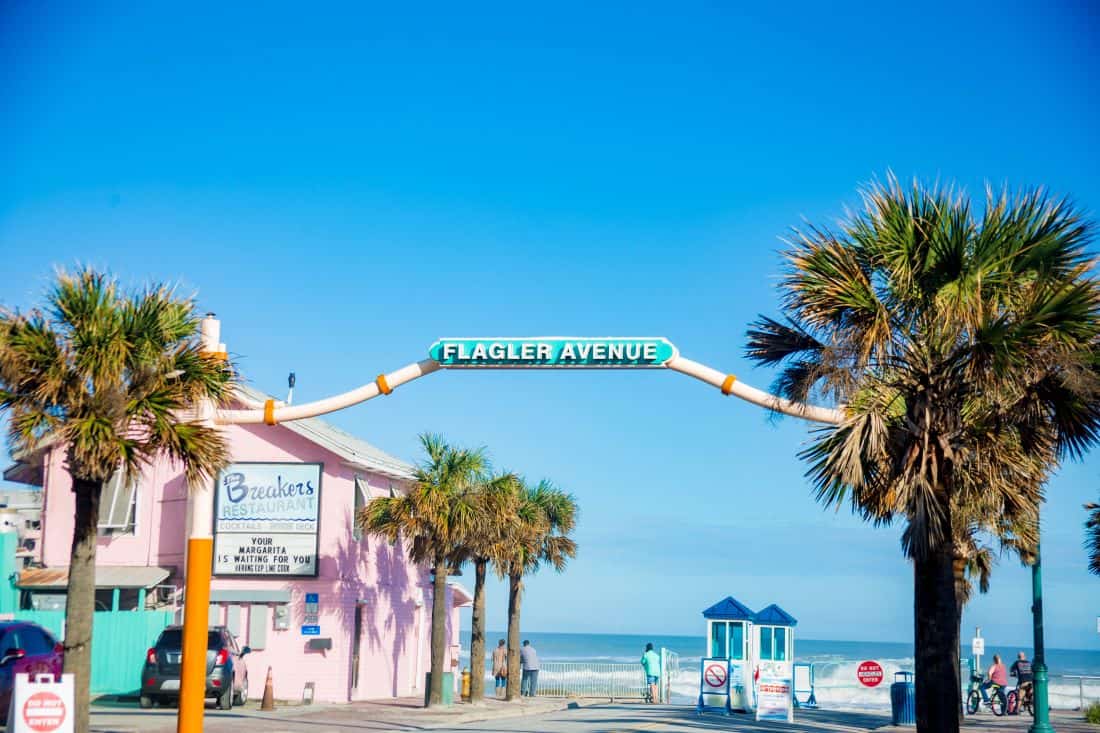 So there I was, looking for a quick escape from the bustling city of Orlando. My journey took me to Flagler Beach, a hidden gem between St. Augustine Beach and Ormond Beach. It was like finding a secret oasis for those searching for a relaxed beach adventure.
Flagler Beach had a different vibe, unlike the typical beach destinations you'd come across. There were no towering condos or skyscraper hotels, just pure, unadulterated natural beauty and serenity. It was where you could kick back, take strolls along the shoreline, and let the gentle sea breeze wrap around you like a warm hug.
And the evenings were a whole different story, as I grooved to live music at a beachside bar. It was the kind of fun unique to Flagler Beach and one of those experiences that'll keep you coming back for more. The beach was my sanctuary, where the sands were gentle, but the waves, well, they had a playful, almost clingy, way of making you feel right at home.
Canaveral National Seashore (Approximately 45 To 50 Miles To The Northern Entrance)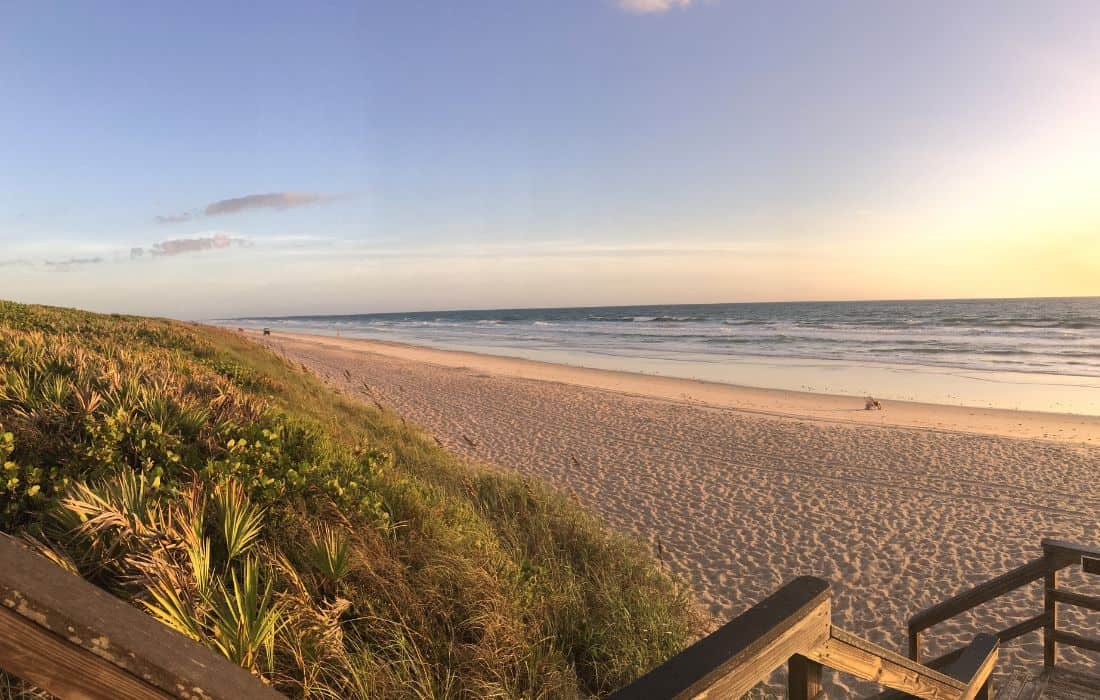 Nestled between New Smyrna Beach and the Kennedy Space Center, this beach near Orlando is a haven for nature enthusiasts. It's where Mother Nature doesn't have to compete with towering buildings or noisy boardwalks. No, this beach is all about being in nature!
Stretching on and on, the Canaveral National Seashore remains untouched and unspoiled. Here, you'll find those majestic dunes, expanses of pristine sandy shores, and the ocean serenading your soul with its rhythmic lullaby. And guess what? It's not jam-packed with beachgoers, so that you can cozy up with nature in your private cabana.
There's a laundry list of things to do at this natural wonderland. You can take a refreshing dip, cast your fishing line, or embark on strolls that make you feel like you're in a music video.
So whether you're a beach bum, a hiking enthusiast, or a budding bird-watcher, Canaveral National Seashore has something to make your heart sing. It's all about immersing yourself in the great outdoors and having more fun than a seagull in a French fry factory!
Ponce Inlet (Approximately 57 Miles Southeast Of Orlando)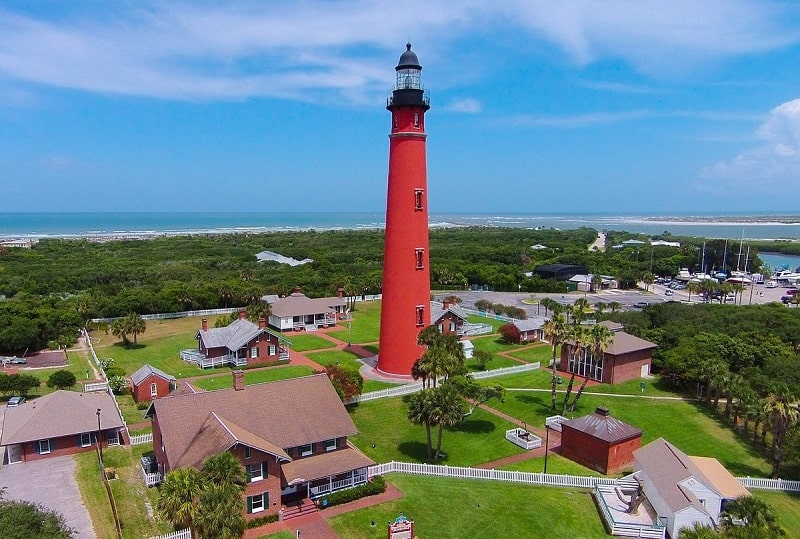 So, I remember when I was at Daytona Beach, and I stumbled upon Ponce Inlet. Nestled snugly between the vast, blue stretch of the Atlantic Ocean and the winding Halifax River, this place was like a breath of fresh air, both figuratively and literally, even though I hadn't spent a long time here. It's a spot renowned for its breathtaking views, a tall lighthouse that could almost touch the sky, and an overall chill, laid-back beach vibe.
As I stood at the base of what turned out to be the tallest lighthouse in Florida, the temptation to climb to the top was irresistible, and boy! It was worth it. The view from up there was nothing short of awe-inspiring. It felt like I was getting a sneak peek into Mother Nature's playbook. From that vantage point, I could see everything! But this lighthouse was more than just a lookout; it was a gateway to the past.
Ponce Inlet, for me, was all about letting go of the daily grind and embracing nature's beauty. If I wanted to delve into the underwater world, try my hand at some water sports, or lounge on the beach with my favorite book, Ponce Inlet, I had it all. It was like stepping into a postcard-perfect beach paradise.
Vero Beach (Approximately 110 Miles Southwest Of Orlando)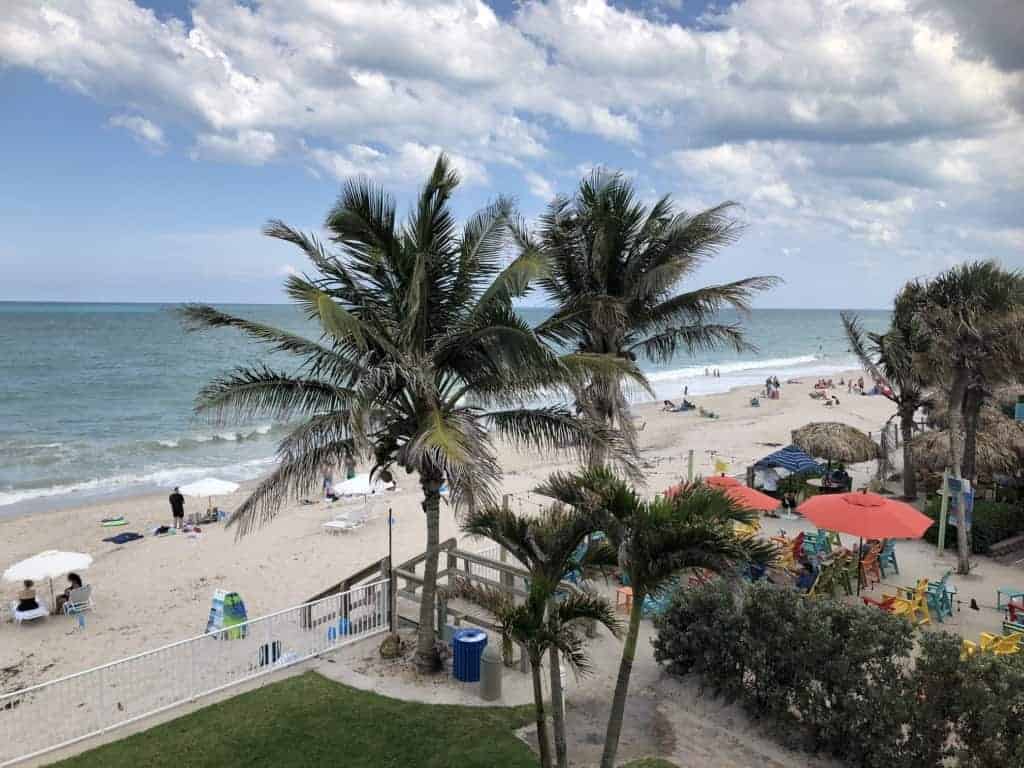 Vero Beach is one of those hidden gems that feels like you've stumbled onto a treasure map that nobody else has found. It's one of the lesser-known beaches near Orlando. Let me take you away on my enchanting journey through this coastal paradise.
Picture this: waking up to the most breathtaking sunrise you can imagine. And the beaches—they're not your ordinary beaches. They're like a long, sandy dream that stretches out to meet the endless Atlantic Ocean. But the real showstopper is the sea turtles. It's as if they've chosen Vero Beach as their exclusive nesting spot. During nesting season, it's like being invited to a VIP party in their world. I witnessed these gentle giants doing their thing—a truly magical experience.
So, pack your bags, follow your sense of wonder, and join me in my incredible adventure at Vero Beach. Who knows, you might even spot Donald Duck catching a wave!
Vero Beach is also Nikki from Brit On the Move's favorite beach near Orlando on the East Coast!
FAQs
Can you swim at the beach near Orlando, Florida?
Yes, you can swim at the beaches near Orlando, such as Cocoa Beach on the east coast or Clearwater Beach on the west coast. These beaches offer opportunities for swimming and various water activities.
What's the best beach in Orlando within a 2-hour drive?
In my experience, within a 2-hour drive of Orlando, Cocoa Beach on the East Coast and Clearwater Beach on the West Coast are two popular options. I've found that Cocoa Beach offers a great mix of activities, with relatively clear water and a laid-back atmosphere.
What beaches near Orlando have the most transparent water?
In my experience, some beaches near Orlando with reasonably clear water include Cocoa Beach on the east coast and Clearwater Beach on the west. Water clarity can vary, so it's a good idea to check conditions before visiting.
Closing Thoughts
As my exploration ended and the sun started to go down, turning the sky into beautiful colors of orange and pink, I felt like these beaches near Orlando had become a part of my memories. With sand in my toes, lots of sunscreen, and lots of stories to tell, it was time to say goodbye, at least for now.
And as I reminisced about the trip right now, I couldn't help but think about the fantastic adventures I had. The real magic of these beaches near Orlando isn't just how pretty they are but in the memories they help create. And if you're up for a bit more adventure in Florida, Miami's beaches are just a few hours away, where you can enjoy more sunshine. You can even enhance your beach experience by renting beach chairs in Miami Beach, sitting back, and enjoying the beautiful sight.
So, until we meet again, my beachy buddies, stay calm, stay salty, and keep those good beach vibes going. Orlando has its theme parks, but it's these beaches that I'll never forget fondly.
Writer's Bio:
Meet Emmanuel Mohammed, an avid travel writer and blogger who turns ordinary workdays into thrilling adventures. He's your ticket to globe-trotting on a budget so you can see the world without emptying your wallet. Emmanuel is like a modern-day Indiana Jones, always hunting for hidden treasures in far-off places and unique places to stay. You can read all about his travels at travelmend.com.
Looking for more posts on Florida? Start here:
Subscribe to our newsletter and get the best travel tips and inspirational stories delivered monthly. No spam, no sales pitches – TRAVEL!
Brit On The Move™ Travel Resources
Ready to book your next trip? Use these resources that work:
Need more help planning your trip? Check out our Resources Page, highlighting the great companies we trust when traveling.