While tourists flock to Florida from all over the world for its stunning beaches, locals know exactly where to go to kick back, people watch, and party, and that's a sandbar! A sandbar is a small island, rising out of the water or sometimes partly submerged in it, and formed by shifting tides and winds, so not every sandbar is permanent, and every sandbar is different! Sandbars are known for their powdery white sands and paradise settings in crystal clear turquoise waters, and they are the perfect place to moor a boat and spend a day hanging out in the sun. Here are Florida's best sandbars!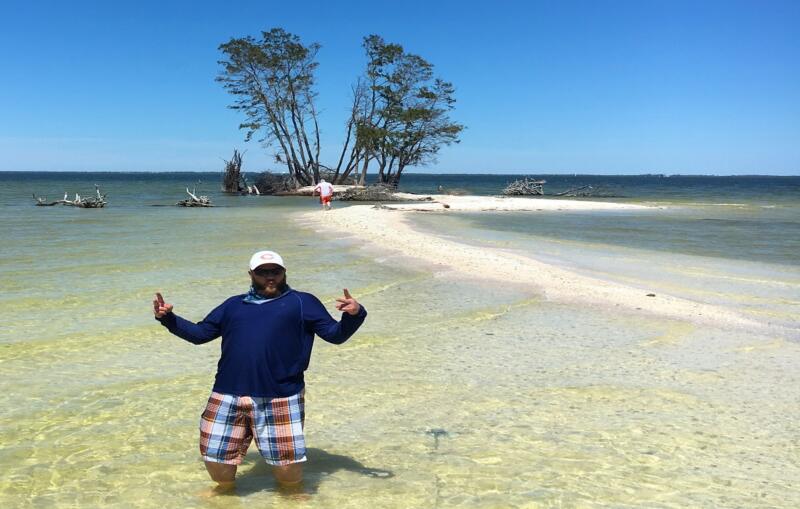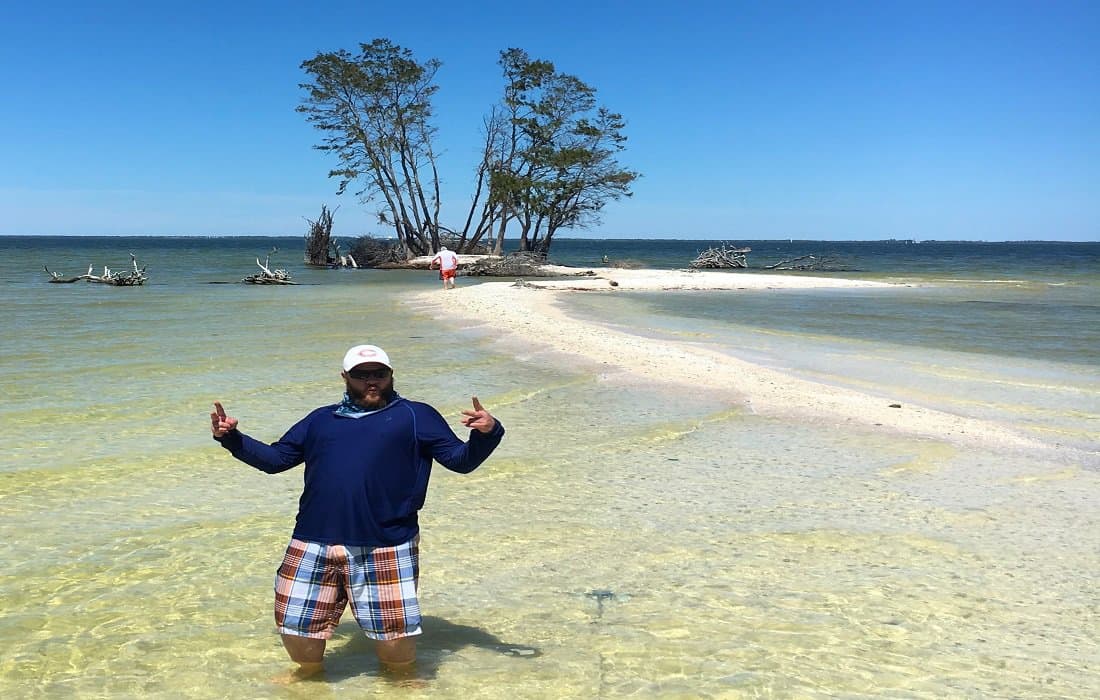 This post may contain affiliate links. Please read our disclosure and privacy policy for more information.
A sand bar is a strip of land formed by sediment deposited on the beach or at the mouth of a river. They can also connect islands to the mainland. Generally, they form low-gradient shorelines. Sometimes spoil islands have a sandbar, and people use the terms sandbar and spoil island interchangeably.
What Are Spoil Islands?
A spoil island is an artificial island, often created by channel dredging. To promote boating and commerce throughout Florida over the years, countless channels have been dredged through the state's shallow inshore and coastal waters to provide enough depth for vessels to travel.
There are several spoil islands all over Florida's Intercoastal waterways, and the ones in Titusville are a treat because you can almost always get one to yourself.
Submerged or partly exposed, sandbars are built by waves offshore from beaches. A trough is excavated in the sandy bottom by the swirling turbulence of waves breaking off a beach. Some sand was carried onto the beach, and some were deposited in the trough's offshore flank. In addition, sand suspended in backwash and rip currents contribute to the bar.
Florida's Best Sandbars
Florida has many sandbars, a favorite local pastime for those who live here. There's nothing better than a day on a sandbar. It's the same as spending a day on a remote Caribbean island. Claim your spot, set up your gear, and enjoy the tranquil shallow turquoise water that is what most seek in sandbars.
Anclote Sandbar, Tarpon Springs, FL
With a name deriving from the Spanish word for "anchor," The Anclote Keys Preserve is three miles off the coast and only accessible by ferry or private boat. To the southern end is a historic lighthouse built in the 1800s. The sand here is known for being a brilliant white and powdery soft. There are palm trees and a historical lighthouse from the 1800s, and it's a great spot to watch the sunset.
Also known as Anclote Key Preserve State Park, this sandbar is home to many blacktip sharks. It's not uncommon to see them, so be alert. You can camp on Anclote Sandbar. However, it's rustic, and there are no amenities. And, if you plan to camp, then you have to get yourself there.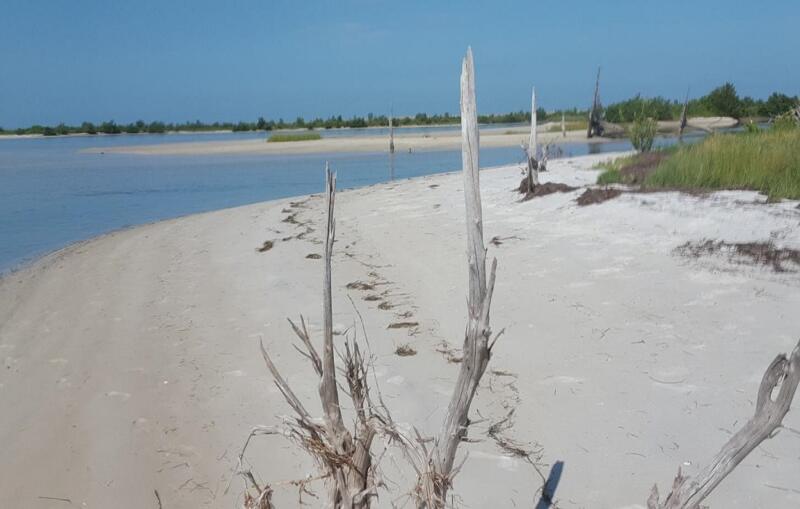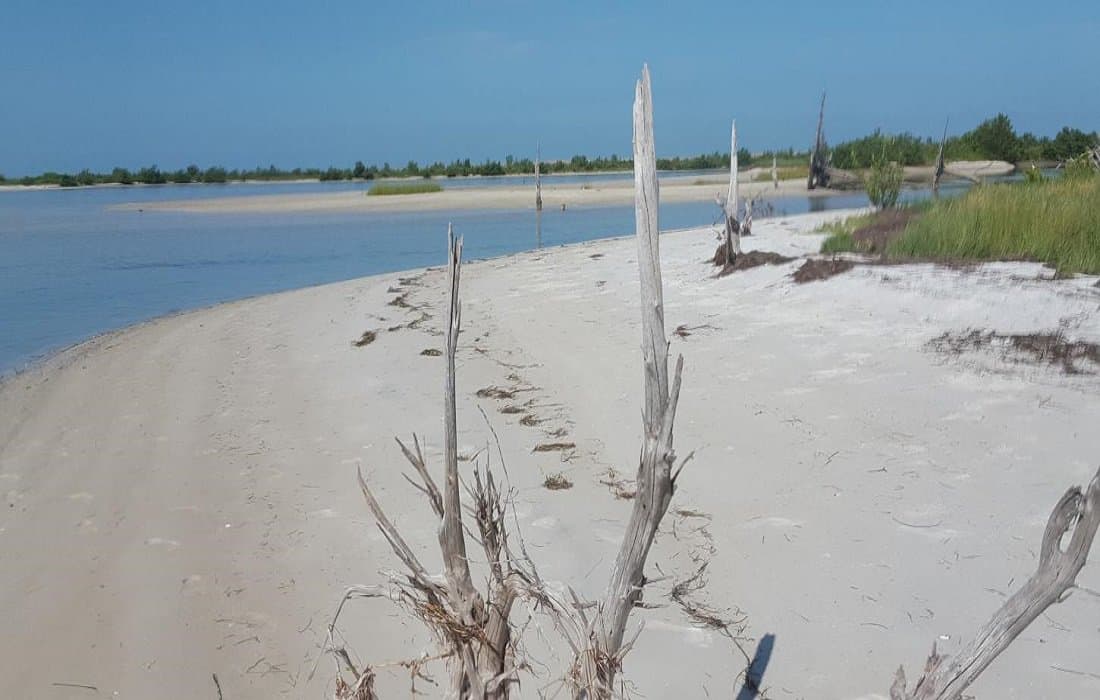 Image Credit: Anclote Key Preserve State Park
This sand bar is only accessible by boat or jet ski. If you don't have your own water vessel, here are three operators that will take you there:
Odyssey Cruises: 727-934-0547
Private Island Charters: 727-534-8818
Sponge-O-Rama: 727-943-2164
These ferries leave from Tarpon Springs' historic Sponge Docks:
Windsong Charters, 727-859-0213
Island Paradise Charters, 877-774-0589
Ferry services do not drop off visitors for overnight camping. You must have your own transportation to stay overnight. Dogs are allowed only at North Anclote Bar.
Disappearing Island, Ponce Inlet, FL
As the name suggests, this island appears and disappears magically as the tides go in and out. It's three-quarters of a mile of lush sand from which you can spy the Ponce Inlet lighthouse, Florida's tallest, from the sandbar. Disappearing Island is a beautiful sandbar on which to pitch up, make new friends, bring your dog, and enjoy a barbecue. There are also plenty of waterfront restaurants here with moorings.
Map of Disappearing Island Florida
GPS Water Coordinates: 29.074742, -80.931316
For details on how to get to Disappearing Island, see here: Disappearing Island Florida – Everything You Need To Know Including Boat Ramps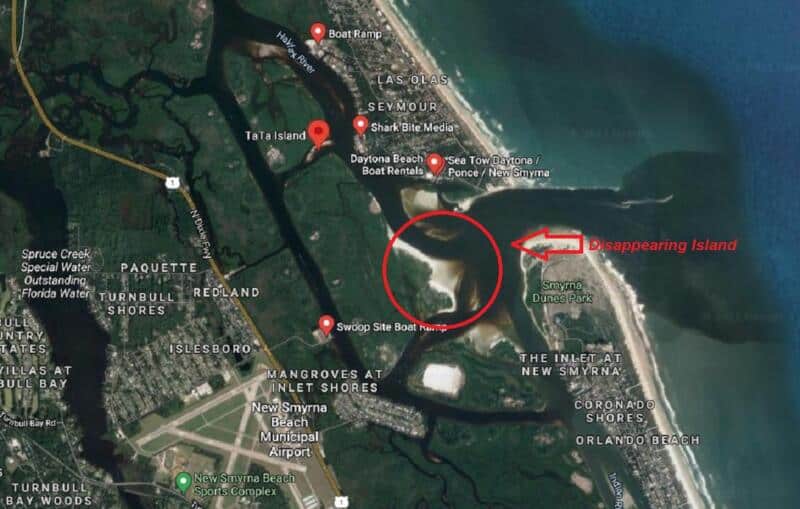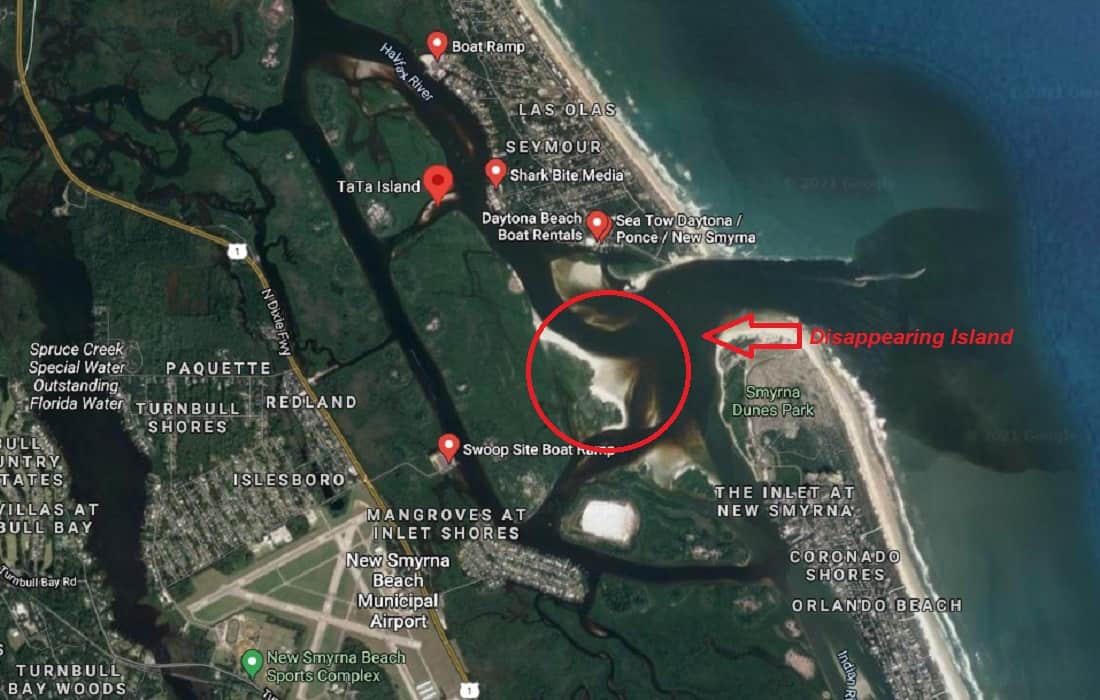 Peanut Island, Palm Beach, FL
Peanut Island is one of the best sandbars in Florida and is situated between Riviera Beach and Palm Beach in the Lake Worth Lagoon. With a busy sandbar, the island can get quite rowdy, especially during holidays and on summer weekends, but it's easy to see why it's so popular due to its beautiful sand and clear water. The spot is also fabulous for snorkeling. The island is a country park of 79 acres and is serviced by a local ferry. This man made island has a pier to fish from, restrooms, and you can camp on the island.
Peanut Island Ferry
There is one ferry that will take you to Peanut Island, The Peanut Island ferry:
The Peanut Island ferry is located inside the Riviera Beach Marina Village.
The ferry runs to and from Peanut Island every 25 minutes, from 10 AM-5 PM.
The last boat goes to Peanut Island at 3:30 PM.
The trip takes about 10 minutes.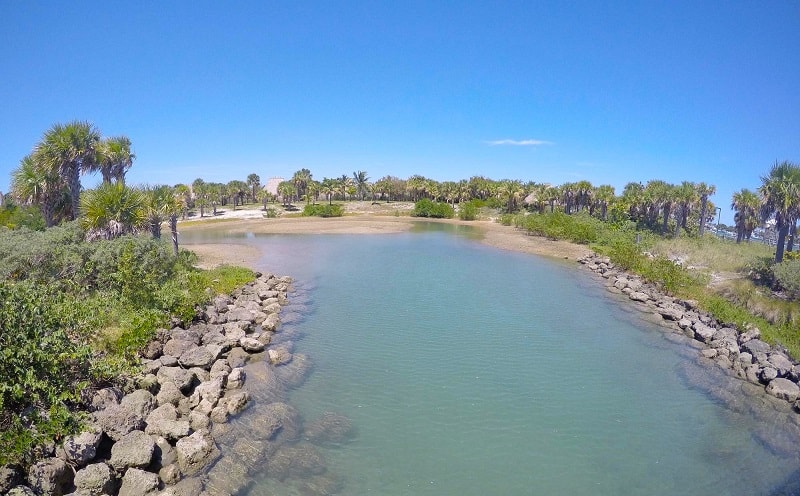 It's also famous because it is home to the historic John F. Kennedy Bunker. At one time, you were able to take a tour inside the bunker. However, in October 2017, the Kennedy Bunker would close indefinitely. A non-profit organization that managed the facility lost its lease with the county.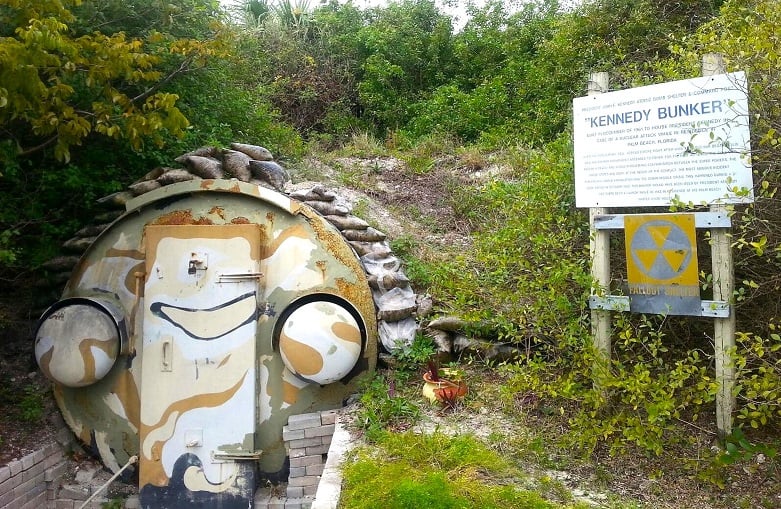 Note: The John F. Kennedy Bunker is currently closed until further notice.
Passage Key, Tampa Bay, FL
Passage Key officially called "Passage Key National Wildlife Refuge," is approximately one mile from the Skyway Bridge, off Anna Maria Island. It used to be a small island that would disappear at high tide, but it is now a lovely, exposed island of sand rising from the sea that boasts sand like spun sugar and the clearest of waters.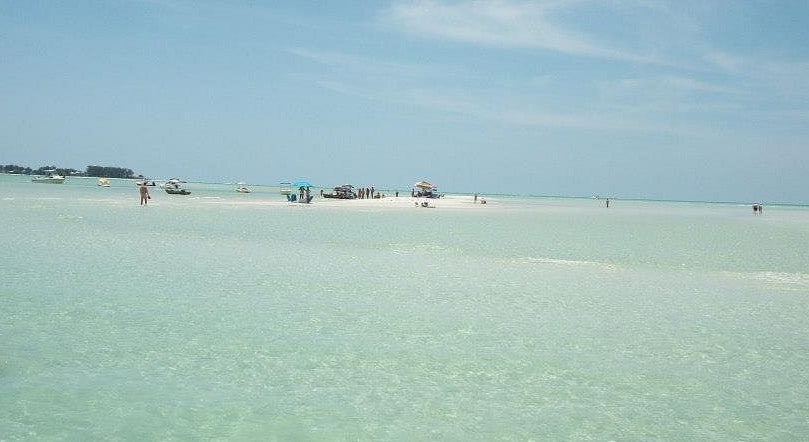 There can be over a hundred boats here at the weekends, and the island is unofficially a "clothes-free" island, so be warned to expect some nudity on this sandbar! It's also a wildlife refuge, so visitors are banned from visiting the island but are allowed to wade in its surrounding waters as long as they are ankle-deep!
There is no public transportation to Passage Key, so you need your own boat to access this one. Also, while you can technically kayak to the island, you must be an experienced kayaker.
Jupiter Sandbar, Jupiter Inlet, FL
This sandbar is sometimes known as the "Loxahatchee Sandbar" or "Coney Island" and is only exposed for visitors an hour before and after low tide. To the east of the sandbar is Bird Island, which is exposed at high tide and is a nesting place for birds, with lots of rich vegetation. Some describe Jupiter Sandbar as having water as clear as the Bahamas, and each year it plays host to the Summer River Paddle and the Sandbar Party.
There is no public transportation to Loxahatchee Sandbar, so you need your own boat to access this one.
The Flats – Hernando Beach, FL
Some would argue that this is one of the star attractions of Hernando Beach. Shallow sand bars glistening from the turquoise water make for a perfect boating day. And there's no shortage of boats enjoying this oasis! You can't fully appreciate this coastal community until you've hit the flats. If you were dropped off here blindfolded, you would swear you're in the Caribbean or the Bahamas once revealed. The entire bay is like one giant sandbar at low tide.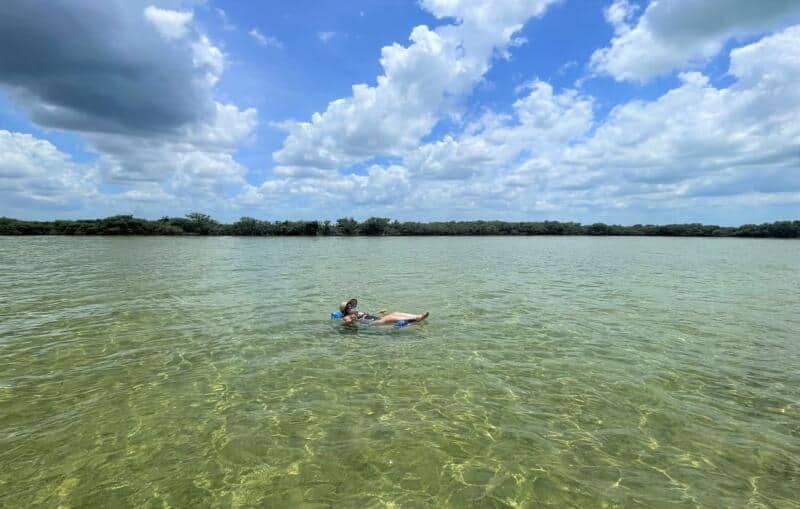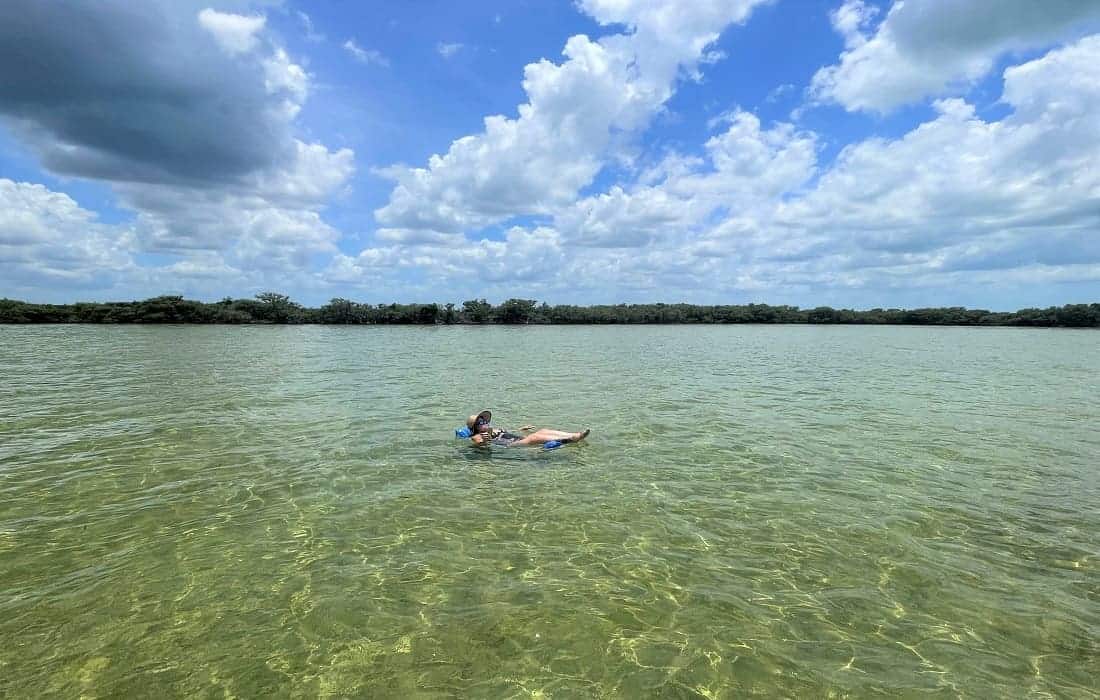 Most people stick to the main section, where the barrier islands are directly next to the channel. However, you can go to the right and hang out at what locals call Gilligan's Island. FYI, not sure if this is the actual name or not.
The Flats are only accessible by boat. However, there are two tour operators in the area that will take you there for the day:
Let's Get Salty LLC – (386) 747-4982

Da Freaky Tiki – Email Norman to book:

[email protected]
Water Floats & Mats You Need To Florida's Sandbars In Style!

Egmont Key, Tampa Bay, FL
Egmont Key is a kind of giant sandbar and is also a state park. Gradually eroding, it is beautiful and has a fascinating history, with an old lighthouse on the island plus the crumbling remains of Fort Dade. There's also a public ferry here, and the island is excellent for snorkeling amongst the ruins of the fort. Egmont Key is eroding and has lost much of its landmass in recent years, so you may want to visit soon!
Egmont Key Ferry
This ferry departs from the Fort De Soto Boat Ramp, a day trip of five hours vs. a shuttle back and forth.
Departure times: 9:00 AM, 11:00 AM, and 2:00 PM daily.
Boca Grande, Boca Grande Causeway, FL
The Boca Grande sandbar is a trendy site for boaters to anchor and swimmers to luxuriate in the waters of the Gasparilla Sound. With clear waters, visitors and boaters often describe the Boca Grande as a magical swimming pool, as the water glistens over its sand.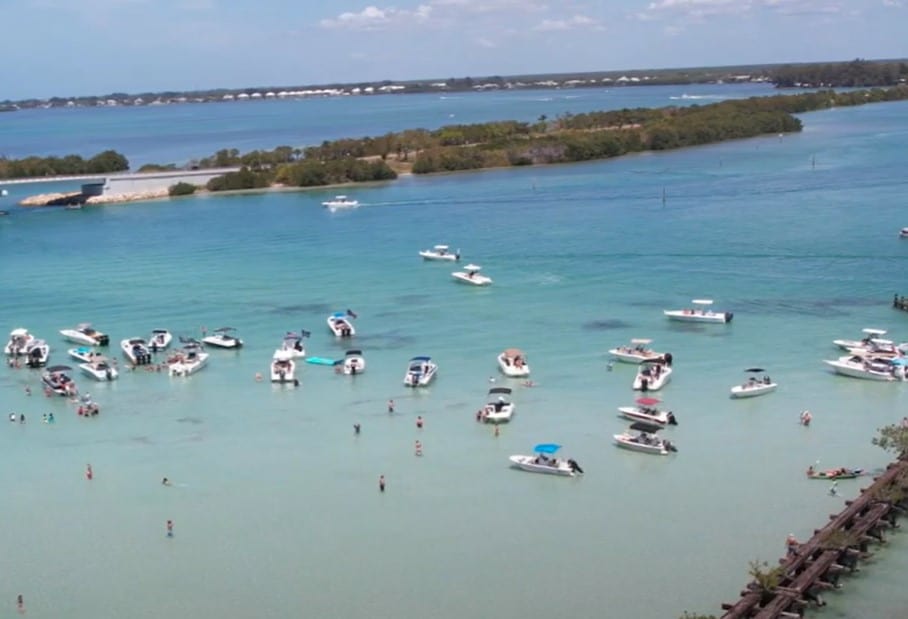 It's situated near the old railway line connected to the Florida mainland, and the trestle is a good spot for picnicking and taking photographs where trees have grown over the tracks. The only way to reach the Boca Grande sandbar is via boat.
Whale Harbor Sandbar, Islamorada, FL
The Whale Harbor sandbar can only be reached by water, with some visitors opting to kayak over to Whale Harbor, and it is a big, beautiful party spot that can get crazy at the weekends and on holidays! Whale Harbor is home to some great restaurants and drinking spots and is your perfect destination for good company and a fun day in the sun, boasting astonishingly white sand and gorgeous blue water. Like many of these sandbars, The only way to reach the Boca Grande Whale Harbor sandbar is via boat.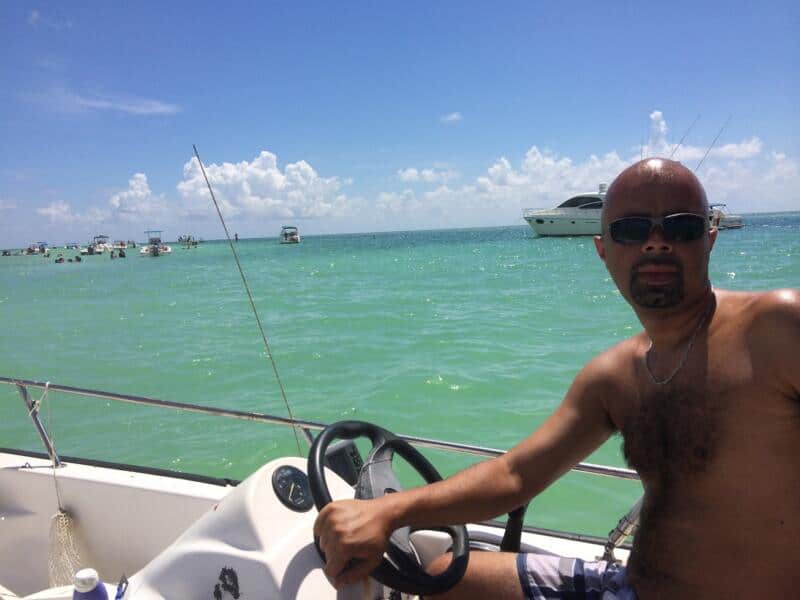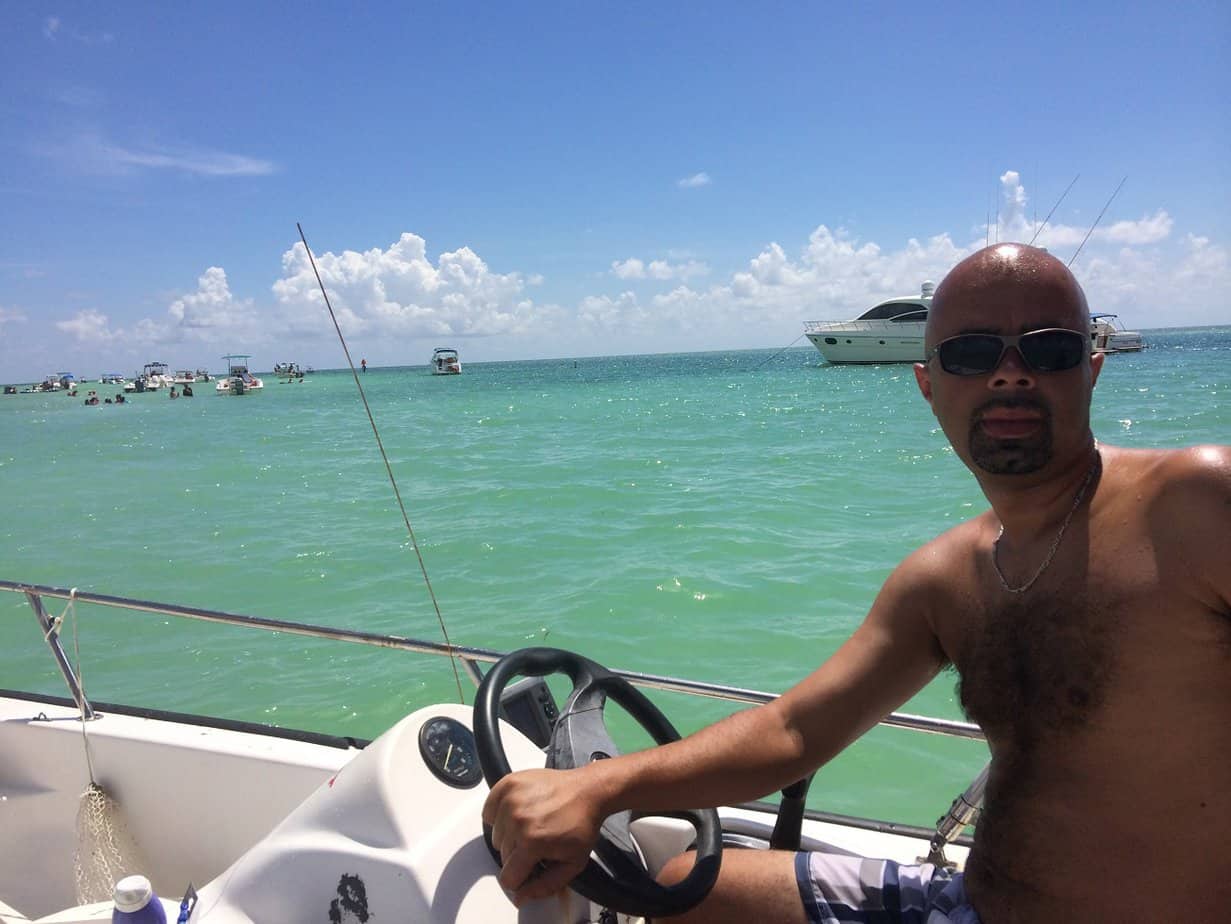 Matanzas Inlet Sandbar, St. Augustine, FL
If you'd like a glimpse of what Florida was like when the Spanish pitched up in 1740, this sandbar, off the coast of St. Augustine, will give you some idea, as it's located on the riverside where the river meets the ocean, and has its old Spanish fort. The water here is a beaming bright blue turquoise, but the tides can be strong, so take care, but it's an excellent sandbar for relaxing with friends and taking in nature.
There is no public transportation to Loxahatchee Sandbar, so you need your own boat to access this one.
Shell Island, Panama City Beach, FL
Between the Gulf of Mexico and St Andrews Bay, Shell Island is a 700-acre undeveloped piece of paradise and is home to a dense population of bottle-nosed dolphins, deer, sea turtles, and ghost crabs. It's also a birdwatchers' paradise, with shorebirds to be discovered nesting in the dunes. A family-friendly island with lots of activities, you can kayak, swim and snorkel and, as its name promises, the island is littered with thousands of beautiful shells, including periwinkles, moon snails, sand dollars, conch shells, and pink shells.
Shell Island Shuttle – Adventures at Sea
Address: 5709 N Lagoon Dr., Panama City Beach, Florida 32408.
Phone: (850) 640-6749
The shuttle offers water-sports packages, including snorkeling equipment and kayak rentals.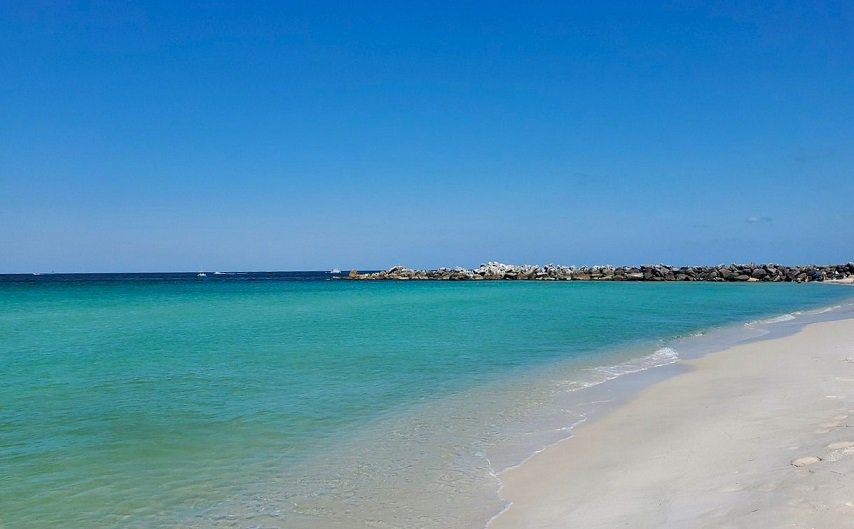 Bunces Pass, Tampa, FL
Just across from Shell Key, another beautiful uninhabited spot to chill and shells! Access to the intercoastal waters and Tampa Bay waters is available through this pass, which leads out to the open Gulf of Mexico. Check out the North Beach at Fort Desoto if you have boat access or can access it via the North Beach at Fort Desoto – there is excellent camping at Fort de Soto!
When the wind and the waves are correct, the water at the Bunces Pass sandbar is beautiful, as is its pure white sand. Most visitors prefer to moor their boats at the Eastern tip of the shoal, as they are then protected from the Gulf, but even so, swimmers here should take great care as the currents are strong.
There is no public transportation to Bunces Pass sandbar.
Ski Island, Port Canaveral, FL
This small island can be found at the mouth of the Port Canaveral Inlet, near the Banana River, and is very popular at weekends. It also hosts an event held every May called WaterFest but again, only accessible via boat.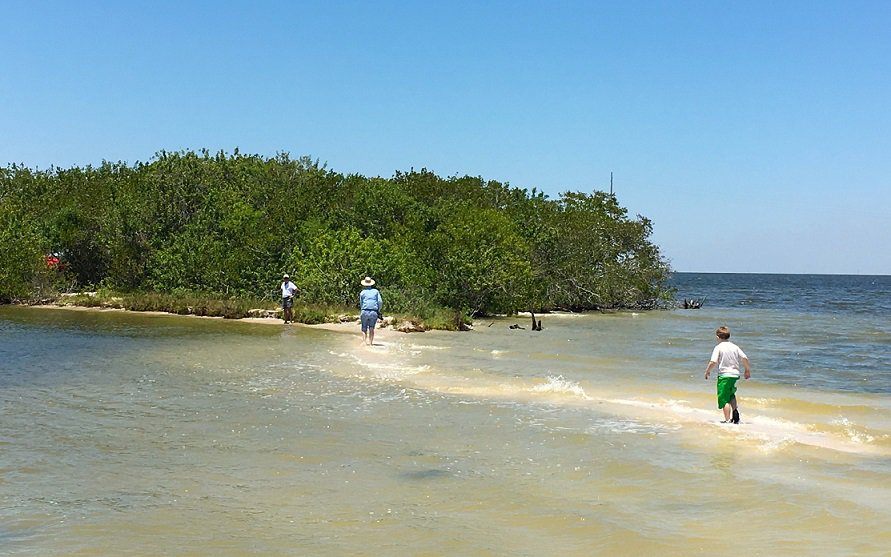 Jewfish Key, Monroe County, FL
Between Longboat Key and Anna Maria Island lies Jewfish Key, which has a large sandbar on the northwest tip with plenty of room to moor boats! It gets its name from the Goliath groupers local fishermen call "Jewfish." This private island is home to less than ten houses!
A 38-acre private island, this sandbar in Florida with perhaps the most tropical feel, as it has many Australian Pines and palm trees. The sand is pure white, and the water is a brilliant blue, but beware of strong tides near Longboat Pass.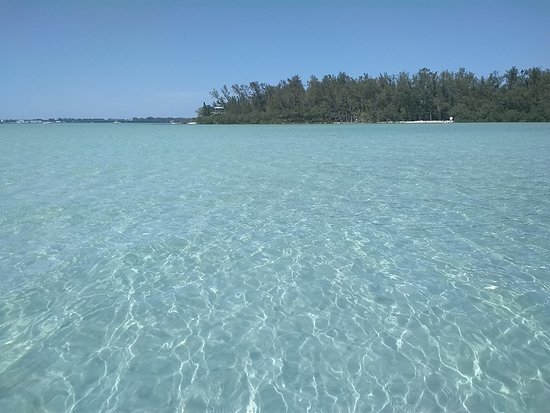 Tour To Jewfish Key
Ami Escapes offers day trips to the island. Phone: 941-518-4336
Otherwise, you'll need to boat there yourself.
North Captiva Island, Lee County, FL
North Captiva Island is a narrow island that boasts five miles of pristine beaches and is a popular place for fishing, relaxing, or exploring by beach buggy or golf cart. Indeed, the island hosts several golf cart parades each year, including Easter and Halloween. The island is a 700-acre wildlife reserve and unspoiled paradise, where you can enjoy seeing the turtles during sea turtle season, dolphins and manatees, and hiking or biking.
Ferry To North Captiva Island
The Island Club offers daily service to North Captiva Island. The ferry leaves from Pine Island.
Crab Island, Destin, FL
Once upon a time, a peaceful haven, Crab Island is now party central, where revelers go to have a perfect time! Hundreds of boats rock up on busy days, and thousands of people enjoy floating obstacle courses, floating stages, and food boats. The water here is bright turquoise and is clearest at high tide.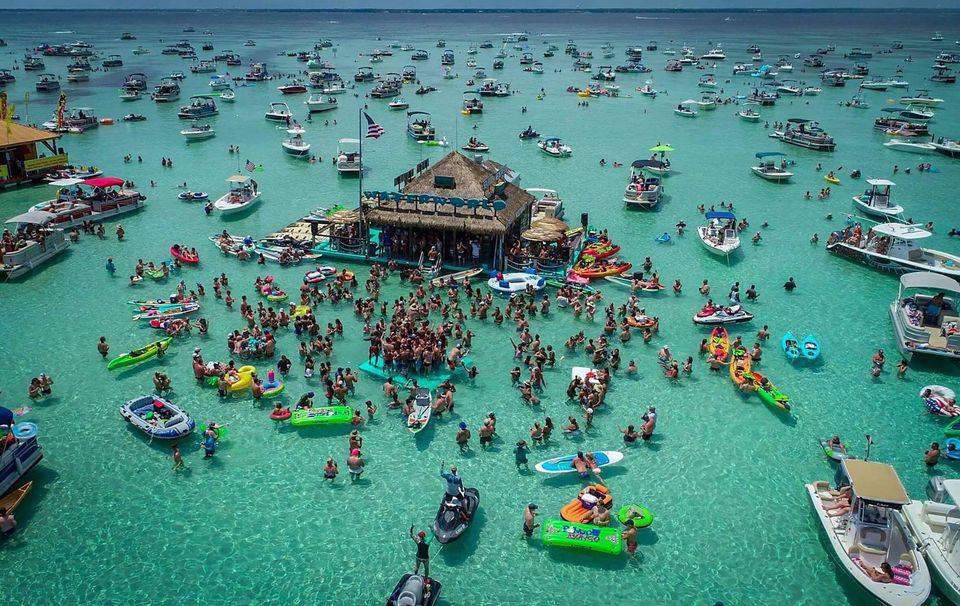 Accessing Crab Island
This is another that requires a boat. This being said, there is a shuttle service, and there are tons of boat rentals in the area:
Lake Boca, Boca Raton, FL
Gather at Lake Boca and party! Lake Boca is different from other Florida sandbars in that it is near a very built-up area and is surrounded by private homes, condos, and restaurants, yet the water is clear and very blue. A popular hangout, Lake Boca is famous for the Boca Bash, which takes place each spring.
Silver Glen Springs, Marion, FL
Silver Glen Springs is situated inside the Ocala National Forest and is up the St. Johns River. This sandbar is unusual because it is freshwater, not saltwater, and remains a steady 72 degrees throughout the year. It has a head spring that is very popular for swimming, where boats are not allowed. The area is also known for its marine grasses and manatees that have made the springs their home.
Three Rooker Island, Clearwater, FL
Three Rooker Island is a relatively new sandbar, as it has only emerged from the waters in the past decade from sand that has eroded from other areas. Indeed, the island often changes size and shape with the shifting of the tides. Situated off the coast of northern Pinellas, the north part of the island is home to a bird sanctuary, so pets are not allowed on the island. The water here is as blue as the Caribbean, and the sand is amazingly soft and white.
These 20 sandbars are perhaps no secret to Florida locals. Still, they are hidden gems waiting to be discovered by those who visit the state searching for sunshine, relaxation, good company, and fantastic boating. Each one is different, each unique and some ever-changing; as the bright blue waters lap at their shores, Florida sandbars are an excellent destination for those wanting to get out upon the water and venture to a little piece of paradise.
Titusville's Spoiler Islands, Titusville, FL
Titusville is probably best known as the Kennedy Space Center host, although most think rockets launch from neighboring Cocoa Beach. Sometimes referred to as Space City, USA" and "Miracle City" – nicknames the city earned as the community's population, economy, and tourism grew in the 1950s due to Cape Canaveral's growth and later the Kennedy Space Center.
However, Titusville is also home to some of the most fantastic spoiler islands with sandbars! There's no public transportation to reach these gems!
Fort Pierce Sandbar, FL
This sandbar lies in the channel heading out of the Fort Pierce Inlet and is close to the Fort Inlet State Park. A great spot for paddle sports, this sandbar is peaceful and unspoiled, but across the channel, you'll find an array of waterfront bars and restaurants. Fort Pierce has a very "Old Florida" feel, and nearby are seagrass meadows and reefs where the fishing is fantastic.
Johns Pass, Tampa Bay, FL
The Johns Pass sandbar is a lively spot and is another sandbar you'll find in a developed area with plenty of restaurants, condos, and water sports. The water is not relatively as straightforward as those surrounding other sandbars in Florida. Still, the water is a gorgeous emerald green/blue, and the partying is plentiful, especially on holidays like Memorial Day and the Fourth of July.
Closing Thoughts
If you have never experienced a day out on one of Florida's sandbars, you have not lived your best life yet! Not only is it exciting to navigate and find the sandbars, but it's relaxing. Once you find the perfect spot, all that's left to do is enjoy the beautiful water surrounding you. Sunbathe, fish, collect shells, or camp – there's no limit to what you can do once there.
What is your favorite sandbar in Florida?
Looking for more posts on Florida? Start here:
We participate in the Amazon Services LLC Associates Program, an affiliate advertising program designed to provide a means for us to earn fees by linking to Amazon.com and affiliated sites.
Co-Author: Jenny Han is an assignment writer at Essay Writing Services. She is also a tutor for Big Assignments.
Brit On The Move™ Travel Resources
Ready to book your next trip? Use these resources that work:
Need more help planning your trip? Check out our Resources Page, highlighting the great companies we trust when traveling.