Cocoa Beach, Florida – The Ultimate Guide
Cocoa Beach, Florida, is famous for surfing, the launch of space shuttles, and the luxury cruise liners that call it home. However, there are plenty of things to do that don't involve taking on the waves, cruising, or watching space shuttles launch. Located on the east coast of the Sunshine State, this coastal town has a lot to offer. This is the closest beach to Orlando, only a one-hour drive, making it a popular choice for tourists. This unique beach town is located near Cape Canaveral, with 5.6 miles of oceanfront and a great pier extending into the Atlantic Ocean, making it a sight to behold and a slice of paradise you must visit.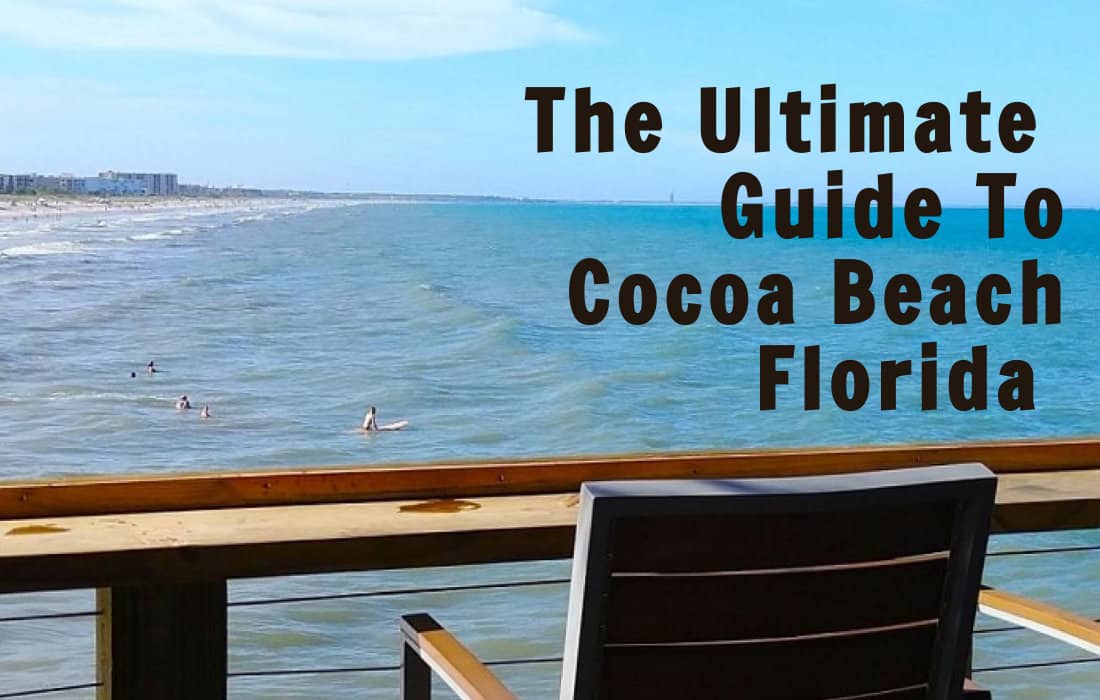 This post may contain affiliate links. Please read our disclosure and privacy policy for more information.
Cocoa Beach, a Place With History
You may be wondering, "Where is Cocoa Beach?" Cocoa Beach is on the east coast of Florida on the Atlantic Ocean. Cocoa Beach has a lot of history. It stayed preserved from pilgrim settlements, with the first non-native settlement composed of formerly enslaved people at the end of the Civil War. It's also one of the few places in the United States attacked by the Germans during World War II, with a U-109 sinking another boat off its shore.
Cocoa Beach, located near Cape Canaveral, benefited from the success of the Apollo space program in the 1960s, which resulted in unprecedented growth for the city and still attracts people fascinated by the stars.
Things To Do At Cocoa Beach
Cocoa Beach is a unique place with tons of activities to do in the area. Here's a selection of what to do in Cocoa Beach for the perfect vacation.
Surfing
The first thing you'll want to do at Cocoa Beach is enjoy the oceanfront and get a sun tan. However, you can do more than simply lay on the sand and apply sunscreen. It's Cocoa Beach, so surfing will be part of your vacation – even if you have never tried it!
If you've never surfed, you can visit the Ron Jon Surf School or any other surf and kite schools on the waterfront. You can also parasail or do yoga on stand-up paddleboards for a moment of pure relaxation.
Or, take a professional lesson with one of these providers:
Florida Surf Museum
You can also head to the Florida Surf Museum to learn more about surf culture, which is preponderant in the Sunshine State. You'll learn more about the most audacious surfers and see the evolution of the boards we now use. It features rare boards like Kelly Slater's, the iconic 11-time World Champion, who's a Cocoa Beach local.
Watch a Rocket Launch
Perhaps one of the most popular reasons people flock to Cocoa Beach is the chance to see a shuttle launch.
While Kennedy Space Center offers the best seats in the house, rocket launches can be seen anywhere along the Space Coast! Aside from the complex, several other prime viewing locations are nearby, including the Indian River Lagoon shoreline, the Exploration Tower in Port Canaveral, Playalinda Beach at the Canaveral National Seashore, the Astronaut Hall of Fame in Titusville, the Westgate Cocoa Beach Pier, and any of the beaches south of Port Canaveral, including Jetty Park, Cocoa Beach, and Sebastian Inlet State Park.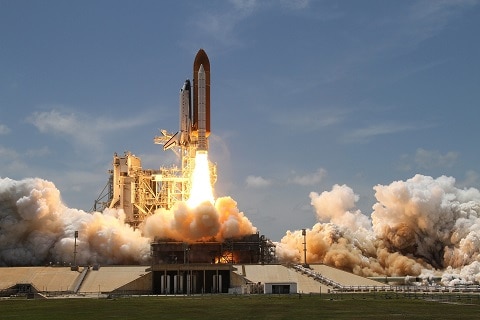 Best Places To Watch A Rocket Launch At Cocoa Beach
Kennedy Space Center Visitor Complex
Of course, this list has to begin at the Kennedy Space Center Visitor Complex! In addition to seeing future rocket launches, you can also learn about Florida's historic rocket launches. During the launch, you will also have the chance to watch from the closest viewing spots and listen to live commentary from space experts.
Visitors to the Visitor Complex can view launches from the "Space Shuttle Atlantis," the Observatory Gantry, and Banana Creek Launch. Visit the KSC Visitor Complex to learn about literal blasts from the past.
Space View Park
You know the views will be good when the park has a name like Space View Park! In addition to being close to downtown Titusville, Space View Park is only 15 miles away from the launchpad. During a launch, you can even feel the ground shake!
The first and only park in America to honor individuals involved in space exploration, Space View Park is dedicated to those individuals who have led the way in space exploration. With the spacewalk of fame, you'll learn about the history of space and those who helped us get there. Be sure to arrive early if you plan on attending a rocket launch!
Exploration Tower
With seven floors of exhibits and interactive play, the Exploration Tower includes something for everyone. Learn about Port Canaveral's history, grab a bite to eat, enjoy panoramic views of Port Canaveral and Kennedy Space Center, and wave goodbye to cruising ships as they pass by on the way out to sea. Exploration Tower is also a great place to watch a rocket launch, but the facility may be closed for some launches, so it's best to call ahead. Tickets can be pre-purchased or on-site. Children, military, and senior rates are available.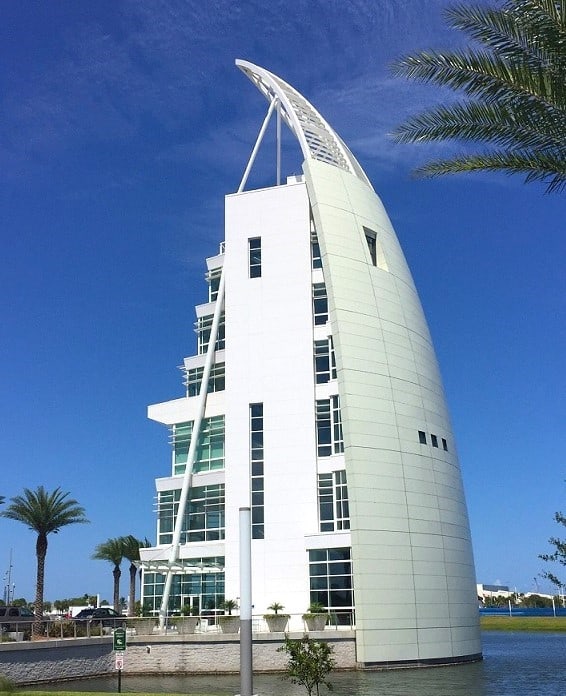 From Port Canaveral's Space Exploration Tower, you can see rocket launches from above! An event space with 5,000 square feet is available to rent within this tower, as well as two observation decks and interactive exhibits. Additionally, you can observe cruise ships and boats coming into and out of the Port from the tower.
Exploration Tower at Power Canaveral is located in downtown Port Canaveral, so you can easily spend the day shopping and going to bars nearby. Bring your binoculars to the top of the tower if you want to see native wildlife in the area.
*Exploration Tower is closed until further notice due to a maintenance project. Updates will be provided once the project is complete.*
Cherie Down Park
Featuring dunes and seagrasses, Cherie Down Park is the perfect spot for a rocket launch picnic. As you sit back and enjoy the sounds of the waves, you will see the rocket take off over the Atlantic ocean, whether it's a daytime or nighttime launch.
Cherie Down Park is also a perfect beach trip location! With restroom amenities and easy access, it's a local favorite for activities like boogie boarding, surfing, and fishing. If you're lucky, you might even see an astronaut walk by!
Playalinda Beach
In Playalinda Beach, you'll feel like you're part of the action! This beach is undeveloped, so it's known for its pristine environment and serene shoreline along the Canaveral National Seashore. Additionally, it's a great place to watch rocket launches!
It's worth it to be this close to the launch at Playalina Beach, which is part of the National Park Service. Visit the Apollo District Visitor Center if you have any questions about your visit.
Sand Point Park
In Titusville, Sand Point Park is a community park. You can catch rocket launches over the bridge from this spot, which is located on the water. At the front of the park, you will find a splash pad, a playground, and a memorial to fallen heroes called the astronaut memorial.
This park is free, which is a great feature! You can get a good spot for viewing a night launch by parking near the Max Brewer Bridge and getting there early. Enjoy a picnic dinner and take in the night sky as the rocket glows!
Max Brewer Bridge At Parrish Park
A rocket launch can also be observed at Parrish Park on both sides of the Max Brewer Bridge. As it leads to Kennedy Space Center's security gates, this 36.6-acre park is a local favorite for kayaking, canoeing, boats, jet skiing, and the like.
Located right on the Indian River, this is an excellent location for launching your boat and watching the rocket launch. The massive vehicle assembly building can even be seen on a clear day.
Jetty Park
Port Canaveral is famed for its rocket launches and cruise ships south of Titusville. Jetty Park offers different views of the launch, including campgrounds, a beach, and a pier on land or water.
Whether watching a rocket launch or fishing, Jetty Park has something for everyone, with more than 30 acres to explore. If you're hoping to catch a night launch, it's a great place to camp for the night!
Watch a rocket launch across the Banana River from bleacher seating along the Banana River! The best place to watch is here because there is plenty of seating for everyone to watch from a distance.
You can also launch a boat here and watch the rocket launch from the water.
Westgate Cocoa Beach Pier
Westgate Cocoa Beach Pier is a great place to watch a rocket launch, which stretches 800 feet over the Atlantic Ocean. Besides being a great place to watch the blastoff, the area also offers five different restaurants and bars.
The shop also rents beach equipment and fishing gear to enjoy the day on the water. During rocket launches, it gets crowded, so get there early!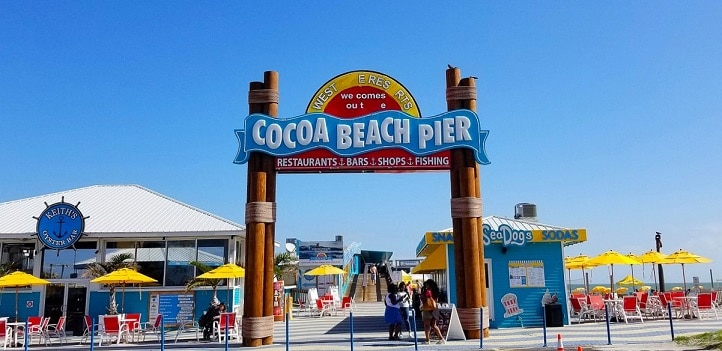 Alan Shepard Park
Alan Shepard Park, named after the legendary astronaut, is a 5-acre oceanfront park with beautiful views of rocket launches! You can camp out while waiting for the show with a surfboard, boogie board, and picnic basket. Spend the night at a nearby hotel, or just hang out for the day! In addition to 10 large picnic pavilions, there are smaller shaded picnic areas at the park.
Sidney Fischer Park
An ideal spot for a dip in the ocean, Sidney Fischer Park is situated right on the Atlantic Ocean. While swimming in the pool, you can watch a rocket launch!
You can also bring your surfboard, catch some waves, or enjoy a beach day with your friends and family. Cocoa Beach is the perfect day trip and one of the most remarkable ways to watch a rocket launch.
Kennedy Space Center
The Kennedy Space Center, as the name suggests, is the center of NASA's major space activities, including launches and space-related events. Many famous space missions were initiated right at Kennedy Space Center in Florida. This includes the well-known Apollo 13 mission, whose 50th anniversary was in 2020. The 1970 launch from the Kennedy Space Center was aborted after an oxygen tank failure. Luckily, the Apollo space program crew members returned to Earth safely without any incidents. That is only one of many remarkable historical events at this site.
A day at Kennedy Space Center allows you to try astronaut food and see what it's like to be on Mars! Plus, you will see all spaceships on display and much more!
Camping
One of the most popular things to do in Cocoa Beach is camp. It's exceptionally popular when there's a launch planned. The most famous campsite in the area is Jetty Park. However, there are many options, all of which have a variety of options from tent camping, cabins, and bringing your RV.
Top Cocoa Beach Campgrounds:
Canaveral National Seashore
Jetty Park Campground – See the section on Jetty Park for details about camping here!
Space Coast RV Resort
Manatee Cove Family Campground at Patrick Air Force Base
Sonrise Palms RV
Brevard County Park Wickham Campground
Wickham Park Campground
Manatee Hammock Campground
Fishing
After dipping your toes in the ocean, why not explore it deeper? If you enjoy sailing and fishing, then Florida is one of the best places in the world. You can go shark fishing, inshore, or deep sea fishing at Cocoa Beach. And, if you don't want to hit the water, you can fish from Jetty Park, the Pier, on the beach, or off one of the many spots dotted along the highway and bridges surrounding the Indian River.
Remeber, if you fish without a licensed captain you need a Florida Fishing Licence!
Popular Fishing Tours In Cocoa Beach
Watch Anglers Clean Their Catch
Port Canaveral is not just home to cruise ships but also to all the fishing charters! Believe it or not, many people sit in restaurants and watch the anglers return with the catch!
Gambling Cruise
Even if you are not a gambler, this is a wonderful inexpensive afternoon or night out. It costs around $13 per person, and you can add the food buffet for about $15 per person. As a bonus, the drinks are free while you play!
Authentic Las Vegas-style gambling is available at Victory Casino in Port Canaveral, Florida. Leaving Port Canaveral twice daily, Victory Casino offers five- and six-hour cruises along Florida's incredible Space Coast.
The casino offers 600 of the latest slot machines and 27 of the best live table games. The Victory Casino is Florida's only casino with live craps and roulette tables. In addition, live table games offer Blackjack, 3 Card Poker, Ultimate Texas Hold Em, Let It Ride, EZ Bac, Bingo, and Sportsbooks.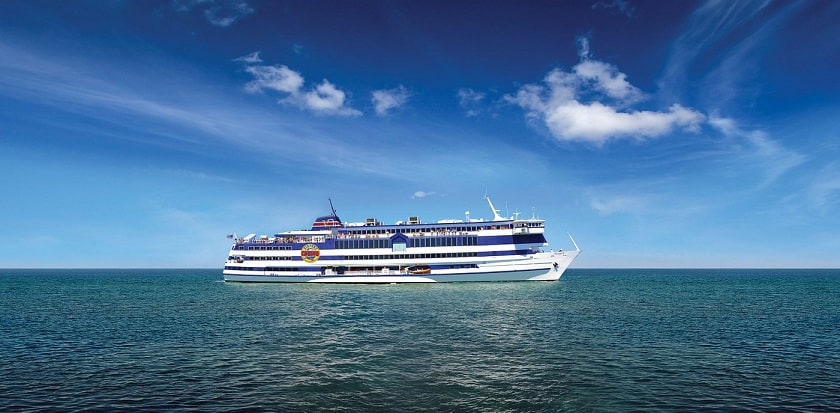 Jetty Park
Jetty Park is a local favorite and possibly the most popular of all the parks in Cocoa Beach, and for a good reason! It's located inside Port Canaveral and has a pier and a lunch viewing area. And you can camp here.
People love Jetty park because you can watch cruise ships arrive or depart, see submarines arrive and depart and watch rocket launches. Add to this; the park is home to lots of Florida's wildlife. If you visit Jetty park, you have a great chance to see manatees, dolphins, and even turtles!
People also love fishing from the pier; some locals swear it's one of the best places for inland fishing.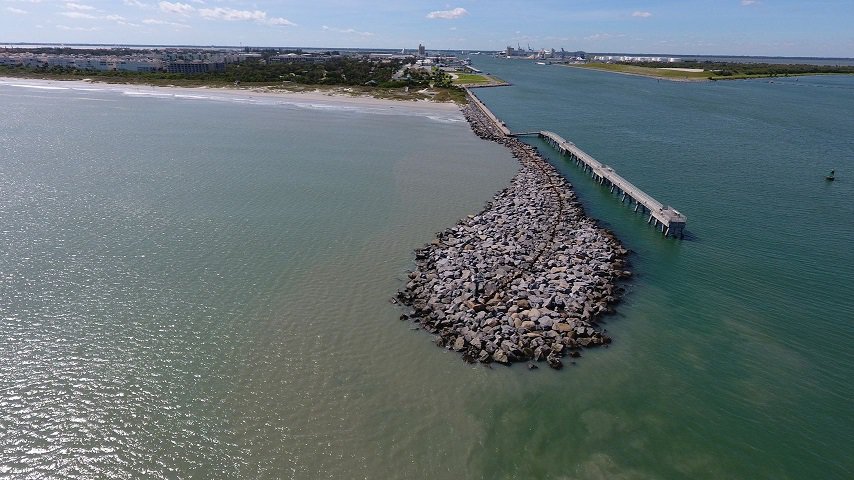 Image Credit: Jetty Park
Jetty Park Campground
Jetty Park Campground offers guests a variety of camping options, from tent camping in a rustic site to relaxing in your RV with all the amenities included.
Campground reservations can be made by calling 321-783-7111 – you cannot show up and make a reservation.
Jetty Park does not accept cash.
Observe Turtles Nesting
From March 1st through October 31st, turtles come and lay their eggs on Cocoa Beach. Watching the nesting process, from nesting to hatching to the mad dash to the sea, is an incredible experience. Leatherback, Loggerhead, and Green Sea Turtles (and sometimes a wayward Kemps Ridley) lay their eggs on the beaches yearly. Depending on the species, these nests may be along the coast or against the dunes. It is essential to watch these nests on beach days and be careful not to disturb them.
Organizations such as the Sea Turtle Preservation Society mark these nests with wooden stakes, so be on the lookout for them and be very careful not to disturb them. If you want to learn more, you can take a sea turtle walks with a local guide.
Sea Turtle Walks:
The following organizations offer sea turtle walks, and all require a reservation:
Friends of Sebastian Inlet State Park
Friends of the Carr Refuge
Sea Turtle Preservation Society
Merritt Island National Wildlife Refuge
Stella Maris Environmental Research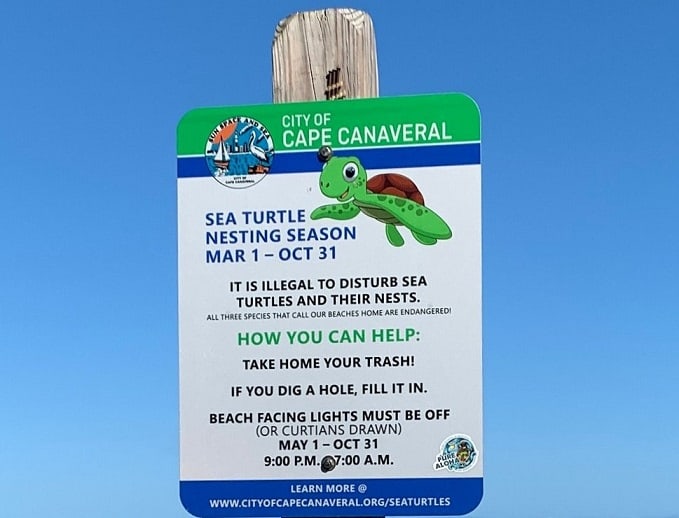 Cocoa Beach Main Street
When the Space Program took off in the '50s and 60's, downtown and Main Street Cocoa Beach became the place to be. The site has evolved into a shopping and dining hub with a lively nightlife after decades of being a beach retreat. Cocoa Beach has over 150 unique businesses, bars, restaurants, and boutiques, as well as over 15 annual events, so no matter if you are on business, with close friends, or with the family, you will have fun here.
You can watch rocket launches from beach access points, see murals and art along the streets, learn to surf the famous Cocoa Beach waves, test your balance skills as you paddle board the local waters, and listen to live music and great food in downtown Cocoa Beach.
Downtown Cocoa Village
Featuring a blend of historic and modern elements, downtown Cocoa Village has something for everyone. Historic Cocoa Village is located across the bank of the Indian River, right before the bridge you cross to get to the beach area. Most people don't even realize it exists and miss it altogether. This is a shame; it's one of my favorite places to end a day of boating! There are great restaurants, old-fashioned ice cream shops, and lots of shopping.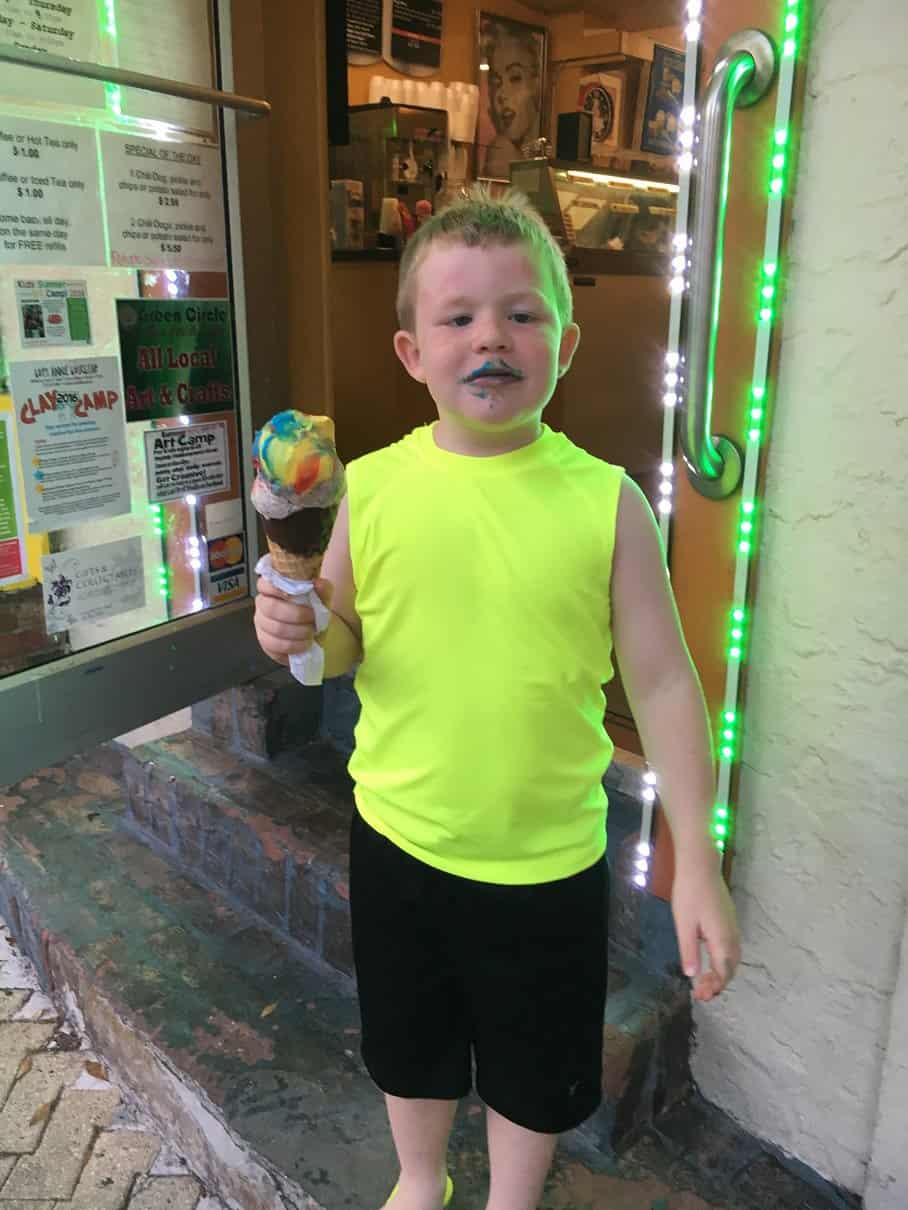 Cocoa Village features various dining and entertainment options and shopping, including an antique mall, art galleries, painting classes, and cooking classes. People love to watch boats make their way along the Indian River or hang out at Cocoa Riverfront Park, which includes an outdoor amphitheater, a playground, and a 'splash and sprinkle' area.
Cocoa Village hosts festivals and events annually and is home to historic sites and buildings. Some examples are the Parrish Grove Inn, Porcher House, Sur Le Parc, St. Mark's Church, Hindle Building, Derby Street Chapel, S.F. Travis Company, Masonic Temple Building, Blair Building, Brevard County State Bank, Cocoa Village Playhouse, all of which have a 150-year history.
There is an option for a walking tour if you want to experience the history first hand.
Lori Wilson Park
Cocoa Beach is home to a seaside park surrounded by dunes and hammocks. Lori Wilson Park provides pavilions, a playground, and barbecue grills for beachside picnics and family gatherings. Whether you want to play volleyball on the public court, walk the boardwalk, or take a refreshing dip in the Atlantic Ocean, you can spend an hour or all day there.
At Lori Wilson Park, you can enjoy a relaxing and enjoyable time by the water with full-time lifeguards on duty. The facility has restrooms, outdoor showers, water fountains, on-site vendors, and a dog park. Parking is free, but it fills up quickly on the weekend.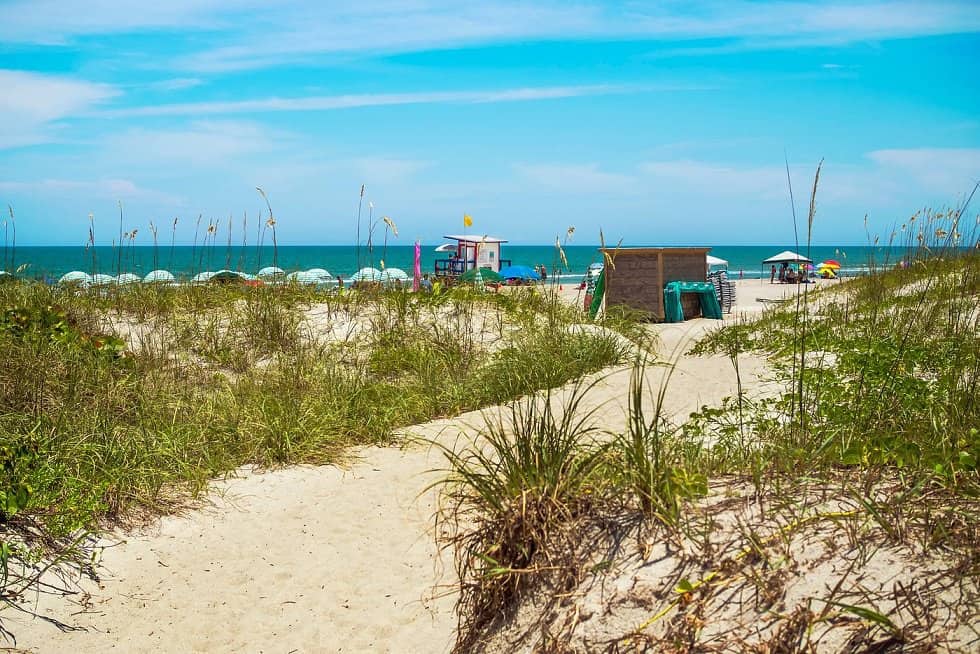 Amenities
Barbecue Grills
Pavilion/Picnic Area
Pier/Boardwalk
Playground
Restrooms
Showers
Volleyball Courts
ADA Accessible
Free Parking
Pet-Friendly
Biking/Cycling Paths/Trails
Playgrounds
Airboat Ride
What better way to get to see Florida than on an airboat? These rides are thrilling, and you also get to see alligators and other native wildlife. A couple of providers are less than 30 minutes away from Cocoa Beach.
Airboat Rides at Midway
We've been going to Airboat Rides at Midway for years. This place is number one for us: the actual ride and the guides. It's a very rustic non-commercialized tour that takes you deep into the St John's River's backwoods. We have never been on this tour and have never not seen alligators; we have often come close to some big boys! The guides grew up on the water and are knowledgeable! We were lucky enough to have the guide show snakes on one trip! And, on every trip here, we have seen numerous bald eagles. At Airboat Rides at Midway, you can sip on a beer while waiting for your ride. Check out their enormous snake collection, handle a small gator, or hang out with Porkchop the Pig.
The only drawback is there is no restaurant on site. We typically go here, have a couple of beers, ride the airboat, and then head out to Cocoa Beach for a bite to eat. You can easily combine all the fun on this trip into a full day by mixing the airboat ride with the beach.
They are slightly more expensive than some, but I think they are well worth it.
Address: 28501 E Colonial Dr, Christmas, FL 32709
Lone Cabbage Twister Airboat Rides
Another favorite is also roughly thirty minutes away from Orlando. Twister Airboat Rides operate from the Lone Cabbage. A lesser-known spot that many of us locals frequent with guests. It's west of Cocoa Village on Hwy 520. The airboat rides here are just as thrilling as others, but the body of water, the Indian River, is much denser. So once you are on the water, it does not feel quite as remote as Midway. You can dine here and watch the alligators from the deck. Yes, often, they are right there waiting. If you are feeling adventurous, try eating some fried gator here.
The Lone Cabbage features live entertainment every Sunday from 1 pm until 5 pm, be sure and check out the entertainment schedule!
Twister Airboat rides can be more affordable if you only opt for a 30-minute ride.
Address: 8199 State Road 520 Cocoa, FL 32926
If you are looking for more suggestions, see this: Airboat Rides in Central Florida.
Bass Pro Shops Stick Marsh Outpost
This one's not technically in Cocoa Beach, it's in Plam Bay, but it's worth mentioning. I'm a massive fan of all things "Bass Pro," so much so that I have stayed at two of their resorts!
You can find everything you need for fishing, hunting, camping, and water sports at Bass Pro Shop Stick Marsh Outpost. There's the front porch, tin roof, and laid-back seating; this old Florida cracker-style store is a great place to get all your outdoor needs while also checking out the latest range of boats, swamp buggies, and ATVs. Whether you're looking for largemouth bass, crappie, bowfin, or catfish, the 16,000-gallon aquarium will captivate you.
The store offers fish and gator feedings throughout the week, so call to confirm. Bass Pro Shop hosts local events throughout the year, from spring fishing classics to fall hunting classics, like bull riding events. So, if you are a fan like me, head to the Bass Pro Shop Stick Marsh Outpost.
Watch The Cruise Ships
People love to watch cruise ships come in and out of Port Canaveral – it's an extremely popular pass time. If you've ever cruised out of Port Canaveral, you'll have experienced the locals waving goodbye as you head off to sea. The Port is home to some great restaurants on the water, perfect for watching the ships.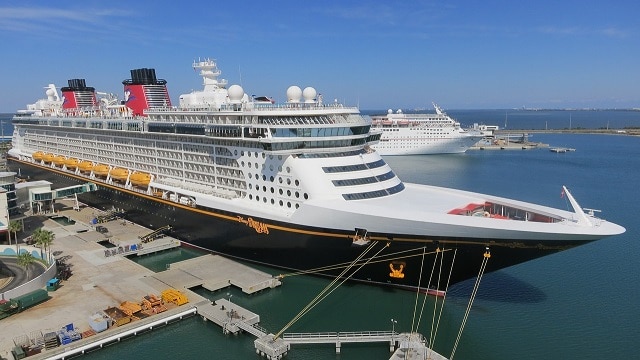 Restaurants At Port Canaveral
Fishlips Waterfront Bar & Grill
Rising Tide tap & table
Junkanoo Island Kitchen & Rum Bar
Grills Seafood & Tiki Bar
Gator's Dockside
Rusty's Seafood and Oyster Bar
Seafood Atlantic
Bioluminescence Night Kayaking
A living organism produces bioluminescence by undergoing chemical reactions. Bioluminescence is a chemiluminescence type, a chemical reaction that produces light. In living organisms, bioluminescence occurs as a result of chemiluminescence. During the night, the bioluminescent sea will glow when disturbed by a wave breaking or splashing. Calm and warm sea conditions cause algae to bloom in sea sparkle events. When a marine creature produces light nearby, you can see specks of bioluminescence. Essentially, it lights up everything in the water – naturally.
The best time for viewing is around new moons when no moonlight will reflect on the water. Take a bioluminescence kayaking tour through the Banana River to see plankton glow in the water. Experience bioluminescence sea life while paddling through the protected wetlands of the Merrit Island Refuge, away from light pollution.
Bioluminescence Tours
Boating
When we first bought our boat, we used to launch out of Cocoa Beach frequently. It's so close to Orlando that it's a convenient location to tow to. The Indiana River is fantastic for boating, and there are tons of barrier islands that you can claim as your own for the day!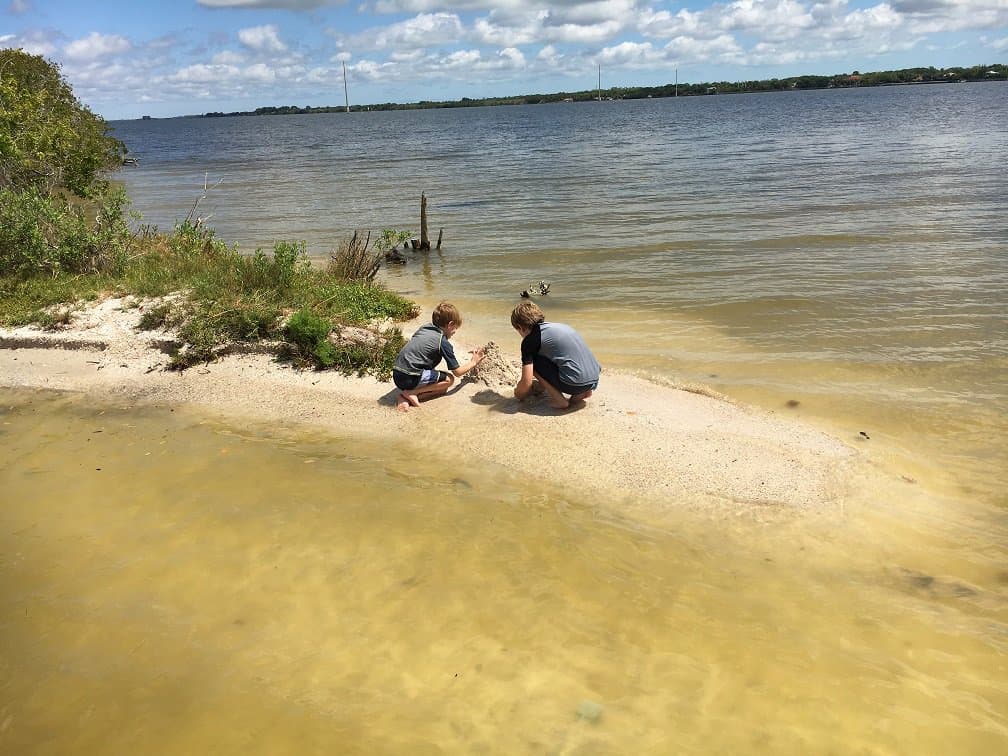 Boat Ramps At Coach Beach
There are tons of boat ramps in the area, including those in Cocoa Beach and Port Canaveral. However, you can also launch from Titusville, Melbourne, and Merrit Island.
Cape Canaveral
Rodney S. Ketcham Park
Located on the west side of the Port near the Canaveral locks, this four-acre park offers boaters easy access to the Intracoastal Waterway (Banana & Indian Rivers). In addition to boat-launch ramps, this park features covered picnic tables, fish cleaning stations, free parking, and fully functional restrooms.
Freddie Patrick Park
Located adjacent to Jetty Park, Freddie Patrick Park offers new boat ramps just minutes from the open ocean. The new ramp area features eight slips, two pavilions, fish-cleaning tables, restrooms, a boat rinse station, paved parking, and a grass overflow parking lot, free of charge.
This is a great boat ramp for those new to boating because the lanes are enormous! We frequently practiced dropping our new boat in and out of this ramp because it's so easy to navigate. The slips have a long shallow drop, and they are wide. A word of caution! Given the proximity to the ocean, you have to watch the wind and tides – it can get rough, making pulling the boat out a challenge.
You also need to pay attention to where to boat. Some secured areas are fenced in and require a Canaveral Port Authority (CPA) badge for entry.
Cocoa Beach
James G. Bourbeau Memorial Park – 8195 King St (Hwy 520), Cocoa
Leroy Wright Recreation Area – 8190 W. King St (Hwy 520), Cocoa
Constitution Bicentennial Park – Cocoa Beach Cswy SR-520
Lee Wenner Park – 300 Riveredge Blvd, Cocoa
McFarland Park – 2060 Indian River Drive, Cocoa
Ramp Road Park – Ramp Road W end on Banana River, Cocoa Beach
Cocoa Beach Pier
The world-famous Westgate Cocoa Beach Pier stretches 800 feet over the Atlantic Ocean and is home to restaurants, bars, gift shops, and live music. In addition to beach rentals and freshwater showers, the Westgate Cocoa Beach Pier offers regulation beach volleyball courts, lifeguards year-round, and access to some of the best surfing on the East Coast.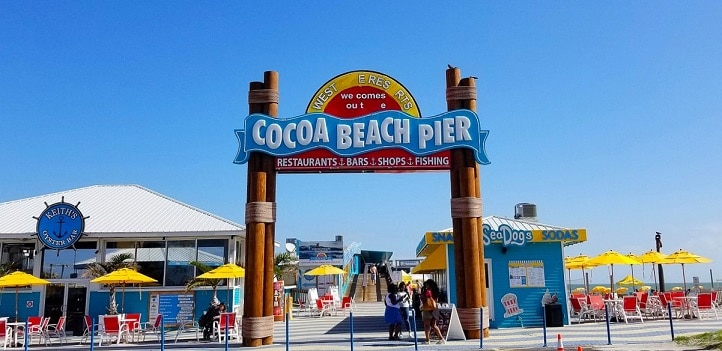 Dine on Cocoa Beach Pier
After a relaxing day with your toes in the sand, you might get hungry or thirsty. Don't worry! You can head to Cocoa Beach Pier to find several restaurants to enjoy the view of this endless ocean:
Maui J's Shaved Ice Truck
Rikki Tiki Tavern
The Boardwalk Bar
Pelican's Bar & Grill
Keith's Oyster Bar
Sea Dogs
Ron Jon Surf Shop
No trip to Cocoa Beach is complete without a visit to Ron Jon's. The Ron Jon Surf Shop is the world's largest surf shop, spanning 52,000 square feet. A popular Cocoa Beach attraction, the store offers everything you could need for the beach lifestyle, including bikinis, surfboards, clothes, and sports gear. Even if you don't feel like shopping, its glass elevators, fish tanks, and waterfalls make it worth discovering.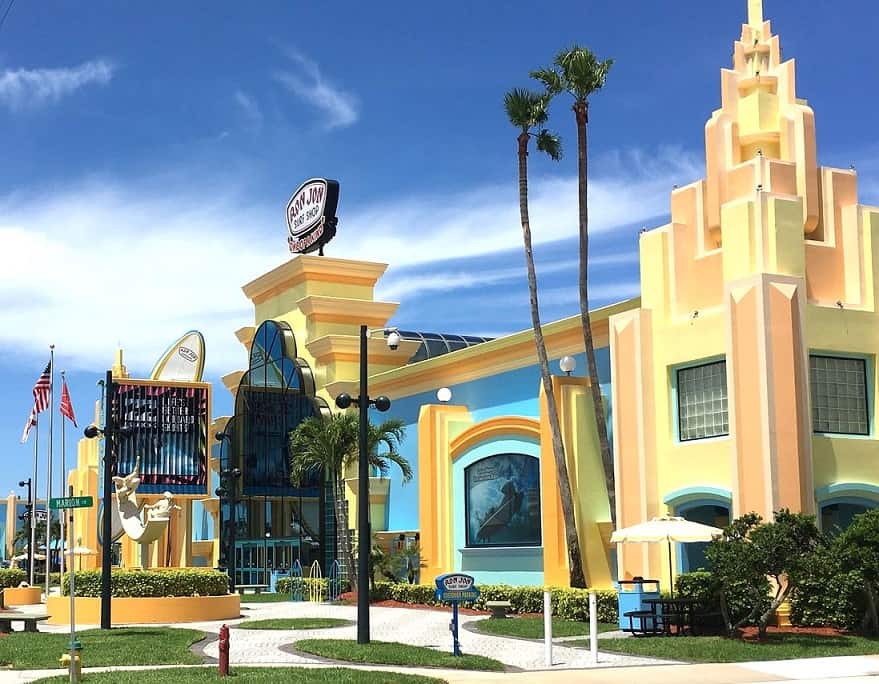 Air Force Space and Missile Museum
The Air Force Space and Missile Museum will invite you to discover the history of NASA and the different space programs which happened in the area with authentic shuttles. It offers a two-hour tour where you'll visit the Cape Canaveral site and learn everything about the complexity of space flight.
Valiant Air Command, Inc. Warbird Museum
Military history buffs will find pleasure in visiting the Valiant Air Command Warbird Museum, which is dedicated to restoring and preserving historic aircraft. You'll find stunning machinery from World War I to Operation Desert Storm's more advanced warcraft. Veteran stories accompany the tour, and there are fly events every month.
Dinosaur Store
This store is home to the richest collection of fossils and prehistoric minerals. It offers an interactive experience for the whole family with an Adventure Zone where kids can dig to find their fossils and play like they're archeologists.
Brevard Museum of History and Natural Science
The Brevard Museum of History and Natural Science is an incredible place that retraces the county's history from prehistoric times when mammoth and saber-tooth roamed the land to the space missions of the 1960s. It's also an excellent place to see a bit of nature, with a butterfly garden and 19.5 acres of nature preserve.
Cocoa Beach Spa
When you're on vacation, the main goal is to relax; Cocoa Beach Spa is the best place to do that. The services offered here range from massages to seawater pedicures and skin care. Spending an afternoon there is the perfect getaway to relax your entire body and take care of yourself genuinely.
Get Married on the Beach
Several wedding agencies across the Space Coast offer to organize the perfect wedding for you. So if you want to show your love, there are only a few things that beat a ceremony on the beach with champagne, floral ornaments, and everything to make this the perfect day. Some agencies only accept one client daily to ensure your tradition goes as planned and take care of your wedding.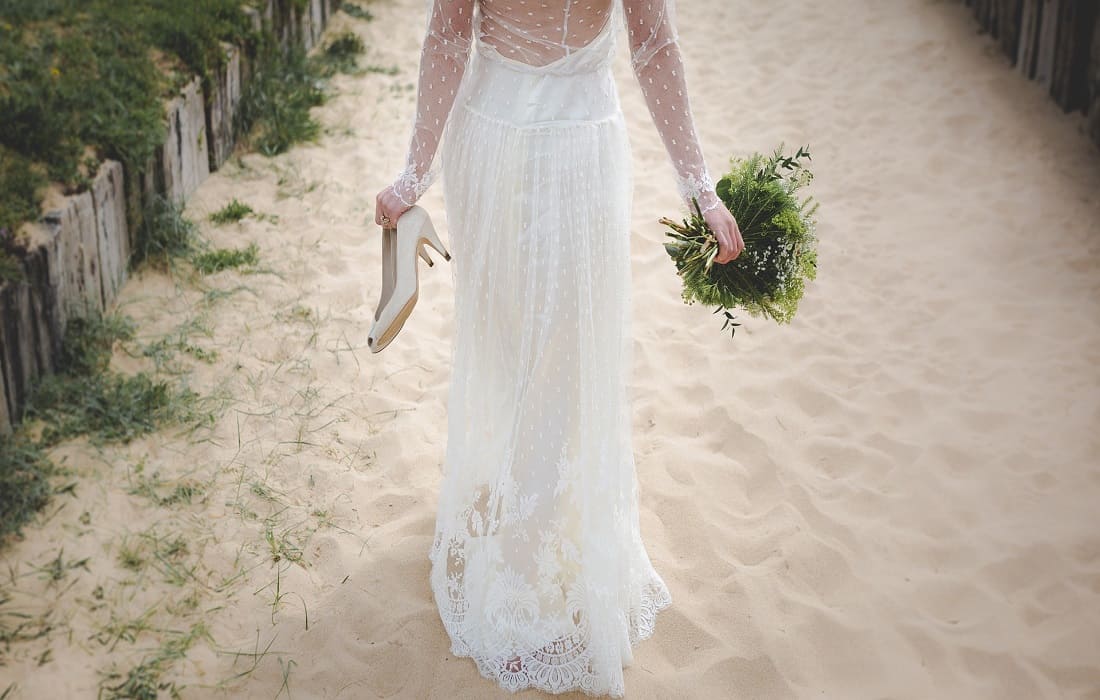 Cocoa Beach Country Club
If you want to feel like Tiger Woods, you should know that Cocoa Beach is home to a 27-hole golf club. It's a spectacular site surrounded by nature and waterfalls stretching along the Banana River.
The club also offers the opportunity to see some wildlife, with alligators and dolphins. All the family can have fun with the clay tennis courts, skateboard park, and swimming pool. Inside this gigantic 38,000 sq ft (ca. 3,530 m²), you'll also find a snack bar and lounge.
Where To Eat
If you have time for a beach lunch, make it Coconuts on The Beach. The location, smack-dab on the Atlantic, is a ten. But the view isn't all Coconuts offers. Sink your teeth into a Fish Reuben, fish tacos, or fish 'n chips, and make sure to try the sweet potato fries. Wash it down with an icy beach drink or a pina colada smoothie.
Cocoa Beach Nightlife
After dinner, it's time for the adults to relax and have a good time. Cocoa Beach has numerous nightlife activities. You can discover local blues bands at the Beach Shack. Coconuts bar, located on the Space Coast, is also a cozy bar with a relaxing Hawaiian ambiance. You'll also find several pubs along the coast, like the Dog 'N Bone British Pub, which is perfect for enjoying a pint the size of the Atlantic and sling darts.
Discover the local comedy talents at the Groucho's Comedy Club if you feel like laughing out loud. It's one of the most famous comedy clubs on the East Coast and saw big names start there, some of whom you may have seen on HBO.
If you enjoy Jazz, you must try Heidi's Jazz Club, which is open from Wednesday to Sunday. It's a sophisticated place with a lounge ambiance and the perfect night out if you're looking for good music with the Cocoa Beach nightlife. It opened in 1992, and it's reputed as the top jazz spot on the Space Coast.
Where to Stay In Cocoa Beach – Cocoa Beach Hotels
Cocoa Beach Vacation Rentals
Along the Space Coast, you'll find plenty of Cocoa Beach vacation rentals with swimming pools and a breathtaking ocean view. You can also decide to stay in a luxurious villa or rent something more remote to enjoy more calm and relaxation. Here are three of our favorite Cocoa Beach rentals.
Cocoa Beach Towers
Cocoa Beach Towers is a hotel offering the best view of the Cocoa Beach Pier. It features a heated pool, a tennis court, and a putting green. You can rent a simple room or choose among the selection of suites with living rooms, kitchens, and unique interior designs.
Chateau By the Sea
Chateau by the Sea offers condos with balconies, and it also has a view of the pier. You can enjoy the heated pool or get the perfect sun tan on the rooftop patio. It also features convenient beach access, so you can wake up and dive anytime.
Cocoa Beach Club
The Cocoa Beach Club is a U-shaped complex by the sea. It features a heated pool and a fantastic beach view like the others. You'll feel relaxed in the garden surrounding the giant pool. Furthermore, each condo has amenities like kitchens, living rooms, and balconies for a great vacation. I've stayed here a couple of times using my RCI points, and it's a great location!
Closing Thoughts
Cocoa Beach might be famous for surfing, the launch of space shuttles, and luxury cruise liners, but it's also the perfect escape from the city and a favorite with locals. You'll find plenty of activities for everyone, whether you're traveling with friends, a loved one, or family. You can enjoy the beach and all the activities it offers around the pier, with restaurants, kites, and surf schools. At night, the city comes to life with many bars and pubs and one of the most reputed comedy clubs in the world.
It's also a place of culture since you'll find many museums close to Cape Canaveral, making it the perfect place to visit if you dream about space. Everything it offers will cater to anyone, and you can rent condos or luxury villas along the Space Coast to enjoy the unique view.
Finally, Cocoa Beach is only a one-hour drive from Orlando, which offers the best theme parks in the world, like Universal Studios Parks & Resorts, Disney World, Legoland, and SeaWorld, which will provide entertainment for the whole family.
Looking For More Florida Beaches, Start Here?
We participate in the Amazon Services LLC Associates Program, an affiliate advertising program designed to provide a means for us to earn fees by linking to Amazon.com and affiliated sites.
Subscribe to our newsletter and get the best travel tips and inspirational stories delivered monthly. No spam, no sales pitches – TRAVEL!
Brit On The Move™ Travel Resources
Ready to book your next trip? Use these resources that work:
Need more help planning your trip? Check out our Resources Page, highlighting the great companies we trust when traveling.