The Caribbean is an excellent place to vacation, especially if you are cruising with Royal Caribbean and are going to experience The Perfect Day at CocoCay. If you're looking for a relaxing or action-packed day, CocoCay has it all. It's ranked number one in TripAdvisor's list of the top ten beaches in the world. Even more tantalizing is Royal Caribbean International CocoCay is exclusively for those who cruise with them.
Why do so many people visit CocoCay? There are many reasons why people enjoy CocoCay. The weather is one of the reasons. It's a tropical island that's very warm year-round. The water is warm, the weather is perfect, and the beaches are beautiful. Plus, while some of the most popular sections are busy, there are plenty of places to escape the crowds. You can find a hidden space to relax if you know where to look.
In this article, we share some of our favorite tips and tricks to take advantage of all CocoCay offers.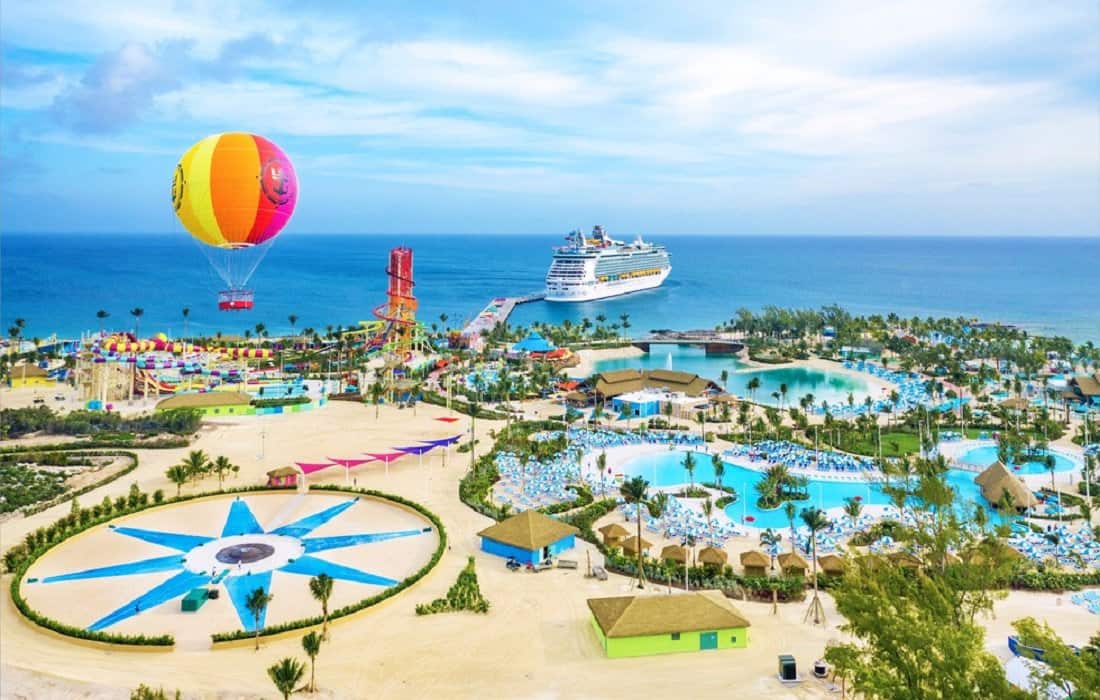 Photo credit: Royal Caribbean
This post may contain affiliate links. Please read our disclosure and privacy policy for more information.
Where Is CocoCay?
Located on the northwestern part of the Out Islands of the Bahamas, the Berry Islands are a chain of islands and a district of the Bahamas. This group of islands is also known as the Fish Bowl of the Bahamas, as there are over one hundred small islands and cays. The Berry Islands have a population of 807, most of whom live on Great Harbour Cay.
Little Stirrup Cay is the official name. However, Royal Caribbean International calls it CocoCay.
What Is The Perfect Day at CocoCay?
CocoCay is Royal Caribbean's private island in the Bahamas, so only Royal Caribbean cruise ships can dock here. It's an exclusive! Unless you are on a Royal Caribbean Ship, you can not visit CocoCay.
A visit to the island is often part of most Caribbean itineraries. For the most part, it's all free. For example, the beaches, the pools, and the food are complementary. There is something for everyone here—waterslides, shopping, dining, swimming, sightseeing, walking tours, and relaxation. If you want to splurge, there are overwater bungalows you can rent for the day.
You might wonder why you would want to visit a cruise line-operated island instead of a Caribbean country. The answer is that CocoCay is designed for all tastes and interests. Everyone who visits will have a "Perfect Day."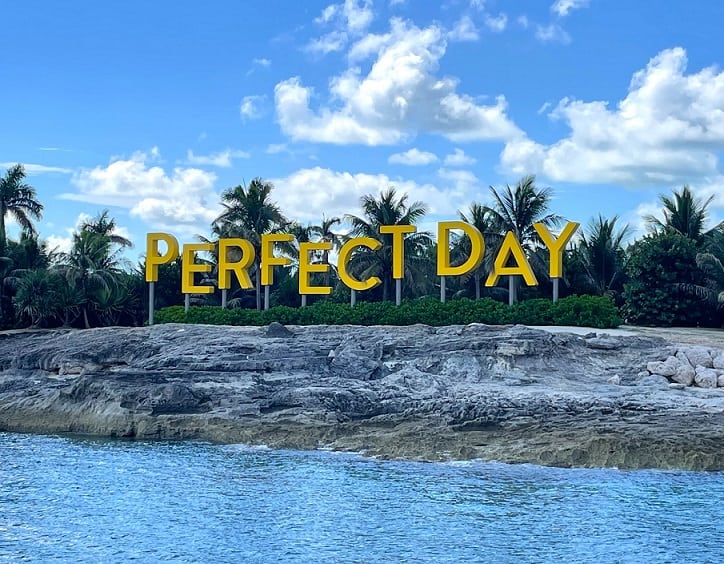 A $250 million investment by Royal Caribbean transformed the cruise line's private island in the Bahamas. "Perfect Day at CocoCay" replaced the once tranquil CocoCay.
Unlike other private islands, there is much to do once you arrive. Check out Royal Caribbean's family vacation packages if you love water sports. You will find swimming pools, restaurants, activities, and fun for the whole family to enjoy. Perfect Day at CocoCay is almost an extension of the cruise ship experience, making it easy for cruise ship passengers to enjoy without the "middle man" of shore excursions and outside vendors.
What's New at Perfect Day at CocoCay?
If you haven't visited "the old" CocoCay, then you might wonder what the difference between Perfect Day at CocoCay and the "old" CocoCay is.
At the end of 2019, Royal Caribbean renovated and expanded the island. It's a great place to visit and has many new attractions.
When guests arrive at CocoCay, they can select from many choices, including:
Multiple beaches
CocoCay water park
Freshwater pool
Zipline
Private beach club
Various dining options
In 2023 Royal Caribbean will add an adults-only area at Hideaway Beach.
CocoCay Zones
While small, this island packs a punch. It's divided into separate areas.
Chill Island
Chill Island is probably the most tranquil spot on Perfect Day at CocoCay. However, the north end is more secluded and calm, making it a popular choice among couples.
Snorkel Shack and Jet Ski rentals and tours are found at the south end, so there is more activity there. Reserve a Chill Island cabana if you're visiting with friends or your extended family – or if you want to upgrade your romantic getaway – if you're visiting with a group. The cabanas can accommodate up to eight guests and are serviced by attendants. The beaches have complimentary lounge chairs, hammocks, and bean bag chairs.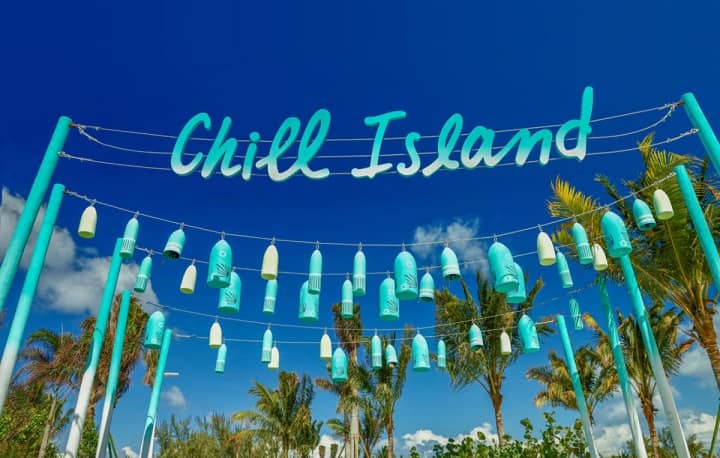 Photo credit: Royal Caribbean
Coco Beach Club
Royal Caribbean built the Coco Beach Club for those who want seclusion. You'll find this part of CocoCay behind a winding path through lush tropical vegetation.
Among the amenities in the club are…
Coco Beach Club Restaurant: The open-air restaurant serves high-end dishes like filet mignon and lobster.
Infinity Pool: Want to take a dip? A pool is an essential part of every beach club. Guests can enjoy the sweeping infinity pool here.
Private Beach: It's no secret that CocoCay is known for its beaches, but this spot takes it to the next level. Guests of the club have access to a beach with loungers and umbrellas.
Poolside Bar: The club's bar is between the restaurant and the pool. Your drink package will extend to the island if it is on the ship.
Cabanas: Cabanas are one of the club's biggest attractions. Floating ones and ones on the beach are two types.
The overwater cabanas at Coco Beach Club accommodate up to eight guests and come with attendant service, a private hammock, a minibar, and your slide into the sea. If you reserve a cabana at Coco Beach Club (including the overwater cabanas), you'll enjoy complimentary access to the club for up to eight guests.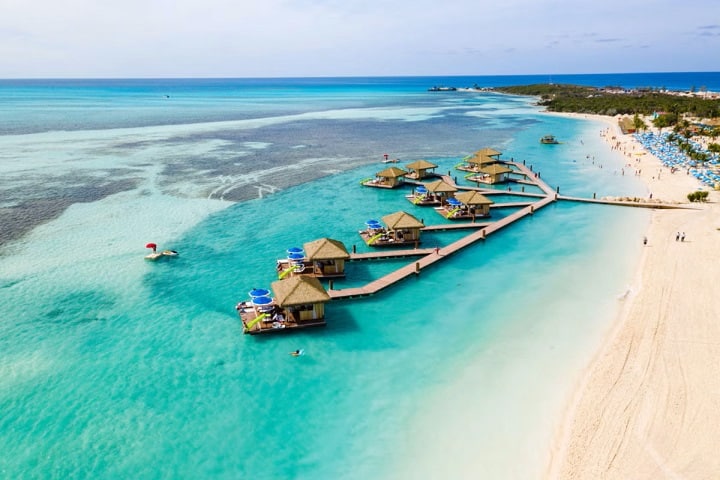 Photo credit: Royal Caribbean
An overwater cabana for eight, including full admission to the attractions, can run as high as $3,799 during peak season. The price of a Coco Beach Club overwater cabana also includes access to the beach club with its complimentary restaurant, an exclusive beach, clubhouse, and other amenities.
How Much Does Admission Cost to Coco Beach Club?
The cost of entering the Coco Beach Club differs based on your trip. The cruise line uses dynamic pricing, meaning prices aren't set and can vary from trip to trip. You can expect to pay anywhere from $99 to $199 per person.
Oasis Lagoon
Oasis Lagoon is free and has several attractions!
Captain Jill's Galleon: There are plenty of water cannons on Captain Jill's Galleon for squirting people and getting sprayed. Those who board Captain Jill's Galleon should beware…they might get soaked. Captain Jill's Galleon is a pirate-themed aqua park with slides and water cannons.
Splashaway Bay is a smaller water park.
The largest freshwater pool in the Caribbean, with a swim-up bar.
Harbor Bay: The beach that surrounds Oasis Lagoon.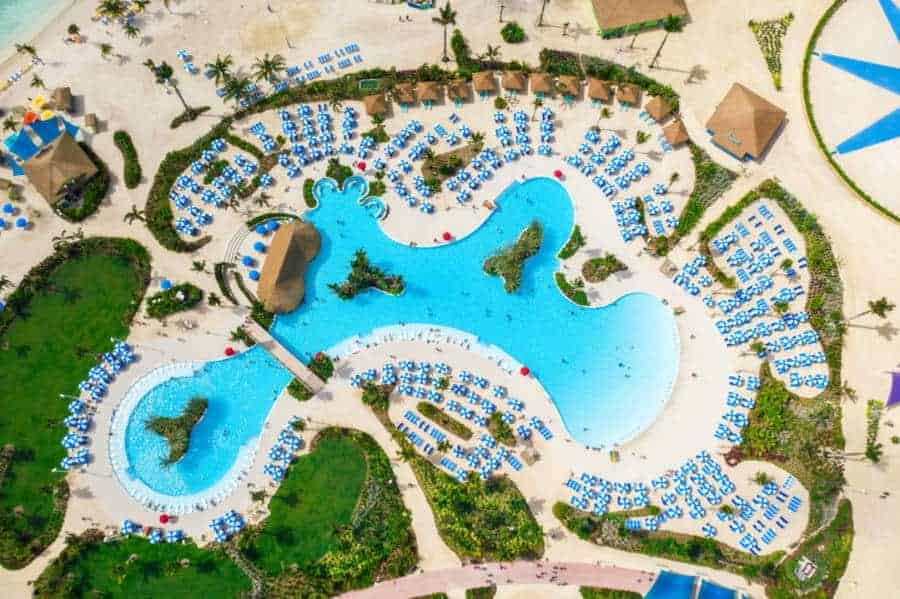 Photo credit: Royal Caribbean
Thrill Water Park
Home to North America's highest waterslide – Daredevil's Peak, which is 135 feet tall. The entry cost includes the other twelve waterslides, a wave pool, and an adventure pool.
Note: You cannot wear rash guards on the water slides. Why? Because rash guards (or shirts) cause drag on the decline and can slow you down to the point that you could stop.
Not zones per se, but additional attractions:
Up, Up and Away – Rise 450 feet above the island to enjoy the highest vantage point in the Caribbean
Zip Line – Slide along a 1,600-foot zipline and splash land in the lagoon
Note: If you have your heart set on Up, Up, and Away, book it long before you board. There is a limited time, and the weather can change significantly at CocoCay. The balloon will only go up when the winds are calmer, which is often in the morning. Book the helium balloon ride early in the day and book it as soon as possible – it sells out!
CocoCay Map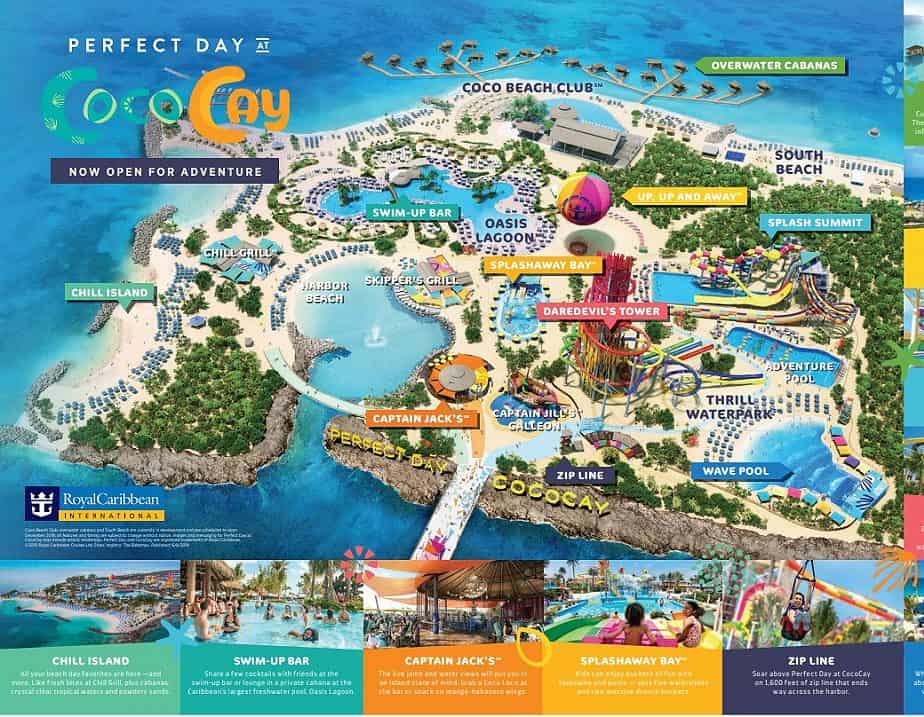 Photo credit: Royal Caribbean
First Visit To CocoCay Strategy
If you can, get up and go to the island as early as possible. Beat the crowds and get your perfect spot!
There is so much to see and do on the island that it may make sense to explore a few different sections instead of committing to just one.
It's impossible to do everything in one visit; there's too much to see and do. Don't try to visit every inch of the island in a single visit; you will spend your time running around and won't enjoy what it offers. You can certainly knock out a few significant parts of the island. However, you will need to visit to see it more than once.
Where To Start?
It's a good idea to start with the Oasis Lagoon pool and then hit the beaches afterward. You can enjoy more space if you go to Oasis Lagoon earlier in the day because the collection tends to get more crowded as the day progresses.
If you've already got a plan for your day, choose a location, whether it's the pool, a beach, or something in between. Two of the most popular beaches are Chill Island and South Beach. If mobility is an issue, it may be better to go to Chill Island because it is closer to more activities.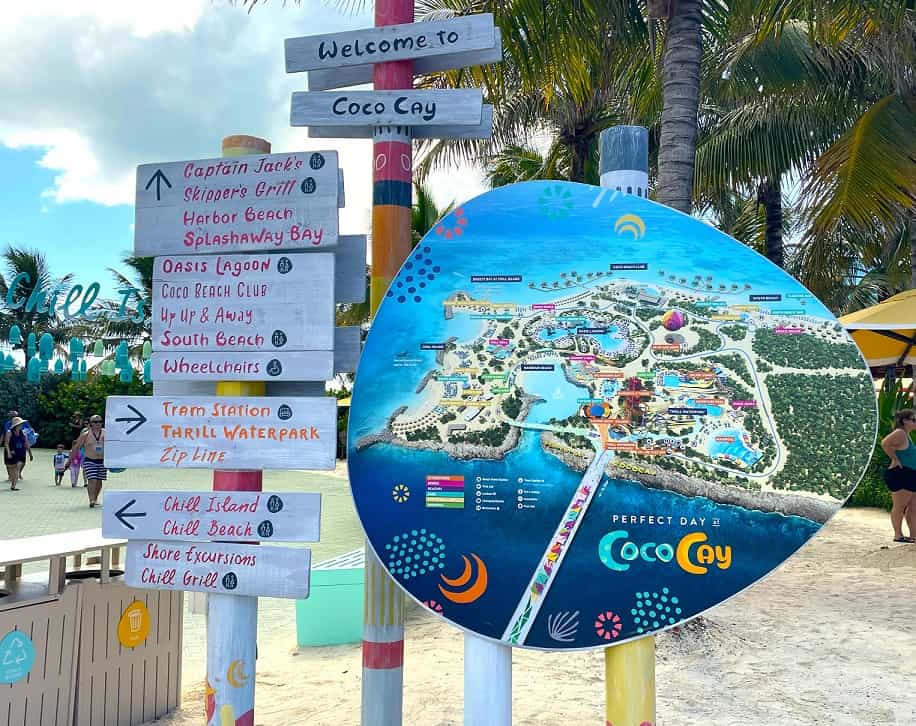 How Big Is CocoCay?
The island is less than a mile wide from west to east, and from north to south, it is less than 200 meters wide. It takes six minutes to walk from the ship to the Arrivals Plaza. Three minutes will get you to the waterpark, while five to ten minutes will get you to Chill Island.
Is CocoCay A Tender Port?
Not anymore. Since the pier was built in May 2019, ships can dock at CocoCay without requiring tender boats.
What's Included At CocoCay
Splashaway Bay
Captain Jill Galleon
Skipper's Grill
Chill Grill
Snack Shack
Oasis Lagoon
Chill Island
Beach Chairs and Umbrellas
South Beach
Sports Courts
Showers
Beach Disability Wheelchairs
Tram Service
Life Vests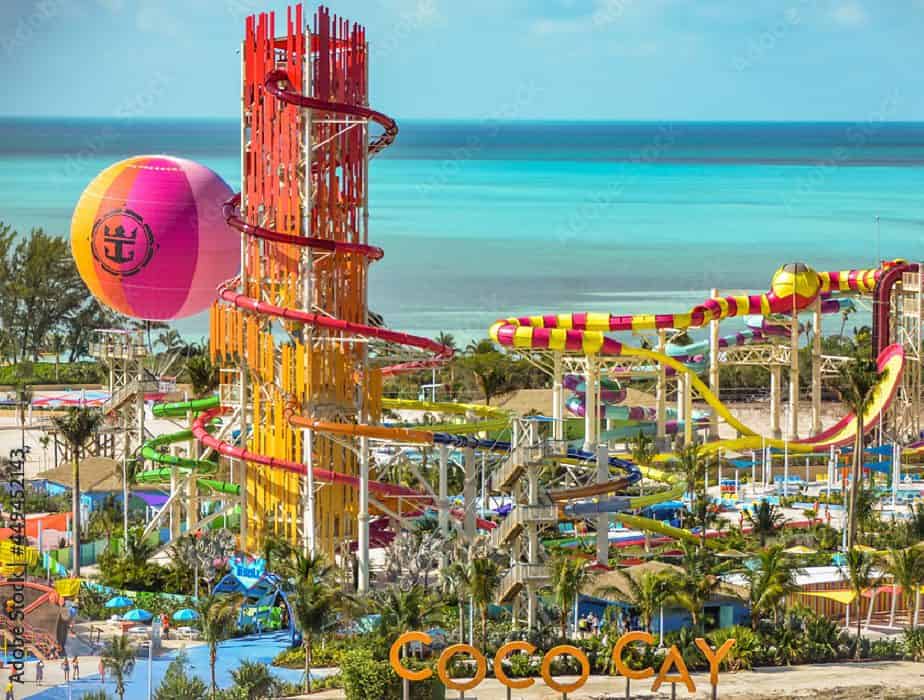 What's Not Included At CocoCay
Thrill Waterpark
Zipline
Up, Up and Away (The Helium Ballon)
Coco Beach Club
Captain Jacks Restaurant
Cabana Rentals
Water Sports & Rentals (Paddle Boards, Kayaks, Snorkeling Equipment)
Excursions
Over Water Bungalows- which, if you rent one, includes entry to Coco Beach Club
Perfect Day at CocoCay Fun facts
The world's tallest waterslide is Daredevil's Peak. At 135 feet high, it's the tallest waterslide in North America.
The island has 6000 lounge chairs.
There are 1,200 umbrellas on the island.
The giant wave pool in the Caribbean can be found at Thrill Waterpark.
There are 13 waterslides in Thrill Waterpark, which is the most anywhere in the Caribbean.
Royal Caribbean spent over 250 million dollars upgrading the island to Perfect Day at CocoCay.
Everything You Need To Know About To Take Advantage Of All CocoCay Offers
Now that you have a feel for the layout of CocoCay let's get into how to maximize your time and answer some of the common questions people ask.
Will My Drink Package Work At CocoCay?
Purchase a Royal Caribbean drink package for your cruise, and you'll get the package benefits at Perfect Day at CocoCay. This package includes unlimited alcohol, bottled water, soda, ice, and snacks. It's a great way to relax at the beach and have fun with your friends and family. This includes the Royal Refreshment and Soda package, which is excellent for Perfect Day at CocoCay.
Like on the ship, souvenir cups or drinks served in pineapples or coconuts are not included with your Deluxe Beverage Package. You can receive a discount on the souvenir cup if you have the Deluxe beverage package. You can get the drink in a regular cup for no extra cost.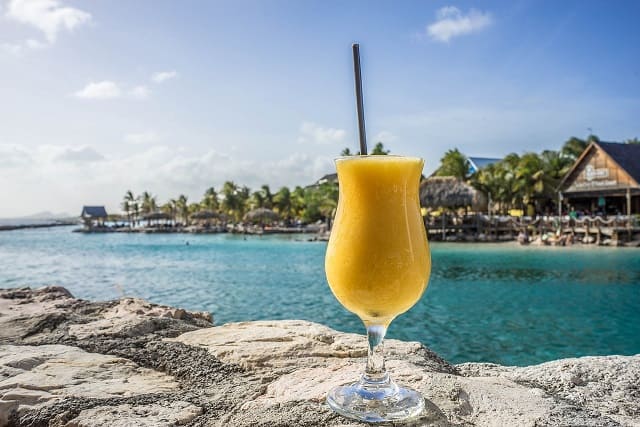 Get your daily drink voucher for Diamond, Diamond Plus, or Pinnacle Club members. Just show your SeaPass card and redeem it at the poolside bar or restaurant.
Will Internet (Voom) Package Will Work At CocoCay?
If you have a Voom internet package, you will be able to use the internet at Perfect Day at CocoCay. Wi-Fi coverage extends across the island, meaning you'll stay connected while sharing photos or videos with friends back home.
And don't forget that you may already have international coverage on your phone. I do, so even though I had the Voom package, it was not needed on the island.
What Should You Bring to CocoCay?
What you need will vary depending on the activities you plan to participate in. For example, if you plan to sunbathe, you only need sunscreen. However, you will need closed-toed shoes if you go to the zipline.
The most important things you should bring with you to CocoCay are:
SeaPass Card
Cash: Only cash is accepted in the artisan market, and tipping cabana attendants also requires cash
Closed-toe shoes: It is essential to wear them for your zipline experience
Beach towels: You can get the beach towels from the ship
GoPro or underwater camera
An underwater case for your cell phone if you plan to take pictures in the water
Water shoes if you don't like things touching your feet or don't like to walk around barefoot at water parks
You'll also want to bring sunscreen and hats and wear a rashguard to protect yourself from the sun. One of the best ways to protect yourself from sunburn is to wear clothing that covers as much skin as possible.
Snorkeling Gear
While the cruise line rents snorkeling sets, why rent when you can bring your own? There is a great reef to explore at CocoCay; it will cost you nothing if you get your own snorkel set.
I brought my own with me, so there is no need to rent anything!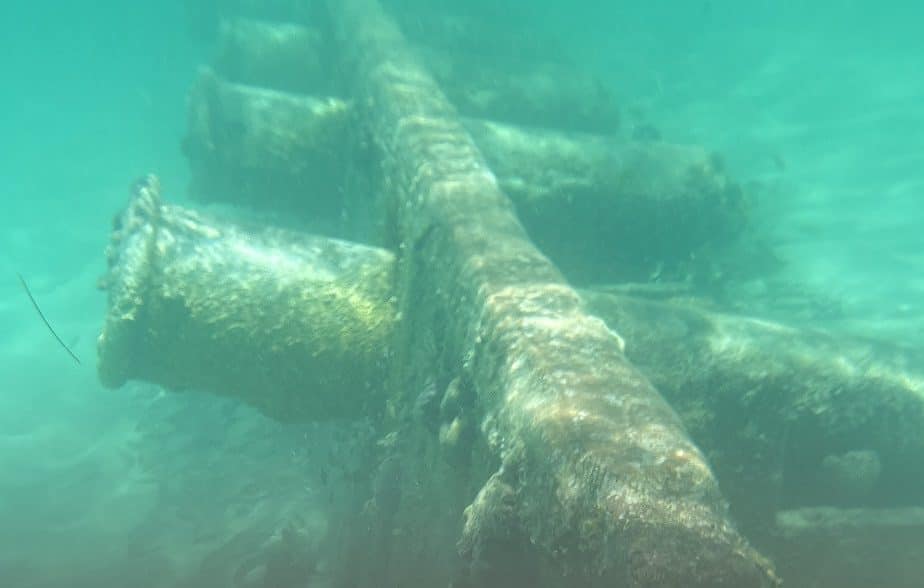 Should I Purchase Thrill Waterpark Admission Pre-Departure?
If you know that you want to spend time at the waterpark, the best thing to do is buy it in advance – pre-departure. Pricing fluctuates. It can be as little as $55 per person up to $139 per person.
Regardless of the price, it will be cheaper if you purchase long before you get on board your ship.
Royal Caribbean sells its water park passes via the Cruise Planner site, but they regularly put the tickets on sale. If you want to save money, buy your tickets before you board the ship.
Should I Book A Cabana For Thrill Waterpark?
If you should or shouldn't book a cabana for the day is a tricky question. It depends on your needs and budget. If you have at least 3 or 4 people going to Thrill Waterpark, the Thrill Waterpark cabanas might be a good investment.
A Thrill Waterpark cabana offers relaxation, privacy, and the opportunity to spend time together as a family while having some fun in the sun. A cabana includes admission for up to six guests.
What Is The Best Times For Shorts Lines For Waterslides at CocoCay?
Thrill Waterpark is popular, and it sells out; as such, you should expect lines. These are the best times to avoid queues for slides:
Before 11 a.m.
After 3 p.m.
Are There Any Free Water Slides?
CocoCay has two accessible splash areas with unlimited hours of fun for your whole family: Captain Jill's and Splashaway Bay, both located right at the entrance to the island from the pier.
If you have younger children (elementary school age or younger), this is a good fit for them. Splash Zone includes small slides, water cannons, geysers, and more.
What Food Does The Snack Shack Serve?
They serve delicious snacks and meals but also have menu items you can't find on the printed menu – all you need to do is ask!
Is the Tram Service Around CocoCay Island Free?
Yes, the tram is complimentary! Walking down the pier, you'll find the tram service to take you around the island. Many of the trams are solar-powered!
Where's The Least Crowded Spot On CocoCay?
Chill Island is the perfect place for quiet time. You can get to Chill Island by following the green pathway on the left side.
When you get to Chill Island, stay on the left side of the area, and you'll have pristine ocean views that are entirely free of the sounds of people at the pool.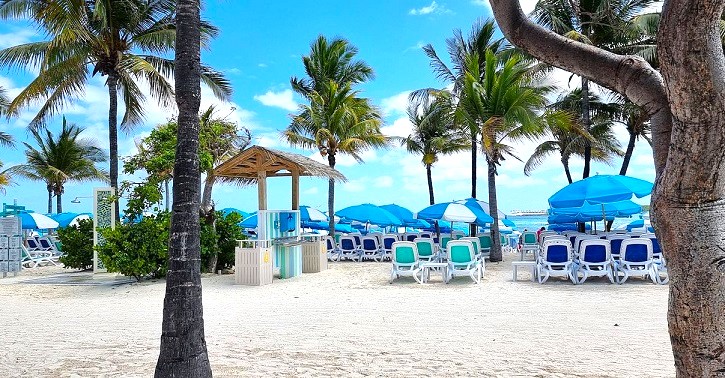 Is There Wild Life On The Island?
This is a fun fact, but Perfect Day at CocoCay is a lot more than just a gorgeous view. You are bound to see some birds or reptiles while walking. Seagulls are usually found around the ocean shoreline and on land. If you're at the beach, be careful when you eat because seagulls are known to scavenge leftovers from your picnic. Keep an eye out for chickens and iguanas. And remember, no feeding the wildlife!
Please do not give any of them any food.
What Do Chairs & Umbrellas Cost On CocoCay?
First of all, they are free! Secondly, you don't need to worry about hustling to get a spot at CocoCay.You will find umbrellas in all the different regions of the island. Royal Caribbean has taken its popular CocoCay beach area and expanded it. They've added tons of new seats, umbrellas, and other amenities to enjoy on your next trip.
Is There Breakfast At CocoCay?
No, there's no breakfast on the island. Before you depart and head to the island, grab something to eat. Food doesn't start opening up until lunchtime. Coco Beach Club is an exception to the rule and is the only place on CocoCay that offers coffee and pastries to its guests.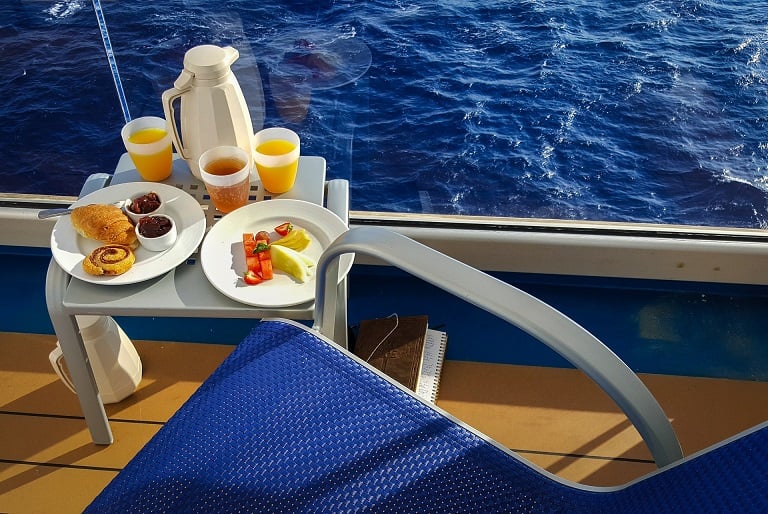 Will My SeaPass Card Work On The Island?
Royal Caribbean is the perfect cruise line for people who want to experience cashless vacations without having to deal with paying in cash or with a credit card.
Royal Caribbean's new cruise experience, "Perfect Day," relies on the SeaPass card instead of cash. You can use your SeaPass card for everything except the Artisan Market, so bring some cash just in case.
Is It Too Cold To Visit In December, January, or February?
The tropics generally don't experience the same winter temperature swings found in farther north areas. The weather tends to be much warmer year-round, but it does cool down in winter.
Indeed, it's not unheard of for temperatures in the 70s during the winter. The good news is that the ocean temperature doesn't change much and remains warm for longer after the air temperature drops.
One thing is for sure: the beach is a much better place to vacation in winter than in summer. CocoCay is the perfect tropical getaway year-round. It's more than enjoyable in the winter, and the water activities are plentiful. If you're coming from somewhere that gets snow during winter, CocoCay in December through February will feel divine.
Are Cabana Rentals Worth It?
A cabana rental is a great way to make your day unique and memorable. However, cabanas have an extra cost. They offer privacy, shade, and exceptional server service. Your cabana attendant will serve beverages and take drink orders throughout the day.
Can I Get Beach or Pool Towels On The Island?
Towels are a must to have when you visit CocoCay. There are towel stations strategically placed throughout the island for you to go and exchange your wet towel for a fresh one.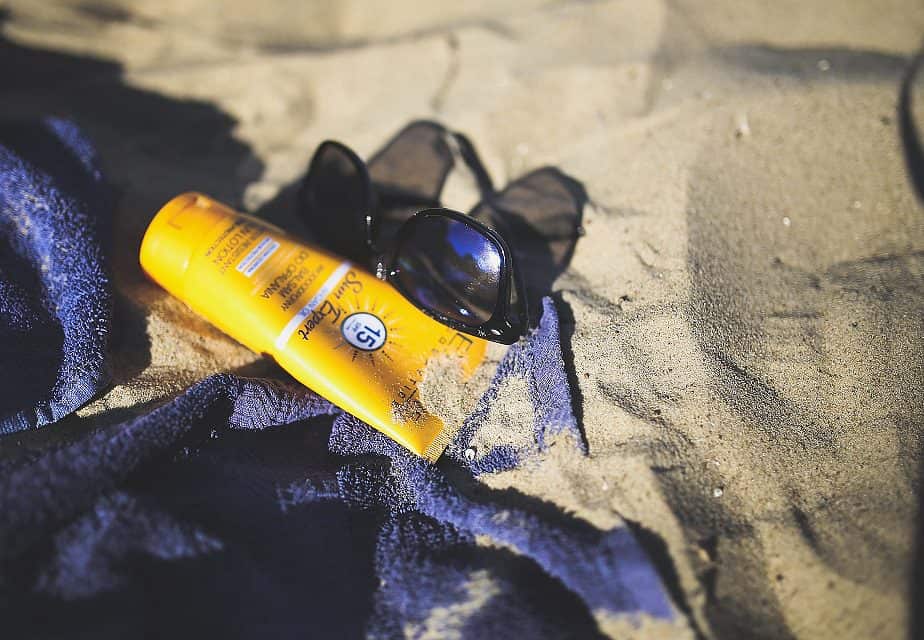 Where Is The Best Place To Eat On CocoCay?
The days of burgers and hot dogs are long gone, but they are not your only choices. A wide variety of complimentary foods are available:
Chill Grill is like Windjammer in the sense that there are lots of buffer options. They also have shaded seats nearby. You can find many things, including salads, burgers, sandwiches, and more. Chill Grill also has soft-serve ice cream.
Skipper's Grill is an excellent restaurant for people looking for fast-casual dining, as it's centrally located and offers a menu.
The Snack Shack offers grab-and-go options, like chicken sandwiches, mozzarella sticks, burgers, and even a light Greek salad.
Captain Jack's near the pier offers wings and fries.
The Coco Beach Club restaurant offers seafood options, from oysters to lobster, grilled fish, ceviche, and much more. You can order unlimited entrees at the Coco Beach Club Restaurant, so feel free to sample a few dishes while you are there. Just remember, you have to pay to enter Coco Beach Club.
What Excursions Are Available On CocoCay?
The Zipline
Up, Up & Away Helium Balloon
Glass bottom boat tour
Guided jet ski tour
Kayak adventure
Parasailing
Reef snorkeling
Scuba diving
Stingray City
Swimming pigs tour
Can You Snorkel For Free At CocoCay?
Whether you've got your snorkel equipment or rent gear from Royal Caribbean, there is a spot for snorkeling. If you have your gear, it's free. An underwater plane and artificial ship ruins attract all kinds of marine life.
*Note: We could not snorkel to the plane when we visited. The staff told me they had stopped access because it was not safe. Not sure if this is still the case or not.
Is Perfect Day at CocoCay Wheelchair Accessible?
Yes, most of the island is accessible. Some areas are not easily accessible, but with some planning and coordination.
What Is The Official Drink Of CocoCay?
The official drink of Perfect Day at CocoCay is called the Coco Loco, which is delicious. The kind of frozen dessert that is sure to put a smile on anyone's face is called the Coco Loco. It comes with rum, but you can get a non-alcoholic version for the kids.
Hidden Gems
Here are some things few people know about!
Ice Cream Sandwiches
You will find self-serve, soft-serve ice cream machines near Skippers, then grab chocolate chip cookies! Combine the two for a fabulous dessert.
There Is A Floating Swim Up Bar At CocoCay
The island has a floating bar on the South Beach.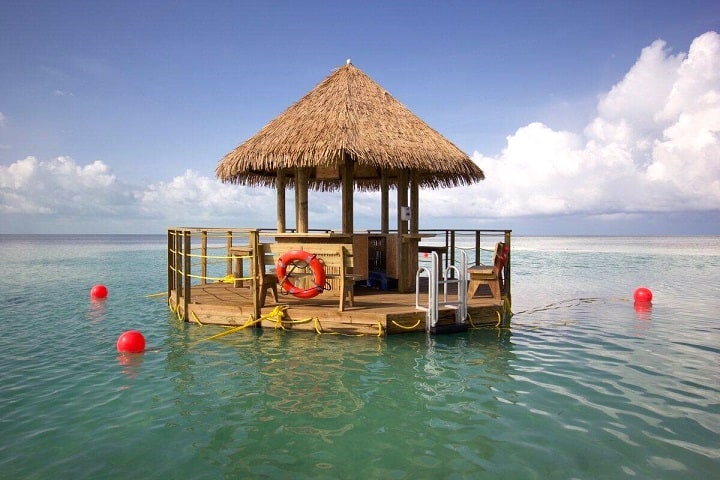 Photo credit: Royal Caribbean
What You Need To Know
All islands have their share of challenges, and CocoCay is no exception. There are massive barracudas in the water, like six feet long. There are also jellyfish, and I saw giant-sized grouper.
Once upon a time, there was a sunken plane in the bay that you could explore. Sadly, you can no longer access it. This is not a deal breaker; I wish the staff told me before I took off on my epic swim to find it.
If you are planning to visit CocoCay, you should know the minimum height and maximum weight restrictions. The water slides have different sizes. If you are too short or heavy, you will not be able to ride them.
Lockers Are Free To Use
Locker keys can be found near the entrance to Thrill Waterpark and zip lines, Chill Island (north and south), and near the helium balloon. The locker room is located near the entrance to the park.
You Cannot Use A Drone
Royal Caribbean restricts the use of drones on the island. You can bring a drone on the ship, but drones are not allowed on any of Royal Caribbean's private islands.
Use Signs To Navigate
While Royal Caribbean provides you with a nice map in your room before your visit, you don't need it.
CocoCay is full of signs, and getting around is much easier than you might imagine. Just follow this color coding:
Light green: Chill Island
Orange: Oasis Lagoon, Coco Beach Club
Light blue: Thrill Waterpark
FAQs
No, CocoCay is leased by Royal Caribbean International for use exclusively by its visiting cruise ships.
Does Anyone Reside On The Island?
Royal Caribbean has had up to 375 employees living on CocoCay. There are dormitories on the island's eastern end, where the crew returns after a day working on the island.
Closing Thoughts
For those who have never been to CocoCay, it is a beautiful island that offers a lot of things for everyone to enjoy. Whether you are looking for a quiet romantic getaway, a family vacation, or a party atmosphere, there is something for everyone at CocoCay. And now you know everything and them some about The Perfect Day At Cococay.
Looking for articles on cruising? Start here:
We participate in the Amazon Services LLC Associates Program, an affiliate advertising program designed to provide a means for us to earn fees by linking to Amazon.com and affiliated sites.
Brit On The Move™ Travel Resources
Ready to book your next trip? Use these resources that work:
Need more help planning your trip? Check out our Resources Page, highlighting the great companies we trust when traveling.