If you head to Gatorland Florida and don't know what to expect – you have found the right place! We are going to share with you everything you need to know about Gatorland and how to make the most of a day trip to this adventure park.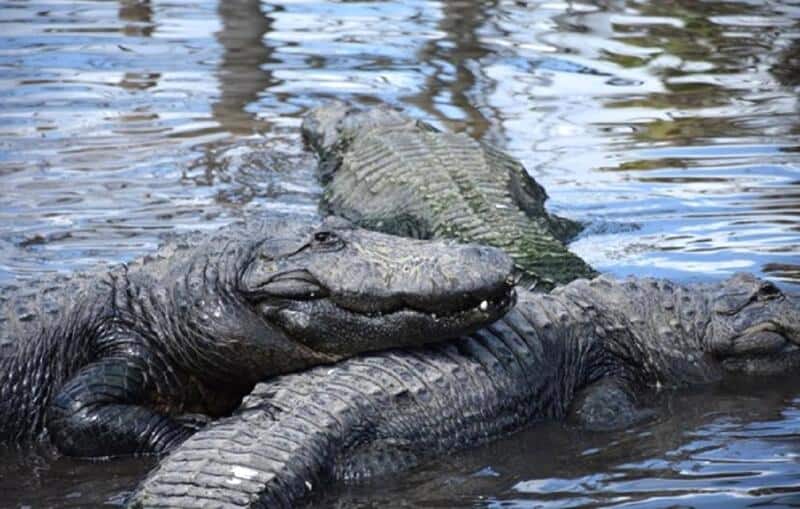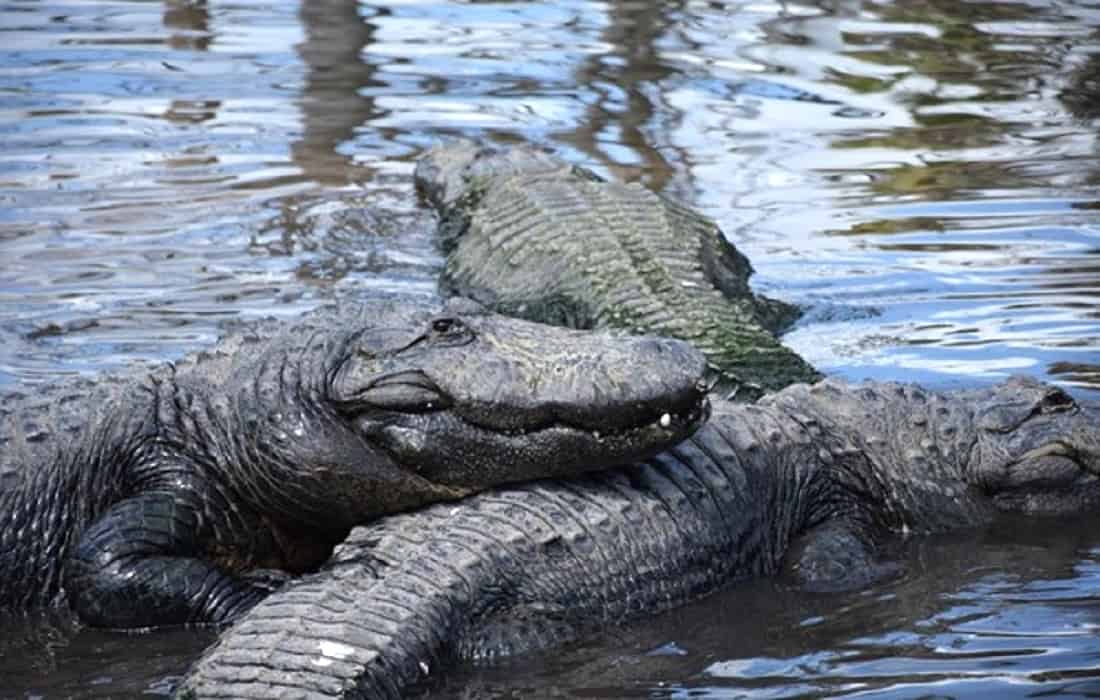 This post may contain affiliate links. Please read our disclosure and privacy policy for more information.
Why Visit Gatorland, Florida?
Gatorland, Florida, is a good choice for anyone who wants to see one of the biggest displays of Crocodilia. This park keeps several thousand animals, among them are:
Alligators, including two rare leucistic ones.
Leucistic alligators lack skin pigment and are about as rare as one in several million. Leucistic alligators are different from those that are albino in many ways. Albino aligators have a pinkish skin color, while leucistic ones are snow white for example.
Crocodiles.
Wild cats, various species including bobcats.
Snakes.
Ungulates – hoofed animals.
Turtles.
Gatorland Florida holds special shows with some of the resident animals. You can even participate in the shows! All the shows are totally unique family activities and all can participate no matter the age.
Moreover, there are many different attractions in the park and over the years Gatorland continues to reinvent itself. Consistently adding new experiences or animal exhibits. Gatorland is a park that offers a ton of fun for kids and adults alike. A trip to Gatorland is an ideal way to entertain every family member and make your weekend memorable! No two trips to Gatorland will ever be the same and it's a park that families frequent.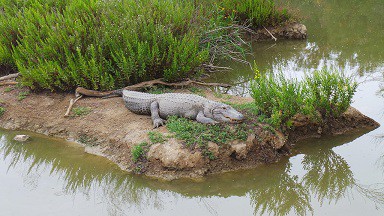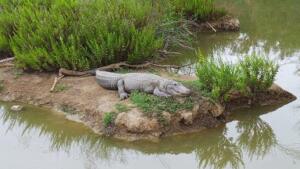 The History Of Gatorland, Florida
It all started from the small hole in the backyard of a home in Sebring Florida. The hole was built by Owen Godwin Sr. for alligators, an alligator pit. His wife, Pearl, sold various gator goods – belts, and keychains. Purchasers gathered in astonishment around the pit, watching an alligator female with her babies. From that moment on, Godwin started to dream about a place that would highlight Florida's wildlife. Shortly after World War II, in 1947 he bought a plot of land off Hwy. 17/92 and 441 in nearby Kissimmee.
1947 On
In 1947, people had just started to visit Florida as a vacation destination. Godwin knew this and considered the property he's purchased as an ideal location for a park – it was the 2nd busiest highway at the time. Now, it's a popular tourist area, the heart of well-known attractions such as Universal Studios, Walt Disney World, and SeaWorld. Interestingly, Godwin's 17-acre plot provided the soil for building a new highway. Godwin had three investors that contributed $100 each and in1949 Florida Wildlife Institute was opened. The original name was deemed too "governmental" and in 1950 the name to Snake Village and Alligator Farm.
In 1954 "Snake Village and Alligator Farm" became "Gatorland." The park became successful and took off due to the introduction of Bone Crusher – a giant crocodile. Approximately 15 ft. long and weighs 1,080 lb. Godwin bills him as the world's largest captive crocodile.
As the tourist industry grew, the park made many renovations. In 1970 Gatorland was incorporated as a family corporation. It was multiplying, adding more animals, and capturing public attention. In the 1980s, it was established as the only place where alligators were successfully impregnated artificially. 1988 with the addition of adjoining property, Gatorland becomes a 37-acre tourist attraction and wildlife preserve.
When Did Gatorland Burn Down?
On the 6th of November in 2006, a fire engulfed Gatorland. It's an enormous tragedy and a black stain on its history. The park experienced dramatic losses, the major of which are, of course, human lives. Despite the courage and heroic firefighters' forces, the executive offices and the gift shop were lost to the fire. Regrettably, two pythons, one dwarf crocodile, and several hatchling alligators died. After a short-term renovation, Gatorland reopened on the 24th of November with enhanced safety measures in place.
The Location Of Gatorland, Florida
Gatorland is on Hwy 441, on Orlando, and close to Kissimmee. Walt Disney World, Sea World, and the Orlando International Airport are about 20-25 minutes away. You'll have no difficulty driving there.
Address: 14501 S Orange Blossom Trl, Orlando, FL 32837
Renting a car in Florida is easy and age is not an issue. Car rentals for under 25 in Orlando are available for you.
What Is There To Do At Gatorland, Florida?
Although the park describes itself as "The Alligator Capital of the World," there's much more to see and do at Gatorland than just viewing a collection of alligators.
For example, there is a water playground for the kids and a fantastic petting area where you can feed the animal yourself! There are off-road adventures for those chasing adrenaline, shows, and an excellent zip line for those that really want extreme! There is a train ride for the family to go around the park showing all the attractions and swamps.
You can see snakes, parrots, turtles, etc. Or, you can watch shows that are funny and entertaining for all ages. The incredible reproduction marsh is full of gators and bird nests with eggs. Lastly, don't forget to meet an exclusive Gatorland Florida resident – a leucistic alligator!
Gatorland is the perfect place to spend a few hours or a whole day with the kids. Lots of walking and outdoor activities.
Ticket Prices
There are three categories for tickets:
Adult (13+ years)
Kid (3-12 years)
Senior (60+ years)
A ticket's cost varies depending on which age category you are in.
Veterans or active military can get in free. Plus, in April, Florida residents get half off of admission.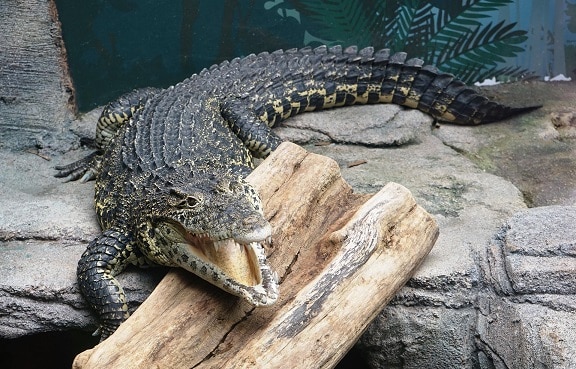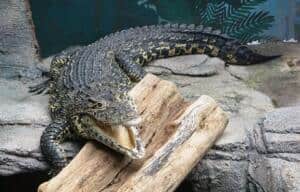 The Single Day Pass
This one is a standard one-day pass and is suitable for first-time visitors. You don't need a reservation. Prices are $23 – $33. If you plan to visit the park in a group of ten or more, you can contact group sales for a potential discount.
The Greater Gator Package
This advanced pass lets you save on some well-known add-on activities such as Alligator Greet and Meet, unlimited train rides, and the popular Gator feeding! This package includes a single-day pass. The price starts from $31.
Keep in mind that it's not necessary to pre-book this ticket, you can purchase it on the same day.
The Gatorland Yearly Pass
This type of ticket is an excellent way to enjoy the park any time and as much as you want. Being an annual pass holder gives you access to special discounts and bonuses: 50% off adventure hour, free Gatorland Express Train wristband, free birdseed at the aviary, and more. Annual Passes start at $35 – $45.
Gatorland Wranglers Pick Upgrade
Buy this package and add on to existing tickets. This upgrade gives you unlimited access to Meet-A-Gator, Gator Chow, and a day pass on the Gatorland Express.
Note: Always book online in advance. Gatorland offers a $3 per person discount for those that book online.
Opening Hours
You can visit Gatorland, Orlando, Florida, every day from 10 am to 5 pm. Rain or shine, Gatorland is open year-round.
Gatorland Experiences
Screaming Gator Zipline
It's indeed a great option for bold thrill seekers! This 1200-feet long cable ride will make your heart pound fast! You are guaranteed an adrenaline rush because you'll be flying above several crocodiles' aviaries. Don't be scared! The equipment is well maintained and the safety standards are high.
Before the adventure, you will have a brief safety training conducted under the control of professionals. Fantastic panoramas are guaranteed! Adults must accompany any children under eight.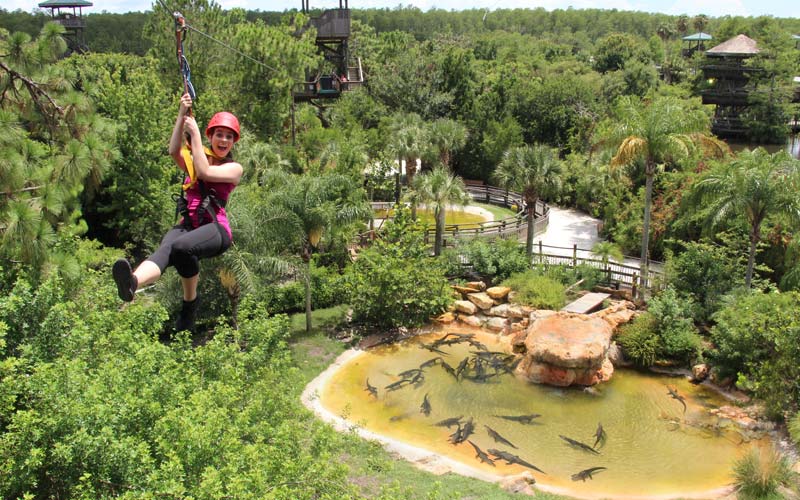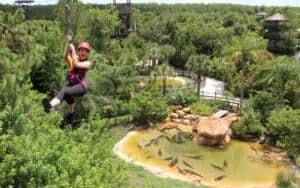 Image Credit: Gatorland
Gator Gauntlet
Soar 350 feet through the air and defy gravity while gliding over the Alligator Breeding Marsh, complete with one hundred and thirty giant alligators watching from below! "That's one wild ride!"
Stomping Gator Out Of Road Adventure
Ride one of three tremendous customed vehicles to drive a rugged journey through swaps full of alligators. Interestingly, each vehicle has its own story and is named for famous Gatorland residents, such as Bonecrusher, Swamp Ghost, and iconic Cannibal Jake!
Gatorland Shows
Gator Jumparoo Show – the trilling eye-catcher! Real giant alligators demonstrate their power.
Legends of the Swamp – the show that you must see! Watch as a brave man interacts with 8-9 foot monsters!
Up Close Encounters – unexpected meetings with various animals. It could even be a dangerous snake!
All shows are included with admission. Сheck the timetable at the front desk when you arrive.
Adventure Hour
An excellent opportunity to feed the alligator and get funny and awkward photos without being gator food! You have to schedule this activity, so don't forget to make a booking!
Gator Night Lights
When the sun goes down, the swamp comes alive… This show immerses you into a great gator's world! Having only a flashlight and some food for the animals, you will go on a courageous walk through the paths made of wood above the swamps! There you will see a famous Breeding Marsh! Just point your touch on the water surface and see all those fierce red eyes! The tour is about an hour, and you need at least five people to book this experience.
A Trainer For A Day
Learn to become an alligator trainer. An experienced trainer will answer any of your questions, even how many gator attacks have happened in Florida! You would see the backstage things and meet the animals up close!
Pass For Photographs
With this pass, you get closer access to the animals on display and take professional photos. It's a special pass for those wanting to capture professional photographs.
Allie's Barnyard Petting and Feeding
Here you can feed the animals through the fence and this one is a huge hit with children.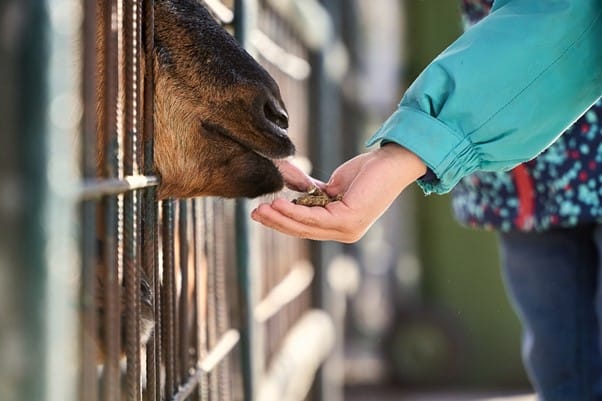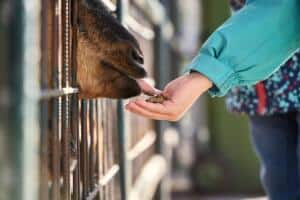 What To Wear At Gatorland Florida
The best outfit is the casual one. If you want to experience the attractions such as zip lines, you'll want to wear shoes with closed toes. Skirts, shorts, and dresses are not allowed on the zipline. Wear comfortable jeans, trousers or sweatpants. Take a bug spray if you plan to stay till the evening.
Is Gatorland Florida Worth Visiting?
Yes and we recommend Gatorland to anyone interested in wildlife. Enthusiastic cheers from your children are guaranteed!
Closing Thoughts
A visit to Gatorland is a great way to see true Floridian wildlife in a natural setting without having to brave the wild. It's an affordable day out that combines education, conservation, and thrilling encounters.
If you are visiting Orlando, don't miss out on this park!
Looking for more posts on wildlife in Florida? Start here:
We participate in the Amazon Services LLC Associates Program, an affiliate advertising program designed to provide a means for us to earn fees by linking to Amazon.com and affiliated sites.
Brit On The Move™ Travel Resources
Ready to book your next trip? Use these resources that work:
Need more help planning your trip? Check out our Resources Page, highlighting the great companies we trust when traveling.