There are endless springs and natural parks in Florida, perfect for escaping the daily grind and clearing your head, and decompressing. Silver Springs State Park in Florida is one that many cherish. It's famous for the wild monkeys that live in the Ocala National Forest and glass-bottom boat rides in the spring.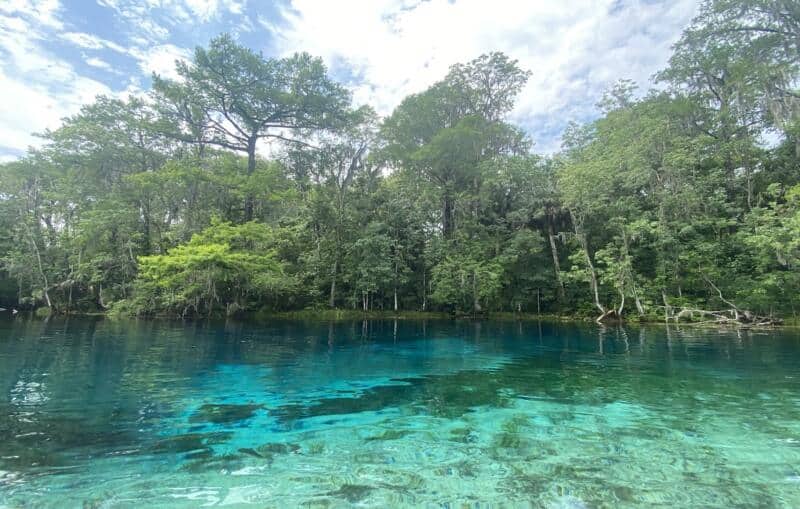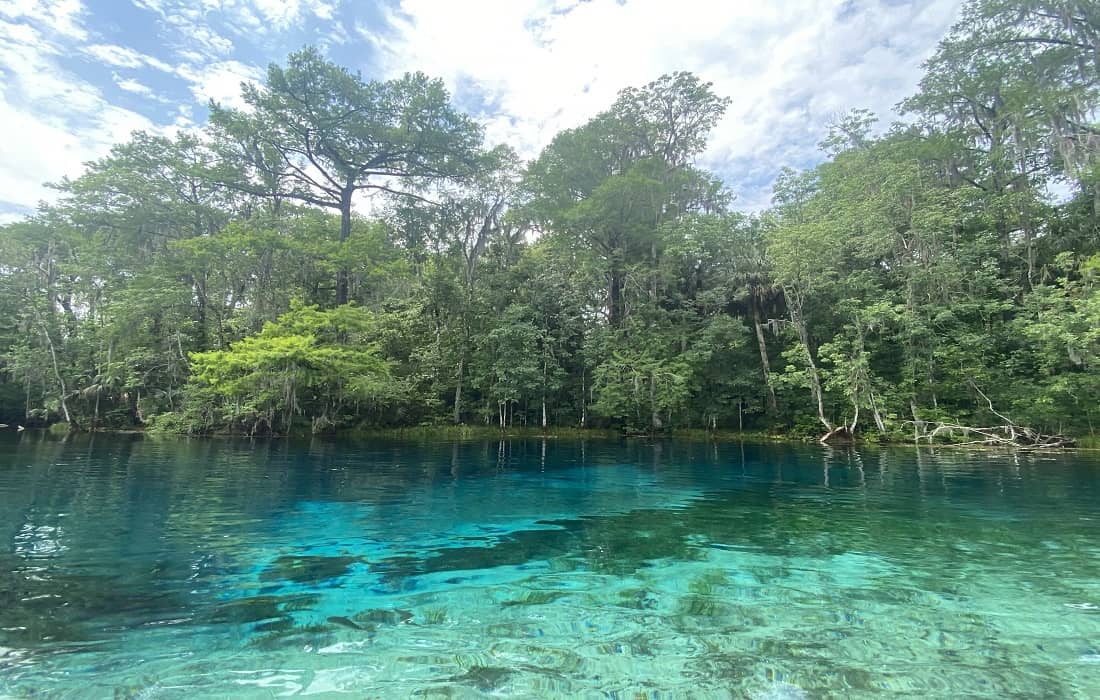 This post may contain affiliate links. Please read our disclosure and privacy policy for more information.
Why Visit Silver Springs, Florida?
Silver Springs is a Florida State Park in Marion County and offers an excellent glimpse into Florida's past. The state park comprises 5,000 acres and is a natural area where you can participate in many outdoor activities.
Here are some of the reasons to visit Silver Springs in Florida:
Kayak on the Silver River, a river that offers amazing wildlife viewing.
View the wildlife, you'll definitely see gators and you might see the monkeys or encounter manatees.
Create unforgettable moments with the family or start new family traditions.
Have a lazy weekend at the Silver Springs Campground.
Learn more about Florida, Marion County, and its history.
Take a trip on a glass-bottom boat to see the bottom of the river and the springs.
Practice paddle boarding or rowing in a boat.
Hike in a beautiful place and with nature by your side.
Boat the Silver River and Ocklawaha Rivers.
Take your boat through Moss Bluff Lock & Spillway. One of my favorites as there are not many locks in Florida!
The History Of Silver Springs, Florida
The history of Florida begins with the Native Americans, who inhabited the lands of Silver Springs more than 10,000 years ago. However, we can begin to tell a more recent story in 1820, when Silver Springs became one of the best destinations for adventure seekers.
In 1852 Silver Springs was founded and became one of the most important commercial centers. On the other hand, this park became more famous for its glass-bottom boat rides in the late 1870s.
Later in 1920, Carl Ray and WM Davidson developed a natural attraction center on the upper Silver River called "Silver Springs Nature Theme Park." In 2013, Florida State was in charge of managing this attraction along with the rest of the national park, creating the current "Silver Springs State Park."
The Location Of Silver Springs, Florida
Silver Springs is located in Florida and Marion County. This park is in the east of the city of Ocala, northwest of Orlando, and south of Gainesville. Silver Springs has an excellent location for adventure seekers. It is near the Ocala National Forest, Salt Springs, and Lake George.
It is essential to know that Silver Springs is not the same as Silver Glen Springs and that Silver Glen Springs is connected to Lake George and the St. Johns River. Silver Springs is located at:
Silver Springs State Park, Campground and Museum Entrance: 1425 N.E. 58th Ave.Ocala FL 34470
Silver Springs State Park: 5656 E Silver Springs Blvd, Silver Springs, FL 34488
Getting to Silver Springs Florida
Getting to Silver Springs is not very difficult if you are in Florida. If you are outside Florida, you can take a flight to an airport near Gainesville, Orlando, and Jacksonville if you have no problem traveling 100 miles on the highway.
By Car
Earlier, we mentioned that there are two different addresses for Silver Springs. One address is from the main entrance of the state park, and the other is the entrance through the recreational park that was annexed to the state park. You can find the camping sites in the second entry and enjoy nature trails.
By Boat
Boating in the spring is as popular as kayaking. Many people choose to launch their own boat and drive about five miles to the springhead. To access via boat you will start at Ray Wayside Park (Ocala Boat Basin).
Address: 9564 NE 28th Lane Silver Springs, FL 34488
There are 100 plus parking spots at Ray Wayside Park so launching should not be an issue. You can also launch kayaks, jet skis, or paddleboards here. However, there's a closer launch for kayaks and paddleboards.
By Kayak or Paddleboard
If you don't want to launch from Ray Wayside Park and paddle for five miles, use the Silver Springs State Park River Trail Launch which is located in the park.
Alternatively, you can launch from Fort King Waterway. From the State Park Launch a short distance on the right (before the park bridge) is the old, man-made Fort King Waterway. The waterway was formerly open for a jungle cruise only but reopened to paddling in 2013 when Silver River State Park and Silver Springs Nature Theme Park combined to become Silver Springs, State Park.
You can also rent kayaks including clear-bottom kayaks starting at $20 for one hour. The cost of a full-day tandem rental is $45. Rentals with transportation back from Ray Wayside are $50. For information, call (352) 261-5842.
Tours Of Silver Springs State Park
If you don't want to launch your own vessel and are not interested in the glass bottom boat tour then you should consider joining a guided tour:
The Monkeys Of Silver Springs
A colony of six rhesus macaques was released in and around Silver Springs in Florida in 1938, by a tour boat operator known locally as "Colonel Tooey". He released the monkeys to enhance his "Jungle Cruise". The monkeys have since multiplied and thrived. The monkeys of Silver Springs are an attraction of their own. Many people paddle or boat the Silver River and Ocklawaha Rivers hoping to catch a glimpse of them.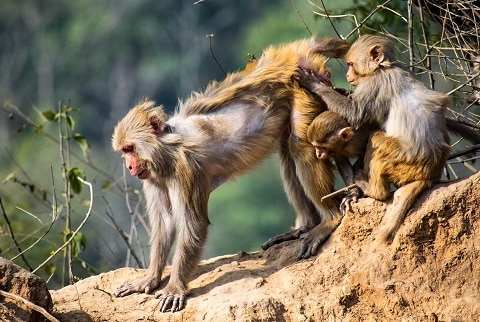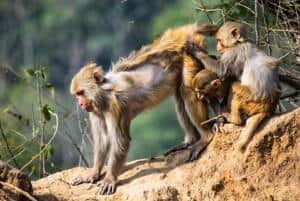 The story that these monkeys were brought to Silver Springs to film Tarzan is made up, there's no truth to this urban legend.
There's been a lot of controversy over the monkeys because they carry herpes B. Wildlife officials consider the animals a public health hazard and as such the state began culling them in 1984. In 2012, the Department of Environmental Protection stopped issuing removal permits when it became known that trapped monkeys wound up at research facilities. Since then the only state action came from the Florida Fish and Wildlife Conservation Commission, which in 2018 prohibited the feeding of wild monkeys.
Some people get lucky and see the monkeys, others don't. It's difficult to tell you where to look! They can be seen anywhere along the 6-mile Silver River and along the Ocklawaha River in the Ocala National Forest. They do not stay put and roam all over the forest so sightings are never guaranteed.
Glass Bottom Boat Rides
In Florida, there are many species of marine animals, and the best way to see them is on the water. This was the reason why glass-bottom boats were created in Florida in 1870 in Silver Springs. If you visit Silver Springs, this is a great option for those that don't want to kayak, paddleboard, or launch their own boat. This way you can still enjoy a truly natural experience in Florida.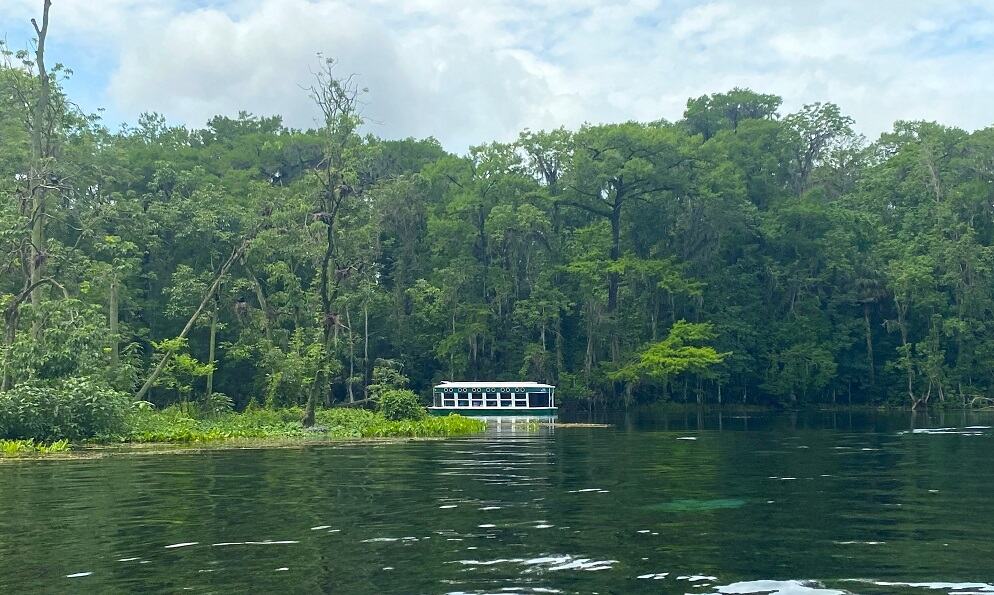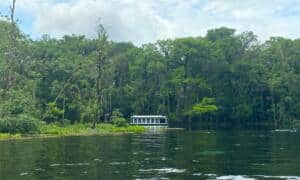 How much does it cost to ride the glass bottom boats at Silver Springs, Florida?
The 30-minute tour is available 365 days a year, and you do not need to make any prior reservation. The price for the 3-minute glass-bottom boat tour is as follows:
Adults: $13
Seniors 55 and older: $12
Children 6 to 12: $12
Children 5 years and under travel free
Do you want a slightly longer experience? Then you can request an extended 90-minute tour that is only offered on Fridays, Saturdays, and Sundays. The price for the 90-minute glass-bottom boat tour is as follows:
Adults: $25
Over 55 years old: $20
Children 6 to 12: $20
Children 5 years and under travel free
If you really love springs, then you need this book! Florida is home to over 1000 natural springs between the sun-soaked beaches of the Gulf of Mexico and the Atlantic Ocean, which have drawn people to the state for thousands of years. Long before theme parks came to town, the freshwater springs were the top tourist attraction in the state. Join us across the state to explore 40 of the best springs in Florida that you can still visit today. Filled with vivid photos from the past and present, this guide will show you a side of the Sunshine State you won't see in commercials. Complete with information on conservation and a key for activities offered, this book is a must-have for locals and tourists alike.
Cracker Village
Silver Springs State Park is home to The Cracker Village which is a replica of a 19th-century pioneer settlement. Here you can discover what life was like at the turn of the century in the Florida "piney woods." This replica of buildings represents a small "Cracker" settlement dating to the 1890s.
Tours are given on the 2nd and 4th Saturday of every month at 10 a.m. During the tour, the Village's buildings will be open and unlocked and on most tours, the blacksmith's forge will be fired up! The Cracker Village is located inside the Campground Entrance across from the Silver River Museum.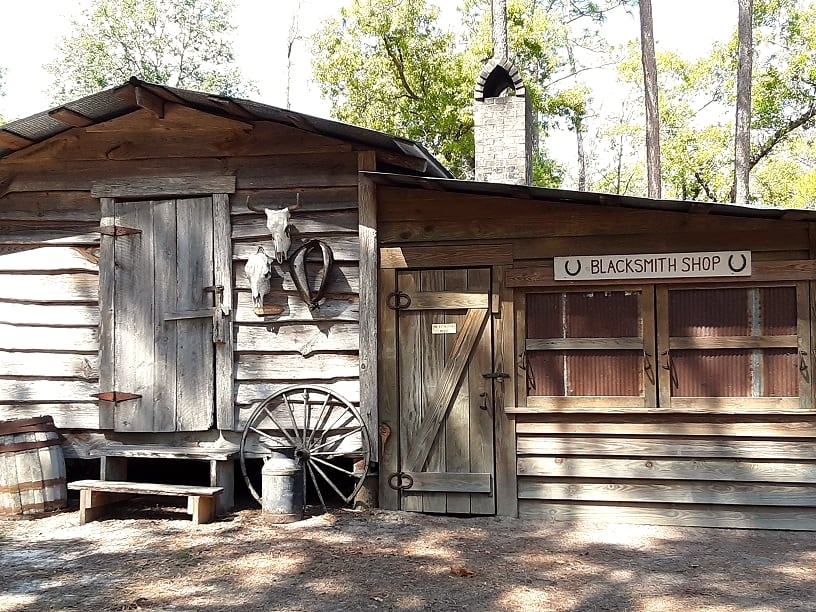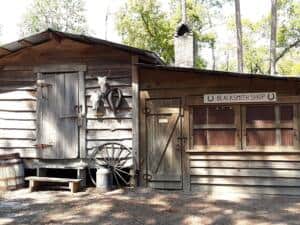 Image Credit: Silver Springs State Park
Silver River Museum & Environmental Center
The museum is comprised of two exhibit areas. The Main Museum features exhibits related to Florida geology, paleontology, archaeology, and natural history. The History Wing's exhibits pertain to Marion County and Florida history.
Dining At Silver Springs
There are two places to eat in Silver Springs State Park. Springside Restaurant and Paradise Treats.
Weddings And Events At Silver Springs
Silver Springs State Park in Florida is the perfect place to host an event.
Weddings & Receptions
If you plan on saying "I do" what better place than Silver Springs. Select from a number of beautiful outdoor settings for your ceremony. Not only is this a beautiful setting but it's ridiculously affordable. Pricing starts at $1,300 for up to 150 people and the rental price includes State Park admission for all guests, tables, and chairs dressed in standard black and white linens, set up, break down, and cleaning.
There are two venues to choose from. The Paradise Ballroom or The Twin Oaks Stage.
In addition to weddings, you can host family reunions & celebrations, class reunions & school galas. Birthday parties, showers, gender reveals, reunions, and celebrations of life. You'll find the venues, menus, and activities to make your event memorable at Silver Springs.
How Much Does It Cost To Get Into Silver Springs?
As in most state parks, there's an entry fee. However, it is worth paying the price of the basic costs to maintain the environment and keep the whole place in good condition.
Admission fees to enter the park are:
$8 a vehicle for two to eight people
$5 for a one-person vehicle
$2 for pedestrians, cyclists, and extra passengers.
$4 per vessel launch for a personal canoe or kayak
$2 per person if you want to enter the Silver River Museum
Additional Costs
Cabin rentals cost $110 per night.
The glass-bottom boat ride costs $12 for adults and $11 for children and seniors. However, the fee can grow up to $55, depending on how long you spend on the boat.
Renting a canoe with space for three people can cost from $35 to $60
A Paddleboard can cost anywhere from $30 to $55.
Kayak rentals can range from $25 to $60.
Boating into Silver Springs can be free. However, you should find out if the launch area has any fees.
Where To Stay Near Silver Springs State Park
Frequently Asked Questions About Silver Springs
Are there alligators in Silver Springs, Florida?
Are there gators? Yes, tons of them, and some of them are huge. In fact, it would highly unusual if you did not see an alligator at Silver Springs! Here's one of many you will see. And, contrary to popular "belief" they do congregate in the actual spring and near the spring head.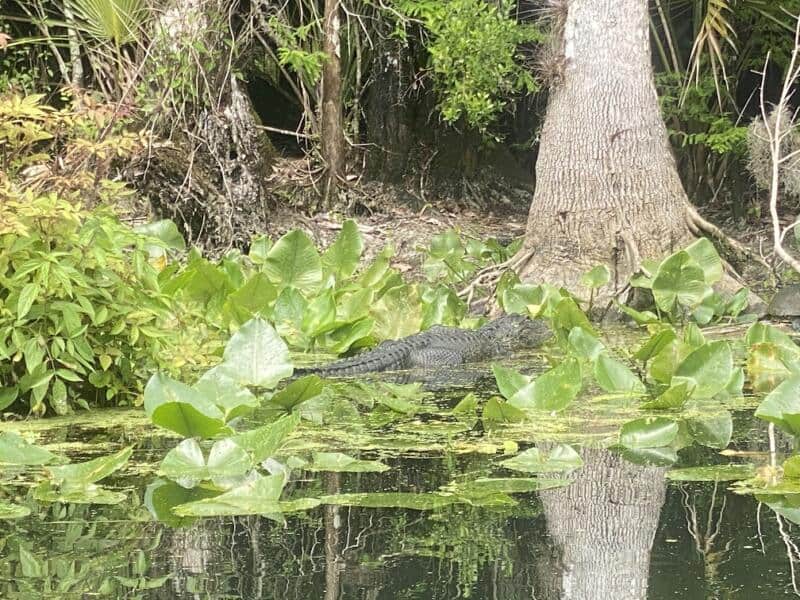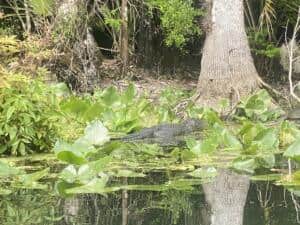 Can you swim in Silver Springs, Florida?
No, swimming is not allowed in Silver Springs. A curious fact is that this is one of the few springs in Florida where swimming is not permitted. The main reason for now allowing swimming is due to the boat tours. There's far too much activity for it to be safe to swim. This said, of all the springs I've been to in Florida this is one that you could not pay me to put a toe in. Once you see just how many gators there are, you'll understand another reason for no swimming.
Are there still monkeys at Silver Springs, Florida?
Yes, the monkeys still live at Silver Springs. Rhesus monkeys are an essential part of the park's history, having been here and along the Silver River since the 1930s. These animals were released on an island in Silver Springs by a Glass Bottom boat operator in the 1930s.
The captain of this boat thought they weren't going to swim to shore. Still, surprisingly they spread all over the Ocala National Forest. Plus, you can see them when you're on the boat tour and when you're hiking anywhere in the Ocala National Forest. However, it is essential to be careful because they can seem very social, but they have wild behavior that can get out of control.
Can you see manatees at Silver Springs, Florida?
Yes, it is possible to see manatees. However, it would be best if you went when it's winter and they want to seek out slightly warmer waters along the Silver River and Silver Springs.
Is Silver Springs, Florida, crowded?
The park has ample space to store many people at the same time. However, it can be a bit crowded if you go on weekends when there are promotions and events.
Is Silver Springs, Florida free?
No, it is not free. However, it is possible to take advantage of some promotions that the park offers throughout the year or arrive by boat and dock at a free spot.
Can you walk around Silver Springs, Florida?
Yes, the state park has hiking areas and a large expanse of forest.
What can you do at Silver Springs, Florida?
In Silver Springs, there are many options, so you never get bored and always have a reason to visit this magical place. Some of the activities you can do here are:
Cycling
Birding
canoeing
Hiking
kayak
Glass bottom boat tour
paddle boarding
Picnic
Eat as a family
Can you pay at the gate at Silver Springs?
Yes, you can pay any necessary fees at the gate.
Camping at Silver Springs, Florida
Silver Springs State Park offers options for people who want to camp and spend the night close to nature. You can camp in Silver Springs in an R.V. or tent, rent a cabin from the park, or do primitive camping.
If you need a space to camp, we recommend you go to their website or call them to make a reservation to make plans correctly.
Closing Thoughts
Silver Springs is a family-friendly place and the perfect place to explore Florida's waterways. While in Ocala Forest it's still close enough to the city that you have access to modern day amenities. If you've never been before, Silver Springs is a great adventure for all. And, you might get lucky enough to see the monkeys!
Here are some of the most popular springs in Florida:
We participate in the Amazon Services LLC Associates Program, an affiliate advertising program designed to provide a means for us to earn fees by linking to Amazon.com and affiliated sites.
Brit On The Move™ Travel Resources
Ready to book your next trip? Use these resources that work:
Need more help planning your trip? Check out our Resources Page, highlighting the great companies we trust when traveling.