Topgolf in Orlando isn't just one of the newer attractions in Orlando, Florida. It also offers a one-of-a-kind golf experience. Whether you're a professional golfer or a new player, you will have an outstanding time.
Whether you're visiting Topgolf in Orlando as a part of your family vacation or group outing, you can make your experience even better with discounts, packages, and promotions.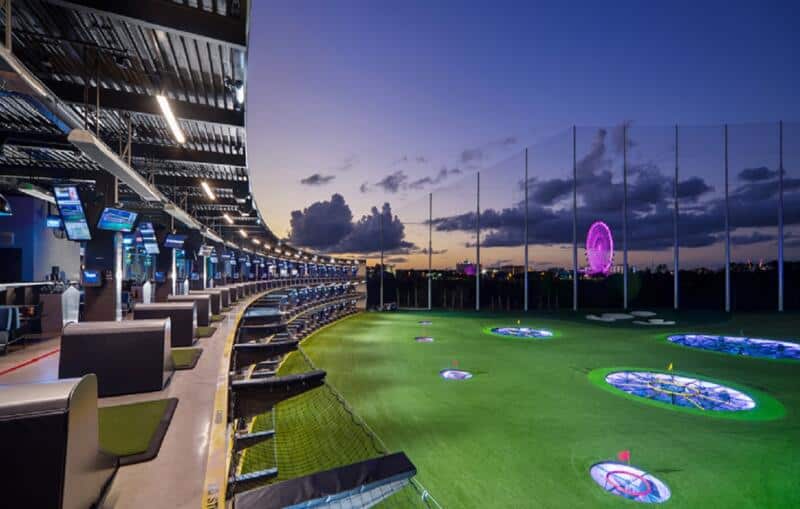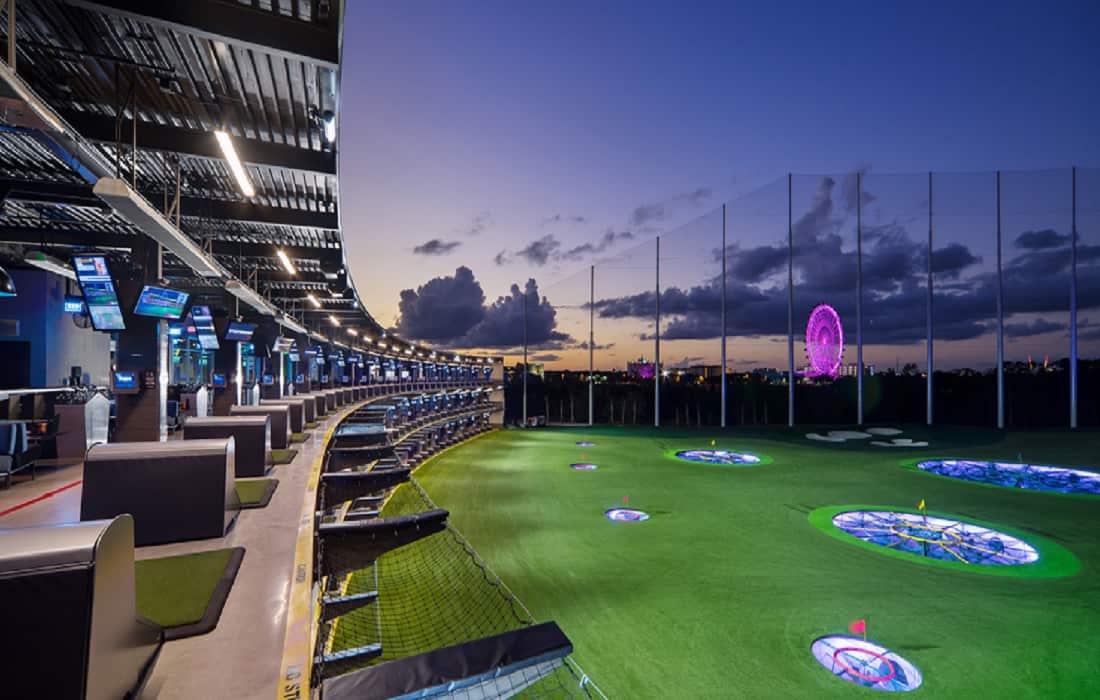 Image Courtesy of Topgolf Entertainment Group
This post may contain affiliate links. Please read our disclosure and privacy policy for more information.
Topgolf Location History
Topgolf Entertainment Group expanded by opening its sixth venue in sunny Florida in January 2021. The Lake Mary venue location is slightly north of Orlando, home of Disney World and SeaWorld. The Topgolf venue in Central Florida opened mere days after opening its first Middle East venue in Dubai.
The new venue features Topgolf's technology-driven entertainment experience. Its proprietary Toptracer tech includes the fan-favorite game Angry Birds. It also provides gamers with virtual golf courses like Pebble Beach.
Topgolf has also taken rigorous measures to ensure the safety of all guests, implementing Topgolf's Commitment to Play Safely strategy.
Topgolf Orlando Architectural Story
In 2015, Dallas-based Topgolf International Inc. reported that it planned to add to its 19 U.S. locations. At the time, several of Topgolf's courses were works in progress.
The company's plan for an Orlando-area golf course includes a golf driving range, restaurant, and assisted parking. The idea was to construct the new Topgolf course on 12 acres along Universal Boulevard.
The land was owned by Atlanta-based Orlando Equity Partner and slightly north of Orange County's North Concourse.
Topgolf's existing locations included features like:
Multi-level seating
High-end game rooms and sports bars
Lounge-like driving areas
Indoor and outdoor restaurants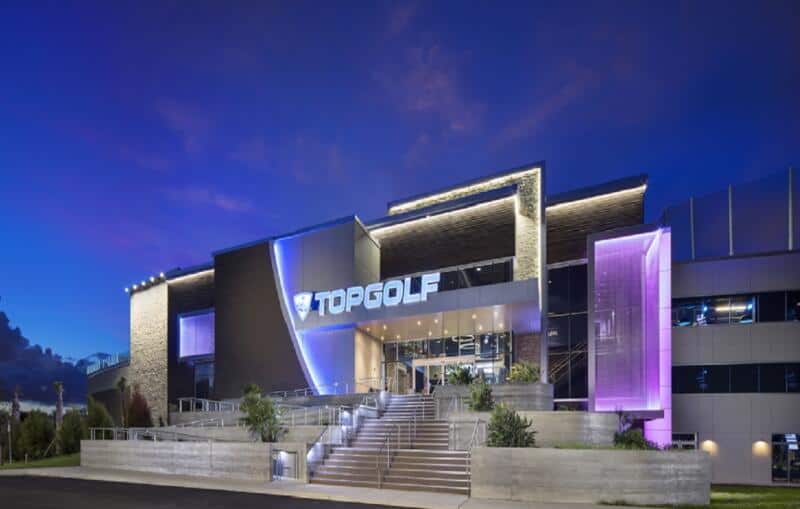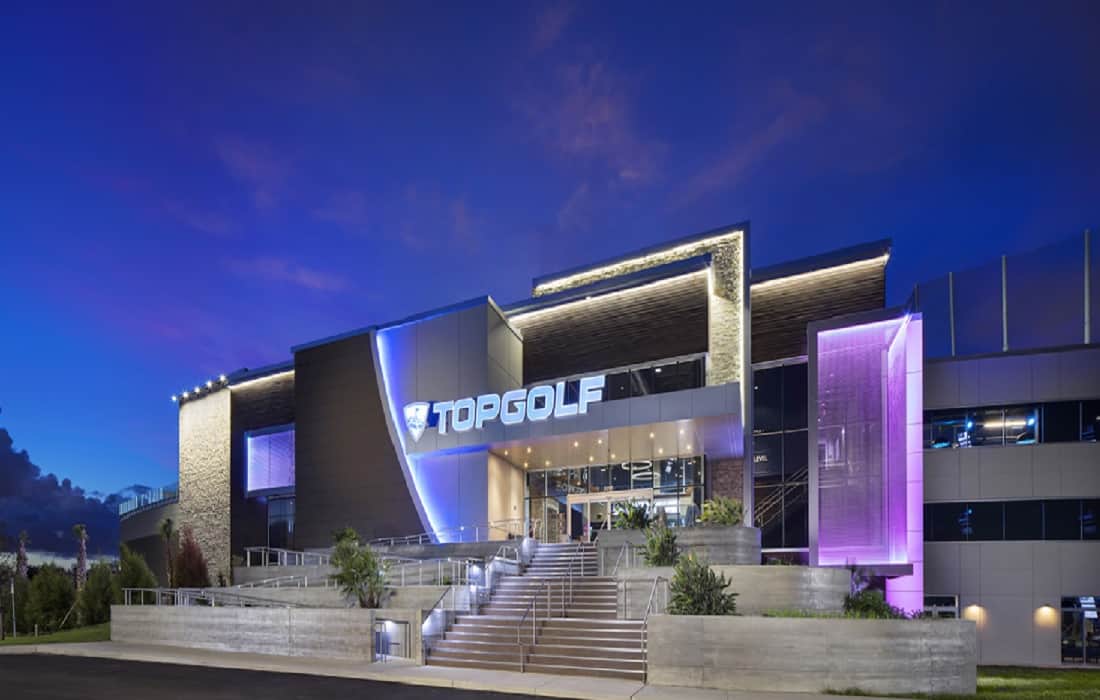 Image Courtesy of Topgolf Entertainment Group
The project's contractor included Downers Grove and Illinois-based Arco/Murray National Construction Co. Inc. Meanwhile, the architect was Aria Group Architects Inc., headquartered in Oak Park, Illinois.
The International Drive region had already become a booming market for new development.
Topgolf Orlando Getting There
Address: 9295 Universal Blvd, Orlando, FL 32819,
Topgolf Orlando is easily accessible from Orlando International Airport (OIA). You can hire a taxi, Lyft, or Uber. The commute is typically under 30 minutes from OIA to Topgolf Orlando.
Topgolf Reservations
Based on the timing of your visit, particular events could be temporImage Courtesy of Topgolf Entertainment Grouparily modified or canceled. Always check out what's open in Orlando and learn the current status of your favorite attractions when planning a golf excursion at Topgolf.
Some reviewers have recommended that people make reservations before arriving at Topgolf Orlando. This option may help save time and effort. You may have more difficulty getting a tee time if you visit Topgolf on a weekend or holiday.
Hence, we recommend that you make a reservation which you can do online.
Topgolf Orlando Arrival and Check-In
It's important to note that Topgolf is entirely outdoors. Fans to keep you cool are available on hot days. The weather in Florida can become quite hot and humid, particularly during the summer.
If you reserve driving bays in advance, you'll have to pay a fee. A $5 one-time lifetime membership fee is also required for new customers.
Some customers report somewhat long wait times. Topgolf Orlando's website shares the current estimated wait time. Remember that this is just a ballpark figure.
In terms of health protocols, review the company's requirements regarding face masks and COVID-19 vaccinations.
The company takes steps to maintain customer safety, such as sanitizing golf equipment.
Topgolf Orlando Amenities
You can enjoy a cornucopia of amenities while at the venue.
They include the Angry Birds game and Toptracer shot, tracker. These games will improve your experience while playing golf. Angry Birds was released over a decade ago in 2009 and has since become a widely popular video game.
Meanwhile, Toptracer tracks the path of every golf shot you make, then displays it using innovative technology. Now, you can watch your golf game the same way pro golfers do on TV.
You can also visit one of Topgolf's full-service restaurants and bars. The restaurants' offerings include dips, burgers, shareable, desserts, and more. If you're hungry, you'll be fully satisfied after consuming a meal or snack.
Full-service bars are also available. You can enjoy a myriad of beers, wines, and spirits between golfing sessions.
"Golf Bags" are shareable cocktails offered in a take-home mug. One can't help but recall their memorable experience at Topgolf Orlando each time they reuse the cup.
Other amenities include 200-plus high-definition TVs (HDTVs) and free Wi-Fi. For example, you can catch a major golf tournament like The Masters on big screen TVs.
Meanwhile, you can also stay connected to friends, family, or coworkers through wireless connectivity.
TopGolf Orlando Event Room Pricing
While Topgolf Orlando doesn't provide lodging, you can rent event rooms for party venues and other group events.
Room rental for special events provides food, drink, and music for a thrilling experience.
Even if you don't have a good golf swing for the hitting bays, you can still have fun golfing and dining on some delicious food in Orlando, FL.
If you're planning to stay in the Orlando, Florida area for multiple days, you may consider lodging at Disney World Resorts while visiting Disney World, Epcot Center, and Universal Theme Park.
Topgolf Driving Bays
Even if you've never completed a round of golf before, you can still enjoy the sport at Topgolf Orlando. You won't have to fret about details like scoring under par, avoiding sand bunkers, or hauling a heavy golf bag.
Instead, the golf games combine the club sport with a scoring system similar to the ones used in bowling and darts.
Topgolf Orland features over 100 driving bays on three floors. Each bay also includes a comfy environment, HDTV, and music options.
Here's how it works. Players aim microchipped balls at a dartboard-like target that's 20 to 215 yards away.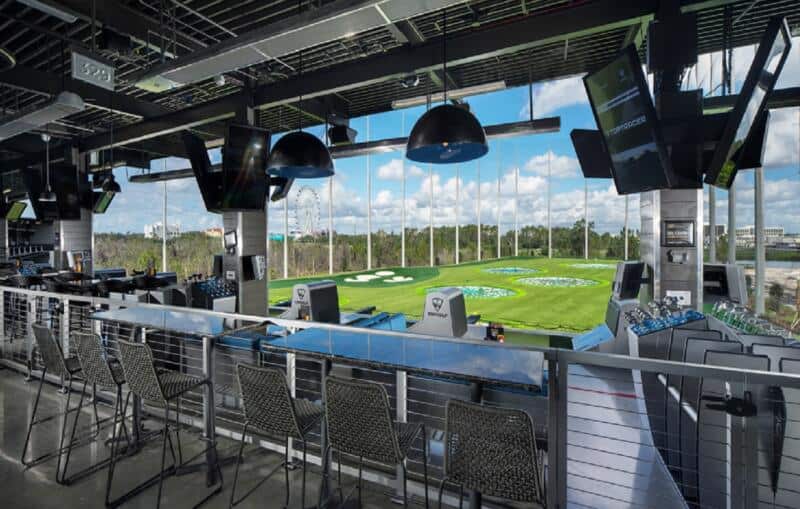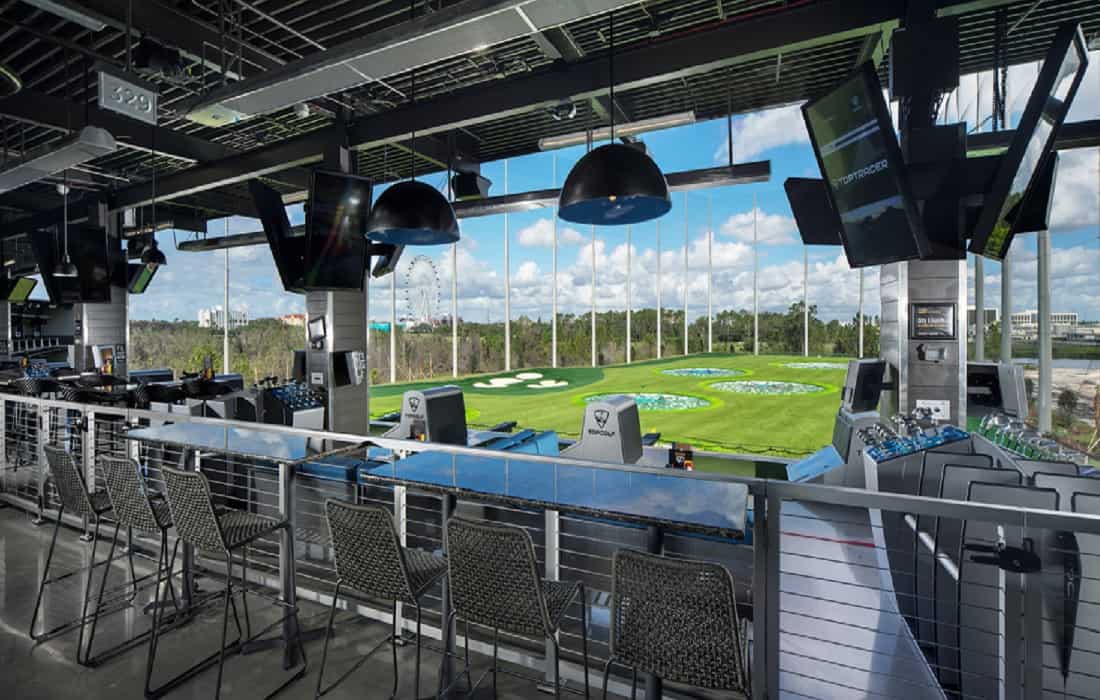 Image Courtesy of Topgolf Entertainment Group
You won't need a scorecard since the Topgolf system does that for you. Additionally, you won't even need any golf gear since Topgolf provides everything you need.
If you're a major golf enthusiast, then you may also use the in-house Toptracer technology. The Open Championship (British Open) and Ryder Cup also featured this innovation.
Toptracer tracks each ball and its flight path so you can get HD replays of each golf shot.
Whether you're a golfer, newbie, or guru, preventing sports injuries should be the top priority. Make sure to avoid joint stress when playing golf, whether you're driving or putting.
How Much Does Topgolf Cost?
Here are the rates for golf games as of October 2021:
Open until noon: $30/hr. per bay
Noon until 5 pm: $40/hr. per bay
After 5 pm on the weekends: $50/hr. per bay
Topgolf Orlando also offers several ways you can get lower rates and discounts:
Half-Price Tuesday: This offering gives you a 50% discount on golf games. It's great if you're off work or have a school holiday, for example. Half-day Tuesdays are only offered in the United States.
Healthcare Workers' and Teachers' Discounts: Topgolf offers a 10% discount on gameplay to teachers and healthcare workers. Meanwhile, you can also get other deals, including Platinum Memberships, event gameplay, and room rental.
Heroes Program: This program offers discounts to various Americans who protect the country, neighborhoods, and homes. The Heroes Program is available to groups including:
Military (active or veterans)
Police
Fire
Emergency Medical Service (EMS) personnel
Additional Discounts
These groups get discounts on Topgolf gameplay, event gameplay, and room rental:
Refer a Friend: Friends will get discounted gameplay if you refer your friends to register to the Topgolf mobile alerts. Referrals can get a discount for the first five new sign-ups.
Unlimited Play: This option lets you pay per person to hit unlimited golf balls in the morning, Monday through Friday. It's an alternative to the hourly pay rate. Do the math to determine which option offers the best value for you.
Overall Thoughts on the Golf
While several golf courses worldwide have struggled to stay afloat, Topgolf has interestingly grown in recent years.
One of the main perks of Topgolf Orlando is that it combines elements of golfing and bowling. Players can sit comfortably eating tasty food before it's their time to drive. They also can play one hour instead of spending the whole day playing a round of golf.
Note: If you play with a large group an hour is not enough. It takes a minimum of a couple of hours to complete a round with multiple players.
Topgolf also adds elements of darts if players aim for a bullseye-type target. The "top" in Topgolf stands for a target-oriented practice.
Both golf newbies and gurus can enjoy Topgolf Orlando. Even if you're brand new to the sport, you can start at 20-yard targets.
Another perk of Topgolf is that it's a lot more practical for groups of family and friends than a golf resort. Mini golf is another good option, but the focus is on putting rather than driving.
Topgolf Orlando Restaurants and Bars
A popular place, Topgolf often receives rave reviews for its foodie offerings, which may be unexpected at a golf game venue.
Topgolf Orlando offers dining areas and full bars throughout the venues. The hundreds of HDTVs allow the place to double as a sports bar.
The food is so good that some people visit Topgolf venues like the flagship Las Vegas location.
The most popular menu options include
Soft pretzels
Fried hot wings
Soups
Tacos, nachos, and quesadillas
Steak strips
Donut holes
Burgers and sliders
The ingredients of the menu items are high-quality, providing many excellent choices for food connoisseurs.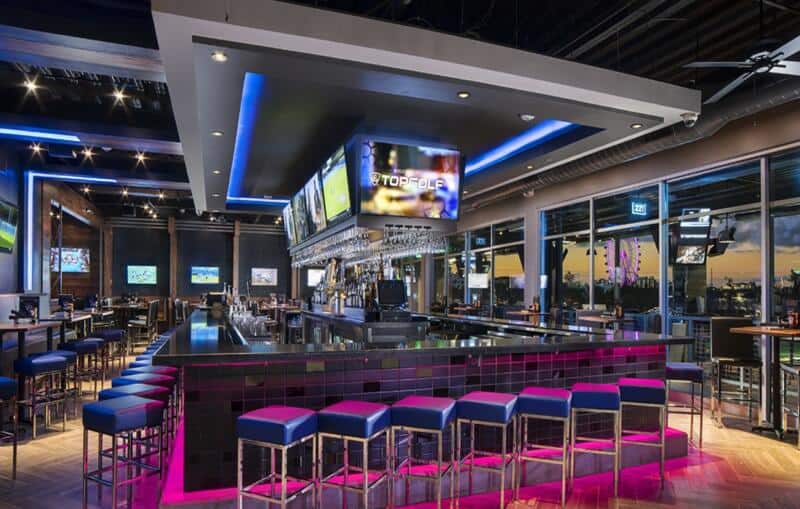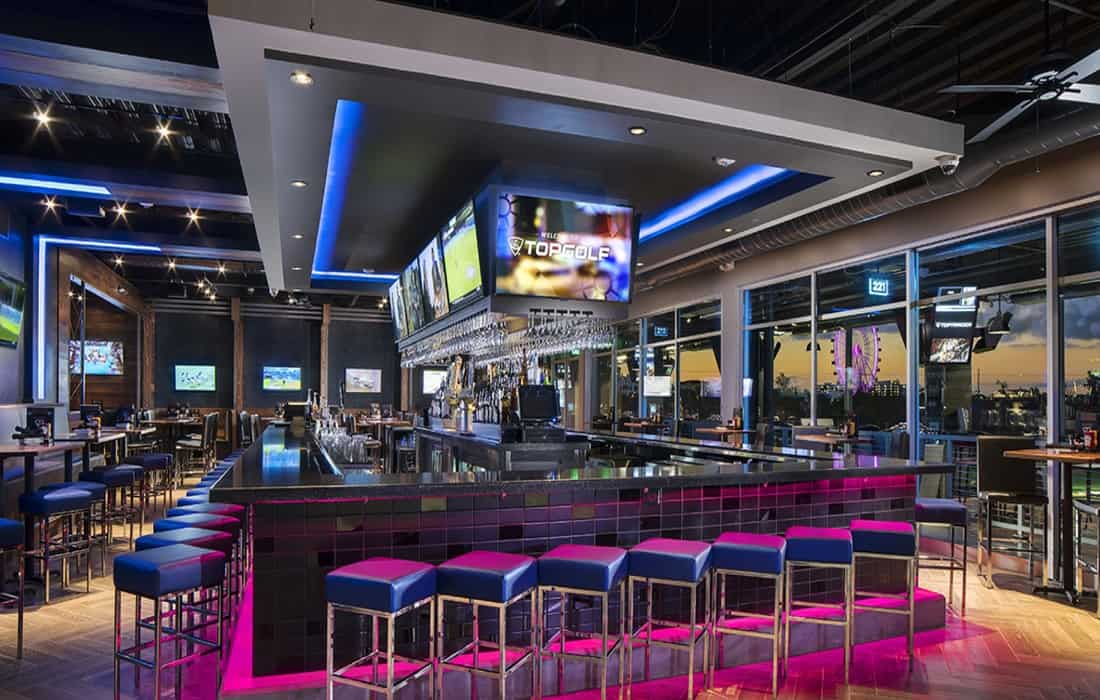 Image Courtesy of Topgolf Entertainment Group
Topgolf's burgers and sliders are possibly the most popular items on the menu. The burgers are made with a quality blend of ground chuck, brisket, and short rib. Meanwhile, you can pick from a wide range of toppings, including:
Lettuce, tomato, and onion
Fried egg
Cheddar cheese
BBQ sauce
If you prefer a light meal or snack to feel less sluggish when making a golf swing, then consider a slider.
One of the best-selling desserts is Topgolf's donut holes. You also get a side of two fillings, including options like raspberry jelly, chocolate sauce, or Bavarian cream.
Topgolf Online Store
Visit the Topgolf online store to choose from a wide range of items, including tee shirts, sweatshirts, and jackets. You can also pick from accessories, including blankets, tumblers, socks, scarfs, and golf ball sets.
The Topgolf online store also offers gift cards. These items are ideal as gifts for friends and family. The gift card recipients can use them in various ways, such as golf games, menu items, and Topgolf gear.
One of the main perks of the gift cards is that you can redeem them at any Topgolf location. So you can enjoy a free game, burger, or t-shirt, whether you're in Orlando, Las Vegas, or Dallas.
Topgolf Orlando Parties and Events
You can plan parties or events at Topgolf. Unlike other venues, Topgolf won't require you to reschedule the event if it's raining outside. You can also attend birthday parties and other occasions in the morning, afternoon, or evening.
Topgolf Orlando offers a year-round venue for golf driving. It differs from seasonal events like skiing that are only available during certain months of the year.
The main benefit of Topgolf events and parties is that they're ideal for attendees with different levels of golf skills. Everyone can have fun.
For example, the game targets can range greatly, allowing players to make chip shots or long drives. Experienced golfers can also use Toptracer technology at the driving range to track and analyze their golf shots.
Like in other sports, golfers can amp up their game by pinpointing mistakes then tweaking or revamping their technique. In this case, golfers are going for driving accuracy instead of distance.
Always use proper form when swinging a golf club to help prevent injuries. Keep in mind that the shoulder is among the three main joints stressed during golf swings.
A Topgolf representative can help plan your party or event. Some of the various offerings available include:
Small or large groups
Kids' or teens' birthday parties
Holiday season packages
Fundraisers
Company events
Live Event Leaderboard
Topgolf events now feature a Live Event Leaderboard. You can see live scores and rankings from all event attendees.
In-bay TVs display real-time scoring updates, including information such as the following details of each game:
Player names
Balls hit
Top scores
A shared live leaderboard allows your group to compete across several venues. You can also access a post-event leaderboard online at topgolf.com.
The Live Event Leadership is ideal for events and parties by allowing teams to compete for prizes.
Players who prefer to play for fun can select the open gameplay, which has scrolling leaderboards.
What You Need to Know
No minimum amount of golf skills is required to enjoy the Topgolf Orlando experience. Whether you're trying to become a PGA player or you want to hit the ball straight, you can enjoy exciting games at Topgolf.
You may bring your own set of golf clubs if you own one.
Drinking alcohol while playing golf games at Topgolf is allowed. It's debatable if strong alcoholic drinks will improve your golf game.
That said, a glass of wine or bottle of beer may help newbies stay calm and not worry about becoming the next Tiger Woods or Jack Nicklaus.
Topgolf is the most popular game at the venue and is essentially driving-range target practice. The objective is to hit the "bullseye" at varying distances. Your golf score is based on your shot's accuracy and how far away the target is.
An Experience Worth Every Penny
One factor to keep in mind is that Topgolf offers a high-end experience, including top-of-the-line golf games, food and beverages, and entertainment. The cost is significantly higher than other options like old-school miniature golf courses, for example.
This isn't a complaint per se. It's just along the lines of "you get what you pay for." If you're willing to shell out more money for high-quality golf games, then Topgolf may be worth the top-shelf price tag.
A driving range or mini-golf course may be a better option if you're on an ultra-tight budget. On the other hand, there's nothing quite like combining Topgolf's elements of a driving range, dartboard scoring, and fine dining into a single venue.
Closing Thoughts
Topgolf has generally received favorable reviews for various reasons. Positive feedback includes compatibility with golfers of different skill levels, menu selections, and highly social activity.
It's worth noting that Topgolf isn't "cheap" and includes a reservation fee. However, if you're searching for a fun golf game with excellent food, then Topgolf Orlando may be for you.
Looking for more posts on things to do in Florida? Start here:
Author's Bio:
Stanley Clark is a community development volunteer and writer. He had worked on several commercials, events, and campaigns before writing full-time in the area of natural health and wellness. He has a particular interest in reviewing CBD brands for their safety and legitimacy. Interested in breaking the taboo about cannabis, Stanley believes in CBD's potential for helping people and communities with their health and wellness concerns.
We are a participant in the Amazon Services LLC Associates Program, an affiliate advertising program designed to provide a means for us to earn fees by linking to Amazon.com and affiliated sites.
Brit On The Move™ Travel Resources
Ready to book your next trip? Use these resources that work:
Need more help planning your trip? Check out our Resources Page, highlighting the great companies we trust when traveling.