Most people don't even realize that you can stay inside Kings Landing. And, by inside, I mean behind the closed gates of this oasis. You can, and you don't have to tent it unless your heart is set on camping. Kings Landing has five cabins inside that can be rented. Here are the ten reasons to stay at Kings Landing, Florida.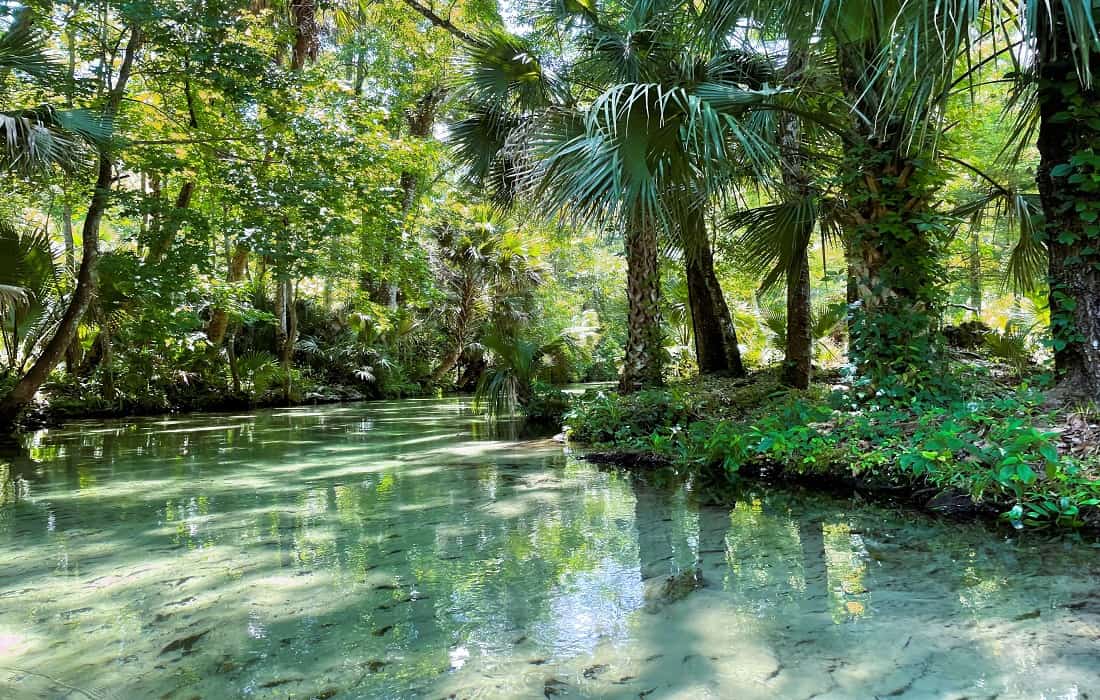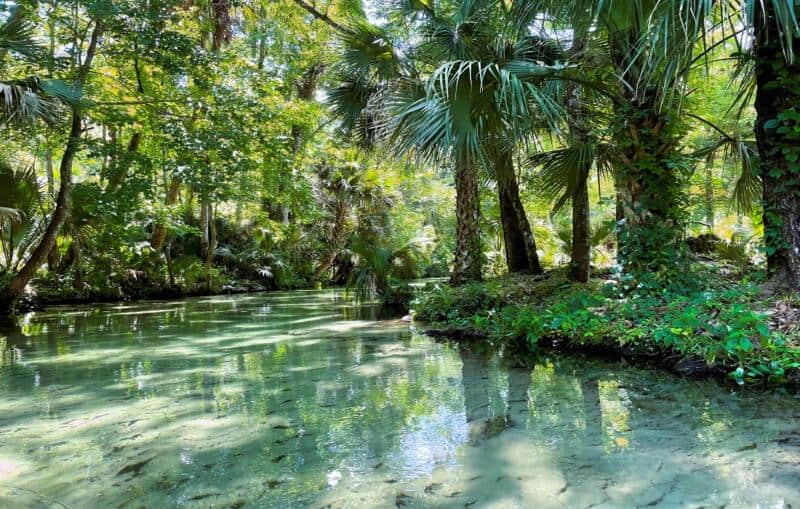 This post may contain affiliate links. Please read our disclosure and privacy policy for more information.
1. Kayaks and Canoes Are Included in Your Stay
Renting a kayak from Kings Landing costs $59 a day for a single-person kayak. When you rent a cabin, kayaks and canoes are included. Assuming you are not traveling solo, this along is a reason to rent.
Cabin rentals though the week starts at $135 a night! Close enough to the cost of renting kayaks.
2. Avoid The Crowds
Once you are onsite, you don't have to launch from the central entry canal. You can take off morning or night and have the entire place to yourself.
3. One Day At Kings Landing Is Not Enough
If you want to see it all and do the north and south runs, you need more than one day. Why drive back and forth when you can stay onsite.
4. The Wildlife Comes Out To Play
Once the park is closed, the river slows down. With virtually no kayakers and only locals, you see the wildlife come to life. We got to watch the gators right off of our dock. Look closely, you'll see him (or her) towards the lily pads.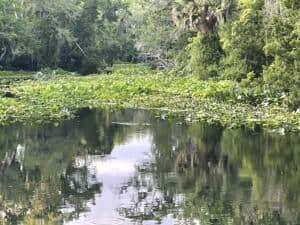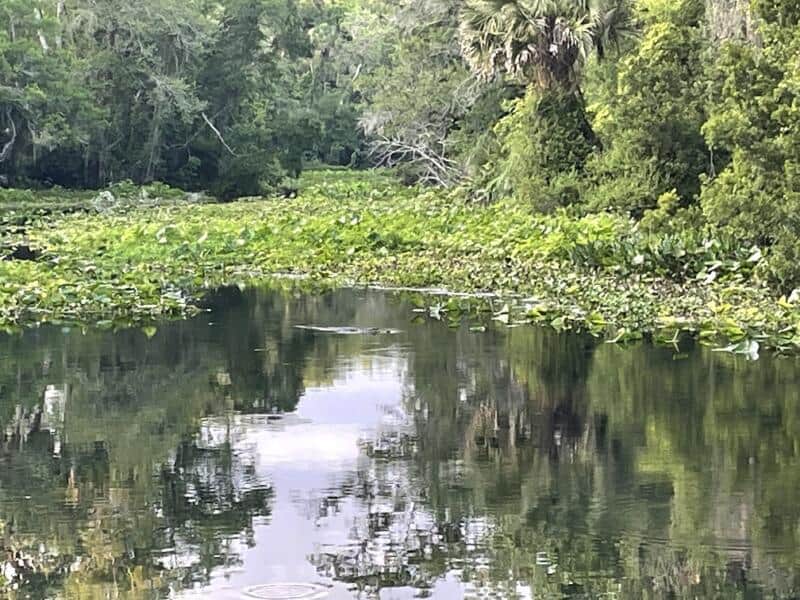 5. The Cabins Are Adorable
Each cabin is newly renovated, and they are packed with modern amenities. Each cabin has its separate blue glass fireplace and its grill.
6. Fish From The Shore Or Dock
Here's your chance if you want to fish but not from a kayak. When you stay inside Kings Landing, you have full access to the river so that you can fish all day and night. There's even a fish feeder to ensure that the fish are there!
7. Invite Your Friends Over
There are restrictions on how many people stay in each cabin, and you have to disclose this when you book. However, you are free to invite your friends, assuming you adhere to the rules and don't cause a ruckus.
We invited friends over and had dinner on the deck. And we invited the family to kayak with us.
8. You Don't Need to Pack Coolers
When you stay onsite, you can skip all the cooler packing. Come back and have lunch at the cabin.
9. You Can Hike In The Park
Forget about taking a tour. If you stay onsite, you can hike at will.
10. RV and Trailer Parking Is Allowed On-site
It doesn't really get any better than this. Suppose you've been on the road in your RV for a week or two, and you need a place to stay. Finding a place that has parking for RVs is very difficult.
About The Cabins At Kings Landing
When you stay at Kings Landing, you have two choices in cabin rentals or tents. The Cabins are inside Kings Landing, and the campground is outside across the street.
Bear Cabin
This is the cabin we stayed in, and boy did we might make the right choice.
Bear Cabin, Turtle Cabin, and Otter Cabin are connected and share the walkways and deck. This is not explained on the website. Fortunately, we were the only guests, so we had the entire place to ourselves. However, it could be a challenge if different groups book all three. You would be sharing an outdoor space.
If you score Bear Cabin, you've got the one at the front with the view. Bear cabin sleeps four comfortably.
Turtle Cabin & Otter Cabins
Both are set up and designed the same as Bear Cabin, but they face onto the garden. Vs. the water.
Both Turtle and Otter cabins sleep four people comfortably.
Studio Waterfront Bungalow & Two Bedroom Waterfront Bungalows
Like Bear, Otter, and Turtle, these bungalows share common spaces like the deck and walkways.
The studio sleeps four, and the two-bedroom sleeps six.
Pro Tip: All the cabins are almost $100 per night more on the weekend. If at all possible, stay on weekdays.
What You Need To Know About Saying Inside Kings Landing In A Cabin
You can only reserve the cabins through Airbnb. Kings Landing will direct you to Airbnb.
You can rent multiple cabins and have the entire place to yourselves.
Must be 18 years of age to make a reservation.
When you book you receive a gate code to access the properties.
All properties are keyless entries.
The Airbnb listings for Bear, Turtle, and Otter say that canoes are available. Both canoes and kayaks are available, along with life jackets.
Get $65 Off Your First Booking Here
Book your stay through Airbnb: And, claim $65 off your first stay!


Kings Landing Campground – Aka Eagle Boy Scout Retreat Campground
Just steps away from our launch area across the street, you can sleep under the stars in your tent for just $30 a night! This is primitive tent camping. It's perfect for accessing the Rock Springs Run but know it's primitive.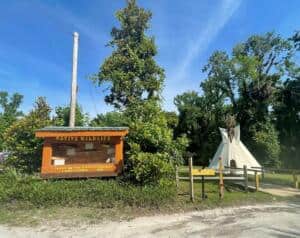 What You Need To Know About Kings Landing Campground
One tent per campsite.
All lots are open and primitive with no power or water hookups.
You can not hang hammocks on the trees.
Each campsite has a picnic table and fire pit.
Access to the onsite outdoor shower rinse-off area, cold water only.
Outhouse with toilet and sink, also two porta-potties on site.
Access to many hiking trails in the area and the old-fashioned swimming hole.
Guest may check in to campsites between 12 pm – 5 pm. Check-out is between 8 am – 12 pm.
Each party will receive a parking pass for their cars.
You have to complete an online waiver to stay at the campground.
An adult must accompany anyone under the age of 18.
No minors under the age of 2 years old
Cancel at least 48-hours before your scheduled reservation to receive a full refund.
If canceled within 48 hours, you may reschedule or opt to receive an eGift Certificate.
All eGift Certificates will be valid for up to one year.
Closing Thoughts
So, now you know! Not only can you stay inside Kings Landing in a fabulous cabin you can also camp across the street. I really enjoyed this stay, it will be one of many to come. I can't stress to you the value for money. Think of it like this, for what you'll pay for tours or renting kayaks you may as well stay!
Looking for more posts on local spots in Florida? Start here:
We are a participant in the Amazon Services LLC Associates Program, an affiliate advertising program designed to provide a means for us to earn fees by linking to Amazon.com and affiliated sites.