Nothing compares to the experience of gracefully gliding across the ice while having fantastic experiences with friends and family. You can do this all year long in Orlando because of the abundance of public indoor and outdoor ice skating rinks. Whether you've never skated or are an experienced pro, you can take advantage of these rinks to experience the liberating feeling of ice skating. Here are some places to go ice skating in Orlando (or within an hour) so you can enjoy the nearest thing Florida has to a winter wonderland, whether you've been skating since you were able to walk or just starting.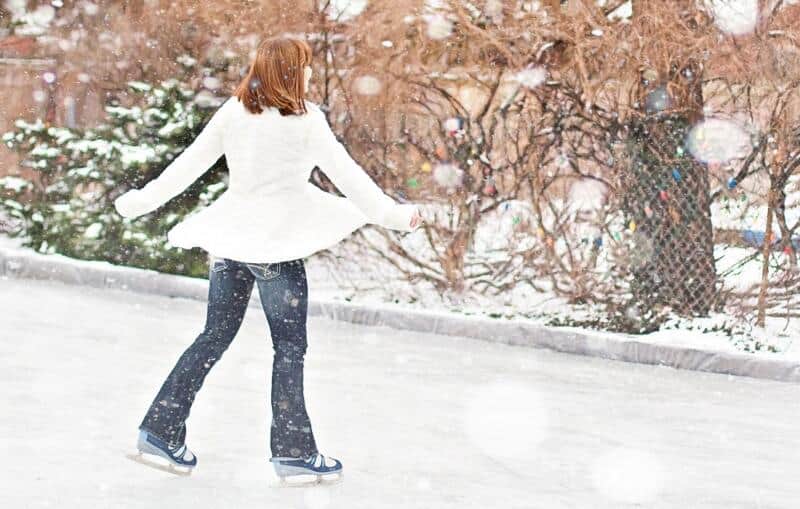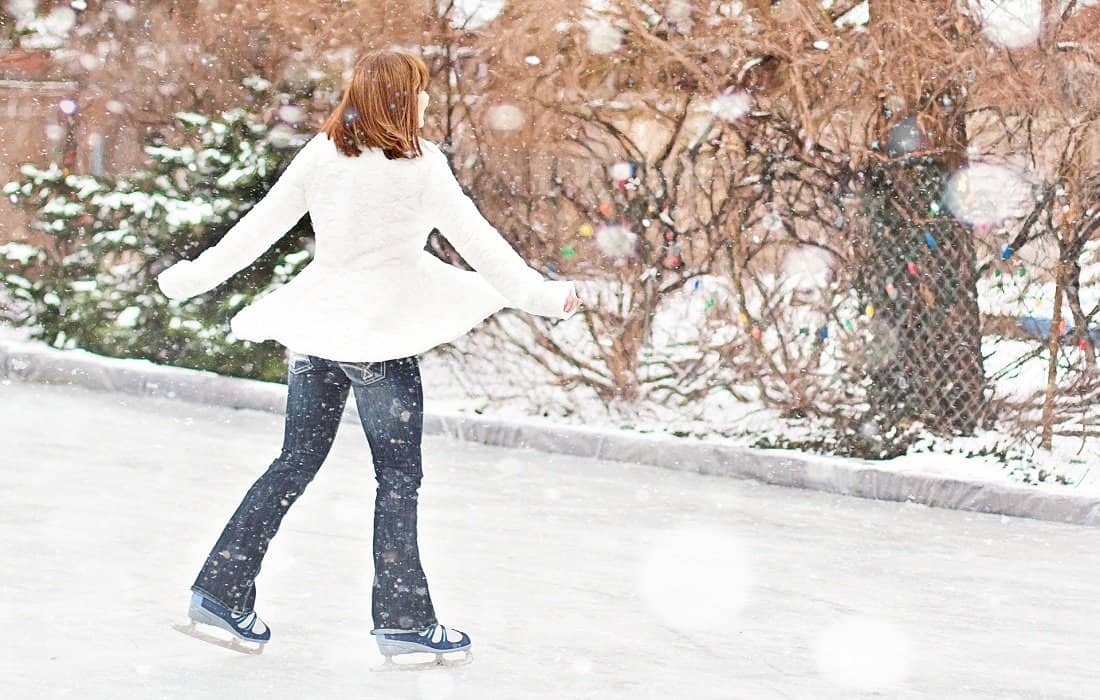 This post may contain affiliate links. Please read our disclosure and privacy policy for more information.
Top Places for Ice Skating in Orlando
Orlando has plenty of year-round places to lace up your skates and glide across the ice. There are also some seasonal places that we are also sharing! Here are the best places to go ice skating in Orlando:
The Ice Factory of Central Florida – Kissimmee
Put on your skates because Orlando's The Ice Factory of Central Florida is available year-round for groups of all sizes to experience some ice skating, no matter the weather. If you want to learn how to skate or hone your skills, the Ice Factory offers daily public skating events, private groups, individual instruction, and on-site skate rentals and helmets.
There are many rinks to select from, and sessions on the studio rink start at $9.50. Ice spikes can also be hired by parents who want to watch their children skate without skating themselves. Skate rentals cost $3.50. Additionally, you may rent Bobby Sleds for $10 for a fun ice-skating alternative.
Located in Kissimmee, close to Disney World, is where you'll find The Ice Factory of Central Florida. On weekdays, public skating is available from 11:00 am to 2:00 pm; on Saturdays, it is available from 1:00 pm to 4:00 pm and 7:00 pm to 10:00 pm. On Sundays, the center is shut.
RDV Sportsplex Ice Den – Orlando
At RDV Ice Den, there are daily free skating programs, 8-week learn-to-skate programs, ice hockey games, and freestyle figure skating clinics. Even in the height of July, it truly is a winter paradise!
Although the exact time varies depending on other daily tasks, public skating sessions often occur twice a day, in the afternoon and evening. The RDV Ice Den public skating calendar is available on their website. A $14 ticket for a weekday session includes tax and skate rental. Sessions on Friday night, Saturday, and Sunday cost $17 each. Winter Park is about a 12-minute drive from the RDV Ice Den in northern Orlando.
Funtania – Orlando
An indoor family entertainment complex called Funtania has enough activities and games to hold the entire family occupied for several hours. At Funtania, there are more than ten attractions, including an artificial ice rink, virtual reality games, arcades, and escape rooms.
On all other days besides Mondays and Tuesdays, Funtania is open until 9:00 pm. For $10, you may purchase a "blue pass" that gives you all-day admission to the ice rink. For access to other attractions, alternative packages are designed. Universal Studios is only an 8-minute drive from the center, in the heart of Orlando.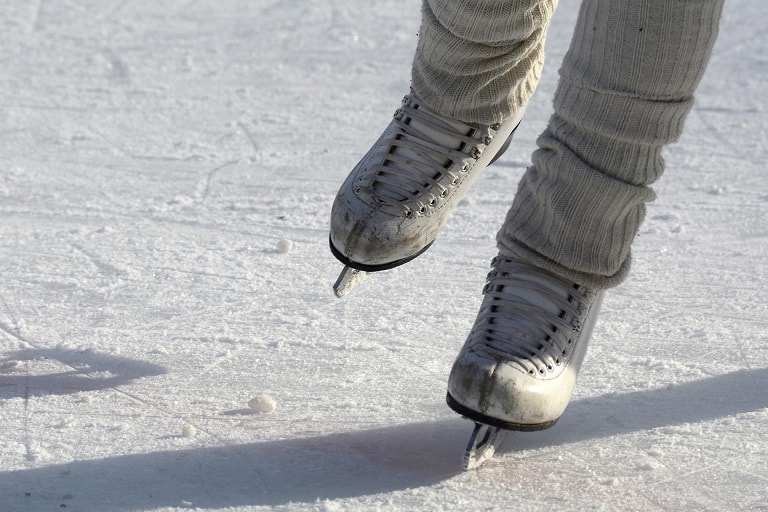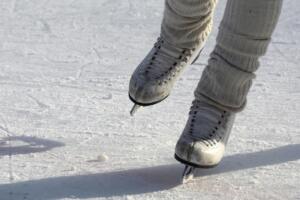 Celebration's Winter Wonderland – Celebration (Seasonal)
During winter, Celebration hosts Central Florida's original and premier "Snowing" event, which features one of the area's only synthetic ice rinks. One of the best Winter Wonderlands in Florida! This is a great place to get a taste of ice skating, reminiscent of traditional family holidays.
Celebrate the Season & Tree Lighting – Longwood (Seasonal)
This holiday street party features an array of activities, including the annual Tree Lighting Ceremony presenting the City's holiday tree in Reiter Park, live music, and dance performances. Most notable is they offer ice skating for $1 per person. Another great spot to try out ice skating over the holidays.
Iceplex Space Coast – Rockledge
In addition to providing hockey and figure skating lessons, the Space Coast Iceplex in Rockledge, Florida, is a well-rounded entertainment facility that also offers open ice skating periods. It also has a few unique features you didn't believe at other rinks. The entire family will enjoy themselves at this location, which features a sports bar where you can watch all the NHL games and a fitness center with personal trainers. Spend a pleasant day skating around the rink while enjoying the excellent songs located an hour from Orlando.
Daytona Ice Arena – Daytona Beach
Daytona Beach, which is close to Orlando and famous for its beaches, NASCAR racing, and leisurely outdoor activities, is a popular vacation destination. Its beaches have hard-packed sand that makes driving possible and a boardwalk lined with vintage arcade games, thrilling rides, and refreshments. However, Daytona is also recognized for its ice skating.
The Daytona Ice Arena not only provides public skating, hockey, hockey classes, and skating programs but also has a sports pub available for those who seem more at ease off the ice. Options comprise skating, curling, figure skating, and Broomball on the ice. The Daytona Ice Arena provides numerous child and adult leagues for participating.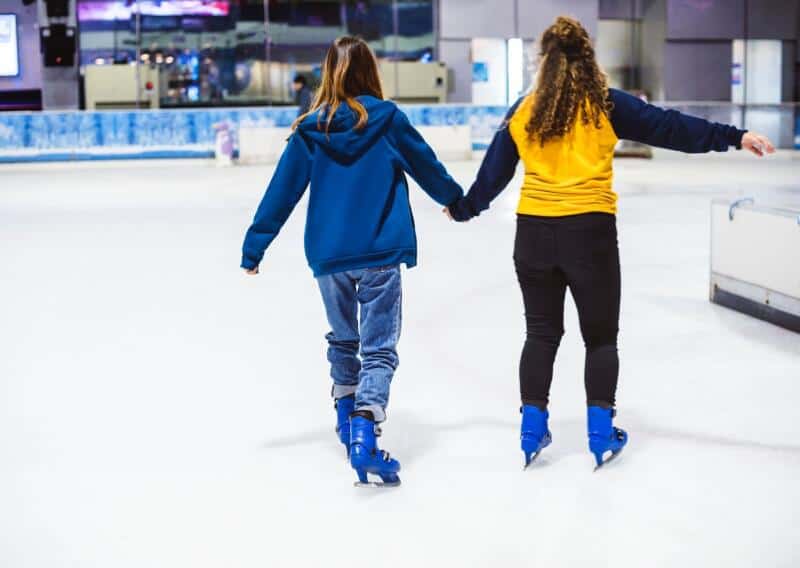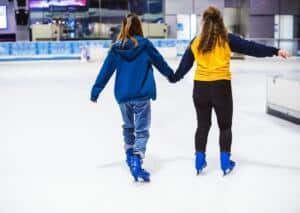 Winter Wonderland on Ice – Orlando (Seasonal)
The Tourist visits SeaWorld Orlando around Christmas to try out ice skating outside in Bayside Stadium. Nothing says "Christmas" like a bit of ice skating, and this performance at Bayside Stadium screams the holiday season with a full-fledged spectacle on the ice. You'll be astounded by the figure skaters' choreography of traditional Christmas music. While watching the professional skaters amaze you with their show-stopping performances in groups, pairs, and solo routines, take in the breathtaking scenery of the Sea of Trees as they light up. The giant skating penguins captured Lily's attention in particular.
The latest skating facility in South Florida, Palm Beach Ice Works in West Palm Beach, has an Olympic-sized rink and welcomes both experienced skaters and beginners. People who would rather stay on dry land can enjoy the weather patterns lobby and watching area and delight in healthy refreshments at the concession stand when the amusement facility is open to the public during specific hours. Children learning to skate can benefit from a kid-friendly Ice Skooter to help them.
GlowZone Birthday Party Lounge – Orlando
Orlando's GlowZone Birthday Party Lounge serves locals and nearby communities. GlowZone Birthday Party Lounge in Orlando is perfect for birthday parties, team-building events, ice skating, and more.
This is not just any skating rink; it's an inflatable ice skating rink with the most incredible lights and sounds around. You can also add food trucks, games, jump houses, and other activities to your party!
The best thing about GlowZone Birthday Party Lounge in Orlando is that you don't need to bring anything except yourself and your guests. We have everything else covered, from various ice cream and even food.
UFC Light Up – Orlando (Seasonal)
The largest ice rink in Orlando may be found at Light Up UCF. Renting skates costs only $12, so you may cruise about at your leisure.
If you want to upgrade, the $20 ticket includes ice skating and access to various rides, including the Winter Whirl, the Ice Slide, the Ferris Wheel, the Light Up Express, and the Carousel.
It's no secret that enjoying the holidays can become expensive and time-consuming. It's simple to become exhausted without ever getting to take part in the festivities yourself, between gift-buying and traveling for family visits. The most economical holiday tradition in Orlando allows broke college students, frugal millennials, and everyone in between to spend the holidays on the cheap.
Winter Park's Central Park West Meadow – Winter Park (Seasonal)
An 11-acre oasis in the center of Orlando, Central Park is a popular location for outdoor activities, including picnics and nature walks. It also hosts a variety of events over the year. Ice skating adds a festive and whimsical mood to this lovely Orlando location in the winter. In a state known for its year-round sunlight, the opportunity to skate on actual snow and ice is irresistible, and the rink is extremely popular with families, residents, and tourists alike.
The Christmas-themed market stalls around the rink have a wide selection of food and beverages. Around the park, there are also lovely gardens to visit.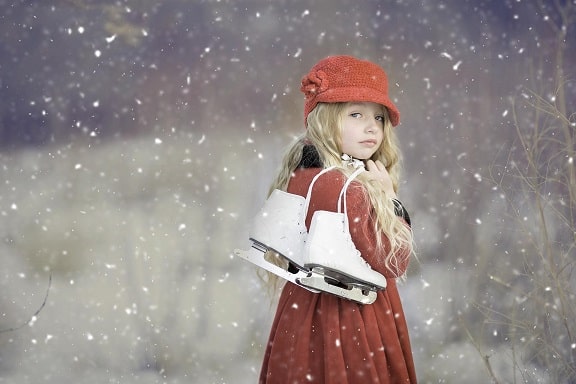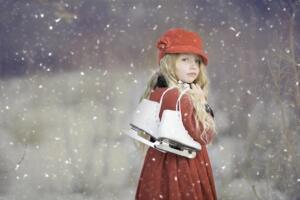 AdventHealth Center Ice – Wesley Chapel
AdventHealth Center Ice in Wesley Chapel, close to Tampa, provides four adult-sized rinks and one kid-sized rink to meet all your ice skating requirements. This ice rink and sports complex is the biggest in the state and has 150,000 square feet of space. A fitness room, sports medicine clinic, well-stocked pro shop, and restaurant with a sports theme are all on-site, in addition to public skating, a hockey institute, curling, ice skating, and figure skating.
Ice Skating Gear
Technically, you can wear warm clothes, rent ice skates, and hit the ice. However, if you've never ice skated before, you need to know that it's strenuous on your ankles. You are using muscles that you've never used before. It's the number one thing that new skaters complain about. Then there's the discomfort of not wearing the right socks; the ice skates can run your heels or toes. Add to this, if you take a normal tumble, you will bruise.
This should not put you off; it's just a part of the journey. Growing up, I used to ice skate weekly and got to the point where I could hit the ice in jeans alone, but it took time. If it's your first time on the ice, consider some protective wear to make the experience more enjoyable. And – you cannot rent this gear at an ice rink. Ice rinks only rent skates, helmets, and stabilizers.
Lastly, I don't recommend buying your own skates for your maiden voyage on the ice. It's not worth the investment until you've tried it a few times and decided it's something you are going to continue.
Frequently Asked Questions About Ice Skating In Orlando
Does Orlando have ice skating?
Yes, Orlando has ice skating. All year long, including during vacations, ice skating rinks are open in Orlando. Get dressed for a pleasant and affordable activity. The price for ice skating with skate rentals ranges from $10 to $17.
Does Florida have ice skating?
Yes, Florida has ice skating. Nothing will put you in the spirit of the holiday like a day spent skating on the ice, and while Florida is famed for its beaches and sunshine, there are a few places where you can enjoy this fantastic winter activity.
Can you ice skate at Disney World?
Sometimes you can ice skate at Disney World. Over the years, they have offered different ice rinks; however, now, most of the time, it's just offered at Celebration.
What is a synthetic Ice Skating Rink?
Solid polymer sheet material manufactured from polyethylene plastic is used to create synthetic ice panels. These synthetic ice sheets are connected using various techniques (dovetail, tongue and groove, flush edge) to create an artificial ice skating surface. Get stronger more quickly with synthetic ice.
Skate blades and surface friction are increased by around 10% while training on synthetic ice compared to natural ice. Performing leaps on artificial ice enhances the strength of your muscles over just practicing on natural ice.
Closing Thoughts
Orlando ice skating is generally limited to seasonal outdoor rinks, but there are year-round ice rinks. Orlando's year-round ice skating venues offer all the traditional sports like hockey, speed skating, figure skating, etc. Visitors should check the websites to find the times and days open the rinks.
Looking for more seasonal things to do in Florida? Start here:
We participate in the Amazon Services LLC Associates Program, an affiliate advertising program designed to provide a means for us to earn fees by linking to Amazon.com and affiliated sites.
Brit On The Move™ Travel Resources
Ready to book your next trip? Use these resources that work:
Need more help planning your trip? Check out our Resources Page, highlighting the great companies we trust when traveling.