Let's talk about a Dubai vacation and all the things that most people will not tell you. Sure, Dubai is the Middle East's tourist capital, and you either love it or hate it. I would not go as far as to say I hated it, but I was not impressed. Instead, I am still at a loss as to why people flock here time and time again, repeating the same holiday. It's not like there are a plethora of cultural experiences to immerse yourself in. Nor is it like you can't consume the highlights in one trip. Essentially, Dubai is the Las Vegas of the Middle East – the only flashier. Sure, there are hundreds of architectural marvels, lavish resorts offering unimaginable luxury, and it's spotlessly clean. But at the end of the day, Dubai is all things expensive, new and shiny. It lacks old-world charm, culture, and history.
Dubai Facts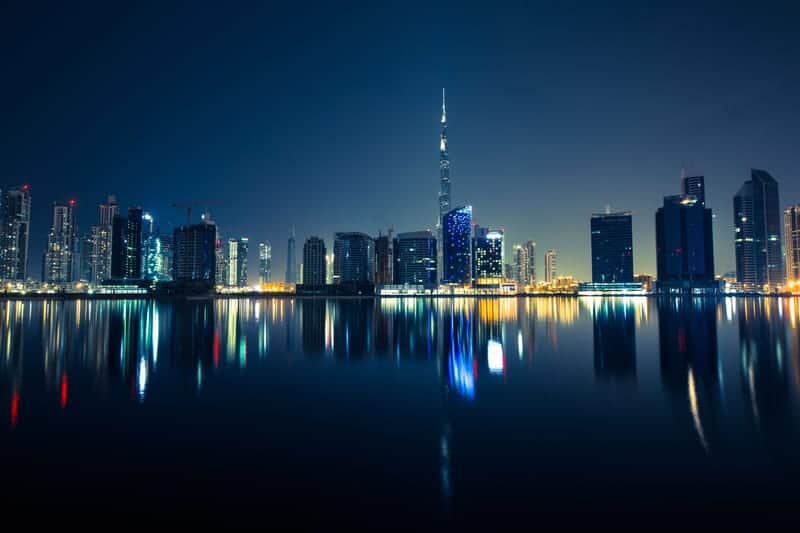 This post may contain affiliate links. Please read our disclosure and privacy policy for more information.
Overview
Many people have asked me if I thought Dubai was safe. I would have to say yes. Tourism is one of the primary industries, so it must be safe.
However, I found it tremendously sexist. Here are a few examples. I booked our hotel in my name. Daily at breakfast, the staff addressed Brian as Mr. Webster. Married for over 18 years, we have different names. We corrected the team daily, but it became a moot point because I was transparent. Go to book a tour; the Indian concierge would not even make eye contact with me and responded to Brian for every question I asked. Go on a cultural dining experience in the desert – ladies, you will eat once the men have been accommodated. I could go on, but you get the gist. Yes, these are cultural norms – I get it. But when you advertise yourself as a travel haven for westerners, you might want to consider that western women are equal to men and not sub-par.
Above all, we spent more in Dubai in a week than we spent in most places. Double what we paid for a week in NYC, and our hotel was free! Dubai is by far the most expensive place we have ever been to by a long shot.
Logistics
The trip to Dubai was centered around our trip to South Africa. We flew on Emirate Airlines and connected through Dubai, so it only made sense to spend a week in Dubai on the route. Mostly, this made the flights to Dubai free. We will end up in Dubai again due to this reason. It's a great way to break up long-haul flights. However, we will only spend a day or two at most on our next connection. Almost all airlines offer these multi-trip flights where you can stop off in the airline's hub. If you are not familiar with multi-city flight booking, read this:
Multi-City Flights: How To Get Free Segments and Free Layovers
Hotels
We spent eight nights at the Hilton Garden Inn Dubai Al Muraqabat for free using Hilton points. This hotel is .3 miles away from the Hilton Dubai Creek. Dubai Creek is the city's lifeline and pulse, separating the town from Deira to the north and Bur Dubai to the south. I wish we would have redeemed more points or paid out-of-pocket and stayed in the Creek. Our hotel was .3 miles away from the action. .3 miles in Dubai can take an hour via car due to traffic, so our idea of zipping back and forth was not realistic. Admittedly a mistake we won't repeat. I should note that neither of these hotels is "resorts," and neither are on the beach, which appears to lure most traveling to Dubai. If you prefer resorts to hotels, there are limitless options.
People rave about public transportation. Having friends that live in Dubai, we had a private chauffeur most of the time, so getting around was not a challenge. We only used taxis a couple of times. Taxis are abundant and expensive, mostly due to traffic, so try the metro rail instead.
Dubai Things to Do
Burj Khalifa: The tallest building in the world, and you can travel to the top. The sheer height is a marvel, and the views are phenomenal, so it was worth going up for the views. Outside of this, it's just a tall building. Don't be fooled into buying skip-the-line tickets. We did and guessed what – no line.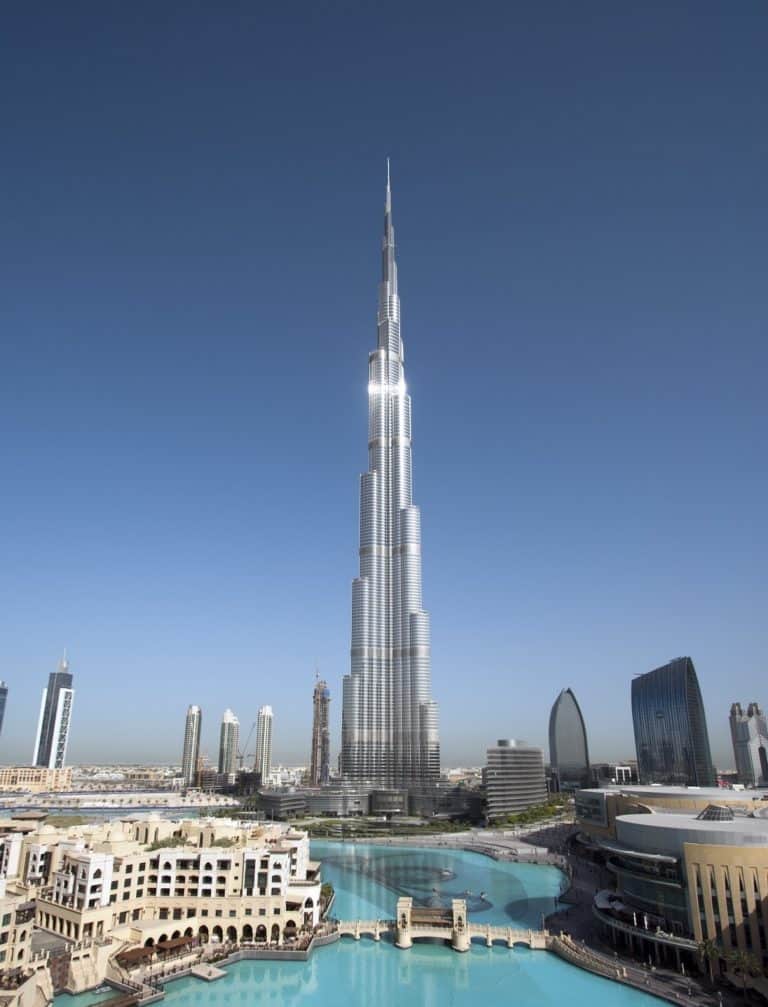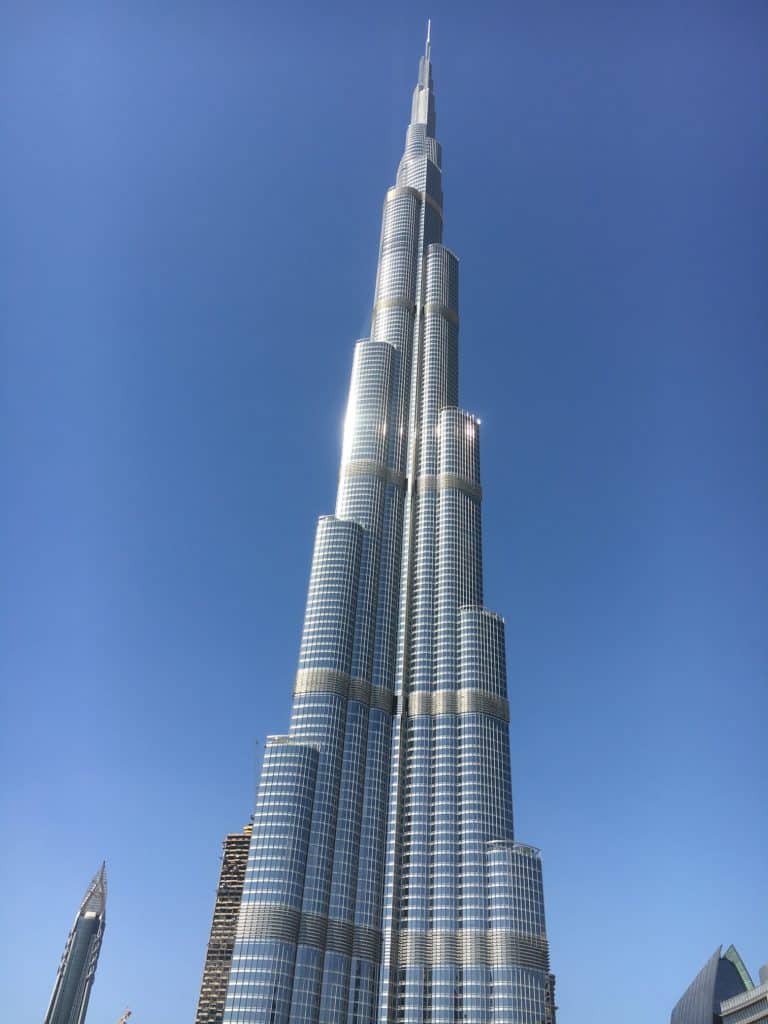 Beaches: None of them have turquoise blue water, so I don't understand the attraction. Pick one, anyone, and enjoy if that's your thing.
Palm Jumeirah: One of several human-made islands created in the 2000s and 2010s. The famous Atlantis, The Palm luxury hotel, sits on this island. Another one I don't understand. The original one is in the Bahamas.
Burj Al Arab: The Burj Al Arab, often described as "the world's only 7-star hotel," is another architectural accomplishment. Service, amenities, and rooms here are said to exceed the most lavish of hotels.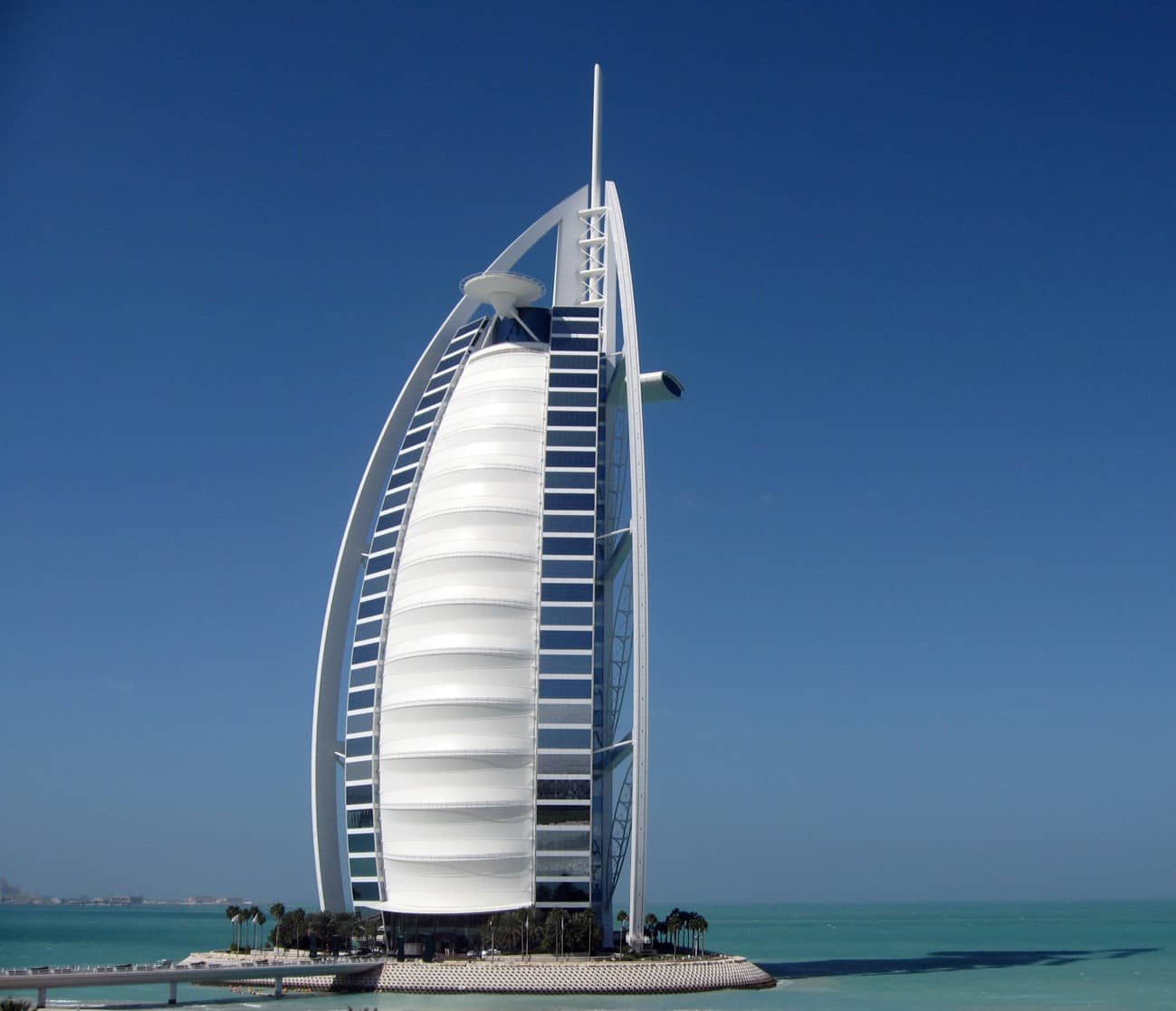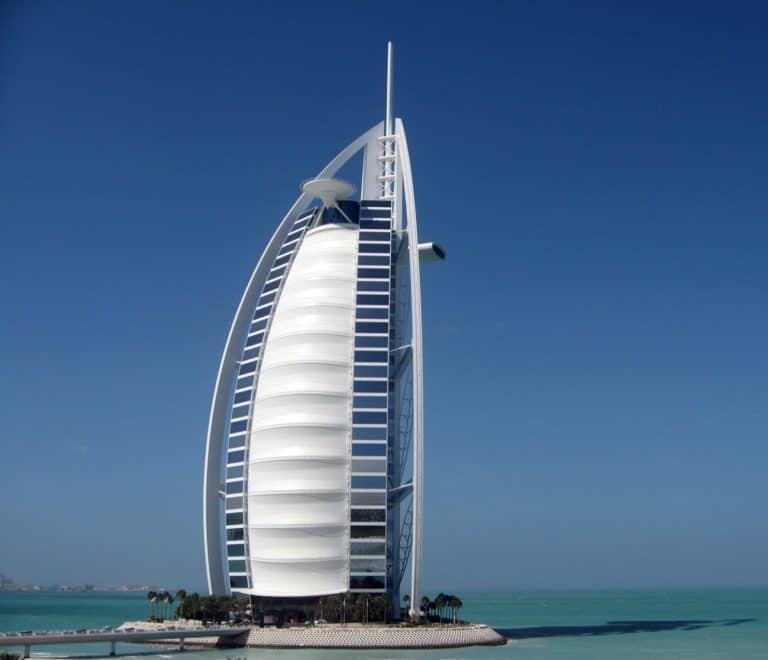 Dubai Miracle Garden: The world's most extensive flower garden. The garden has a total of 45 million flowers.
Dune Bashing and BBQ: Take the evening desert safari. All include dune bashing, sandboarding, BBQ dinner, belly dancing, and camel rides. We enjoyed this (except for the men who eat first nonsense) and enjoyed the hookah!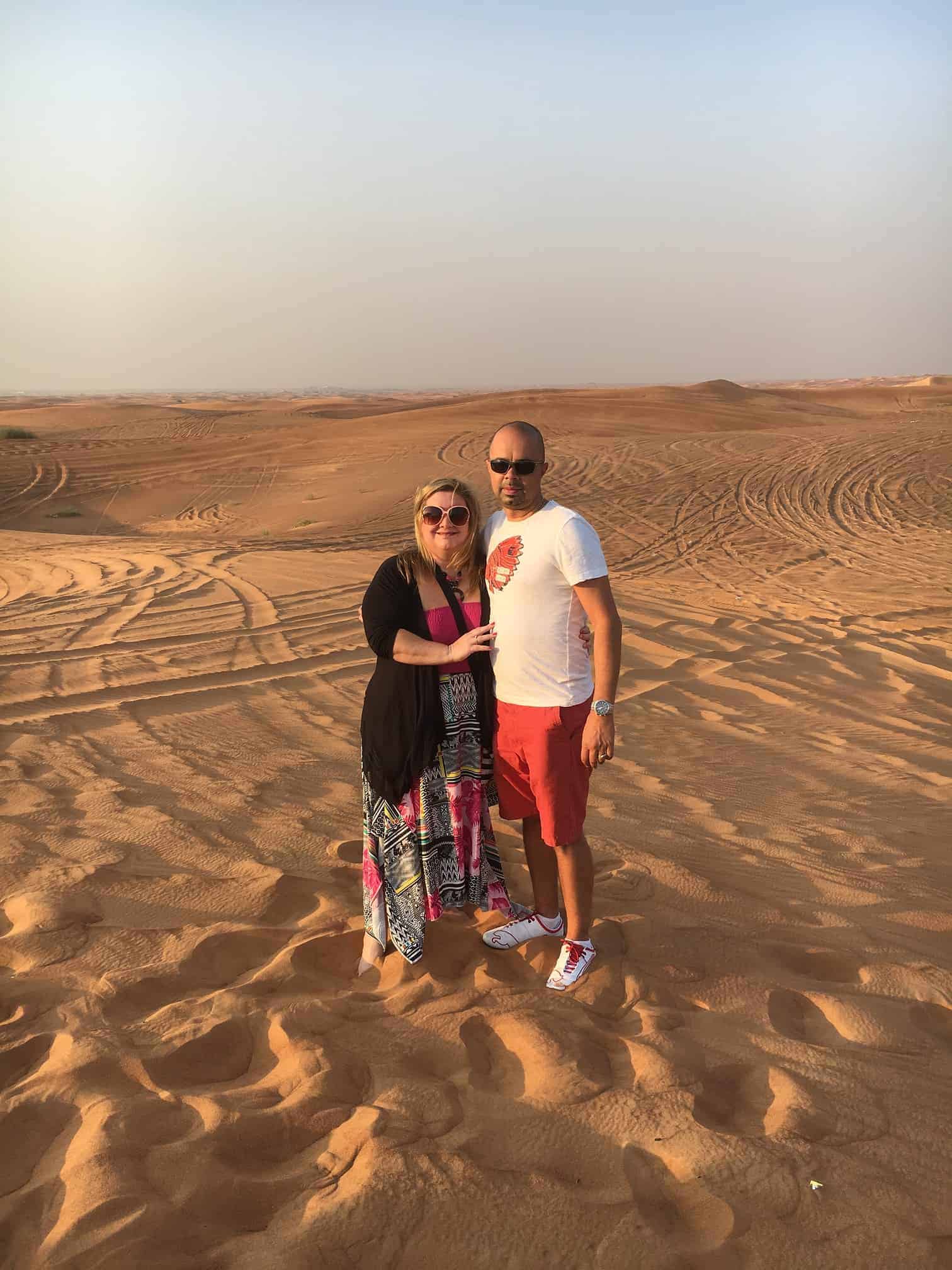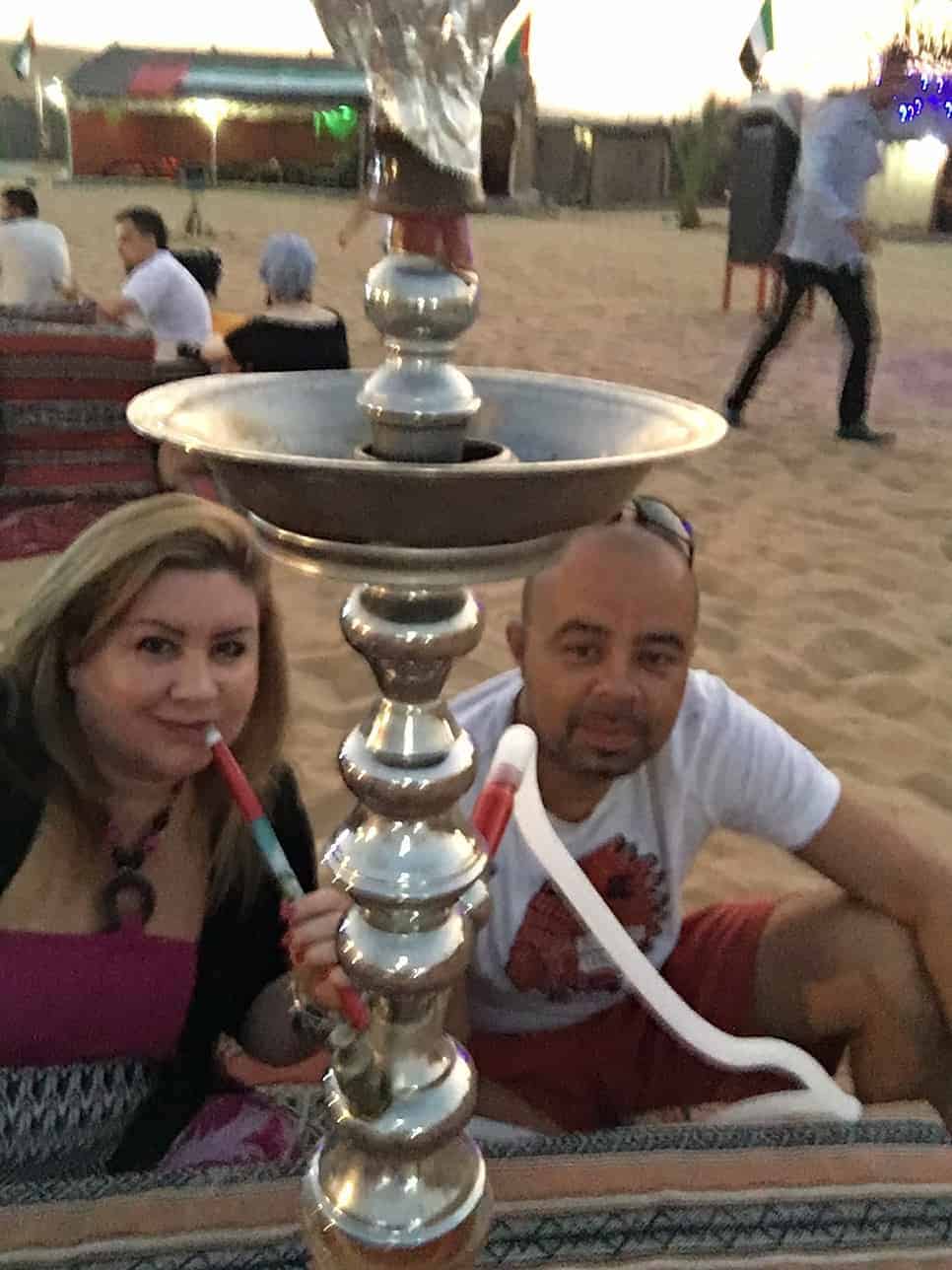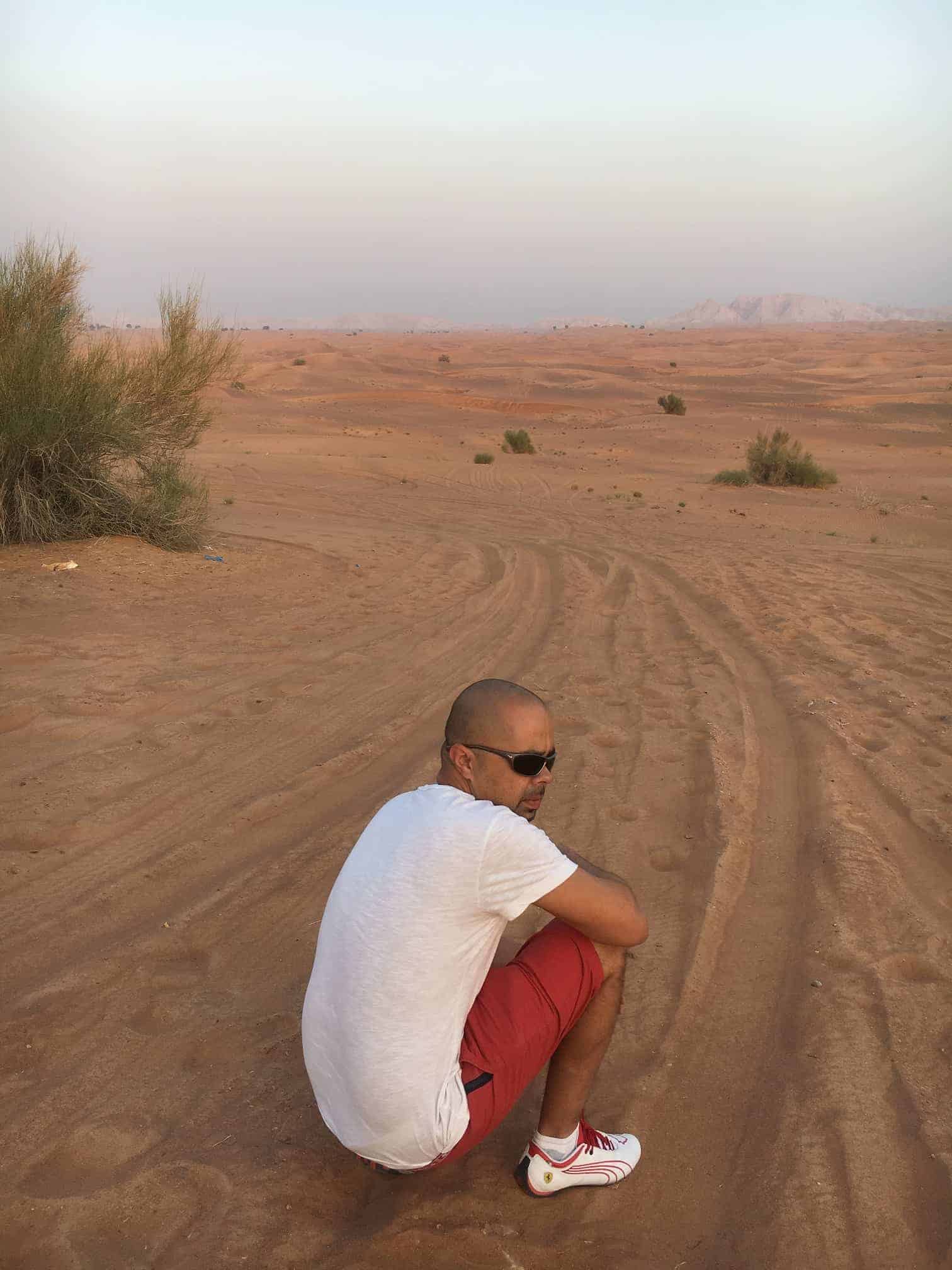 Essentials You Will Need To Enjoy Dubai
Golf: I don't personally golf, but Brian does. He played the Dubai Creek Golf & Yacht Club that overlooks the Creek and Marina. According to Brian, beautiful but not the best. Sorry Dubai, but there are better golf courses in Cabo San Lucas.
The Dubai Fountain: Another of the" world's largest." A choreographed fountain system set on the Burj Khalifa Lake, at the center of Downtown Dubai. Or, a copycat of the fountains at the Bellagio in Las Vegas is only more significant. Is anyone catching the bigger and better theme?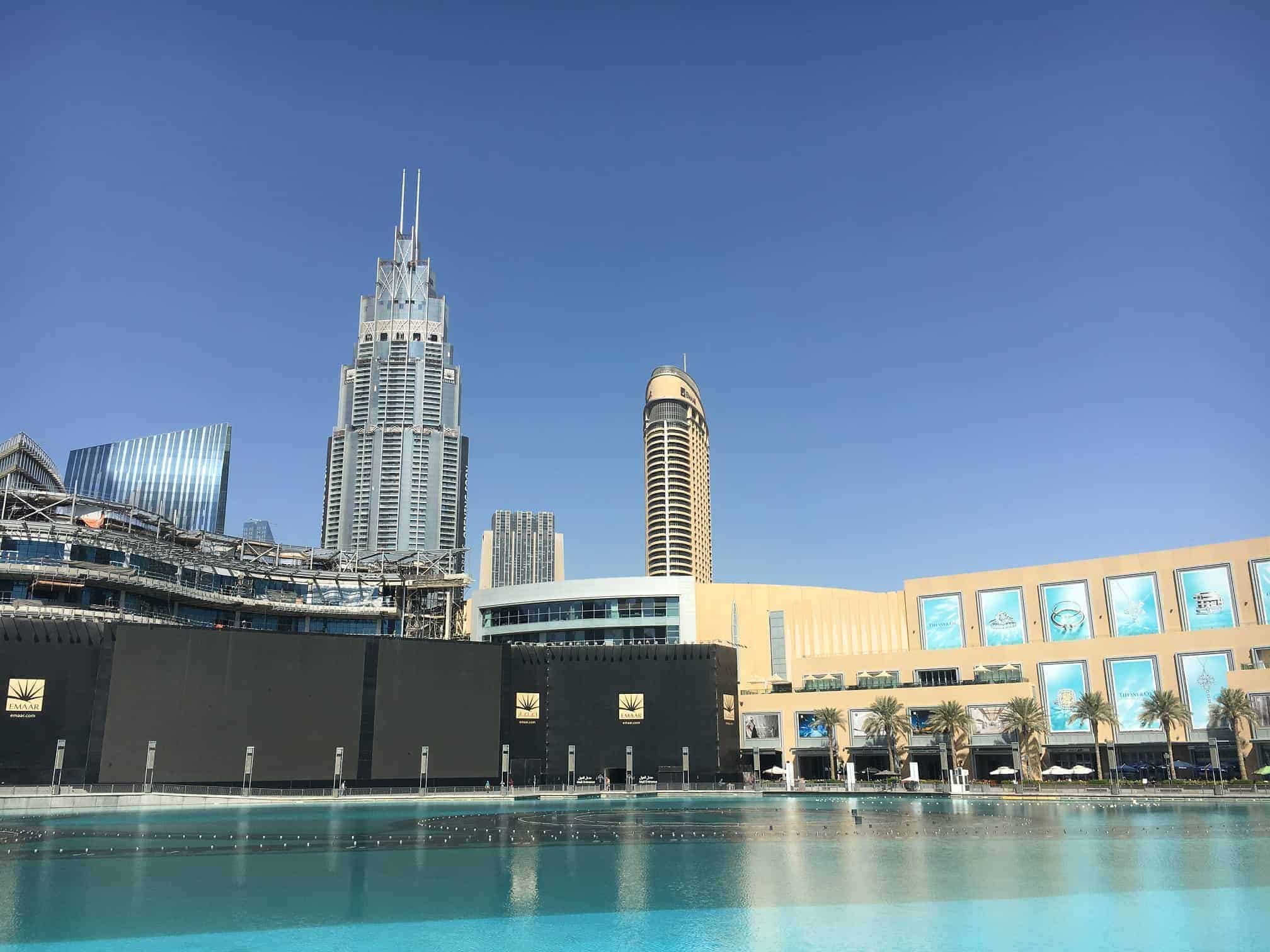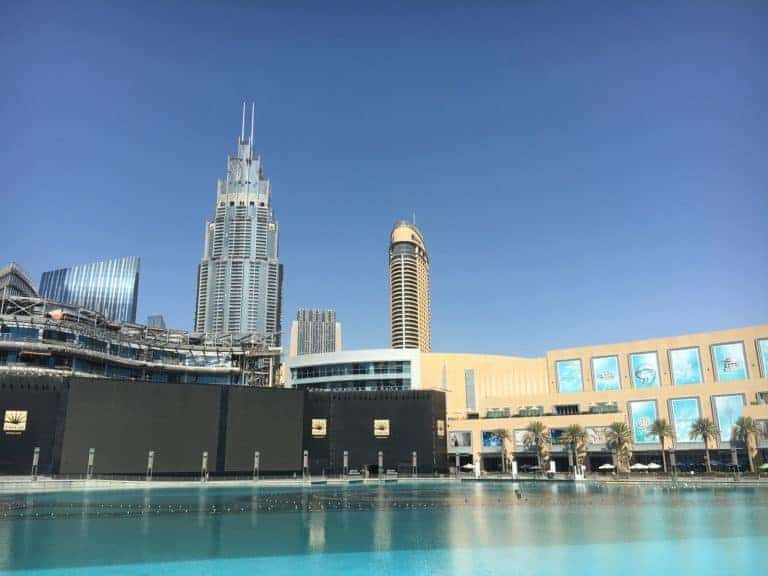 Abu Dhabi and Sheikh Zayed Mosque
The highlight of the trip for me. Sheikh Zayed Mosque is up there with the Taj Mahal regarding beauty and awe. Getting in is a different story! I had a fantastic outfit and a matching headscarf. The problem is my white linen dress was deemed see-through. Because of this, I had to wear an Abaya that was black along with my beautiful headscarf. My outfit was ruined and did not match. However, this did not spoil the splendor of this mosque – it's stunning.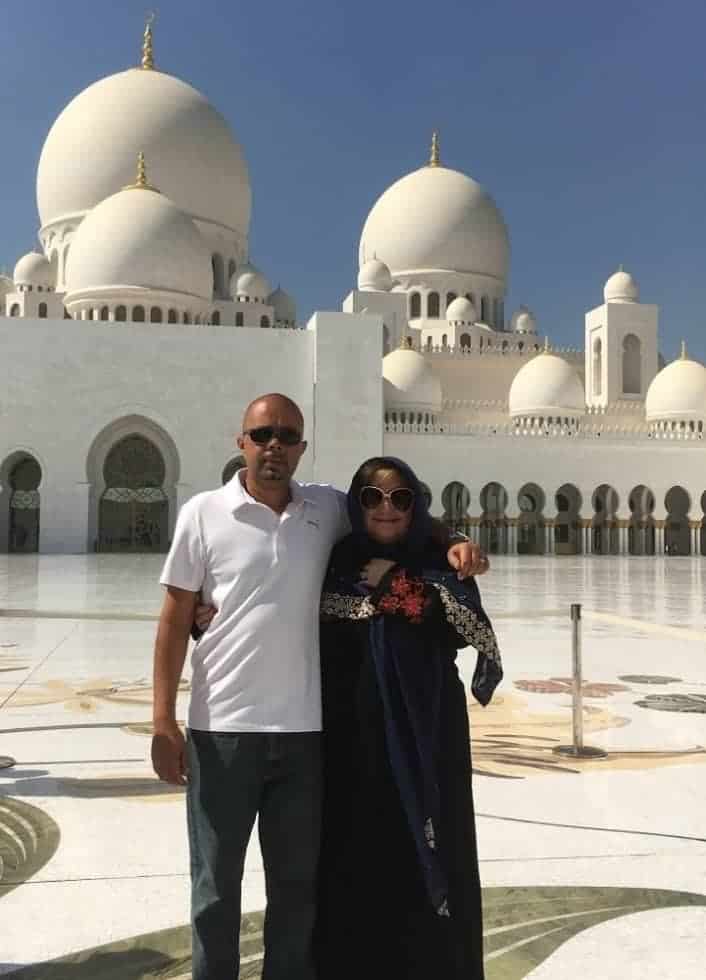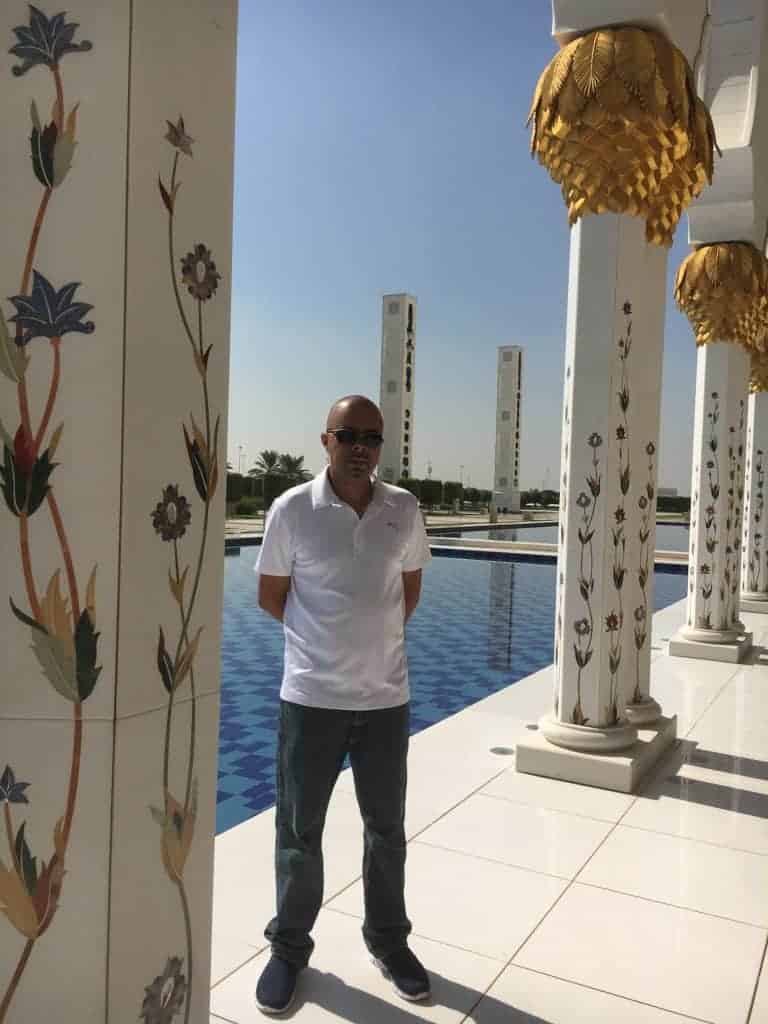 Oman
If breath-taking scenery and pre-historic mountains are your passion, take the day trip to Dibba. It's a small town on the Musandam peninsula, the most Northern part of Oman's Sultanate. The journey to Oman was fascinating. The border crossing will get anyone's adrenaline going. It's a hard-core dodgy process where you hold your breath, hoping you have the right paperwork, and nothing goes off. Your tour company will arrange your visa, so don't fret; you will be fine.
Take a ride on a traditional Arabic dhow, then land on a beach and spend the afternoon frolicking on the beach. Indeed, this sounds relaxing – but that's not how it goes down. First, the beach is disgusting – think dirty diapers everywhere! Then there are the locals that come running down the hills to scream at you to leave. Yep, it was not exactly what we were hoping for.
You can read all about our day trip to Oman here: Dubai to Oman – The Musandam Cruise Day Trip.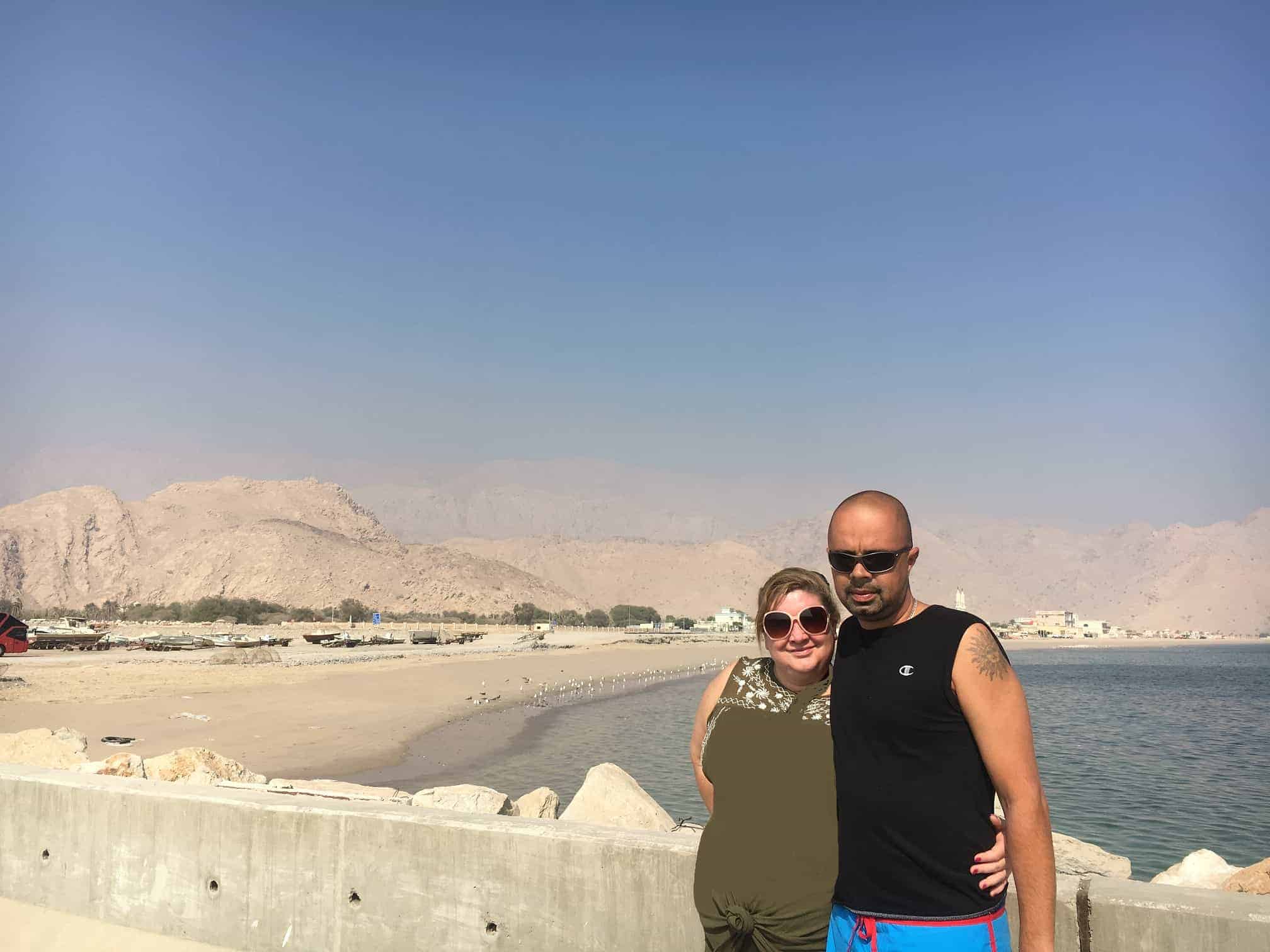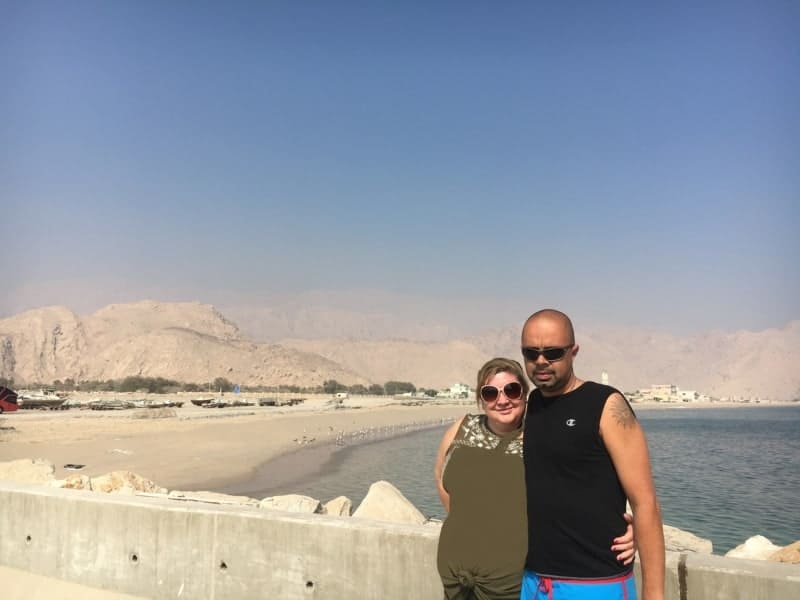 Food and Drinks
The Warehouse: Inside of the Le Meridien Dubai Hotel & Conference Center every Friday. Experience a brunch like no other. It costs approx. AED 259 ($75) is all-inclusive, and that might seem high, but it's pennies. This buffet offers crab legs, mussels, cheese from every place on the planet, and tons of other delicious choices. Then there are the drinks; you name it; you can order it. Well worth the money!
Barefoot Lounge – Dubai Marine Beach Resort: This place delivered what I romanticized about Dubai. Sit on the small private beach under the stars on large plush cushions and enjoy the hookah. Lay back if you choose, get relaxed. It's dark, sexy, romantic, and aromatic. I could have spent a couple of nights here. The hookah alone will set you back about $40pp. With drinks, expect to pay at least $200 on the lower end, but it is worth it.
Shopping Malls
Pick any one; they are all impressive. All offer a variety of stores, from the high-end to run-of-the-mill. I'm not going to list the malls. It's a bit pointless. They all have novelty attractions like zoos, aquariums, indoor skiing, or some other gimmick to define them. Therefore, Dubai is nicknamed "The shopping capital of the Middle East" – have at it.
The Gold Souk
I enjoyed the shopping here and got my name in Arabic crafted into a silver necklace. Make sure you negotiate the actual weight of the piece in advance. They will try to sell you on the piece vs. the weight. Completed, you are expected to pay more than five times the cost of the piece's weight. For us, this resulted in a showdown as I refused to pay the excess amount above the silver weight. Ultimately, I got the piece at a fair price, but Brian had to go back and renegotiate the deal. We bought several hookahs within the Gold Souk district, and when we return, I will be buying more. The choices are overwhelming, and the prices are reasonable.
Prostitution
Something else of interest close to the Gold Souk. We decided to stop for a drink and stumbled into a seedy hotel. You can Google it or message me; I'll give you the name. Unbeknownst to us, this is a prostituting hub and a dive. I learned firsthand how non-conservative Dubai is.
Upon entry, it was as obvious something was up. We took seats at the bar and acted normal – as you do. We watched the locals and Saudi's maul the eastern European hookers. Sad, sad, sad. There everyone is in traditional attire, righteous, and all were engaged in the oldest of sins. We were the only couple here, and let me tell you; it was odd and slightly intimidating.
I asked locals why this was so open in such a conservative country. The response was, "Allah does not see over the bridge." I assumed they are referring to the various bridges that cross the Creek. Further, I was educated that this goes on in every hotel and resort. It's a booming industry for Dubai. An industry that is adequately sustained by Emirates and Saudi's, not one born to cater to western tourists. Ironically, it is one that's overlooked. Unfortunately, upon knowing this, I picked up on this in every place we ate or drank, including the hotel we stayed in.
To be fair to Dubai, I want to point out that the moral double standards here are no different from any other country, city, or religion. It reminded me of the Catholic faith. The Catholic Church's common knowledge turns a blind eye to pedophilia and still covers it up to this day. Dubai is no different from the Vatican in this regard – just various sins masked.
What you need to know
Dubai is safe. Statistically, it's one of the safest cities globally if you understand cultural expectations before you go. No cussing, no displays of public affection, dress appropriately, etc.
Apostasy or blasphemy against the local or state religion is a crime. Be conscious and respect the law of the land.
You cannot purchase alcohol anywhere except inside a bar, hotel, or resultant unless you are an Emirate. Due to this, stock up duty-free before you get there.
Alcohol is ridiculously expensive. On average, $15 a draft beer and $20 a vodka tonic.
Above all, during Ramadan, alcohol is prohibited, and food options are limited. A policy strictly enforced outside of hotels and resorts.
Most restaurants require reservations; this is not a place where you show up without one.
Muslims come together to pray on Friday. Due to this, the weekend is Friday through Saturday.
Dubai is insanely expensive; this needs to be a bucket list trip for you even to consider the cost.
Closing Thoughts
I will never forget the phrase "Allah does not see over the bridge." I think it sums up the double standards and exposes the blind eye attitude reserved for some sins — a norm where ever money or power is involved throughout the world. Sadly, this, along with the sexism, tarnished my hopes of purity for such a devoutly religious nation.
Thousands will disagree with my take on Dubai, which is fine. Similarly, some might be offended, which is alright with me. It comes down to taste. Mega malls, oversized flashy buildings, Lamborghini's, and extravagant resorts don't impress me. No one needs to travel to the Middle East to experience extreme luxury – this exists everywhere globally in every country as it did long before Dubai was on the map. Lastly, I despise overt sexism, and I loathe double standards.
My perception based on my own experience is that Dubai has become a symbol of success for those who love it. After all, you must have some dosh to experience it, and everyone "who's anyone" has been. Primarily, I consider Dubai the ultimate travel status symbol money can buy. Yawn.
Looking for more posts to inspire you? Start here:
We are a participant in the Amazon Services LLC Associates Program, an affiliate advertising program designed to provide a means for us to earn fees by linking to Amazon.com and affiliated sites.