Gaby At Sofitel New York – Never Again
Have you ever purchased a Groupon, LivingSocial, or Travelzoo deal for a restaurant? I have a couple of times, and usually, there are no issues. We bought one to use during our July trip to NYC for a Bottomless Brunch at Gaby Brasserie Française inside the Sofitel, New York. The terms and conditions were simple. Purchase the deal, make a reservation, and show up armed with the voucher on your mobile app. That's what we did, and all hell broke loose.
This post may contain affiliate links. Please read our disclosure and privacy policy for more information.
Why Never Again
Let's start with Gaby at Sofitel not finding the reservation because the individual who made it wrote the names down wrong. Then, the humiliating Gaby at Sofitel voucher escapade. The hostess would not seat us without a printed copy of the voucher. I showed her a copy of the terms and conditions, moot point. The compromise was to email the coupon to them. You would think this resolved the problem, but it did not.
When we sat down, we were asked numerous times if I had emailed the voucher before anyone would take our order. Seriously? I have never been more embarrassed. And why should I have been? I purchased a deal for Gaby at Sofitel in good faith and followed the terms and conditions. Nowhere in the terms did I state that I needed to email the voucher. Were this the case, I would have emailed it in advance. The voucher clearly stated that you could use the app.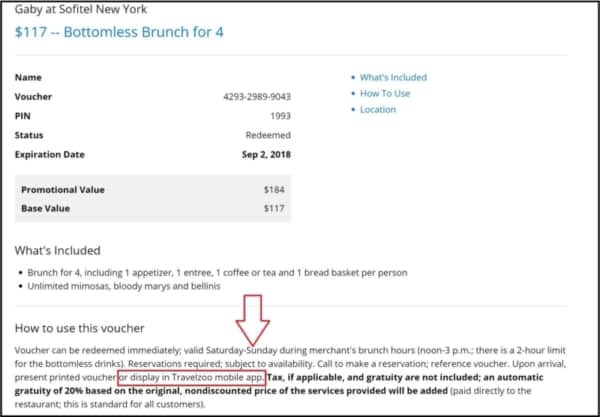 Thirty minutes later, and the dreaded email in the hands of the hostess, we got served! The food at Gaby at Sofitel was wonderful, but it's completely irrelevant. I would not return to Gaby at Sofitel under any circumstances. Our experience here was humiliating.
Gaby at Sofitel Complaint:
As we were leaving, I complained to the hostess and the maître d', a very tall older man dressed in a penguin suit. His response to me was cold and unapologetic. "We need a printed version regardless of what the terms say." What caught me off guard is how rude and condescending he was — no empathy for how they were treating us. It felt as if I could not believe I had the nerve to complain about being humiliated. It was apparent in how he looked down his nose at me with aloof judgment oozing from every pore.
Well, guess what? I have more nerve than the average bear. Following this incident, I wrote to Travelzoo and told them about the experience. Now I am sharing with everyone here.
I don't appreciate being treated like a second-class citizen because I purchased a "discounted" deal and followed the terms and conditions. For the record, the deal was not a significant discount once taxes and gratuity were added.
Closing Thoughts:
If a printed copy is required, it should say so in the terms and conditions. If there is a mistake in the terms, discretion with class is the only way.
The Gaby at Sofitel New York has a great brunch, but the hostess and maître d' ruined the experience. Being embarrassed in public is no way to woo a customer. The blatant disregard the staff displayed is unacceptable. Hopefully, the management team will take note and address the problem. Or, stop offering deals if the intent is to treat those that buy them as less than.
Looking for more posts to inspire you? Start here:
We are a participant in the Amazon Services LLC Associates Program, an affiliate advertising program designed to provide a means for us to earn fees by linking to Amazon.com and affiliated sites.
Subscribe to our newsletter and get the best travel tips and inspirational stories delivered monthly. No spam, no sales pitches – TRAVEL!
Brit On The Move™ Travel Resources
Ready to book your next trip? Use these resources that work:
Need more help planning your trip? Check out our Resources Page, highlighting the great companies we trust when traveling.