Royal Springs Park is a five-acre park in Suwannee County near O'Brien, Florida. Swimming and diving are two of the most popular activities in the park. It is a hidden treasure in the area that most people don't know exists. Royal Spring is a free sping, mainly frequented by locals. This is a great place to go with friends and family. In addition to swimming and diving, there are many things to do in the Royal Spring.
Getting close to nature and enjoying the spring's cool water felt great on a hot day in the park. Furthermore, in winter you can enjoy the warm water. Almost all the terrain surrounding the park is farmland. If you live in Florida or are planning a vacation there, you can visit the Royal Spring. Throughout this article, we will take a closer look at Royal spring and explore it in depth.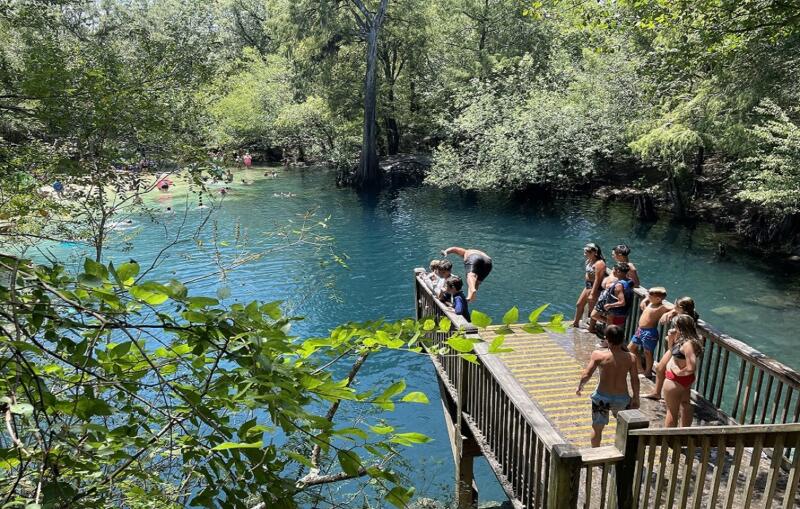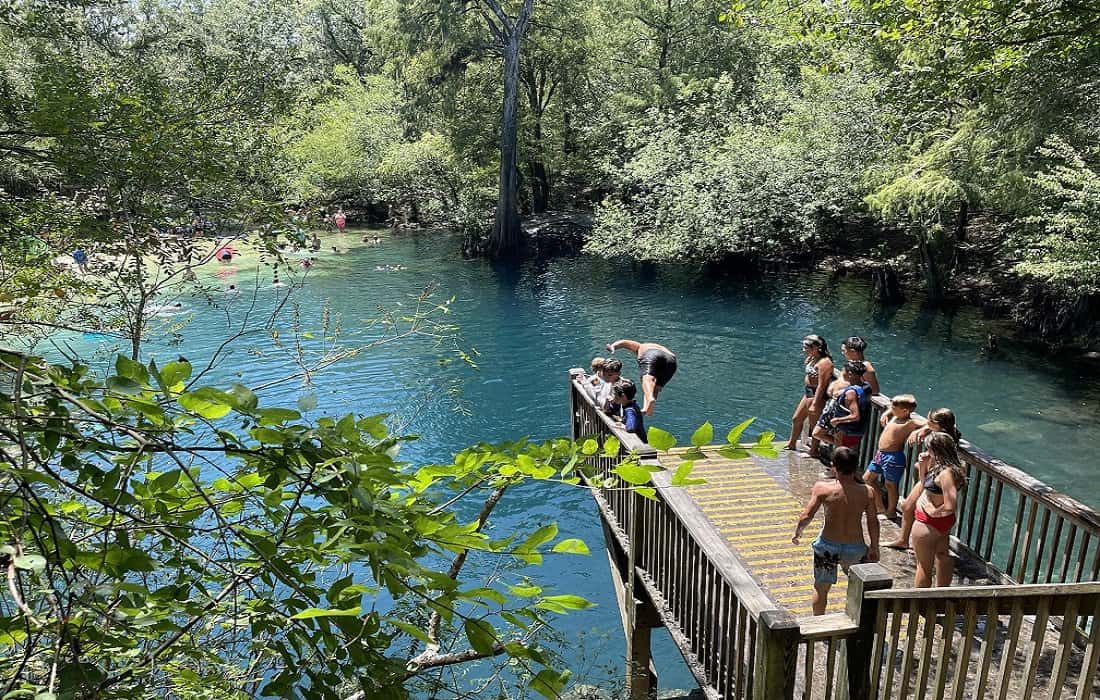 This post may contain affiliate links. Please read our disclosure and privacy policy for more information.
Why Visit Royal Springs?
Royal Spring is a popular spot for swimmers and divers. An incredible thing about the park is that it has no entrance fee! That's right; you can visit for free. There are not many places this beautiful that are free, and that makes this special.
The park covers approximately five acres. Royal Spring's spring basin has an approximately 160-foot-by-105-foot pool of water. Further, the depth varies according to aquifer levels and rainfall but is generally about 42 feet deep. Royal Spring flows into the Suwannee River via a spring run. Sometimes the spring run is dry, and sometimes it flows, depending on the water level. A basin surrounds Royal Springs, which is surrounded by 25-foot high walls. Limestone and clay make up the walls. Children and pets should be closely supervised and controlled by visitors to avoid dangerous drop-offs. It is surrounded by county-owned forests and a river corridor connected to the Suwannee River.
The view from the base: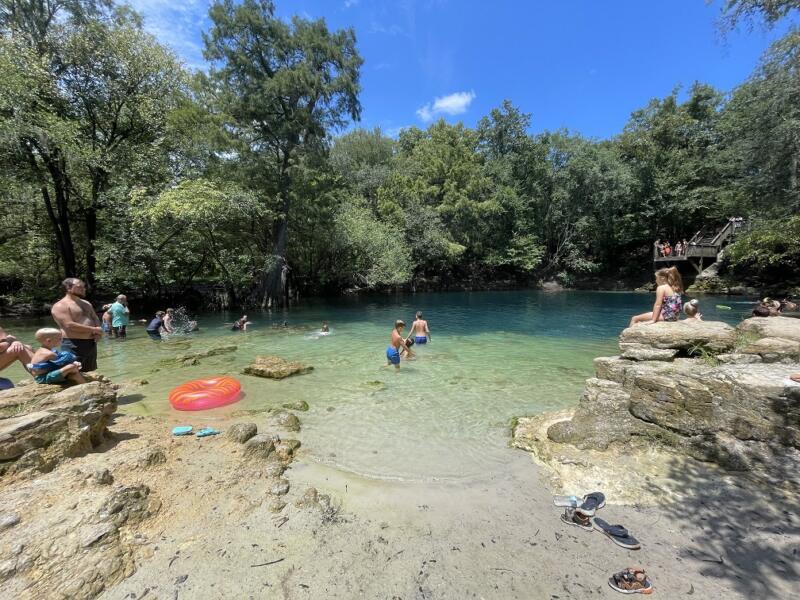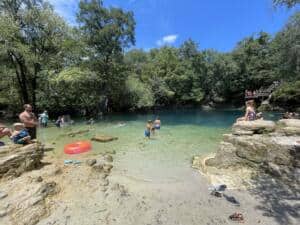 Along with picnic tables and open grassy areas, four overlook decks are placed around the spring and river's edge. At this park, portable restrooms are available.
Royal Springs has a jumping platform and a shallow, kid-friendly end for those who like a little adventure. The spring stays at 72 degrees all year. During the summer, the water feels like air conditioning, and during the winter, it feels like heat. You can swim, dive, snorkel, fish, and canoe or kayak at Royal Springs. As well as two swing ropes that adults and kids love!
Or, if you don't want to partake in the typical activities, park your lounger anywhere and soak up the sun and people watch.
History of Royal Springs
North Florida has several springs, Royal Springs being one of them. It is officially known as the Hugh Byron Hollingsworth, Sr. County Park. Royal Springs has a lovely little park area with oak trees, covered picnic areas, tables, charcoal grills, and paved sidewalks.
Note: Because this park is free and has no rangers on site young groups do flock to the picnic tables and set up camp for the day. You will experience loud music on a weekend and there's definitely a party vibe on the weekend. However, you cannot hear the music once you get to the basin of the spring.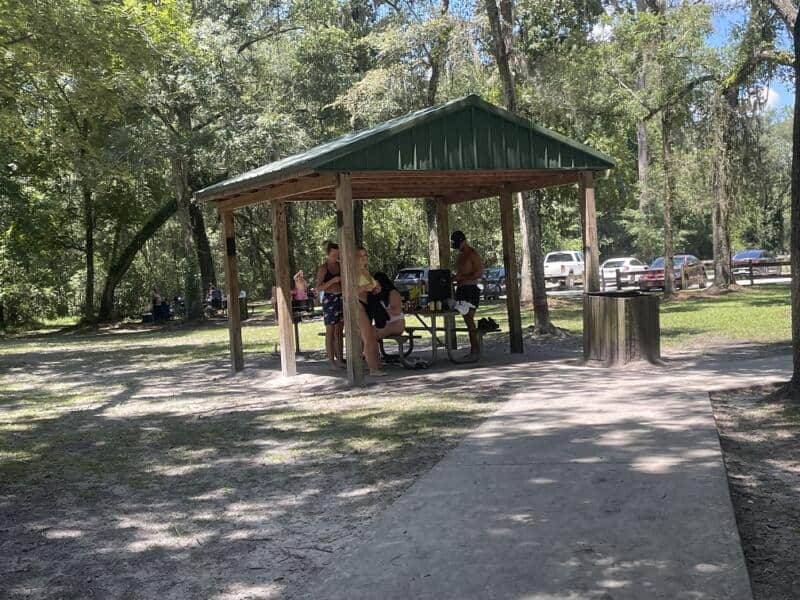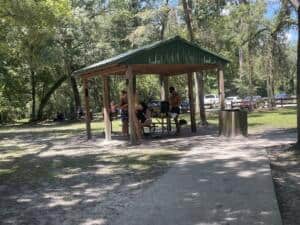 Over 700 freshwater springs have been detected in Florida by geologists from the Florida Department of Environmental Protection. This makes it one of the planet's most significant convergence of freshwater springs. A natural spring is where water flows from an underground aquifer to the ground's surface. And Royal Spring is a natural spring park in Suwannee County, O'Brien.
There are several sets of stairs and steps at the Royal Springs and a diving platform for visitors. There are also several walking trails in the nearby wooded areas.
Location of Royal Springs
Royal Springs Park is a 5-acre County park located in the Suwannee Belle Estates in O'Brien. It is in Suwannee County near O'Brien, Florida; The nearest cities are O'Brien, Live Oak, Branford, Gainesville, Lake City, and Tallahassee.
Address: 20051 157th Lane O'Brien, FL 32071
About O'Brien Florida
O'Brien, Florida, is a tiny town. Most have never even heard of it. There are 1,167 households in O'Brien, each comprising around three members. As of 2022, there are 3,559 residents in O'Brien.
In Suwannee County, Florida, United States, O'Brien sits at State Route 129 and County Road 349, north of Branford. The ZIP code for O'Brien is 32071.
About Live Oak Florida
The city of Live Oak is located in Suwannee County, Florida. Agricultural activity in Live Oak includes timber, straw, and watermelons. In addition to the Suwannee River, it is also a great place to arrange trips to numerous springs and rivers. Twin Rivers State Forest, which covers 14,882 acres, is also nearby.
The Suwannee River and Santa Fe River border the town, and mature oak trees line the streets. There are several good restaurants and specialty shops in the downtown area of Live Oak. Located on the eastern edge of town, Heritage Park and Gardens features walking trails, a disc golf course, horseshoe courts, landscaped gardens, a playground, and covered picnic tables. There is a Civil War Reenactment at Heritage Park in November, and numerous children's events are held during Christmas at Heritage Park.
Where To Stay
If you are visiting Royal Springs, consider staying at Kokomo Farms. Kokomo Farms is 20 acres of serenity that offers you and your family an opportunity to stay on a working farm with unusual accommodations. It is a priority for Kokomo to create and maintain a sustainable and green environment where guests can interact with the animals and the natural surroundings. The accommodations are all eco-friendly, using solar power and generated electricity.
Book Kokomo Farms NOW!
Things To Do At Royal Springs
There are several recreational activities available at Royal Springs. The main draw is the spring itself. The 42-foot depth of Royal Springs allows for a moderately elevated jumping platform, one of its most popular features. Those who prefer not to jump can access the spring through other stairways.
Be it floating around in the spring, taking the plunge from the jumping platform, climbing the trees to jump, or swinging from the rope swings; there's plenty to do in the water. The park offers barbecue grills and picnic tables so you can make a day of it.
The Suwannee River can be accessed via a one-lane concrete boat ramp from Royal Springs.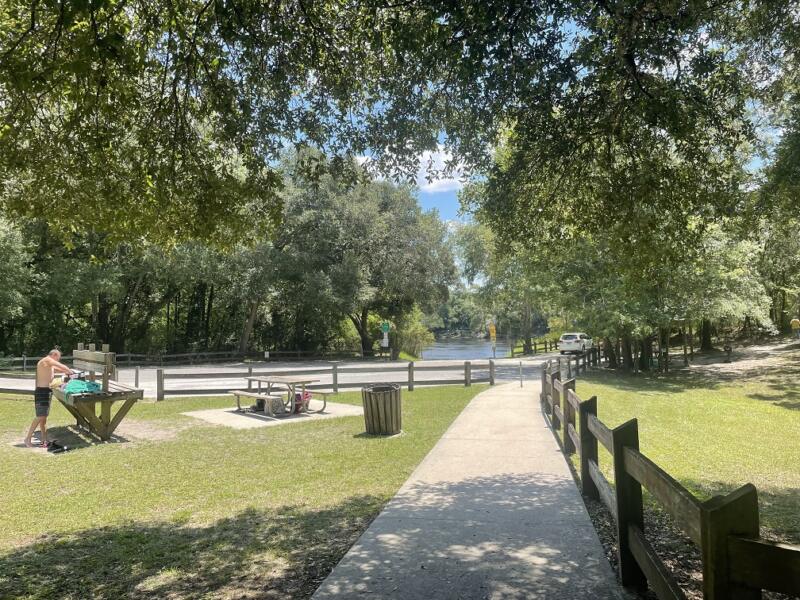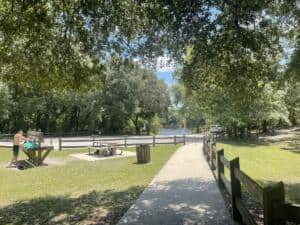 Freediving and Scuba Diving
Royal Springs is a popular spot for free diving and scuba diving. There are wooden platforms to assist scuba divers in mounting their tanks and preparing to dive, but there is no staff onsite. And, no rental facilities. If you are planning to dive Royal Springs, you need to be certified, have your equipment and have experience.
Wooden boardwalks help prevent shoreline erosion and aid water entry. Water visibility is also variable and can become severely reduced when bottom sediment is disturbed.
Hiking, Jumping, and Rope Swings
Four viewing platforms around Royal Springs have beautiful views down into the clear water. A hiking trail leads from Royal Spring down to the Suwannee River. The .5-mile trail is horseshoe-shaped. As well as the marked trail, another trail traces the path of the spring run that flows into the Suwannee.
A sidewalk leads you behind a forest screen on the bluff to the right of the dive platform. From the observation deck, you can see down into the spring and across to the platform. Upon reaching the end of the developed path, you are free to roam.
Under ancient cypress trees, an unmarked trail follows the spring's outflow. Visitors can access two entry points to the spring by walking along the sidewalk opposite the parking area. The first offers spring-level access to jump into the depths from a rocky ledge. The second is a gentler dip in the water on a shallow shelf. Near the diving platform, near the corner of the spring pool, is a rope swing hanging off a large Cypress tree – a popular attraction.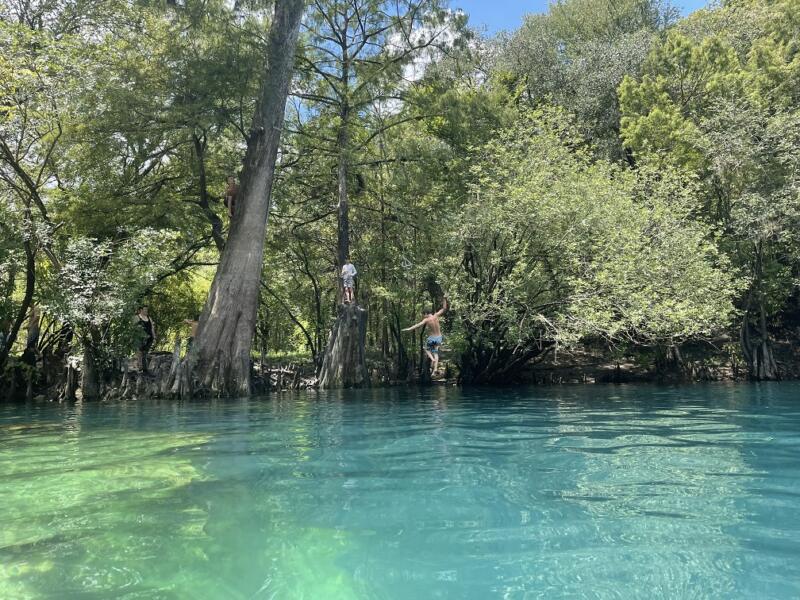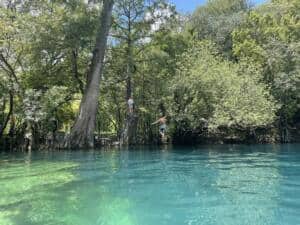 Boating and Kayaking
In addition to the observation deck, there is a boat ramp at the end of the paved path of the spring. Boaters and kayakers can use the ramp to access the Suwannee River.
Fishing
Suwannee River offers excellent fishing. Fishing enthusiasts can visit all around the year. The most popular species caught here are Black bullhead, Largemouth bass, and Redbreast sunfish.
Camping
Although there is no camping on site, the park is a stop for paddlers following the Suwannee River to take a break on the shore.
Here are some campsites nearby:
Royal Springs Suwannee River Wilderness Trail
Cave Dive Camp
Ichetucknee Springs Campground
If you really love springs, then you need this book! Florida is home to over 1000 natural springs between the sun-soaked beaches of the Gulf of Mexico and the Atlantic Ocean, which have drawn people to the state for thousands of years. Long before theme parks came to town, the freshwater springs were the top tourist attraction in the state. Join us across the state to explore 40 of the best springs in Florida that you can still visit today. Filled with vivid photos from the past and present, this guide will show you a side of the Sunshine State you won't see in commercials. Complete with information on conservation and a key for activities offered, this book is a must-have for locals and tourists alike.
FAQs About Royal Springs
Can you swim at Royal Springs?
Yes, you can swim in the Royal Spring. Besides swimming, you can dive, snorkel, fish, canoe, boat, or kayak. A public boat ramp, picnic tables with grills, and portable restrooms are some of the amenities available at the park.
Where is Royal Springs, FL?
Royal Springs Park is a 5-acre County park located in the Suwannee Belle Estates near O'Brien, FL. The large spring boil attracts swimmers and divers from all over the world. Another key points the park has picnic tables, and grassy areas are adjacent to the spring and river. Visitors can enjoy swimming, picnicking, kayaking, boating, and fishing at the park.
How deep is Royal Springs in Florida?
Royal springs is generally 42 feet deep. However, the aquifer's depth varies depending on water levels and rainfall. The spring basin of Royal Springs forms a large pool, approximately 160 feet by 105 feet in size.
Can you camp at Royal Springs?
No, there is no camp at Royal Springs. Despite the lack of camping on Royal Springs grounds, several private campgrounds are nearby. Some popular camps near Royal Spring are Cave Dive Camp, Ichetucknee Family Canoe & Cabin, Ichetucknee Springs Campground, and River Run Campground.
How much is it to get into Royal Springs?
The local authority maintains Royal Springs. There is no charge to visit the park – it's 100% free!
Can you fish at Royal Springs?
Yes, you can go fishing at Royal Spring. Visitors all over the country come to Royal spring for fishing, swimming, and boating.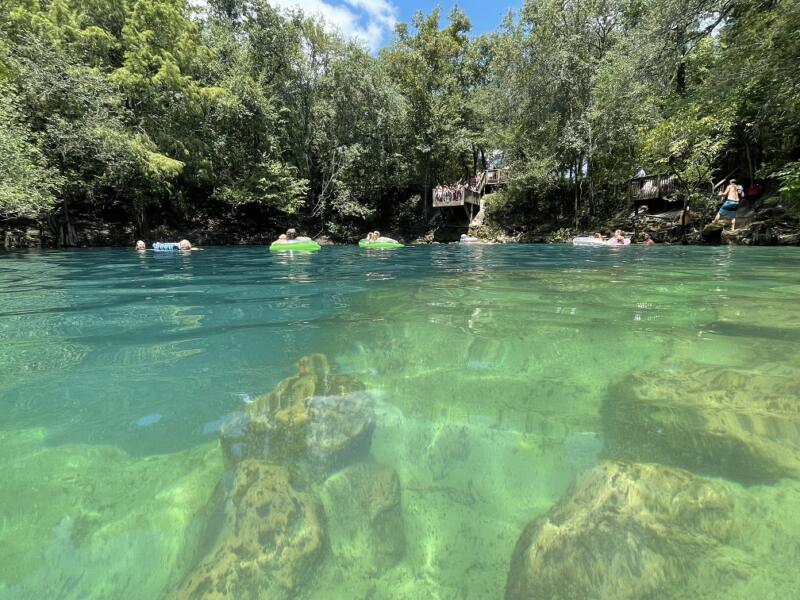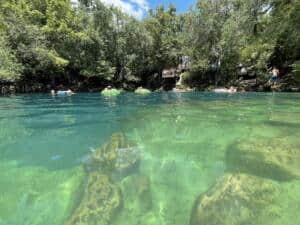 What You Need To Know
Bug spray is essential, neoseum bugs are out in troops and bite.
There is no staff onsite.
A large parking area can accommodate many vehicles, but it gets packed on weekends.
Royal Springs is surrounded by a county-owned forest and river corridor associated with the Suwannee River.
This park doesn't have running water or electricity; however, it does have portable restrooms.
There are no amenities on-site. As such, you must bring everything you need – including food and drinks.
You cannot take pets in the park.
Above all, summer holidays and weekends can be crowded and hectic at Royal Springs, but it is usually empty during the week. It is sometimes reported that guests play loud music, consume alcohol, smoke cigarettes, and are generally inconsiderate of other guests.
Visiting hours: From April through October, the park is open between 7 am to 7 pm. The park is open from 7 am to 6 pm from November through March.
Fees: No fees are charged for any activities in the park.
Closing Thoughts
As much as Royal Springs is lesser known to the public, this is one of my favorites. The park is free to visit and unique in that it's like an old-fashioned swimming hole. The majority of visitors come here to dive into the spring and swim. Take a look at the pictures – can you blame them?
Here are some of the most popular springs in Florida:
We participate in the Amazon Services LLC Associates Program, an affiliate advertising program designed to provide a means for us to earn fees by linking to Amazon.com and affiliated sites.
Brit On The Move™ Travel Resources
Ready to book your next trip? Use these resources that work:
Need more help planning your trip? Check out our Resources Page, highlighting the great companies we trust when traveling.