Geneva Florida – The Ultimate Guide
Planning a new getaway vacation starts with researching destinations; big cities and major tourist attractions usually pop up first. Those destinations are typically crowded, expensive, and exploited; therefore, small towns would be an excellent choice for those looking for new, relaxing, memorable experiences. Geneva, Florida, is one of them.
Geneva, Florida, is one of the 23 towns called "Geneva" in the U.S., located to the north of Florida and can be reached by a 2 hours drive. The small town provides an ultimate relaxing vacation with a variety of exceptional experiences, from the breathtaking nature to the nearby Kennedy Space Center that will let out your inner happiness and make it a unique vacation for you and the whole family.
This article will demonstrate all the tourist attractions you can enjoy while vacationing in Geneva, Florida.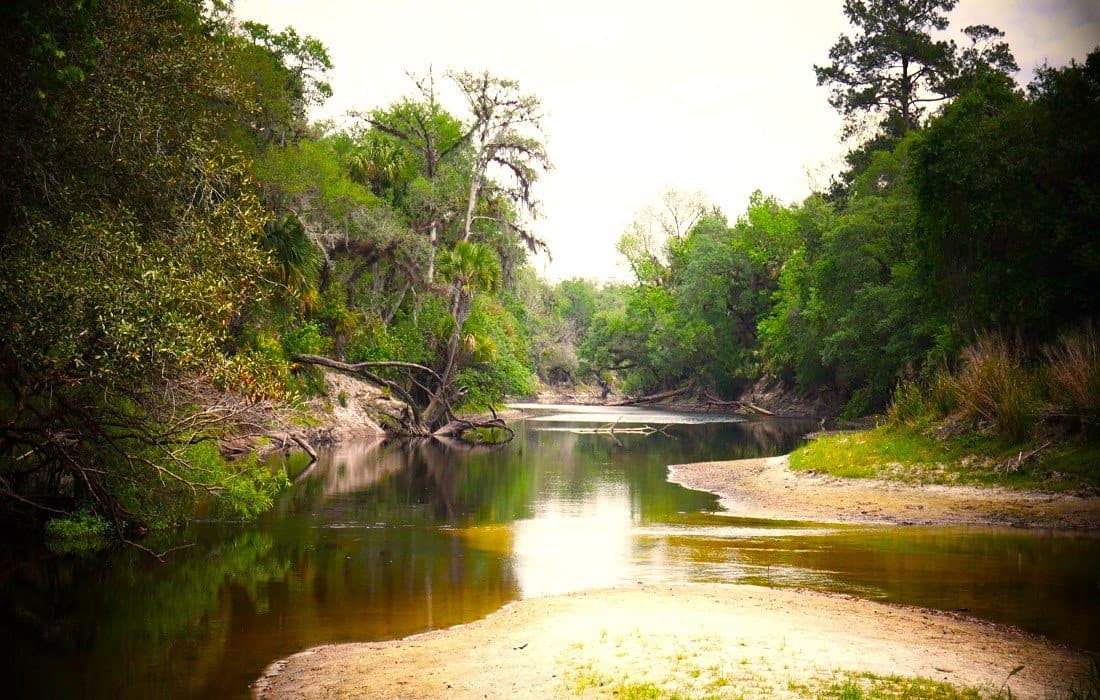 This post may contain affiliate links. Please read our disclosure and privacy policy for more information.
The Geneva Florida Story
Geneva was once the home to the Timucua tribe around 2000 BC; later, in the 18th century, the native American and black Indian tribes united and formed the Seminole Indian tribe, then an aggressive war started between the Seminole tribe and the United States.
Around the beginning of the 19th century, and by the end of the Seminole war, a colonel called "Colonel Harney" reached the area and built a settlement named after him, "Harney Cove," and it was the foundation of a small town.
However, the name Geneva has another story itself. The story goes that a woman named "Emma Van Brunt Wilcox" from Geneva, New York found out that "Harney Cove" looked the same as her hometown, so she changed its name from "Harney Cove" to "Geneva, Florida," and since then, the name Geneva hasn't changed.
Why Visit Geneva, Florida?
Geneva, Florida, is a small town with a total area of 12.43 mi2 (32.18 km2) and many tourist attractions. As they say, "the best things come in small packages," whether for a solo traveling adventure, a vacation with a friend, or a family trip, Geneva provides a captivating experience for all. Enjoy the rural feeling with the primitive nature, have some late-night dinner in the quiet town, or even spend some quality time horseback riding; there will be new things to explore daily in such a small yet enchanting city.
Fun Things To Do In Geneva, Florida
There are many sights to visit when you're in Geneva, Florida, and below is a special list we put together to make it easier for you:
Little Big Econ State Forest
The great forest was established in 1994 by Florida Legislature and named by combining the names of the two great rivers, "Little Econlockhatchee River" and "the larger Econlockhatchee River," that come together at the south of it.
Historically, the 10,336 acres property has been used for various purposes, such as cattle ranching and row crops. And now, it supports a variety of wildlife such as southern foxes, squirrels, and alligators. The forest is open for visitors during the daylight hours, where they can try many activities:
Hiking
11.85 miles of hiking trails the whole family can enjoy, especially the forest, which is considered the country's most family-friendly hike.
Paddling
The paddling ride starts at Seminole County's canoe Launch on Willingham Road and ends 8 miles upstream at the Snow Hill Road canoe Launch. However, if you're looking for a more challenging ride, you can try the 20 miles paddling trail to the C.S. Lee Boat Ramp on State Road 46.
Horse Riding
With 9.3 miles of horse trails, enjoy nature while horseback riding, and if you are lucky, you may come to cross a deer or turkey when going through the pine forest on the trail.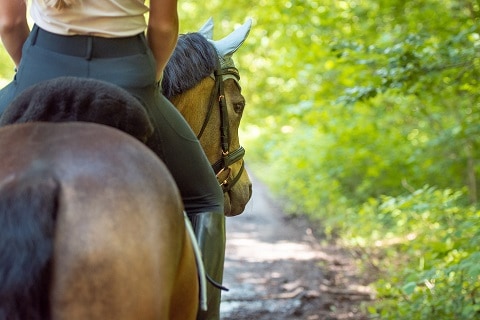 Bicycle Riding
The 12.4 miles of bicycle trail is ready for bike riders for a memorable ride where they will cross a variety of ecosystems. The Little Big Econ State Forest is waiting for those up to the challenge.
Fishing and Hunting
Wildlife hunting is regulated and allowed in the forest on specific dates, and many wildlife are on the hunting list, such as deer, hogs, rabbits, ducks, squirrels, and turkeys. Also, fishing is a great way to spend time in the forest, and it's very popular along the Econlockhatchee river and St.John river; catfish, crappie, bluegill, and other fish are frequently caught.
Camping
Don't miss the excitement of camping at the West camp or the East camp. The campsite is ready to welcome the adventurers with picnic tables, fire rings, and lantern holders.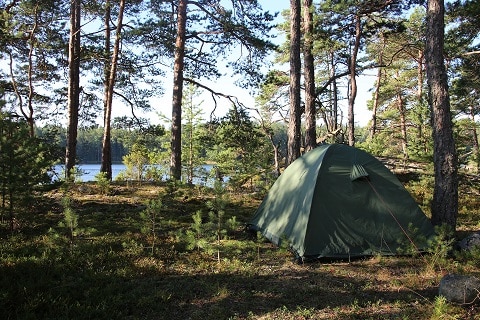 Museum of Geneva History
The Geneva Historical Society established the museum in 1965. The two rooms museum contains a variety of authentic and original artifacts dating from prehistoric to recent times, which were donated by their original owners or loaned by past residents of Geneva.
The artifacts demonstrate the early life of the village of Geneva, from prehistoric mounds and turpentine to musical instruments. Moreover, Geneva citizens' military uniforms are all found in this fantastic time machine. Although the place might seem small, when entering it, a journey through history begins; it's open for visitors on the 2nd and 4th Sundays of the month.
Lake Proctor Wilderness Area
Near the town of Geneva and to the west of Lake Harney, natural habitats of pine scrub, pine Flatwoods, sandhill, and bayhead swamp will be waiting for you in the Lake Proctor Wilderness Area. The 475 acres of the property are open for visitors from dawn to dusk to enjoy the serenity of this little piece of natural Florida. It's an excellent destination for outdoor activities like hiking and mountain biking, and you can enjoy wildlife like white-tailed deer, red fox, and gopher tortoise.
The Red Barn
A score for me! If I can buy something on the road, I am as happy as a lark. It does not need to be extravagant, just a memory, not a trinket. The Red Barn is part antique mall, part flea market, and somewhat of a general store.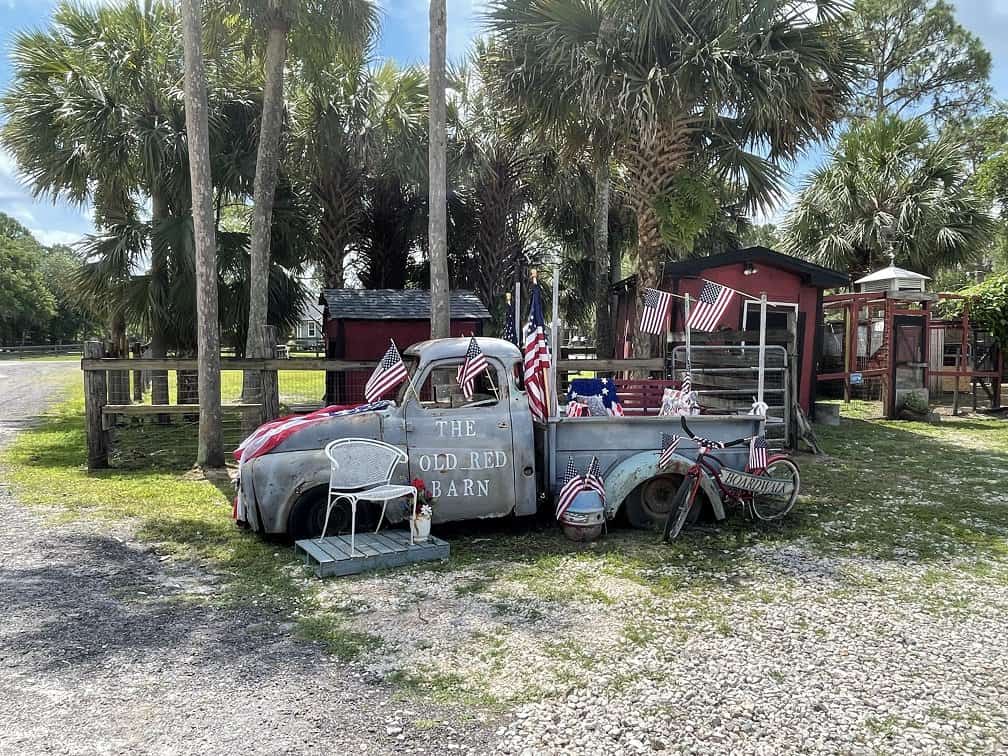 Several vendors have booths here, and you can find exciting items. I got a necklace, two cat mugs, and a martini shaker—an excellent end to my vacation.
Equestrian Quest Stables
Equestrian Quest Stables offer a new vacation style to get out of the ordinary by providing full service at their facility. Quietly tucked in Geneva, the facility offers the opportunity for horse lovers, both first-timers and expert riders, adults or kids.
Visit and enjoy the most adventurous experience of feeling freedom while horseback riding and galloping across an open field. Invite your friends for a unique birthday celebration and have that lovely farm party. The facility is available for visitors around the year, Monday to Friday, 8 a.m to 5 p.m.
Lake Geneva
Although it's named Lake Geneva, it's not located in Geneva, Florida! It's located in Clay County, about 2 hours driving to the north of Geneva city. However, it is worth visiting and exploring the 1600 acres of clean water.
Lake Geneva is the ideal destination for all water activities, from enjoying the long beaches along the northern shores and swimming in the clear water to fishing rituals in the early morning; whatever interests you is available at Lake Geneva.
Geneva Goat Company
At the back of Danville is Geneva Goat Company. You can access it through Danville, and it's here that you can milk a goat! Randi, the owner, is a retired nurse. Goat milking was another first for me. Something I never even thought I would experience. If you want to milk the goats, you'll need to set an appointment with Randi. Dan or his wife Deborah will give you her contact info so you can schedule a time in the morning.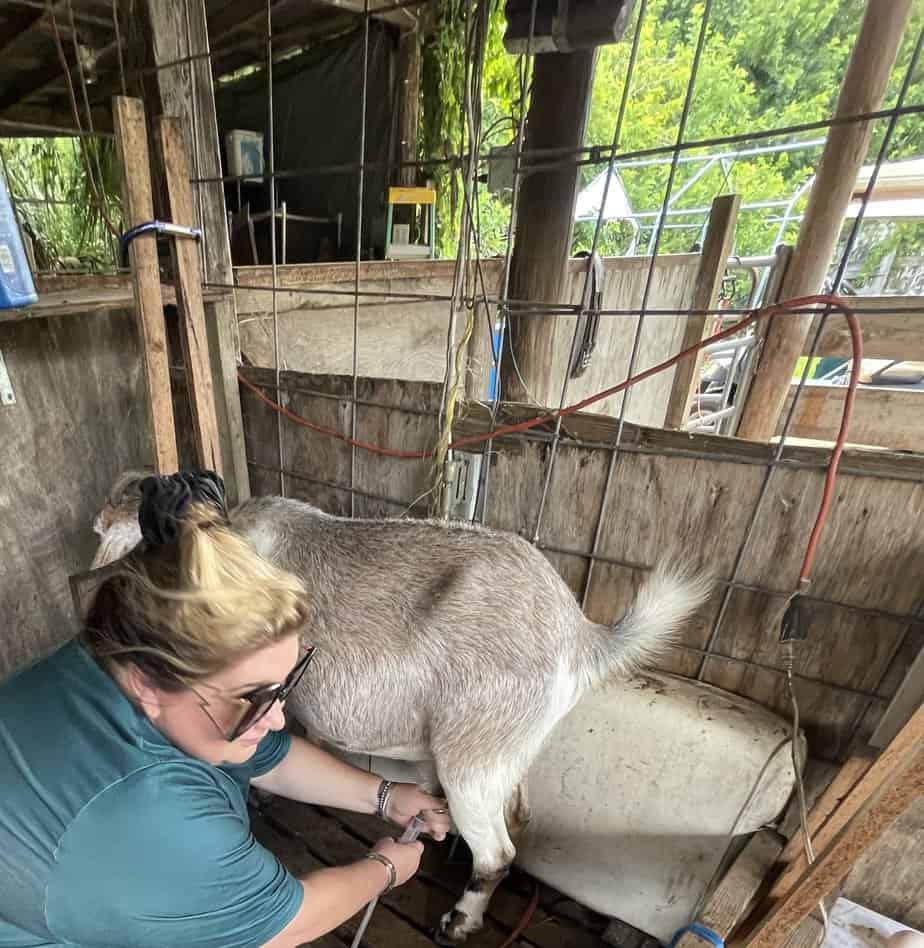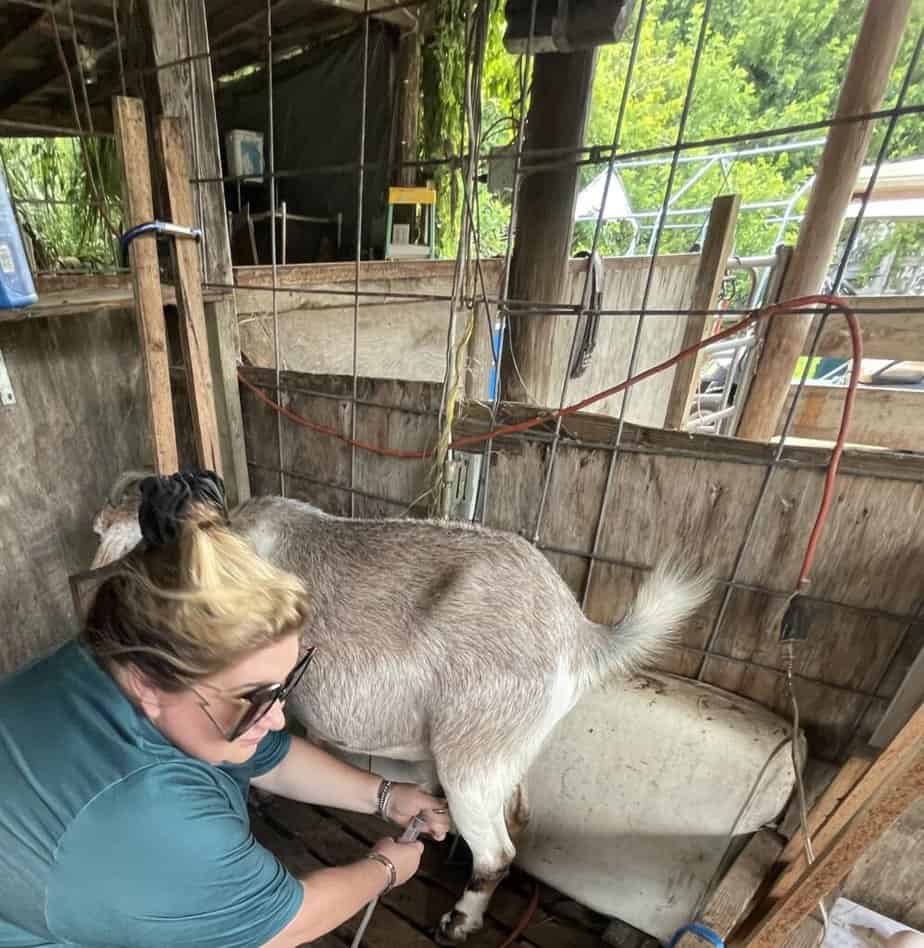 Note: If you go to milk the goats, make sure you leave a donation!
Geneva Goat Company sells farm-fresh eggs, raw goat's milk, goat cheese, fresh-baked bread, and veggies. They also have products for sale in the Danville General Store. I bought some goat soap, and I am still using it. I'll be buying some more when I return.
I know this might sound daft to people, but I left Danville with a new appreciation for goats. I got to see them in a whole new light, and they sure as heck are cute.
If you already have a thing for goats, check out Goats On The Roof in Georgia.
The Lake Harney Wilderness Area
A wilderness Area Located on the northwest shore of Lake Harney, the first point where "Colonel Harney" reached the shores to set the foundation of Geneva city. Visitors can enjoy the scenic view of wildlife every day from dawn to dusk.
The area is about 300 acres and is a natural habitat of Native American shell middens, several bald eagle nests, oak hammocks, and mixed hardwood swamps. Also, the extensive floodplain marshes in the area provide feeding grounds for wading birds and an excellent opportunity for bird watching and wildlife viewing.
Restaurants In Geneva, Florida
The delicious part of any vacation is the food, and when you travel to Geneva, there are plenty of good places to enjoy a tasty breakfast or late-night dinner.
Jolly Gator Fish Camp
Cuisine: Seafood, American grill, cafe, burgers
Meals: Lunch, dinner
Location: 4650 Florida 46, Geneva, FL 32732
It's an authentic slice of Florida. Enjoy the lie-down and chill with views of the water and landscape. The great place with a fully stocked bar and delicious food options make it a good place for special dinner gatherings and family lunches.
Geneva General Store Inc.
Cuisine: Wings, beer, pizza, sandwiches, and breakfast
Meals: Breakfast, Lunch, dinner
Location: 155 FL-46, Geneva, FL 32732
Established in 1984, the General Store restaurant is an iconic place to visit in the small town of Geneva. Share a nicely cooked steak sandwich or have a beer with friends; it's a good place for making some lovely memories.
The Alibi Bar & Grill
Cuisine: Bar, pub
Meals: Breakfast, lunch, dinner, brunch, after-hours, drinks
Location: 3391 FL-46, Geneva, Florida
The common feature at Alibi is "Perfectly Cooked," whether you want a steak or a burger. Enjoy the excellent service and a glass of wine.
Where To Stay In Geneva, Florida
There are no hotels or motels in Geneva, Florida – none. However, a fantastic property called "Danville" has various accommodations. The accommodations range from a yurt and an air hanger to a treehouse and back!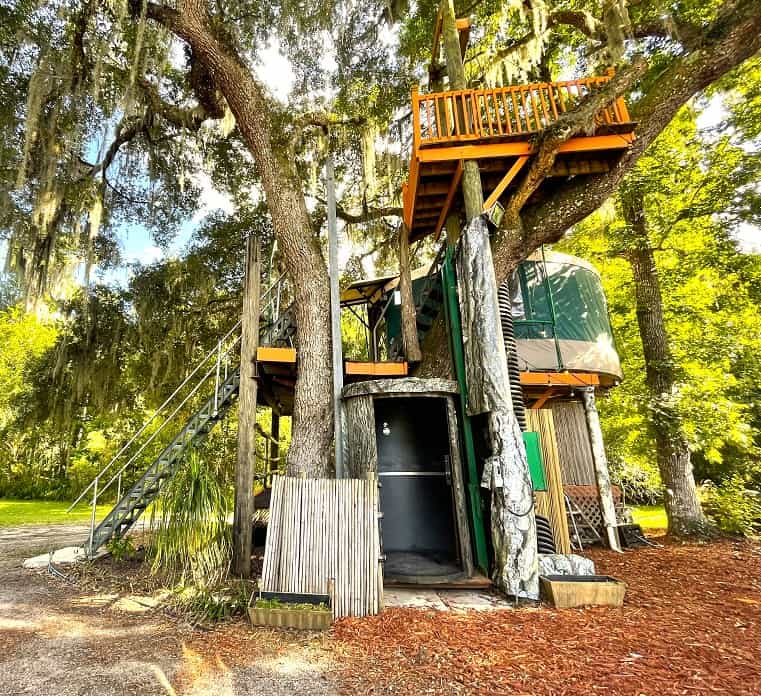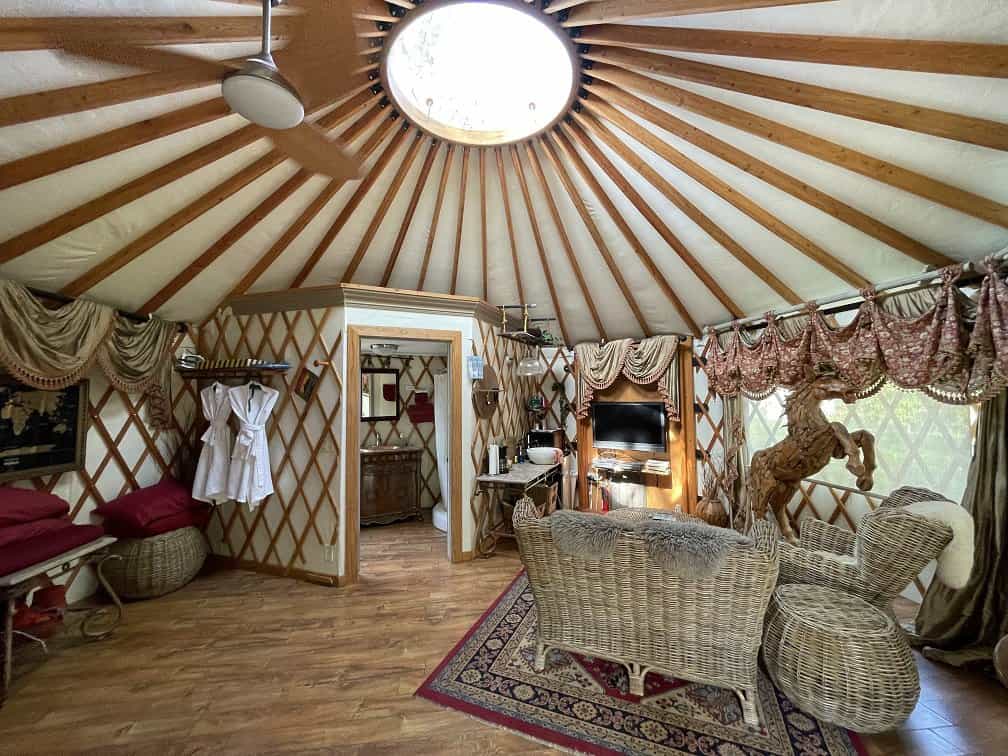 Visit Danville, Florida?
Danville, Florida is for you if you have the slightest itch to stay in an unconventional rental! You'll love this place if you appreciate nature, small towns, and a laid-back approach to life. Danville is for you if you want to get off the grid. If the '60s and '70s were your best days, you would fall in love with Danville. If you are an art collector or historian, you'll be mesmerized. Perhaps you just like farms and if you do, you'll be happy. Or, you may have a thing for 50's golf carts and want to ride the vast collection.
Danville, Florida, is a playground for adults and kids alike. If you can't find something to do here that's different and new to you, it's time to visit the doctor – to get your head checked.
The Location Of Danville, Florida
Address: 232 N. Jungle Rd. Geneva, FL, 32732.
FAQs About Geneva, Florida
Subscribe to our newsletter and get the best travel tips and inspirational stories delivered monthly. No spam, no sales pitches – TRAVEL!
Brit On The Move™ Travel Resources
Ready to book your next trip? Use these resources that work:
Need more help planning your trip? Check out our Resources Page, highlighting the great companies we trust when traveling.