Florida Christmas Markets – The Complete List Of Them All
During the holiday season, many cities worldwide celebrate with a Christmas market. Florida is no exception, and there are plenty of Florida Christmas markets in various cities nationwide. Get in the holiday mood by visiting one of the traditional markets where the smell of Christmas trees, mulled wine, and cookies will trigger the Christmas joy in you.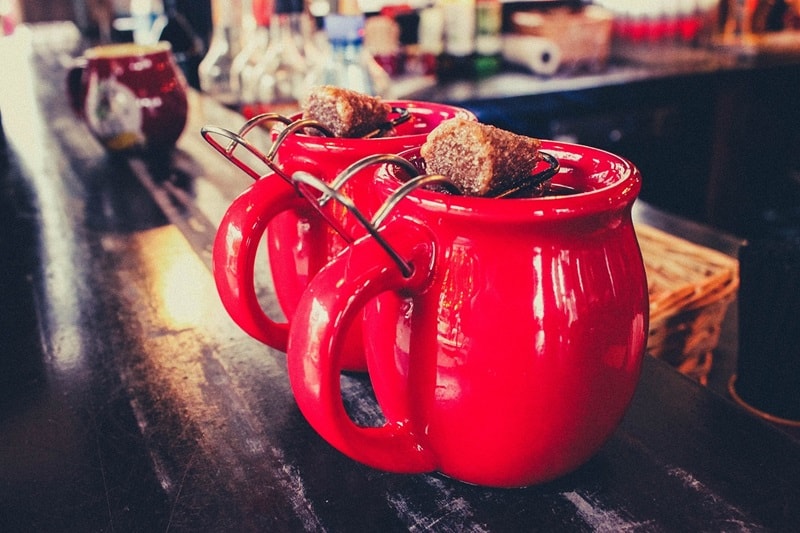 This post may contain affiliate links. Please read our disclosure and privacy policy for more information.
History of Christmas Markets
The December Market in Vienna throughout the middle times was the precursor to the Christmas market as we understand it today. It was first mentioned in 1298 when locals were allowed access to host an Advent Krippenmarkt. The first Christkindlmarkt was held in 1384, a century after opening open-air winter street markets in Germany, which became more closely associated with the holiday.
This occurred in Bautzen, a highland town in eastern Saxony. These early markets initially just sold meat, but as time passed, they expanded to offer other necessities, seasonal sweets, displays, and crafts, all to the accompaniment of singing and dancing.
With Martin Luther's views that the birth of Christ was a more suitable gift-giving day than other saints' days, Christmas markets saw a significant increase in popularity in the 16th century.
The churches soon discovered that they had to compete with the markets for the attention of their disciples after initially encouraging the holding of neighboring markets to increase attendance. Since then, holiday markets have become extremely popular. This was when the custom of purchasing Christmas presents started to gain ground.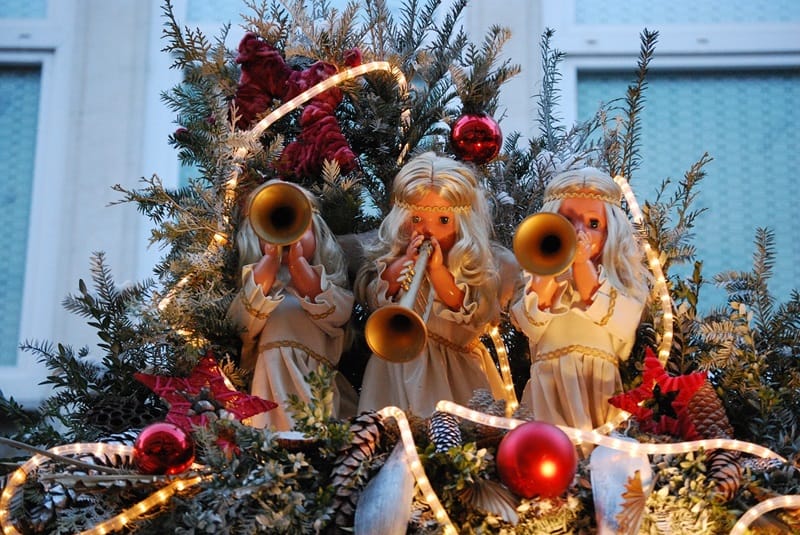 What Is There To Do At A Florida Christmas Market?
Christmas markets are lovely places to explore. They ooze the holiday season vibe. And, despite the lack of snow in Florida, the Christmas markets here still have the same feel as those in Europe. You can look or buy traditional souvenirs and gifts, spend time with friends and family, eat delicious cuisine, and enjoy the holiday spirit. Perhaps the best thing about a Christmas market is they are often free! Few charge an entry fee, giving you the perfect opportunity to enjoy the festivities without obligation to buy anything. Note that some on this list charge a nominal entry fee, so check before you go.
Looking for FREE things to do in at Florida Christmas? See this: 50 Plus Free Things To Do In Orlando at Christmas
The extent to which European Christmas markets go in the winter is over the top; they are a spectacular experience unmatched in America for spreading holiday pleasure. Even if you've never been to one, they are nostalgic and full of holiday traditions, fantasy, and joy. Many people cry when they go to a Christmas market, which, while it might seem corny, is the overwhelming joy they feel. They'll become your go-to method of holiday preparation.
What To Expect:
Enjoy Light Displays – At Christmas markets throughout the country, you will see some of the best Christmas light displays. Tens of thousands of glittery lamps dance and sparkle everywhere.
Eat Tasty Foods – There are Christmas markets all over Florida where you can find everything from burn sausages to gigantic puffy bretzels, flavorful soups and stews, roasted chestnuts, potato cakes, and all the favors you could ever assume – plus gluttonous areas of expertise like truffles, foie gras, caviar, and escargot.
Buy Gifts – Christmas markets are great places to discover unique gifts for Christmas, including toys, trinkets, chocolates, cakes, biscuits, apparel, and more.
Get Holiday Decorations – Christmas markets contain some of the most exquisite and distinctive displays; some shops have stunning structures that are entirely covered to make you feel comfortable on freezing nights outside.
Meet Santa – Almost all Christmas markets have Santa pay a visit.
Many larger town markets include skating rinks, parades, pony rides, competitions, and other traditional festive activities. Most Christmas Markets are outside throughout the chilly winter months. Let the good times begin by grabbing a warm cup of wassail, mulled wine, gluhwein, slivovica, or maybe some kinder punch.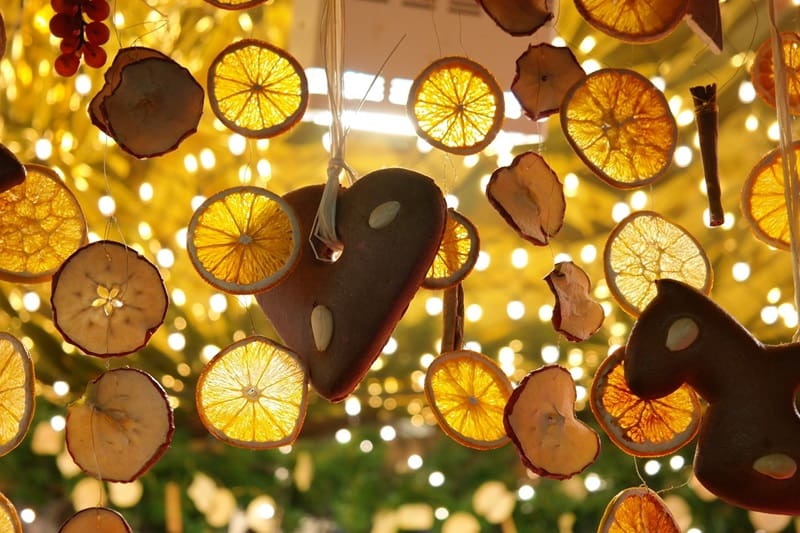 Florida's Christmas Markets
Numerous Christmas markets in Florida provide food, music, and the finest in regional stores. Consider one of these weekend markets to buy a special present for your best friend. Swap out your local mall for a market that offers everything Christmas.
Before making plans, please double-check directly with the event to ensure accurate information. It's always better to be safe than sorry about dates and details!
American German Club's Christkindlmarkt – Lake Worth
Lake Worth, Florida, annually hosts a German Christmas Market at the German American Club of Palm Beaches. Families and friends get together to celebrate the holidays in an old-world tradition. There are some festive traditions straight from Germany that are perfect for adults and kids alike. You can taste everything from roasted nuts to bratwurst, schnitzel, Gluehwein, potato pancakes, and strudel.
With its plethora of activities, entertainment, and even some holiday shopping, the Christkindlmarkt adds some old-world charm to the holiday season. You'll find handcrafted favorites such as Christmas ornaments and other holiday treasures at the best place to buy Christmas gifts in Florida this year.
Christkindlmarkt is one of the most well-known and traditional Florida Christmas markets. It offers not only delicious food and drinks but also holiday music, holiday carolers, a brass band, a dance group, and even Santa Claus! Celebrate the most beautiful time of year in Florida at this Christkindlmarkt.
An Olde Fashioned Holiday – Del Ray Beach
At Old School Square, the Fieldhouse (formerly The Vintage Gymnasium) will host the annual juried art and craft show of the Southern Handcraft Society, Pineapple Grove Chapter. The longest-running indoor art and craft show in Delray Beach, this is the most spectacular event. This is our biggest and best year yet! The unique works of art and crafts created by our local crafters and artists are of distinction. Our gift and holiday items include Christmas, Hanukkah, Thanksgiving, and things suitable for any occasion. Stunning Limited Edition ornaments, limited to 100 pieces, are always available. There are jewelry, cards, journals, shell art, glass art, handpainted and turned wood pieces, ornaments, purses, quilts, hand-knit hats, sweaters, blankets, and local honey. Get ready to be amazed by all of our local talents. This year, we have many new and spectacular items.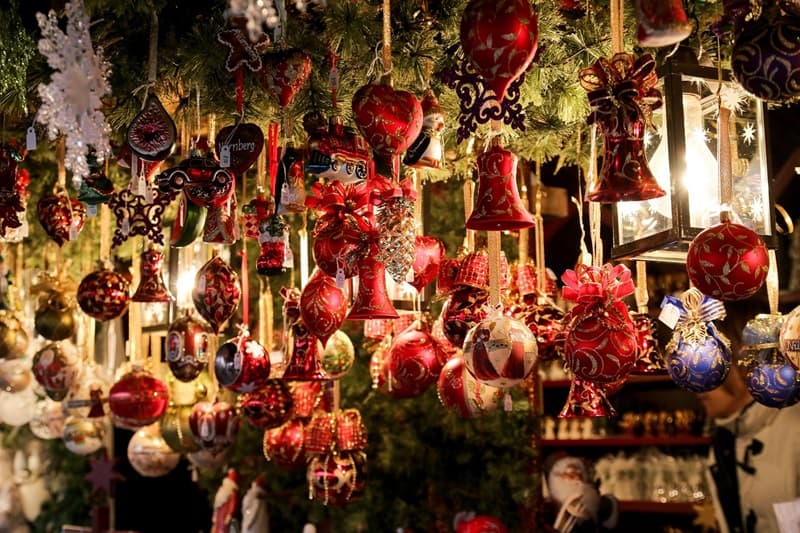 Art & Craft Holiday Bazaar – Cocoa Village – Cocoa Beach
Over 200 Unique Artists & Crafters! Two days of fabulous Arts and crafts. There is fantastic street food and live entertainment throughout the grounds. Kid & pet friendly!
Atomic Holiday Bazaar – Sarasota
Atomic offers screen-printed t-shirts, faux taxidermy, upcycled items including home decor, clothing, and jewelry, vintage clothing, kitsch, lowbrow to elegant fine art, holiday cards, jams, jellies, doggie stuff, felted art, plants, plushies (unusual and humorous creatures), pop culture-graphic art posters, dark sentiments, body products, candles, beachy vibe stuff, ethnic Latin textiles, rock n roll edgy clothing.
And this steampunk-esque outfit puts a unique spin on Florida Christmas markets. Over the top, op artsy, and green, Atomic has something for all. Join thousands of others at Robarts Arena at 3000 Ringling Boulevard in sunny Sarasota, FL.
Big Bang Bazaar – Orlando
The best collection of over 100 local independent artists may be at one of Orlando's biggest Florida Christmas markets. You can get anything you want at this market. This market sells everything from clothing to art to jewelry to home products. Get your Christmas shopping done a week before Christmas and find the finest deals there. Sunday will be spent haggling for the most incredible prices and checking things off Santa's list.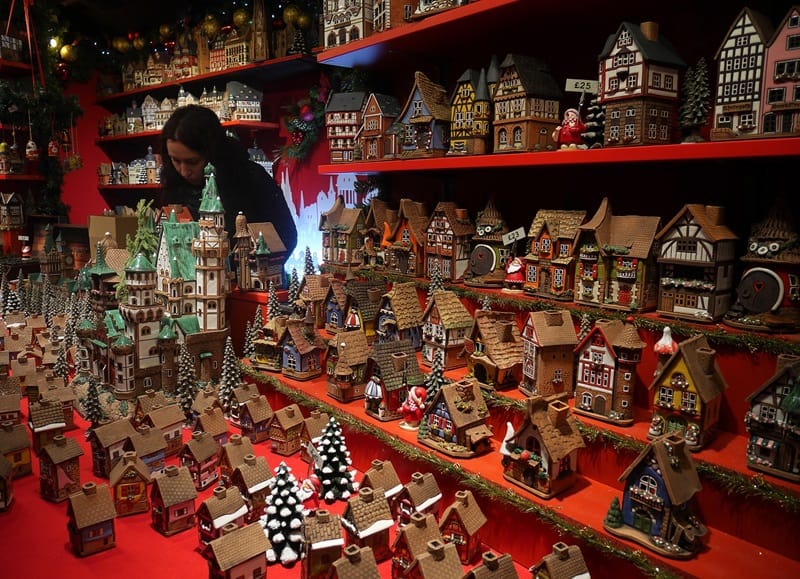 Brandon Annual Holiday Vendor Market – Brandon
Brandon Holiday Vendor Market will host over 80 local vendors and food trucks. Santa will be there for free pictures. Free face painting. Free admission.
Brewing Christmas Market – Orlando
The natural microbrewery in Orlando will host its annual holiday market. Local artists and crafters will sell their wares at the Christmas market, offering food from authentic empanadas catering & vending, desserts from delightful cakes, and live music. Drinking and shopping locally lets you taste the most fantastic local beer during the holidays. You will get a free raffle ticket for each item you buy. Additionally, volunteers will wrap your Christmas presents at no cost to you.
C2C Annual Christmas Market – Seminole
Come for the annual Christmas Market with 25 vendors, including artists, crafters, local small businesses, food, etc.
Christmas Bazaar – North Port
This Florida Christmas market occurs at City Hall Center Green in North Port. There will be custom crafters, local artists & vendors displaying their wares, food trucks & more! Selfies with Santa as well. They are hosted by Local Ladies Social Network, Inc.- LLSN Events!
Christmas in the Country – Tampa
Bring the family for a great day, experiencing the sights, sounds, and smells of an old-fashioned country Florida Christmas market. Learn how the holiday traditions of the 19th century differ from those of the 21st through hands-on historical interpretations, carols, traditional decorations, and more!
Christmas Under the Oaks – Clearwater
GFWC North Pinellas Woman's Club proudly presents the 46th annual Christmas Under the Oaks. This popular local event is our single most significant fundraiser of the year. Our event will feature a variety of exhibitors offering handmade arts & crafts, unique gifts, and creative holiday-themed items. Local food vendors will be in the food court, offering various options. These proceeds are used to fund grants, scholarships, and community service projects in the community.
City Market for Fashion – Miami
Visit The Shops at Sunset Place to participate in this festive fashion land. During this two-day festival, there will be a D.I.Y. shop, a beauty lounge, and unusual photo walls. Investigate the several South Miami-based local vendors instead of purchasing the exact present you purchase yearly. This Florida Christmas market is a terrific place to visit with friends so you can finish buying stocking stuffers.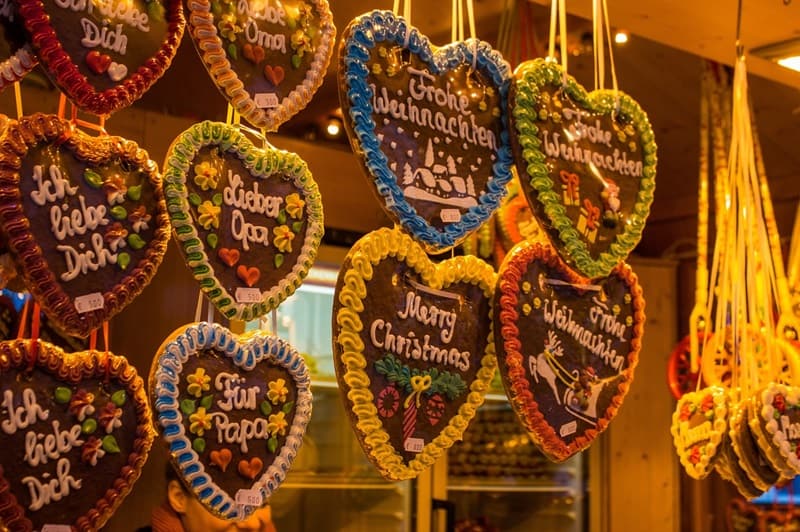 C-Note Grab & Go Art Show – Orlando
This neighborhood tavern must be the last stop on your tour of the seasonal markets. Arrive here to pick up a last-minute gift for your Secret Santa or white elephant giving and receiving. The pub features local artists and musicians showcasing their most recent works. Support your favorite neighborhood artisans and select a piece for your creative friend. All of the artwork is under $100, making it the ideal choice for a special Christmas gift.
Coastal Christmas Market – New Smyrna Beach
Enjoy the variety of beautiful gifts and holiday decor handcrafted by local artisans. The merchants will welcome you into their shops to look at the treasures available all year long on Canal Street.
Shop Handcrafted Holiday Items from 90+ Local Vendors
Music & Demonstrations (on Live Oak)
Grab Lunch or a Snack: Local Restaurant or Street Fare
Deck the Chairs – Jacksonville
Founded in 2013, Deck The Chairs promotes art in public spaces in a Christmas market setting and creates opportunities for children's arts education and outreach in the Beaches. With over 100,000 visitors each year, this is a nationally celebrated holiday experience.
DeFuniak Springs Mistletoe Market – DeFuniak Springs
Part of DeFuniak Springs' Merry Main Street's four-week-long festivities is the Mistletoe Market. This Florida Christmas market features Food Truck Fridays and live music from local and regional artists. The vendors will be set up along Baldwin Ave. between South 7th St. and South 8th St. on Fridays and Saturdays. The goal is to offer downtown shoppers a variety of entertainment, dining, and shopping options in the heart of the beautiful city.
DeLand Indie Market – Deland
Discover the holiday mood while shopping the way independent locals do. Various homemade, vintage, and boutique merchants are featured in this carefully chosen market. You only get an empty bag to begin selecting presents for your buddies. The patio of Cafe DaVinci offers live music and food from neighborhood merchants. You support local businesses by doing your shopping there. If your friend enjoys candles, stock up at this event on the best homemade candles.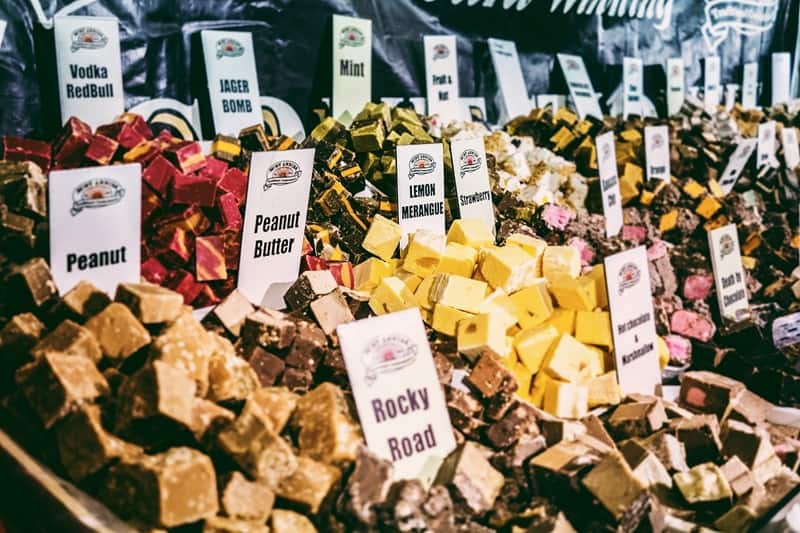 Emerald Coast Christmas Bazaar – Panama City Beach
A wide variety of vendors from coast to coast! Family-friendly holiday shopping and entertainment! A great selection of food and spirits! The bazaar offers beautiful boutiques, sporting goods, children's apparel, amazing artists, custom furniture, and home decor. There will be crafts with Santa, face painting, balloon artists on stilts, and much more! Prizes for the raffle are great! This event benefits Second Chance of NW Florida Brain Injuries.
Enchant Christmas – St Petersburg
Enchant Christmas creates the World's Largest Christmas Light Maze with ice skating, dining, shopping, and photo visits with Santa and Mrs. Claus using light, art, and story. Enjoy a heartwarming and memorable evening with your family and friends at Enchant.
Fancy Flea Country Christmas Market – Dade City
Enjoy the season's splendor with excellent vintage shopping and more in picturesque Dade City! This is an outdoor street show with free admission.
Fox Lake Winter Festival of Crafts – Titusville
This festival began in 1994 when the traditional Christmas Craft Sale at Sandrift Recreation Center was combined with the fall sale of homemade crafts at Tom Statham Park. The first festival was hugely successful, with about 100 artisans and 5000 shoppers. The popularity and growth of the festival were demonstrated last year, with 12,000 in attendance and more than 250 displays of handmade or homemade crafts.
Grandma Party Bazaar – Orlando
Go shopping with your grandmother or friends at this grand bazaar in Orlando. The trendy, vegan-friendly cafe Stardust Video & Coffee is the venue for this Florida Christmas market. For a unique shopping environment, the organizers invite the top antique dealers, zine publishers, and artists from Orlando. While you browse and enjoy live music from Wet Nurse, Tiger Fawn, and other bands, DJ Nigel John will play the finest songs. Find the one-of-a-kind piece of art you've been looking for for your living room, then relax with a coffee and some music from the neighborhood. For the gypsy at heart, it's the ideal setting.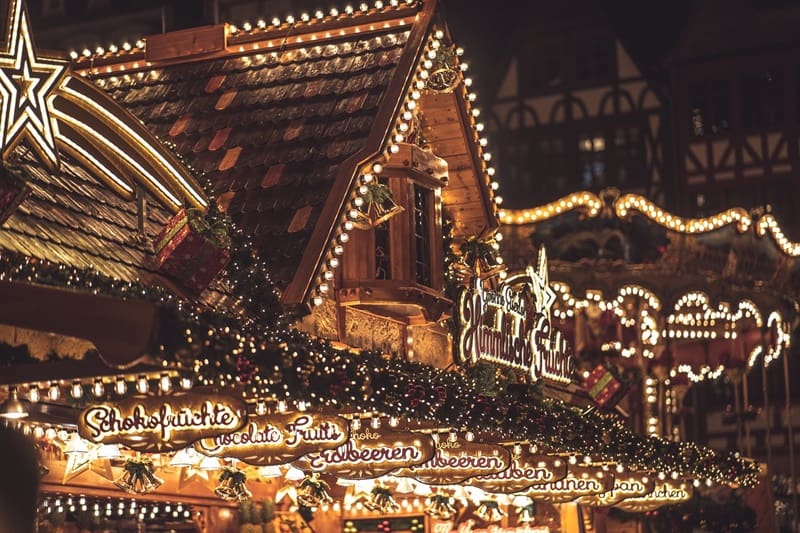 Haven Holiday Market – Winter Haven
The Annual Haven Holiday Market is brought to you and promoted by Central Florida Event Vendors. This event will feature 150 vendors, including arts and crafts, holiday gifts, vintage, fair trade goods, cottage food, fresh gourmet, local authors, kids' art area, food trucks, live music, and more. This will be the perfect venue and place to start your holiday shopping and maybe even finish! Also, the community will have the opportunity to meet several local authors and purchase their books.
Holiday Magic Bazaar – Coral Gables
Visit this enchanted bazaar to complete your holiday shopping rather than waiting an hour on hold with U.P.S. or FedEx. Finish shopping for Christmas and locate the most extraordinary stores in town decorated in theme. You can pick up some cookies on your way out, and your relatives will be curious about where you got your presents. They will never learn this secret.
Holiday Market in the South – St Augustine
Jacksonville Business Connections invites you to their Holiday Market in the South, featuring 100 creatives and retailers at the Renaissance World Golf Village Resort.
Accessible to the public & indoor event
The first 30 guests receive FREE swag bags!
Kid-friendly event – Santa Meet & Greet
The quarter Auction Event is at 4:30 after the event.
HoliDazzle Market at Anthem Church – Fort Myers
Holiday shopping event with vendors, crafters, and artisans. Meet and greet Santa Claus and have your picture taken.
Junior League of Tampa's Holiday Gift Market – Tampa
The goal is to provide attendees a thoughtfully curated Florida Christmas featuring products and makers nationwide. To create a unique shopping experience, the Holiday Gift Market accepts merchants from various categories, including apparel, home & holiday décor, gourmet food & cookware, children's gifts, and more.
Light Up SoDo – Orlando
The SoDo neighborhood features one of the best main streets in the nation, with distinctive local stores, exhibitions of art, and film festivals. The area is bringing the Light Up SoDo market for a fun-filled evening this December. Pets are welcome at the event, offering many family-friendly activities. You may enjoy train rides, bouncy houses, face painting, and a Florida Christmas market. As you assist Santa in gathering gifts, kick off the last month with a family-friendly holiday event.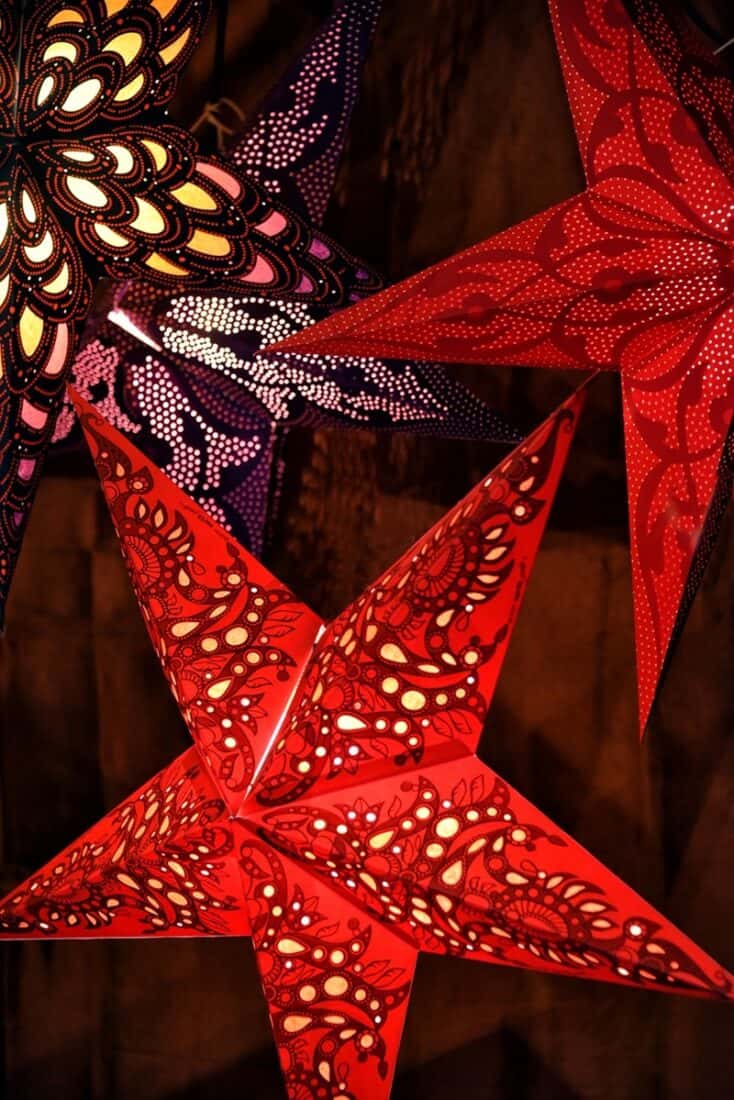 Lions Parent Association Christmas Boutique & Craft Market – Fort Lauderdale
The annual Boutique & Craft Market presented by the Lions Parent Association is a Fort Lauderdale tradition spanning four decades. Hosted in the Kennedy Fellowship Hall of Coral Ridge Presbyterian Church, this festive event is the beginning of the Christmas season for many in our community. Over 80 craft and retail booths feature high-quality, handcrafted, non-handcrafted gifts, unique home and holiday decor, jewelry, woodworking, clothing, and other specialty items. Enjoy the spectacular Christmas Café and visit the Student Vendor Marketplace, where our youngest entrepreneurs sell their products and crafts to showcase their businesses.
Mistletoe Market in Bartow – Bartow
The Mistletoe Market is located in downtown Bartow. Over 80 vendors congregate downtown to sell handmade holiday wares and other assorted merchandise. As an added holiday bonus, children can enjoy Christmas fun by eating cookies and hot cocoa, writing and mailing letters to Santa, and visiting Mr. and Mrs. Claus.
If you visit Bartow be sure to visit The Wonder House – it's also decorated for Christmas.
MTRA Arts & Crafts Market – Ocala
MTRA will be hosting its Annual Arts & Crafts Market. This family-friendly event supports Small Business Saturday with local vendors while raising awareness for MTRA's programs, including Therapeutic Riding, Freedom Reins for Veterans, and the Equine Experience for Foster Children and at-risk Youth. This event is open to the community and gives local artists and small businesses a way to showcase their arts and crafts!
The Christmas market hosts 40+ arts & crafts and direct sales vendors, live music & dance performances, a photo booth, a car show, food, pony rides, pie eating and baking contests, and a fun activity area for the entire family!
Oh, What Fun!® Holiday Festival – Lake Nona
Step into a spectacular winter wonderland with holiday magic around every corner during Central Florida's favorite holiday festival; oh, What Fun! Located in Lake Nona Town Center, or as it's known for the holidays, Peppermint Square is a season filled with celebrations.
Take advantage of a collection of holiday-themed pop-up food stands while strolling through Peppermint Square. Please take a picture with Santa and Mrs. Claus in their whimsical winter cottage. Together, create holiday memories that will last a lifetime along Oh, What Fun! A 24-foot-tall Christmas tree is Peppermint Square's centerpiece. Would you like to take your own tree home with you? The Peppermint Forest Christmas tree lot near Boxi Park is the perfect place to find the perfect holiday tree for your family.
Live performances will be presented throughout the festival at the Starlight Stage in front of "The Beacon," including Peppermint the Penguin's dance parties. Children can make crafts, watch classic holiday movies, and participate in costume contests and trivia at Boxi Park.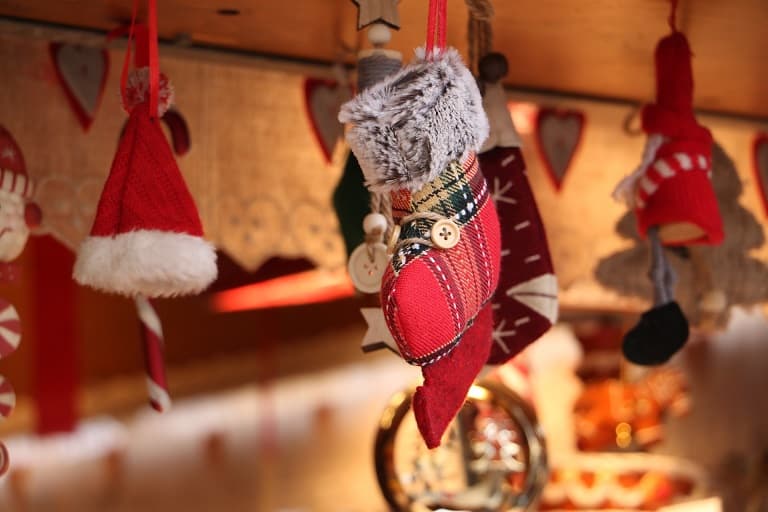 Palmetto Kris Kringle Market – Palmetto
The 700-year-old tradition of the open-air Christmas markets throughout Europe inspired the Kris Kringle Market. The event features one-of-a-kind shopping, art, wreaths, and handcrafted gifts for the holiday. All locally made and one-of-a-kind Christmas finds. This one is not to be missed, so mark your calendars.
There may be a visit from the man himself!! Multiple food trucks for this event Smokin Momma Lora's B.B.Q. Truck! Note: only take cash payment on the day of the event.
Pensacola Winterfest – Pensacola
Snow begins falling as soon as you enter Plaza Wonderland on Palafox Place. It brings back memories of the Polar Express when you drink hot chocolate and hear a trolley bell. The conductor calls your name: All aboard for the most beautiful journey you will ever have this Christmas season. Ride the mini-train through Winterfest's magical scenery, lights, and snow! Visit Santa in his sleigh for family photos with the Grinch. Santa would love to meet you! Don't miss the Free preshows every night. Sing and dance along with your favorite characters throughout the night. Get your family picture taken now by booking your reservation. The Grinch may also surprise you with a photo or two if you intrude upon him. Winterfest's preshows are free and open to the public, with events happening every few minutes.
Pioneer Christmas & Vintage Market – Dade City
Pioneer Christmas & Vintage Market is an outdoor event. It offers excellent, unique vendors for great Christmas presents, food trucks, live entertainment, craft demonstrations, children's reindeer games, and more. Make and take home arts and crafts and ornaments, or take part in cookie decorating. Grab the perfect family photos, listen to Christmas Carols, or build decorations for Christmas. There are even docents in period dress, a quilt raffle, model trains, blacksmith demonstrations, pony rides, and a gnome scavenger hunt with prizes, all set in a traditional Florida Christmas market.
POP SWAP Holiday Market – Orlando
Floridians can experience a bohemian vibe at this Christmas market. Park Ave CDs, Dear Prudence Shop, and The Lovely Boutique Market are the event's hosts. Numerous regional sellers specializing in vintage apparel, albums, and pop culture memorabilia can be found. After purchasing gifts for your friends, grab a break at one of the neighborhood food trucks. The event will take place at Corrine Drive. It's a terrific spot for discovering vintage albums and taking a stroll while enjoying live R&B music from neighborhood musician Gina Falcone. Mercantile Coffee Co. will also supply coffee.
Pottery Festival – Orlando
Over 50 vendors selling the finest ceramics and pottery will be present at this Florida Christmas market. It's time to spruce up your etagere and gift your folks some hip art. The Orlando Pottery Festival is unique, and you can find one-of-a-kind items only here. Consider buying your neighbor superb pottery for their plants or living space instead of heading to the big-name stores. A handmade present is usually a good choice; you can find everything from jewelry to sculpture to durable dishware.
Salt Air Farmer's Christmas Market – Port St Joe
Two significant Christmas events are Port St Joe. Enjoy the Christmas market with 35 vendors and live entertainment by The Port St Joe High School Band of Gold. The Port St Joe Garden Club will host a Christmas in the Garden Celebration at the Garden Center at 216 Eight Street in Port St Joe. Both events will offer unique homemade gifts, baked goods, and something for everyone.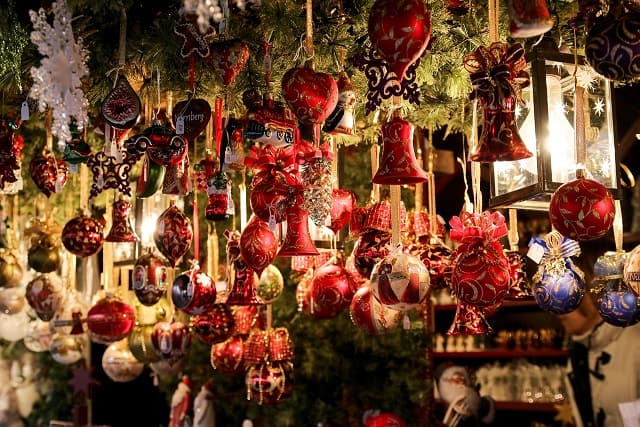 Shops at Wynwood Market
The Wynwood Market consistently brings together the finest local fare from Miami. With new suppliers and the best food trucks, the market presents its Christmas in December. Take a break from the tense lines and packed malls and go outside instead. The Christmas market will include local craftspeople from all over the city and a fantastic atmosphere. Buy last-minute presents and sip a local beer at the same time. Before Christmas, you'll find the most festive atmosphere and unique sellers.
Tampa Bay Holiday Market – St Petersburg
Celebrate the holiday season at the Holiday Market at The Coliseum in downtown St. Petersburg ! Make sure to bring your holiday to-do list because there will be many unique merchants displaying their products.
Tampa River – Holiday Fest – Tampa
This "Open Air Festival" will showcase gifts from home decor, plants, local artwork, handcrafted jewelry, small batch & chef-made foods, baked honey, spices, paper goods, apothecary goods, sauces, and more, all in time for the holidays! The Riverwalk offers a festive atmosphere & Your Tampa Markets invites you to join in on the music and locally curated vendors!
The Daily City's Holiday Market – Orlando
This Florida Christmas market is where you can discover antiques, food, and truck merchants. Orlando's top handcrafted local sellers will be at this inside market fair. At the Confection Fest, you will be amazed and sample some of the tastiest desserts ever. You can complete your Christmas shopping and eat the best seasonal fare regardless of whether it rains. We advise you to arrive early to avoid missing out on the event because it is becoming increasingly popular.
The Holiday Market at Schenley Park – Miami
At Schenley, this occasion is open to the whole family and community. A toy drive for Radio Lollipop, blood drives, local vendors, and the best food trucks, including El Mago de las Fritas, Don Ramón Pizzeria, and Kona Ice, will all be featured at the market. Let your child enjoy the bouncy house while you shop or snap pictures of them with Santa. You can purchase raffle tickets for an opportunity to win gifts and toys at the market.
Town of Callahan Christmas Parade and Craft Fair – Callahan
The Town of Callahan Christmas Parade and Craft Fair is hosted by the West Nassau Historical Society, an all-volunteer 501c3 nonprofit dedicated to discovering the rich adverse history and culture of Nassau County, especially the western half of the county. The parade lineup, route, and return area are on Warrior Drive.
Will's A Faire Holiday Market – Orlando
You can enjoy live music and food trucks at the Mills 50 District's beloved Will's Pub's retro vintage market. As well as seasonal beers and alcohol, Will offers a great selection.
FAQs
Which city has the most Christmas markets?
Berlin, Germany
There are more than 100 Christmas markets held across Berlin each year, so the German city does not take its Christmas festivities lightly. The trendy Christmas market is Alexanderplatz, where bratwurst, gingerbread, and mulled wine fill the air.
Where is the best place for Christmas markets?
Europe is the continent in the world for Christmas Markets. Here are some of the most famous places:
·         Basel, Switzerland.
·         Berlin, Germany.
·         Bruges, Belgium.
·         Budapest, Hungary.
·         Copenhagen, Denmark.
·         Lille, France.
·         Vienna, Austria.
·         Zagreb, Croatia.
Does Miami have a Christmas market?
From November 15th to February 15th, urban space Lincoln Road Holiday Market will be open Monday through Sunday, 11 a.m. to 9 p.m., to enjoy Miami's newest holiday tradition.
Closing Thoughts
If you want to make all your Christmas wishes come true, Florida's Christmas markets are necessary. It never gets old, and you'll always get a healthy serving of holiday cheer. Unforgettable memories make November and December feel warm and festive. Christmas markets are an excellent way to celebrate the holidays, individually or with friends and family.
Do you know of a Christmas market in Florida that's not listed here? Let us know, and we'll gladly add it!
Looking for more seasonal things to do in Florida? Start here:
We participate in the Amazon Services LLC Associates Program, an affiliate advertising program designed to provide a means for us to earn fees by linking to Amazon.com and affiliated sites.
Subscribe to our newsletter and get the best travel tips and inspirational stories delivered monthly. No spam, no sales pitches – TRAVEL!
Brit On The Move™ Travel Resources
Ready to book your next trip? Use these resources that work:
Need more help planning your trip? Check out our Resources Page, highlighting the great companies we trust when traveling.