It snows lightly in the northern panhandle a few times a decade. But most of the state of Florida is too far south of the cold air masses that cause snowfall elsewhere. The majority of Florida receives no snow. But you can enjoy Snow in Florida. How? There are a few festivals that occur in Florida where you can enjoy the snow. And, there are options to enjoy snow in dedicated snow parks. In this article we will give you information about where to see and enjoy snow in Florida.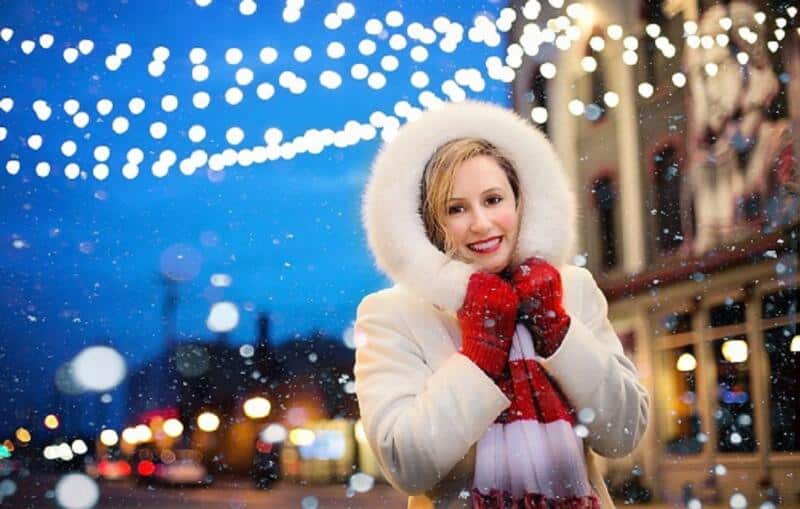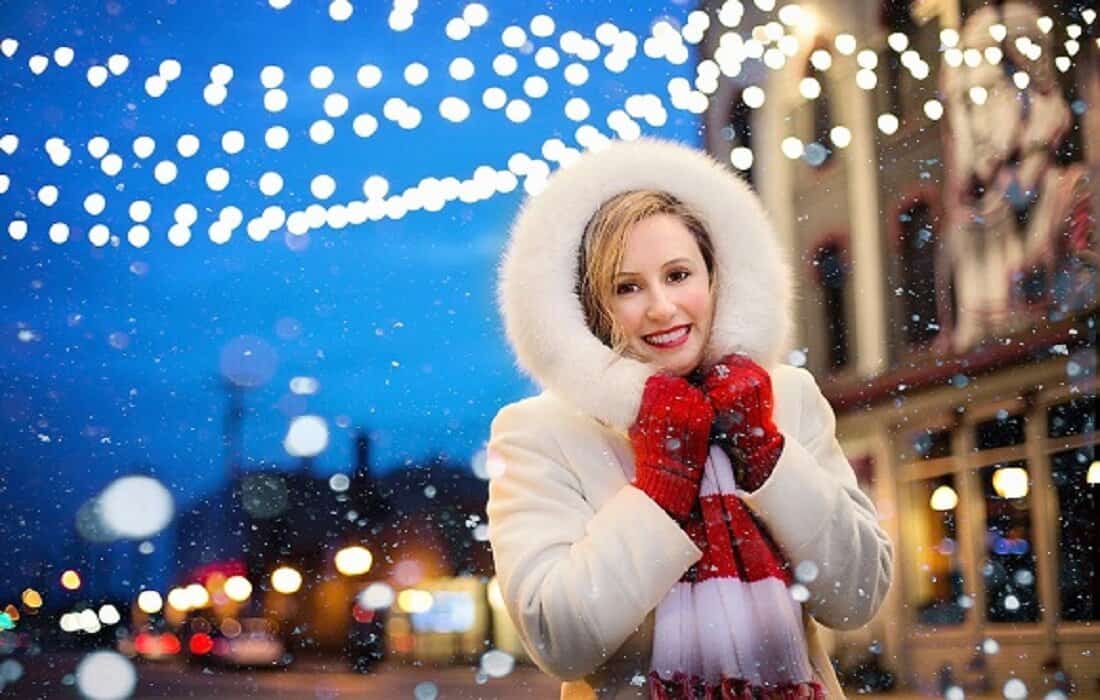 This post may contain affiliate links. Please read our disclosure and privacy policy for more information.
Where To See Snow In Florida?
Believe it or not, snow in Florida is a thing. Granted, we don't get a lot of mother nature's snow, but that does not stop us from getting our snow fix in. Be it through ice machines or snow machines, plenty of places create the magical experience of snow falling.
Fake Snow – Aka Snow in Florida Generated By Machines
Enchant Christmas – St. Petersburg
Among the attractions at Enchant Christmas are the world's largest Christmas Light Maze, a Christmas Market, and an ice skating trail. Various parts of the interest, including the light maze, have "snow."
Enchanted Christmas Village – Jacksonville
Through December, bring your family to the Enchanted Christmas Village for an unforgettable holiday experience with over one million lights, caroling, rides, entertainment, food, pictures with Santa, snowfall, and much more.
Festival of Lights, Stephen Foster Folk Culture Center State Park – White Springs
In this park, you can roast marshmallows and sing carols, see snow flurries and see millions of lights twinkling in the majestic oak trees. There is a drive-through viewing during the Festival of Lights as well.
Give Kids the World Village – Kissimmee
Children with critical illnesses and their families are given free vacations at Give Kids the World Village, a non-profit resort in Central Florida. Over three million lights that Disney World donates are displayed in 45 residential villas typically reserved for wish families during Night of a Million Lights. Near the Banyan Park villa complex, a nightly snowfall occurs at the event's entrance. Partners like SeaWorld, Universal Orlando, and Kennedy Space Center sponsor and decorate the villas.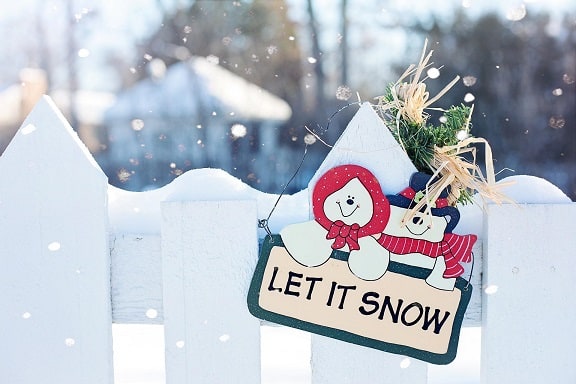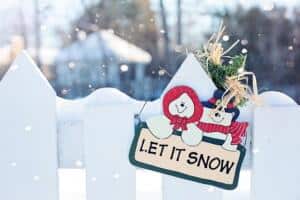 Holidays at Old Town – Kissimmee
There is a festive decoration on display at Old Town through December. Visitors can also enjoy live music and "white, fluffy snow" falling on the streets on select nights.
Harry P. Leu Gardens – Orlando
Lights, music, interactive elements, and snow transform the 50-acre botanical garden into a three-quarter-mile holiday trail. Visitors pass through nine immersive areas, including a glowing forest, ornaments 10 feet tall, and a 65-foot tunnel of light. An enchanting Christmas melody and gentle snowfall await you at the end of the path.
Jolly Creek – Kissimmee
Jolly Creek offers all that and more in Florida, including the chance to meet Santa, see snow, and support a worthy cause. The event includes Christmas lights, holiday photo spots, crafts, festive foods, live music, and snow.
Snow starts falling from the sky during the live performance of White Christmas or Let It, Snow. Snow can even be requested on demand if guests are lovely to Santa. Second Harvest Central Florida Food Bank will benefit from proceeds from the event.
Let it Snow Winter Wonderland Festival – Lake Nona.
Nona Adventure Park transformed into a Winter Wonderland, complete with a 100-foot long dual snow slide, snow flurries, a FroZone with a winter princess, and an L.E.D. dance party during the holiday season. In addition, you can enjoy North Pole village with characters, crafts, food trucks, reindeer games, Santa photos, and more.
Light Up U.C.F. – Orlando
The annual event will feature 45 days of movies, light shows, rides, ice skating, and other activities — plus more than 200,000 pulsing lights and snowfall.
Music and Magic at CityPlace – West Palm Beach
Starting in December, West Palm Beach will celebrate the holidays with a tree lighting celebration. Bring the kids to CityPlace each night (except Christmas) until the end of December for snowfall. Be sure to see Sandi, the famous tree made of sand that weighs 600 tons.
Now Snowing Nightly – Celebration
The Central Florida town is a great place to spend Christmas if you miss snow. You can enjoy beautiful snowfall in the little town from November to December. In addition to ice skating and caroling, there are other entertainment options like the Santa photo shoot. If you are about to visit Florida, don't miss the now snowing nightly Celebration. During the night, snowfall occurs frequently.
Pensacola Winterfest – Pensacola
Pensacola holds an Elf Parade in November as part of its annual Winterfest. A trolley tour, performances, snow, and Santa's visit are just a few of the things you can expect.
Sarasota Snow Fest – Straub Park
Sarasota's signature winter event brings families together to play in the snow and celebrate the holiday season. You can ride giant snow slides, take pictures with Santa, build a snowman, build a giant snow globe, enjoy live shows such as candy cane hula hoopers and jelly bean jugglers, enjoy a kids amusement area, enjoy D.J. Grinch, and more! The events occur in Sarasota's premier event location at the end of the year.
Snow in the Park – Mount Dora
Mount Dora's Snow in the Park event takes place in December. Mount Dora's Snow in the Park has everything you need for a beautiful day. Among the highlights of the events are snow sledding, holiday princesses, live music, whirling cocoa cups, vendors, collections of toys for tots, and a lake care food pantry. Donate a toy or food to get a 'fast pass for the festivities like snow sledding. Explore the lakefront town's local shops and holiday lights and experience unforgettable.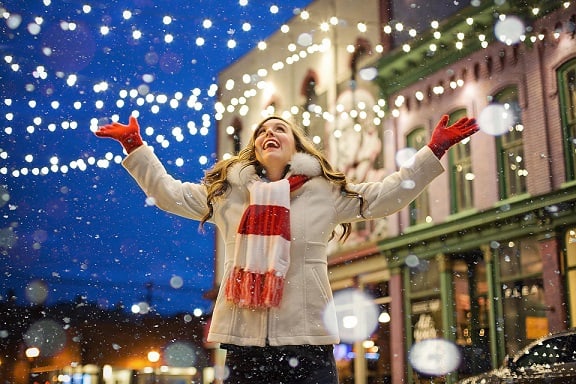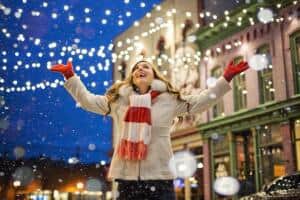 St. Petersburg Snowfest – North Straub Park
North Straub Park is beautiful this time of year when the Christmas tree and park lights will turn on. Enjoy Snowfest, with lots of activities, cookie making, and 64 tons of snow.
Walt Disney World – Orlando
You will see snow at Disney World outside the park gates. Snow flurries can be enjoyed every night at Disney Springs, Disney's shopping, dining, and entertainment complex. There will be toy soldiers on stilts, snowflakes on skates, and D.J.s spinning holiday tunes at Disney Springs Town Center, West Side, and The Landing areas.
Wekiva Island's Winter Wonderland – Longwood
Wekiva Island is transformed into a winter wonderland to celebrate the snow. Among the palm trees, visitors will find Santa and Mrs. Claus, festive food, and thousands of lights every evening. It will even snow during the event. Wekiva Island is the perfect place to enjoy the festivities at the year's grand opening.
Winter Fest at Snow Mountain – Oviedo
In Center Lake Park's winter celebration, you can enjoy snowfall at the end of the year. Various fun activities will be offered, such as a snow mountain, a snow pit playground, a Santa bounce house, a holiday train ride around Center Lake, a photo with Santa, and cookies with a police officer. There is room for everyone, so bring your family and enjoy snowfall at the winter fest at snow mountain.
Where To See Real Snow In Florida
Do you want to enjoy natural ice in Florida? Gaylord Palms resort in Florida allows you to experience natural ice. Gaylord Palms Resort and Convention Center kicks off the holiday season with one of the world's most spectacular ice displays. With this two million-pound ice exhibit at Gaylord Palms Resort, you'll feel like you're in the North Pole. There is an Arctic forest, a Christmas carnival with a life-size carousel, and Santa's ornament room filled with ornaments. The children can enjoy ice slides and meet Santa Claus in the interactive areas. Among its best features are the ice slides, which require extreme caution to land safely.
The resort also offers a variety of holiday activities, including a Shine Light Show with thousands of dancing lights and a Christmas Tree Trail. Gaylord Palms Resort in Orlando, Florida, is one of the most beautiful family-friendly resorts you've ever seen.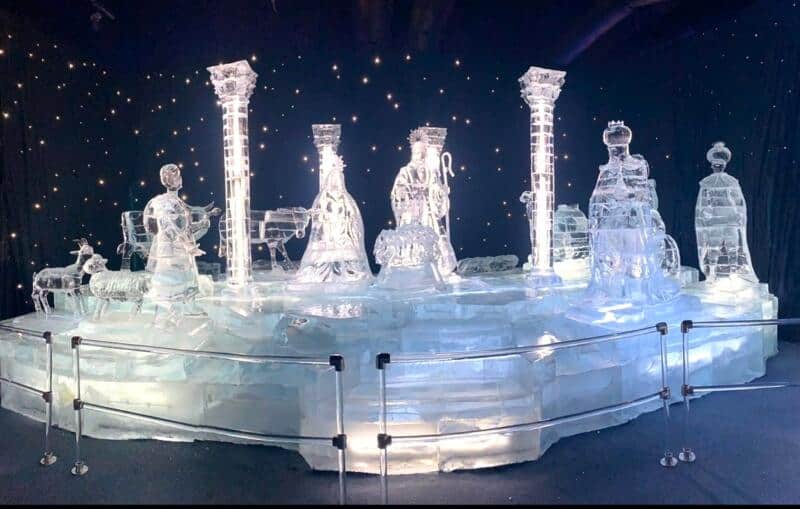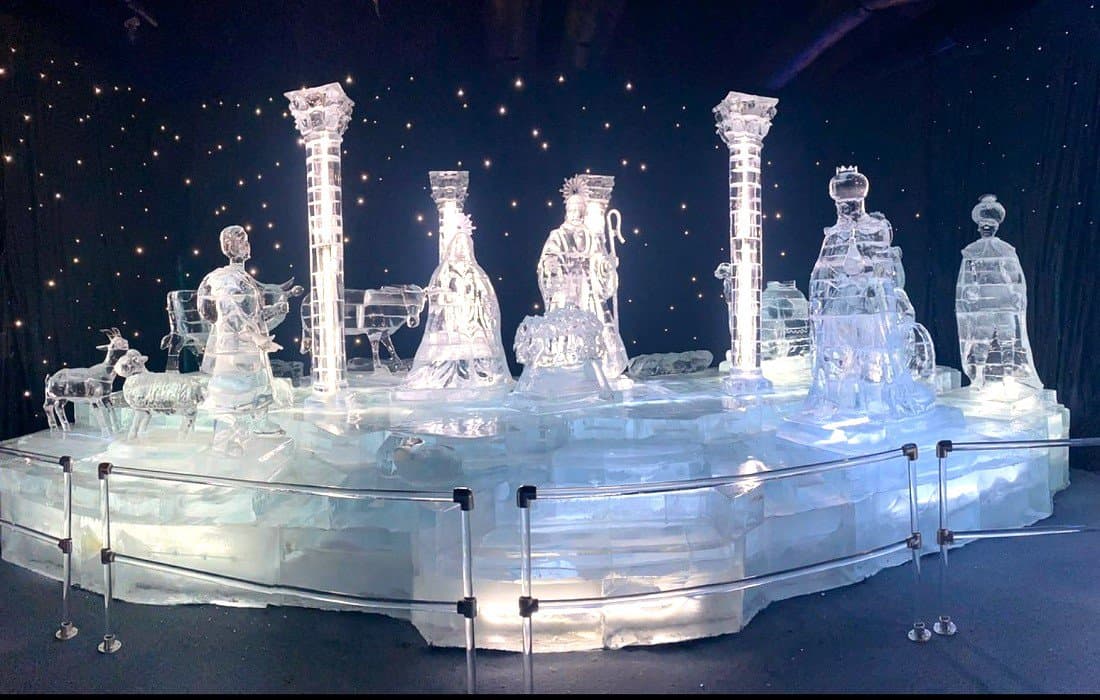 Snowcat Alpine Ridge in Dade City, Florida
The very first and only snow park in Florida, Snowcat Ridge, offers you some of the best snow activities in Florida. Featuring an 800-foot-long tubing hill and 60-foot-tall magic carpet lifts, Snowy Slopes is one of Snowcat Ridge's most popular attractions.
A tube rider can choose between a single tube, a tandem tube, and a family tube. Snowy Slopes has 50 percent more lanes and new launch conveyors for single and tandem lines. As part of this outdoor attraction, there is an Alpine village, a snow tubing hill, and a snow-covered Arctic igloo that have all been updated and expanded since the last holiday. As part of this year's event, there will be two new attractions: the Crystal Ribbon ice skating experience and the Eskimo Outpost with private igloos.
Patrons are advised to reserve their time on the official website during the pandemic to manage capacity.
Frequently Asked Questions About Snow In Florida
Where can we see snow in Florida?
It is hard to see real snow in Florida. But if you want to enjoy snowfall, there are plenty of options. There are several winter festivals and a few parks that can provide you with never had before experience of snow. You can ride, enjoy snow scriptures, different snow games, and more.
In Florida, a dedicated park called snowcat Ridge allows you to enjoy a snow ride. Besides, there are a few winter festivals in different cities and parks where you can enjoy the snowfall during the holiday season. Also, Gaylord's palms arrange ice festive so visitors can enjoy the natural ice in Florida.
Where does it snow closest to Florida?
The closest would be Boone, NC, at one of the ski resorts, and that snow would likely be artificial. It is only ten hours from Orlando by car. Stone Mountain park in Atlanta has snow mountains, which are fun but artificial snow. Celebration, FL, does have fake snow every hour on evenings during the holiday season.
Does it snow in Florida?
In a word, no. Light snowfall indeed occurs across the northern panhandle at times. Still, most of the northern panhandle is far from the cold continental air masses responsible for generating snowfall in the rest of the country. In most parts of Florida, there is no snowfall. If you want to enjoy the snow, you can attend different winter festivals in Florida.
Where can I see snow in Tampa?
In Tampa, you can enjoy the snow at Snowcat Ridge. The weather in Tampa is rarely cold enough to snow. The snow park in Tampa is a great place to enjoy the snow.
Snowcat Ridge, a one-of-a-kind alpine snow park in the Rocky Mountains, features an enormous snow tubing hill, an alpine village, and a ten thousand square foot snow play dome transformed into a magical winter wonderland. Snowcat Ridge also features a magic carpet lift that whisks riders and snow tubes to the top of the 60-foot-tall, 400-foot-long snow tubing hill. Guests will be provided with single, tandem, and 6-person family tubes to slide down the snow-covered slope. In addition, there is an igloo space where you can unwind with a drink and some tasty food.
Where can I find fake snow in Florida?
Dade City, northeast of Tampa, has opened Florida's first snow park. Inflatable tubes allow riders to descend a 60-foot high, 400-foot long artificial snow hill on single, tandem, or family-style tubes. But that is not the only place you can enjoy snow in Florida. The sunshine city arranges so many festivals to celebrate snow during the holiday season; Gaylord Palm, a winter festival in different wonderland parks like Nona and Mount Dora, is also someplace where you and your family can enjoy the snow in Florida.
Where can I go to see snow in Florida?
The Sunshine State has a few places to see "snow." Of course, it's not the real thing, but it's as close as possible. Some places like Wekiva Island's Winter Wonderland, Enchant Christmas, and Gaylord Palms are some places where you can enjoy the snow during the holiday season.
What time does it snow in Celebration, FL?
It snows in Celebration, FL, every hour on evenings during the holiday season.
Is there a winter Wonderland in Florida?
Yes, there is a winter wonderland in Tampa, Florida. Dade City, northeast of Tampa, has opened Florida's first snow park. With an artificial snow-covered 60-foot-tall and 400-foot-long hill, SnowCat Ridge allows riders to slide down on single, tandem, or family-style tubes.
When did it snow in Orlando, Florida?
In 1977, on January 19, Orlando residents were woken up to an Arctic front, and frigid conditions resulted in a miraculous occurrence, and people experienced snow in Florida.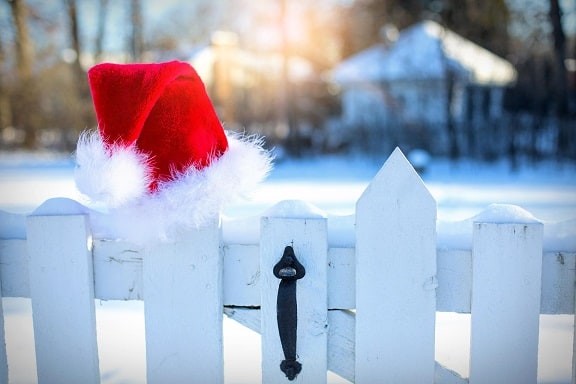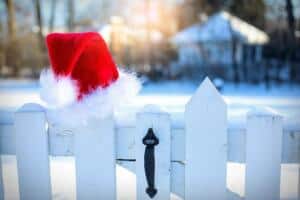 Closing Thoughts
During the holiday season, the people of Florida enjoy the snow at different festival events. People go to various parks and resorts to celebrate snow in Florida. The season-long celebrations feature live music, ice skating, and a Christmas celebration. Each evening's entertainment includes seasonal food and sweet treats, so grab a hot chocolate and enjoy snow in Florida.
Have you been to any of these snow events? Do you know of any other local events with "snow?"
Looking for more seasonal things to do in Florida? Start here:
We participate in the Amazon Services LLC Associates Program, an affiliate advertising program designed to provide a means for us to earn fees by linking to Amazon.com and affiliated sites.
Brit On The Move™ Travel Resources
Ready to book your next trip? Use these resources that work:
Need more help planning your trip? Check out our Resources Page, highlighting the great companies we trust when traveling.