DeLeon Springs State Park in Florida has become the most popular place in this tourist-packed state. This State Park is one of the most beautiful and exciting places you can visit in the U.S.
Before we get into the details of why you should visit, let's clear up the naming!
Officially, the park's name is "Ponce De Leon Springs State Park"; however, locals call it "De Leon Springs." Right, wrong, or indifferent, the two names are interactable here in Florida.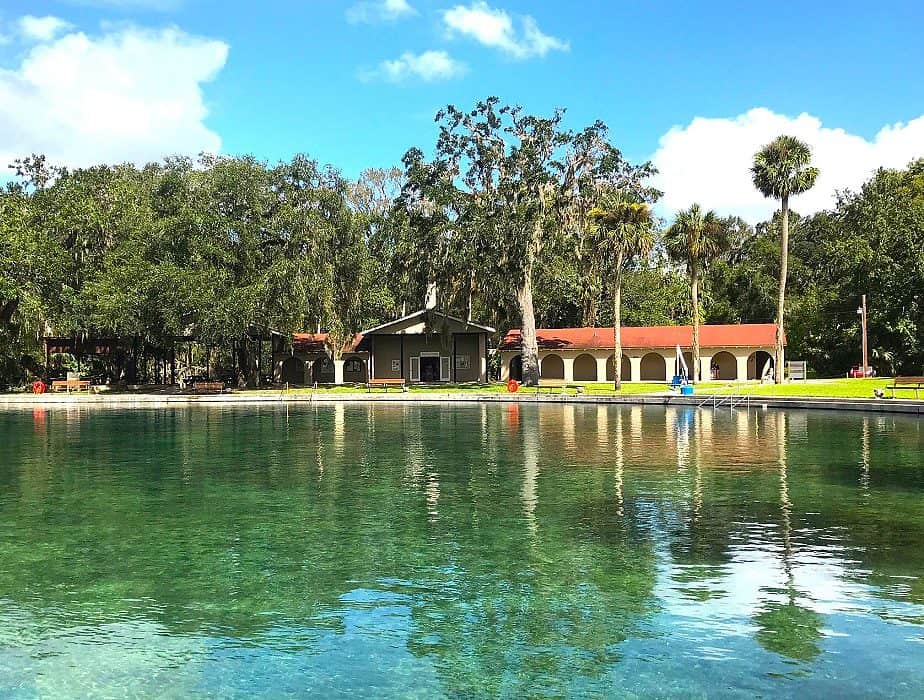 This post may contain affiliate links. Please read our disclosure and privacy policy for more information.
With this park's incredible hiking trails and historical sites, it might be hard to decide how to spend your time here. And depending on the time of year, your choices will vary. Let's look at the fun things to do in Florida's DeLeon Springs State Park.
Enjoy The Fountain of Youth Boat Tour
You can start your fun activities at the Spring Garden Run on The Fountain of Youth Boat Tour. This is a 50-minute boat tour through the park that lets you enjoy the park on the water.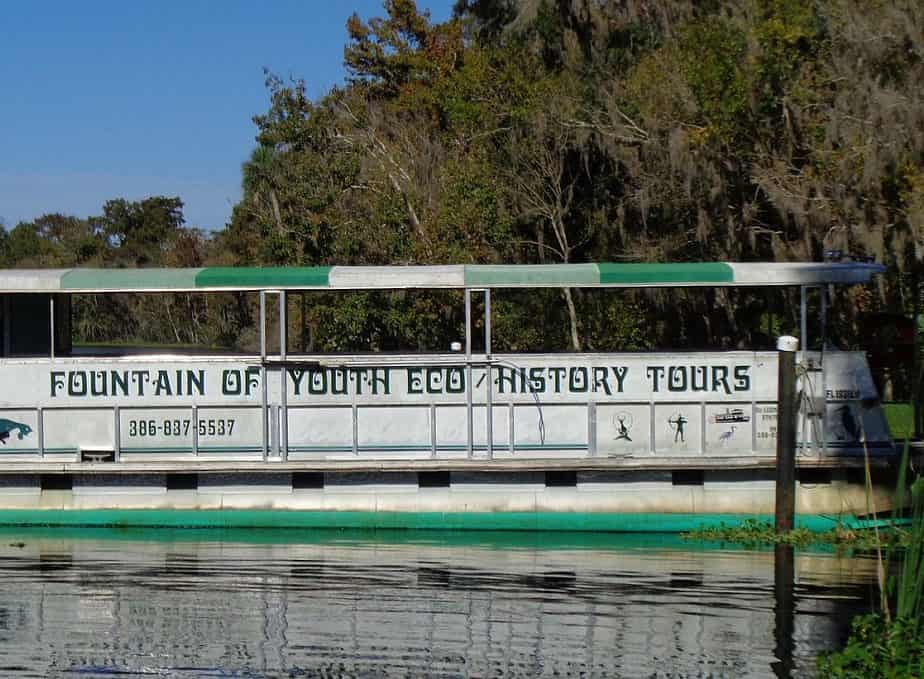 De Leon Springs State Park and Lake Woodruff National Wildlife Refuge are visited during the Fountain of Youth Boat Tour, which departs four times daily. During this relaxing trip, passengers can get up close and personal with the local wildlife. You will see osprey, alligators, and other wild animals during the boat tour.
Aside from learning about the spring's "healing waters" and how the Fountain of Youth story originated, guests will also learn about the area's rich 6,000-year history.
It costs less than $20 per person to take the boat tour.
Walk The Nature Trails Of DeLeon Springs
DeLeon Springs, in Florida, is the perfect destination for hikes. You can spend time walking and enjoying the different trails in the east of Florida. Many nature trails in the park are good for people of different ages and abilities. There is even a half-mile, wheelchair-accessible paved nature trail with interpretive signs.
Most trails allow you to enjoy the serene environment while maneuvering through the thick forests. You'll enjoy the view of the attractive flowers, trees, and general natural environment. This is a great thing to do if you want to enjoy your time or tour this place by taking a short walk through nature. During a nature walk, you can enjoy admiring different species of flowers and trees.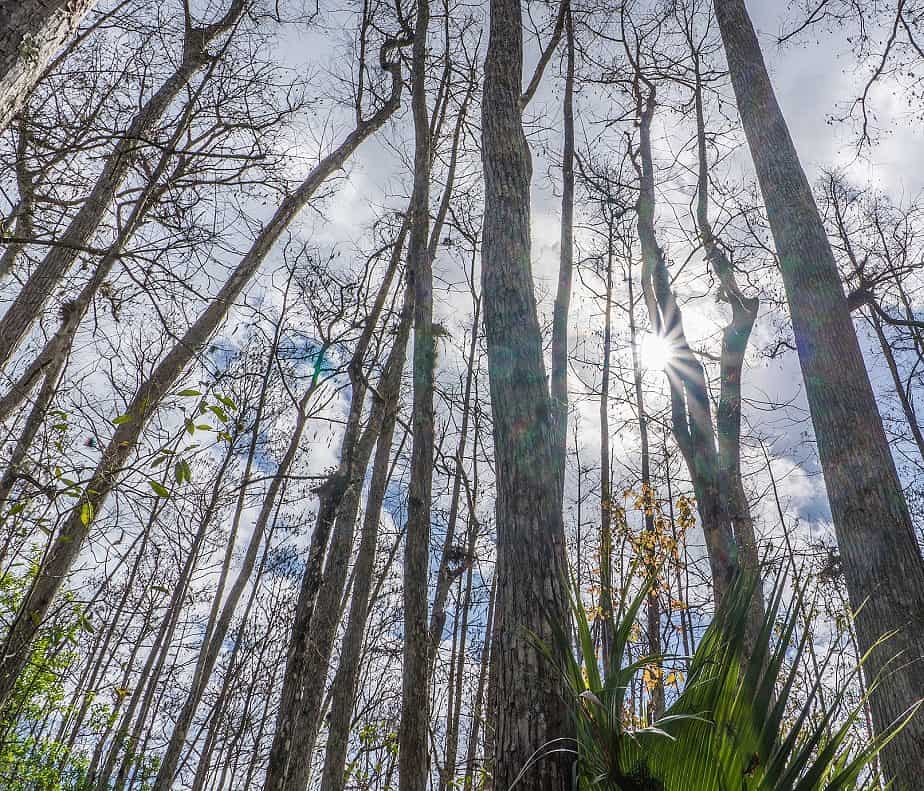 In the forest, you'll find a wide range of native plants, such as hardwoods, cypress, and others. A cypress tree over 600 years old is the most beautiful plant in the forest. You also ask the authorities for a wheelchair that can go anywhere to make it easier for you to get around. The hiking trail will take you to different kinds of nature. For example, you might see a Florida black bear, a wild pig, a turkey, or a deer.
Wild Persimmon Hiking Trail
Experts say that the Wild Persimmon Hiking Trail is the most popular place for a nature walk. A trailhead for the Wild Persimmon Hiking Trail is at the far end of the paved loop. On this trail, you will be immersed in soothing deep green foliage at any time of the year.
The Yellow Anise shrub dominates the forest understory for the first 12 miles. As the landscape opens up, there are more wildlife viewing opportunities along the trail's 4.2-mile loop.
You will see turkeys, deer, and black bears in the surroundings. The state requires you to register with the ranger station before taking in this hike.
Monkey Island Trail
When the park was a kitsch 1960s tourist attraction, Monkey Island Trail wound through an area used as a backdrop for a themed "jungle cruise." This trail leads to Monkey Island, which was home to wild monkeys brought in to enhance the park's jungle theme.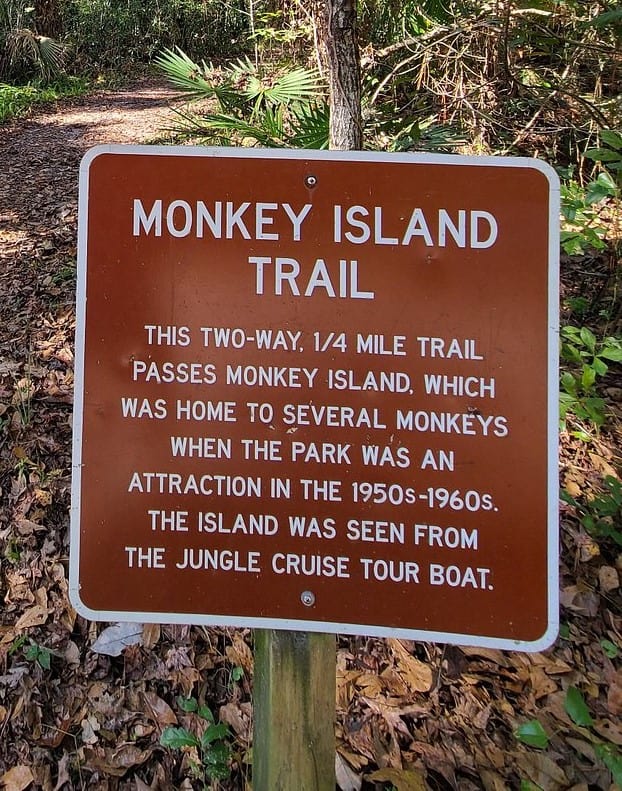 Go Paddling
When visiting springs, paddleboarding and canoeing are at the top of most people's lists. De Leon Springs is an excellent place to canoe, kayak, or paddleboard. Kayaking is one of the most fun things to do in De Leon Springs State Park. It's also the least strenuous of the three.
You can rent kayaks at the springs or put yours in the water while you're there. You can also rent kayaks and canoes for as little as $11 per hour.
If you take to the water, you will cross springs that lead to the Lake Woodruff National Wildlife Refuge. The crossing makes exploring even more fun as you'll discover creeks and lakes that are easy to get to and offer a peaceful view.
Enjoy Snorkel and Swimming
Even though other activities add to the fun, swimming is still one of the most popular things you can do at DeLeon Springs. The water is cool and refreshing; it's crystal clear, making spotting fish and turtles easy!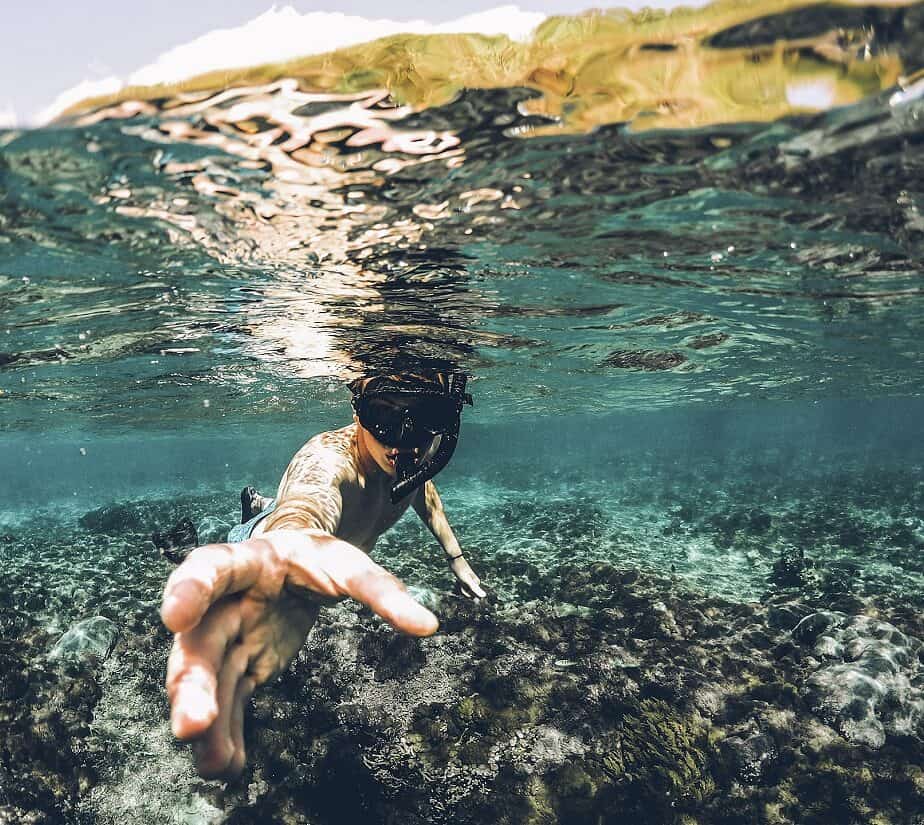 The Park is open all year, so people can swim there whenever they want. Even though the Park's swimming area is open all year, the best time is the summer. Few locals will brave the water during the winter.
Open-water SCUBA diving is permitted if you're here as part of a diving class with a certified instructor.
Caves Of Ponce De Leon Springs
Karst springs, like Ponce De Leon Springs, are fed by underwater caves. Water flows from two underground sources converge at the spring. However, free-diving into the spring cave is not permitted.
Enjoy Making Pancakes At The Old Sugar Mill Restaurant
Sugar Mill Restaurant and Ponce De Leon Springs State Park go way back! Many families visit the park to dine at the restaurant.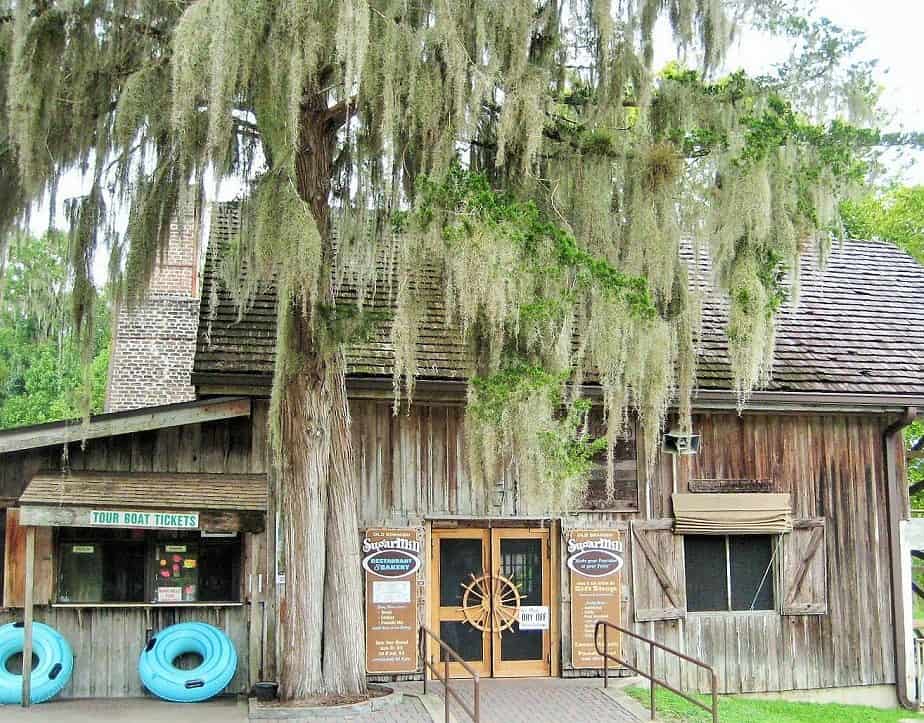 People eat here because you can cook your own pancakes on a griddle, a unique feature. The tables are made with grills to cook your favorite foods for breakfast or lunch. You can make things like eggs, pancakes, bacon, etc.
For weekends, it's best to reserve a spot as it gets busy.
Explore The Wildlife
There are many different animals to discover in and around De Leon Springs. Some of the wildlife you might encounter are bald eagles, manatees, alligators, sandhill cranes, black bears, and turtles. People like watching the turtles poke their heads out of the water in Spring Run. On the Wild Persimmon Hiking Trail and Nature Trail, you may see bobcats, deer, turkeys, wild hogs, and other animals.
The most frequently asked question of all is, "Are there alligators in De Leon Springs?." The answer is simple – yes! Alligators are in every body of water in Florida.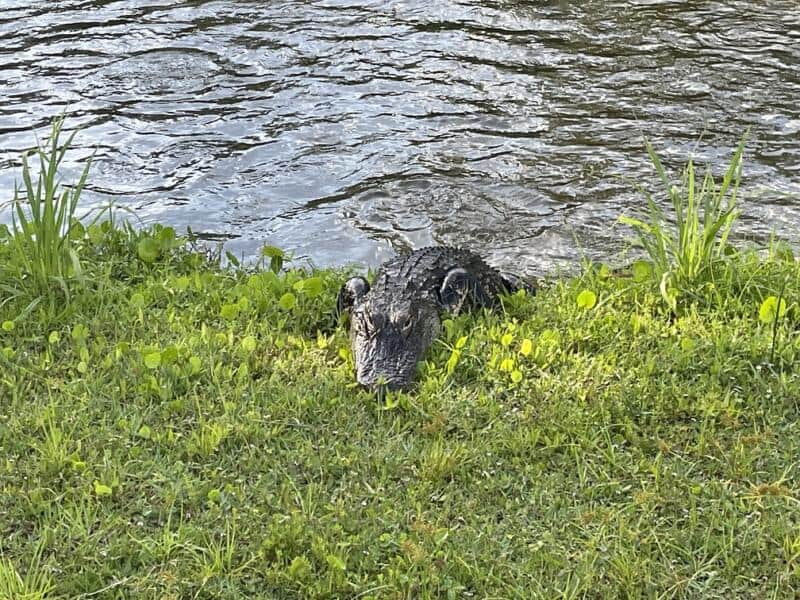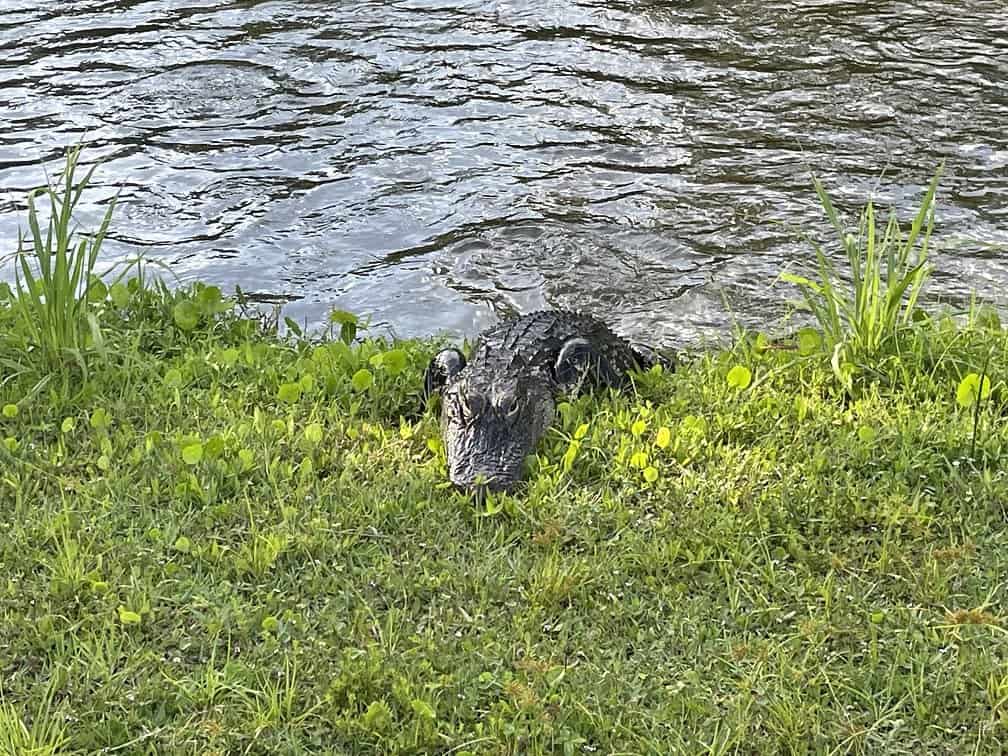 Visit De Leon Spring's Historic Sites
History buffs will also enjoy DeLeon Springs in Florida.
This historic site has many artifacts demonstrating how people lived in years past. For example, you can see the shell mounds that show where people live. There are also remains of old sugar factories where enslaved Africans used to work. Behind the restaurant, you can see the original mill wheel hub, mill machinery, and boiling pots.
Behind The Old Sugar Mill Restaurant, you can see the "Fountain of Youth" and the big chimney.
Enjoy Fishing
For many families, one of the best things to do is fish. DeLeon Springs in Florida is a very popular place for people in Florida to fish.
Snatch hooks and cast nets are prohibited in Spring Garden Run and on the fishing pier. Freshwater fishing licenses are required as applicable, and all freshwater fishing laws apply.
Boating
It takes about ten miles from Spring Garden Run to the St. Johns River. In the area between the park and Lake Woodruff, boaters should be aware of manatee zones.
Because Spring Garden Lake has shallow water and the area is populated with canoes, kayaks, and fishermen, jet skis are not recommended.
If you really love springs, then you need this book! Florida is home to over 1000 natural springs between the sun-soaked beaches of the Gulf of Mexico and the Atlantic Ocean, which have drawn people to the state for thousands of years. Long before theme parks came to town, the freshwater springs were the top tourist attraction in the state. Join us across the state to explore 40 of the best springs in Florida that you can still visit today. Filled with vivid photos from the past and present, this guide will show you a side of the Sunshine State you won't see in commercials. Complete with information on conservation and a key for activities offered, this book is a must-have for locals and tourists alike.
FAQs
Closing Thoughts
De Leon Spring State Park, like many of Florida's state parks, is not only a great place to swim, hike, and take to the water – it's also a place of historical interest. Add this to your list of springs you want to visit – you will not regret it.
If you're in Florida but have nowhere to store your stuff, you can tour the cities without worrying about your bags due to mindmybag's convenient, affordable, and secure luggage storage.
Here are some of the most popular springs in Florida:
We participate in the Amazon Services LLC Associates Program, an affiliate advertising program designed to provide a means for us to earn fees by linking to Amazon.com and affiliated sites.
Brit On The Move™ Travel Resources
Ready to book your next trip? Use these resources that work:
Need more help planning your trip? Check out our Resources Page, highlighting the great companies we trust when traveling.