The holidays are the best time to indulge in decadent treats and shop for gifts. The best way to celebrate the Christmas holiday in Florida is to travel to one of the many Christmas towns in Florida that celebrate the holidays.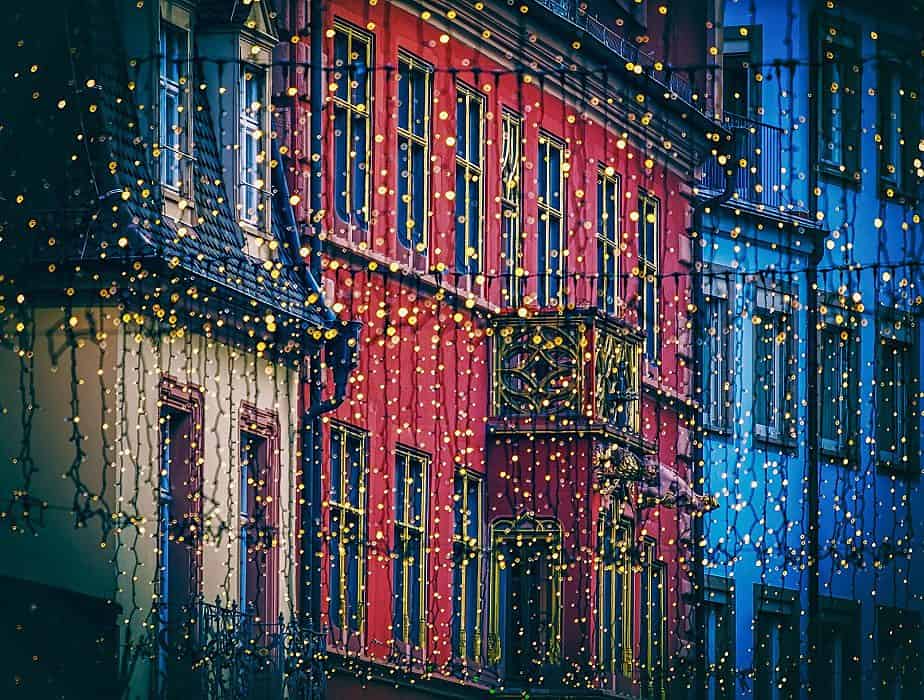 This post may contain affiliate links. Please read our disclosure and privacy policy for more information.
Jingling with bells and twinkling with lights, Florida has a bounty of festive towns that will get you in the festive mood in no time. Have a magical vacation in Florida over Christmas! See a New Year's Day parade, and meet Santa! Florida has it all.
Whether you want to spend your Christmas vacation at one of Florida's beaches, the beauty of the Florida Keys, or get a little taste of Christmas in one of the region's historic towns, here is where you'll find all the Christmas towns in Florida.
Miami
Miami is a little far from being a small town, but it has its fair share of festivities, which makes it one of the best honorary Christmas towns in Florida.
One of the world's largest holiday theme parks, you can explore Santa's Enchanted Forest, which runs from November to January. One of the biggest Christmas trees in south Florida is located here. There are rides, lights, and much more for families to enjoy. For a fun-filled option with family-friendly activities, Miami Zoo hosts its own Christmas spectacular with 3D light displays and seasonal lights.
You'll have a wonderful time visiting Miami for your Christmas getaway in Florida! Get ready for a vacation that's like no other. You'll enjoy unique activities, exciting restaurants, and excellent shops.
Saint Augustine
Saint Augustine is the home of the Night of Lights Festival, which features an incredible array of breathtaking lights. The nights of lights are one of the world's top ten holiday light displays!
During Christmas, Saint Augustine comes to life. It is a place of warm hospitality where families celebrate Christmas together. There is a Christmas parade with displays, floats, and even Santa Claus himself. The town is a classic and cozy place to spend Christmas in.
Downtown offers many photographic opportunities, from the dazzling lights along the bayfront to the Christmas tree surrounded by holiday gifts at Plaza de la Constitución. Visitors and locals in St. Augustine enjoy the lights from dusk until dawn.
In conjunction with Nights of Lights, the City of St. Augustine offers a free shuttle service from November 19 to December 30, 2022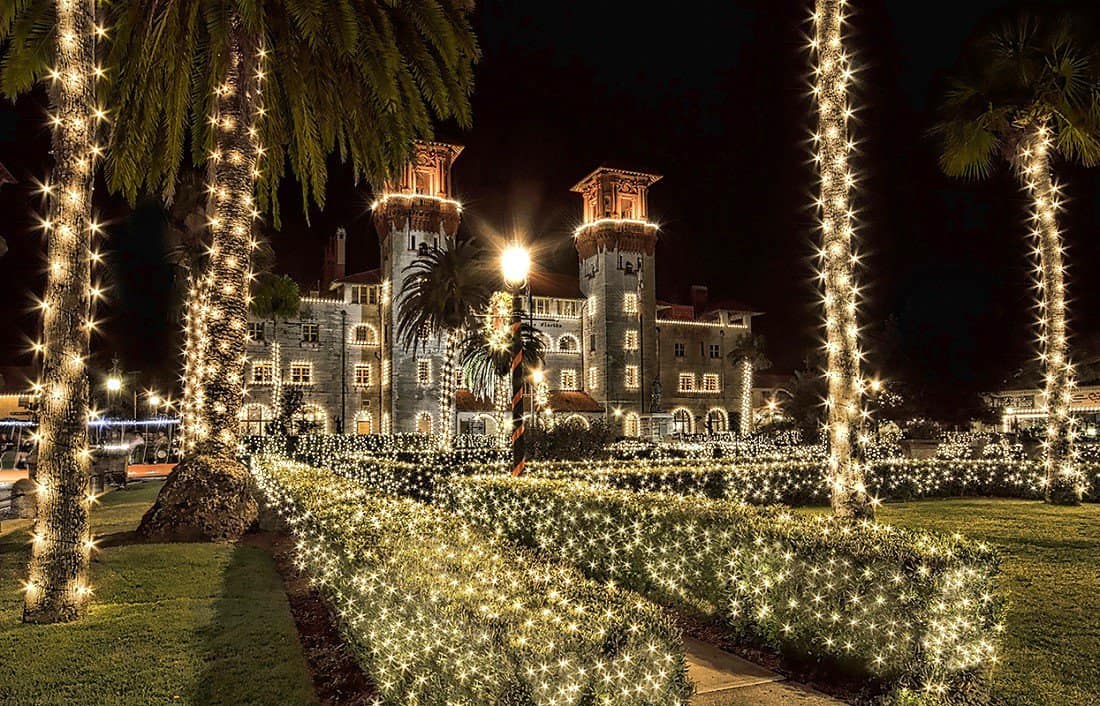 Orlando
The city of Orlando has plenty to do for anyone who wants to take advantage of the holiday season, including checking out Give Kids The World's Night of a Million Lights, visiting Gaylord Palm's ICE checking out Universal's Grinchmas.
Orlando has no shortage of fun during the Christmas holiday season. There are lots of beautiful things to see and do in Orlando!
Disney World In Orlando
Get your Christmas spirit at the Walt Disney World Resort during the holiday season. Disney is known for their Christmas displays in the parks and inside the resorts.
Christmas is celebrated from November through December at Walt Disney World and Universal Studios. There are Christmas parades, over-the-top Christmas trees, fireworks, and hundreds of lights!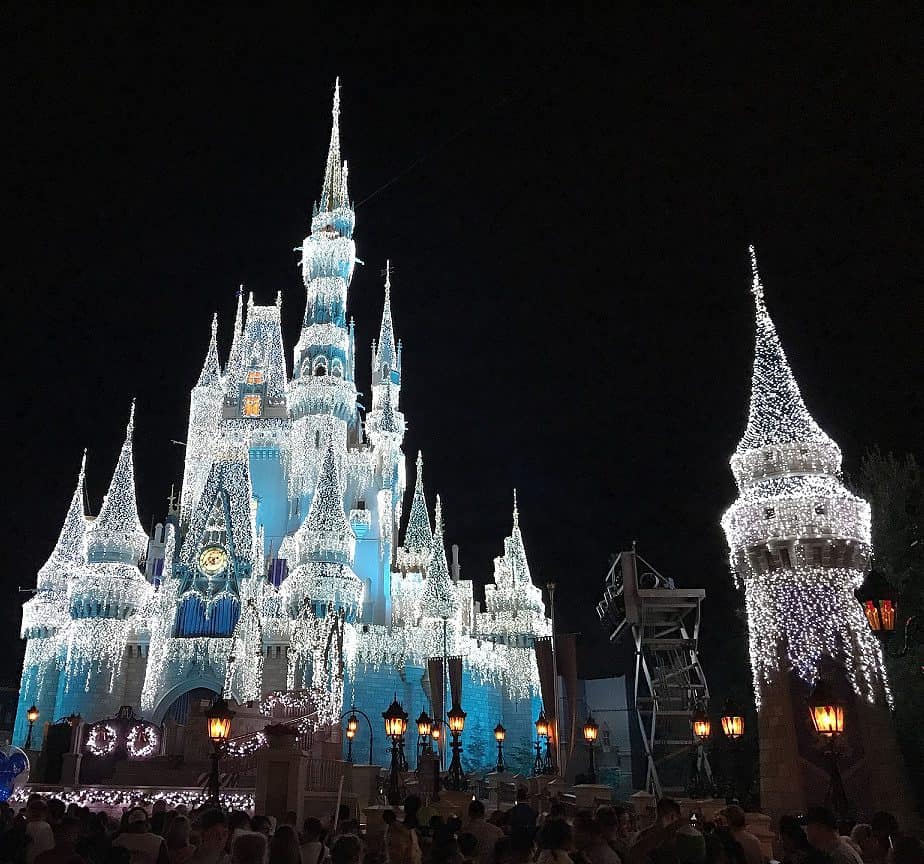 Disney Springs
Many will tell you that Disney Springs is the most festive of all Disney areas. Walk around Disney Springs and take in all the decorations.
Christmas Tree Trail
Discover 27 holiday trees—each inspired by a Disney character or theme.
Grand Floridian Gingerbread House Display
The iconic Grand Floridian Gingerbread House is a 20-plus-year-old tradition. This life-size gingerbread house is in the resort lobby throughout the holiday season. Featuring hidden Mickeys, gingerbread shingles, and more, this 14-foot tall display houses a sweet little shop selling freshly baked house-made items.
Beach & Yacht Club
Go here to see the chocolate gingerbread carousel. This is a real working gingerbread merry-go-round with almost life-size horses. Each pony has a name and theme, and the details are unique. It is worth making a trip to the resort to see this fantastic creation.
Wilderness Lodge
Relax and sit in the rocking chairs in front of the massive fireplace, with a drink in front of the fantastic (and massive) fireplace at The Wilderness Lodge.
Note: Parking at the Walt Disney World Resort hotels is for the exclusive use of staying guests, but you can take a bus to any of the resorts from Disney Springs.
Learn How To Stay At Disney Resorts for less than 50% of the listing prices!
The parks host special holiday events. For example, after hours, Disney hosts a separately-ticketed event called Mickey's Very Merry Christmas Party, with all-you-can-eat treats, drinks, and special shows and parades. Then there are the holiday lights at Disney Springs, which are beautiful.
If you're looking to add family fun to your holiday festivities, check out the Christmas Tree Trail scavenger hunt, where you search for themed trees around the area to win a commemorative button.
If you're looking for a good Christmas town in Central Florida, start with Orlando. No other place does Christmas like Orlando.
Tallahassee
The panhandle has no shortage of Christmas spirit, and there are lots to see and do.
Winter Fest
The Winter Fest in Tallahassee happens in December each year. This annual winter festival is a great place to visit if you want live music performances, shopping, and a parade. If you're not familiar with the holiday season yet, tap your feet to the performances, and sing along with carolers.
Take advantage of the complimentary hot cocoa while enjoying the musical performances at Cascade Park. You can also participate in the annual Christmas tradition of watching a version live at the Centennial Building.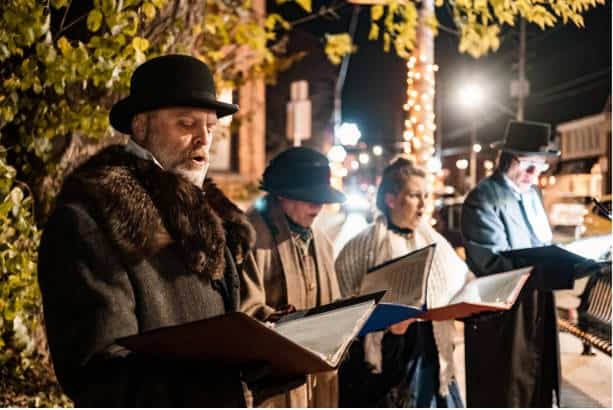 The Christmas tree lighting is the perfect time for families to enjoy the holiday together. And don't miss the Jingle Bell Run of Capital Health Plan, one of the Christmas events in Florida. Join the Christmas joy with Nighttime Holiday Parade and amazing local acts and performers.
Candy Cane Lane has Christmas decorations and light displays that will bring you back to your childhood. Enjoy the carols as you walk through the Lane. Go through the streets of Tallahassee, look at the Christmas decorations, and take a tour of the.
LeMoyne Arts Annual Holiday Show
LeMoyne Arts Annual Holiday Show is the perfect place to see art. There are a lot of artists who paint on different themes in the gallery.
Sanibel and Captiva Island
Locals on Sanibel Island love to deck their boats with elaborate Christmas decorations and, in traditional Florida fashion, their palm trees too.
If you want an authentic Christmas Town in Florida, Sanibel and Captiva Island are the places to visit. You'll find this charming area to spend the holidays in.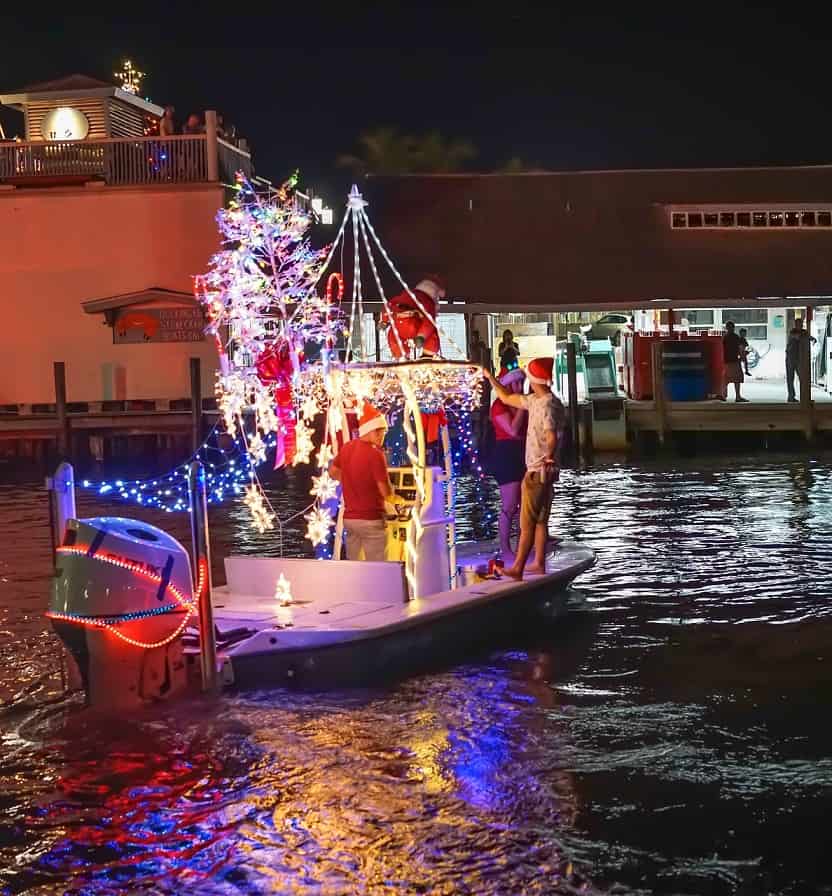 There are many activities in Sanibel And Captiva year-round, but there are even more that you can participate in when visiting during the holidays.
If you want to explore national history on your trip, check out the Holiday Nights at the respective winter estates of Ford and Edison. You can either watch the showcase on your own or take tours.
With the array of beaches from Fort Myers to Captiva, these closely located isles offer charming musical spectacles, Christmas cheer, and a quaint and classic vibe, sure to satisfy your need for some holly jolly. They are some of the prettiest Christmas towns in Florida.
Key West
One of the best places in Florida for the holidays is Key West. This small island is full of cozy and charming options for all the holidays.
The Harbor Walk of Lights
It honors Key West's maritime history with a nautical theme. The "Harbor Walk of Lights" stretches along the seawall past Greene St., William St., and Margaret St. until it reaches the K.W. Ferry Terminal.
Old Town Trolley's Holiday Sights & Festive Nights Tour
If you're planning a holiday escape to the Conch Republic, there's no need to gas up the snowblower! Taking the Holiday Sights & Festive Nights Tour is one of the best ways to enjoy Christmas chill island-style in your flops! Throughout our holiday tour, you can see all the best decorations from the Southernmost City as the locals decorate their historic Key West homes in a cascade of lights and decorative touches to outdo each other.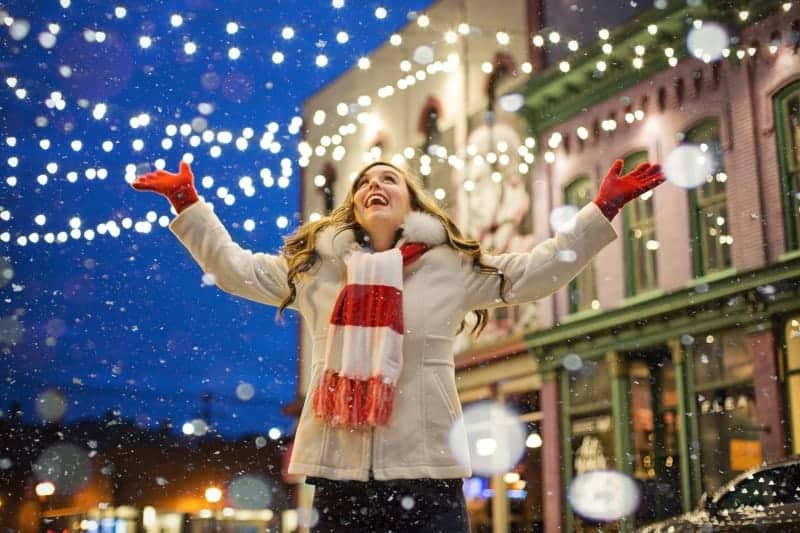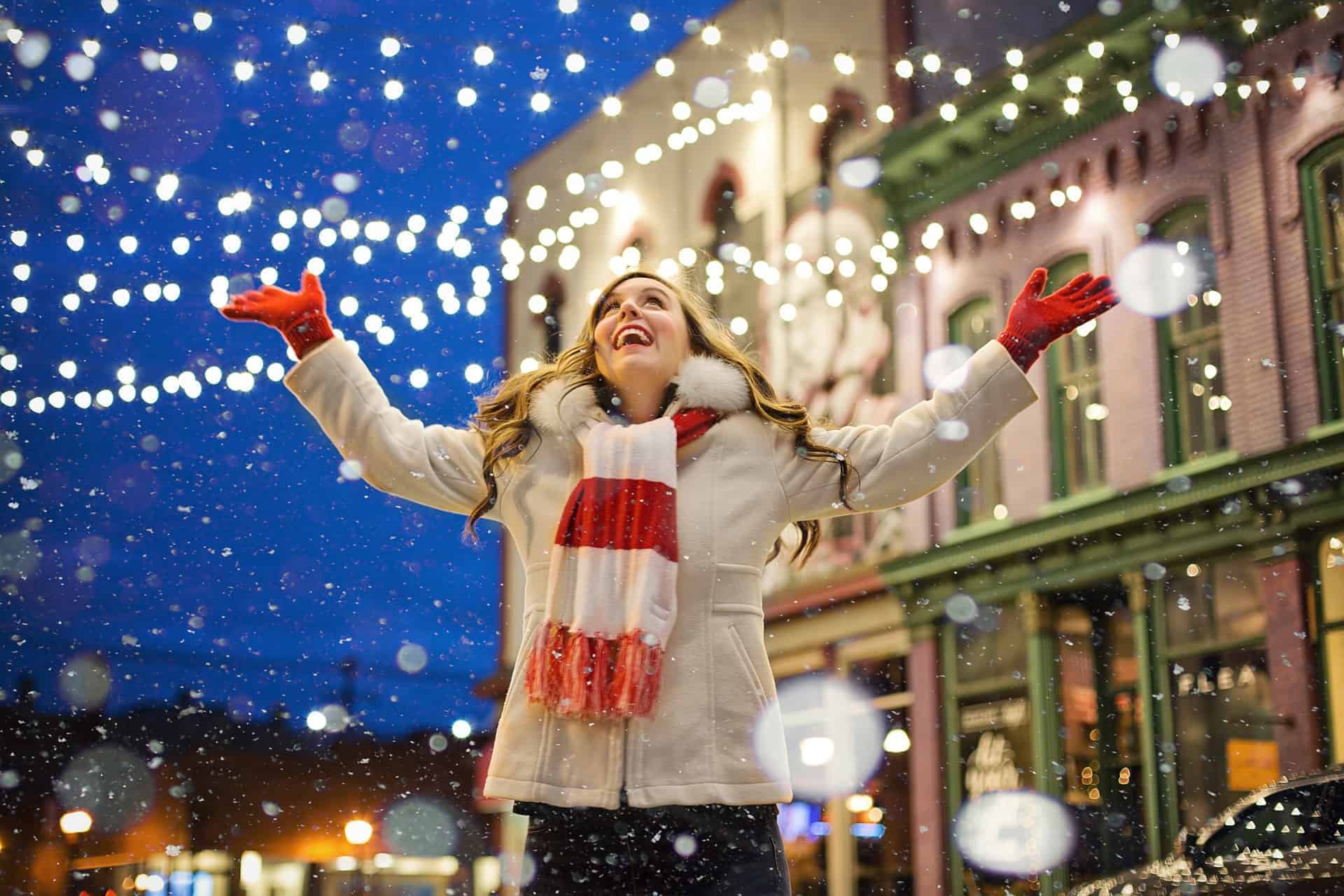 For those interested in history, the historic inns are a fun way to experience the past while enjoying modern conveniences. There is a tour that lasts 60 minutes of the island. It's a separate tour from the Old Town Trolley Holiday lights tour.
Tampa
There are some great things to see and do in the bayfront Christmas town in Florida.
Winter Village at Curtis Hixon Park
Winter Village at Curtis Hixon Park is located in the middle of Tampa's beautiful downtown area and is home to the famous outdoor ice rink.
This event space is excellent for various holiday and cultural events, such as music festivals, film screenings, and a full-on Santa Train.
Busch Gardens
You can head to Busch Gardens theme park. Still, suppose chills combined with thrills are more your style. In that case, you can check out their Christmas Town event. Along with riding roller coasters and exploring animals, you'll also be able to get in the Christmas spirit by visiting a Christmas Town with its festive decorations and lights. If you haven't seen the Christmas Town Tampa Bay, it's a nice place to go, and the food and fun.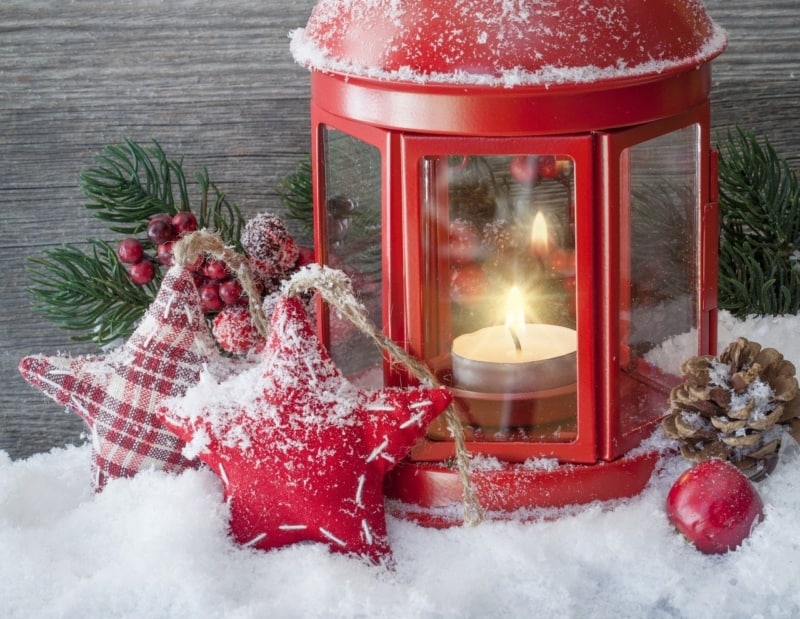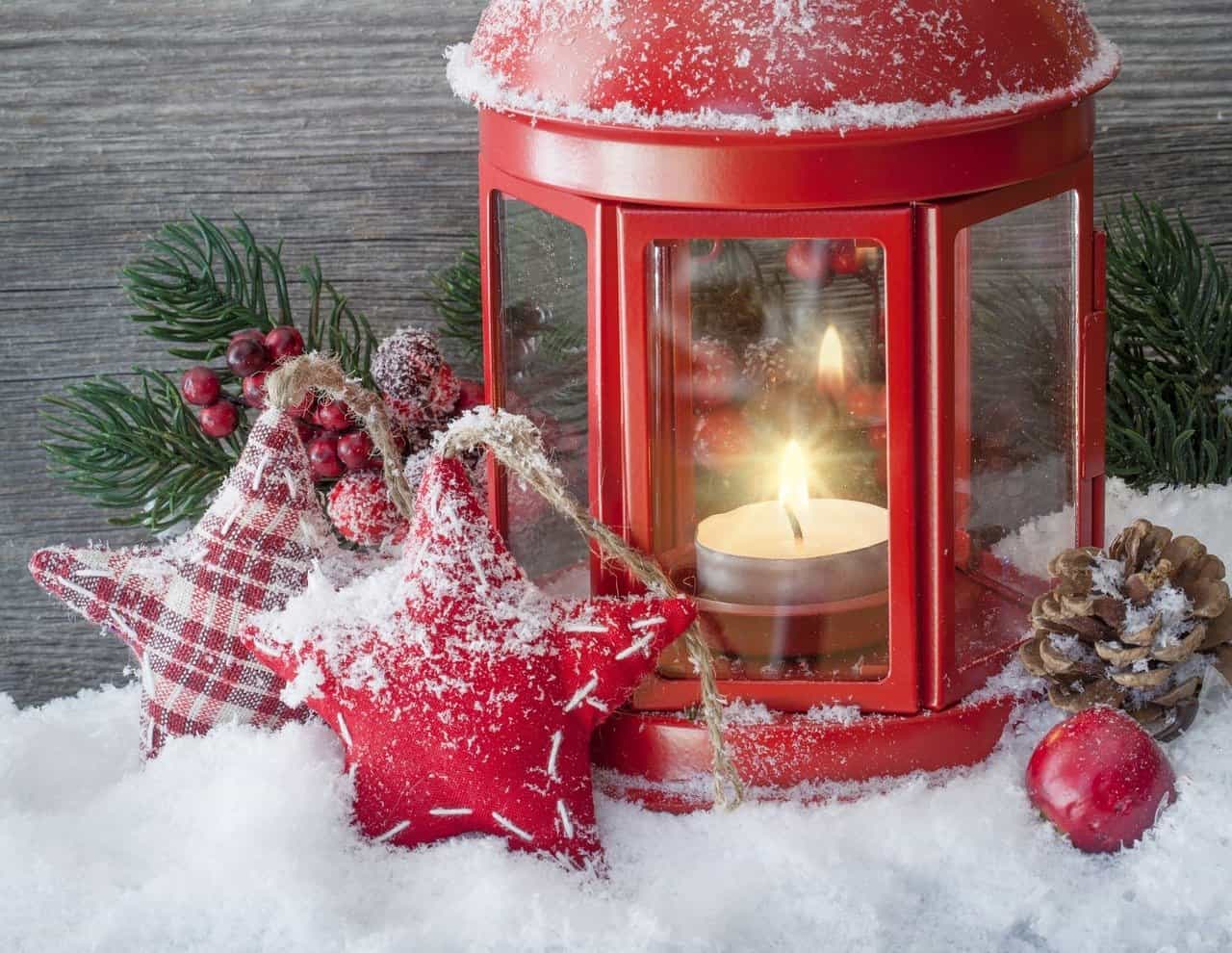 Tampa is an unexpected but enjoyable and charming Florida town during the holidays. You'll want to visit here during Christmas time!
Pensacola
Christmas is slightly different in Pensacola, and there's plenty to do!
Pensacola Winterfest
The best Christmas towns in Florida go all out for Christmas, and Pensacola does. What's more fantastic and festive for Christmas than the Grinch getting into the spirit of the season by joining in the holiday festivities? It's not just about Christmas – it's about giving gifts and sharing joy with those we love. You have to check out Santa Drop, where Santa drops by the beach and takes pictures with kids. It's an inspiring event!
A Journey Into Wonder
Catch a ride on the Polar Express with this magical tour! This 25-minute tour immerses you in the story of the Polar Express with visits from your favorite characters.
Experience a magical steam engine journey with the Conductor! With the Polar Express Tour, you will see tap-dancing hot chocolate servers and snowy landscapes and learn what it means to believe. Bring back the magic of Christmas with the beloved storybook. Mini-cups of hot chocolate are served to all passengers.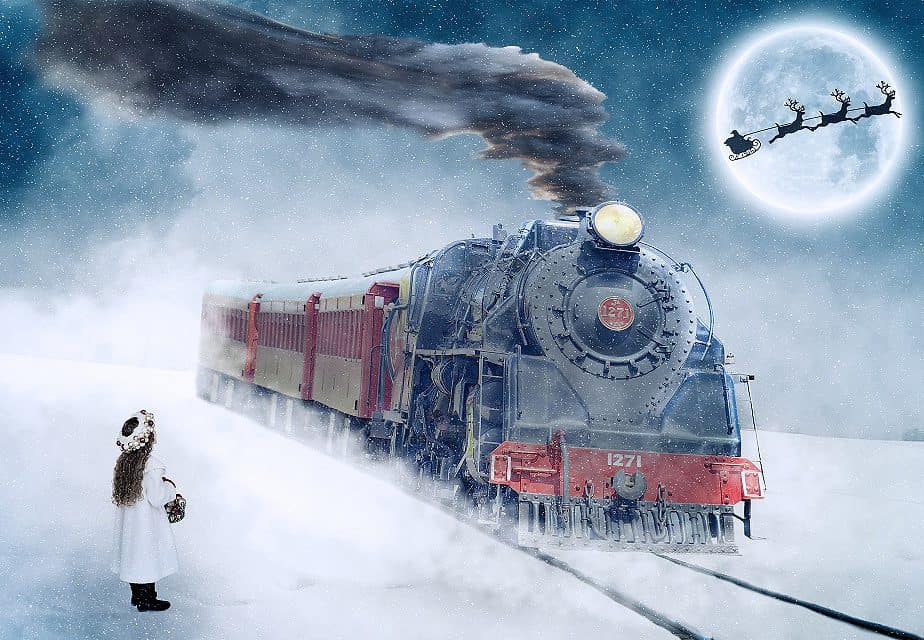 Santa Surf Beach Parade
Watching the Santa Surf Beach Parade is something that you can't afford to miss. It's one of the most significant winter beach events in the United States, with millions expected to attend.
Pensacola Lighted Beach Parade
The best Christmas parade in Florida is the Pensacola Lighted Beach Parade on Pensacola Beach Boardwalk.
Elf Parade
Another way to get into the Christmas spirit is the Elf Parade. Filled with thousands of people dressed as elves walking through the streets and giant elves' floaties, this will make your inner child happy.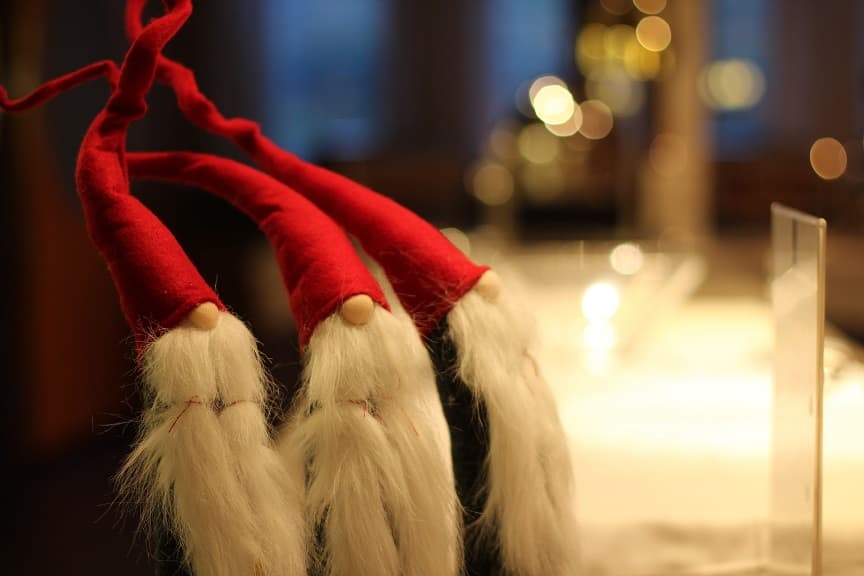 Celebration
If you want to experience a classic (as classic as you can get in the sunshine state) winter wonderland, check out Celebration Florida. And if you'd like to share an even bigger winter wonderland, check out Celebration's Winter Wonderland.
Celebration with Snow!
Snowing! Central Florida's original and premier "Snowing" event features one of the area's only synthetic ice rinks, community performances by some of the area's best young talent, and special concerts throughout the season. This Winter Wonderland Spectacular features Charles Dickens-style carolers, photos with Santa, horse-drawn carriage rides, ice skating, train rides, and nightly snowfall at 6:00, 7:00, 8:00, and 9:00 pm. It's reminiscent of traditional family holidays.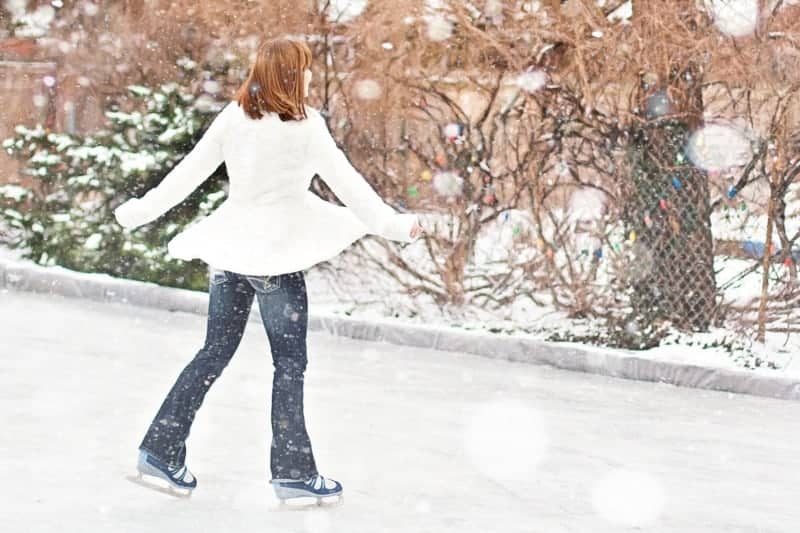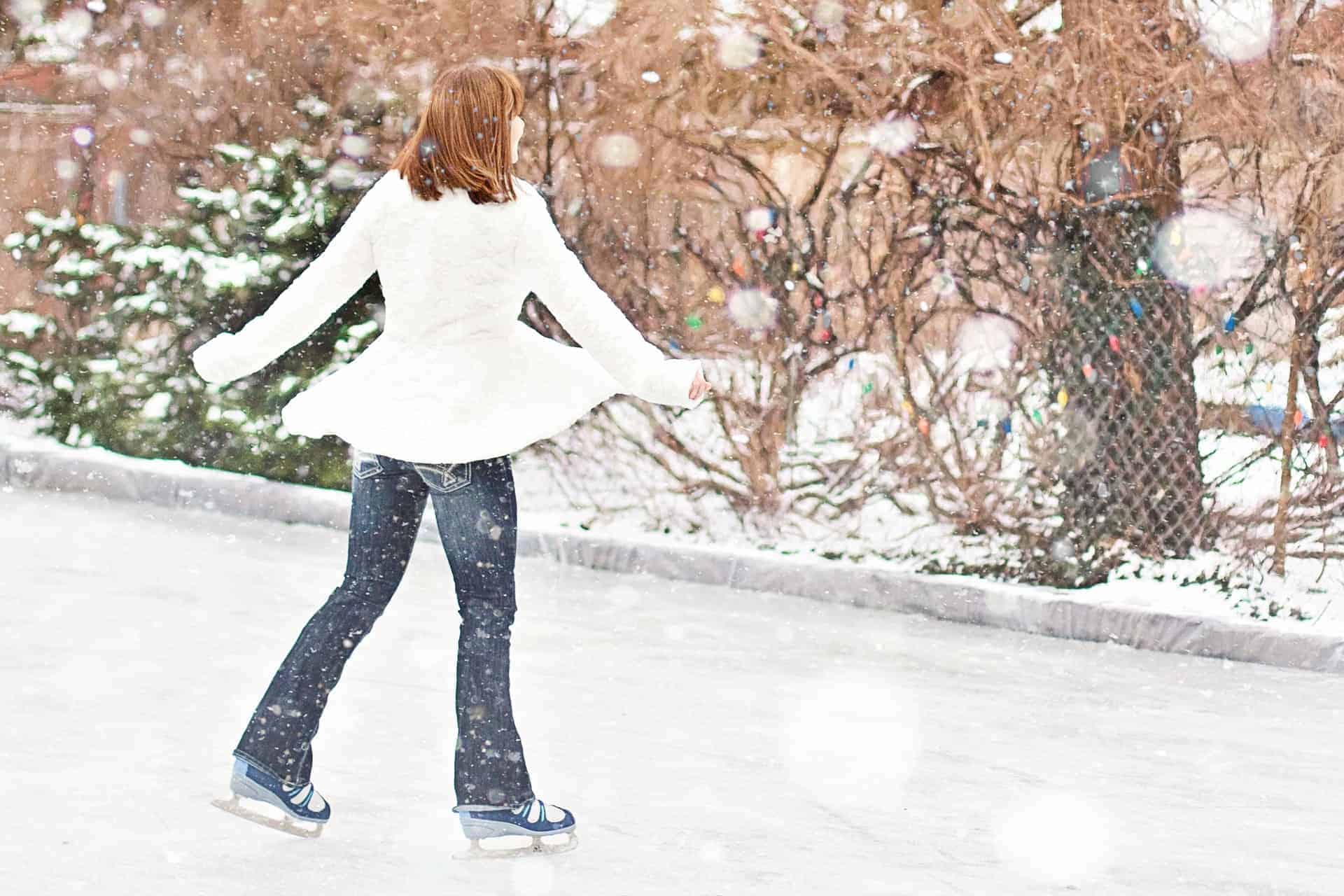 If you're looking for a charming, quaint, and classic Florida Christmas town, this is the place to be!
Amelia Island
Amelia Island and Fernandina Beach are fantastic places to spend Christmas in Florida. At Christmas, Downtown is set up as a Christmas victorian village.
There are decorations, Christmas lights, and other special events. There's also an ice rink; during the winter months, the outdoor and indoor malls are decorated. This is truly a Christmas village that comes to life.
The best part is you will not be cold if you go to the beach down the street. There is no snow on the ground! Downtown Fernandina Beach is one of Amelia Island's favorite places during Christmas.
West Palm Beach
Sandi is a beautiful holiday attraction at Palm Beach. Sandi is a 35-foot, 700-ton sand holiday tree that features nightly music and light shows from 6 to 10 pm through New Year's Eve. The Christmas tree lights up the skyline each year. This is a must-see spot if you're looking for a relaxing getaway during the winter holidays.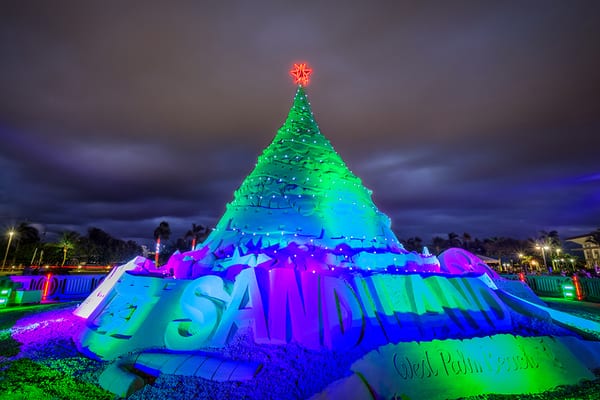 In addition, in West Palm Beach, the banyan trees are covered in twinkling lights and have snow falling from them.
You can take wreaths and ornaments-making classes, attend the ugly sweater brunches, or take in the lights.
It is one of the best places to spend Christmas in Florida because there are many things to do in West Palm Beach.
St. Petersburg
One of the most popular Christmas markets in Florida is in Petersburg. St.Petersburg is a must-see for those that love to celebrate Christmas.
The city also has music performances and beautiful miniature models at the North Pole Winter Wonderland. There is a big tree-lighting event at Safety Harbor, followed by pictures and treats with Santa Claus. Then there's the Pete Beach Boat Parade which has boats floating with lights lifting your holiday mood.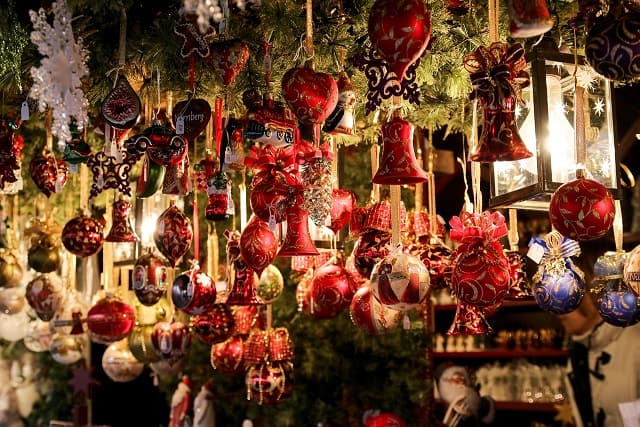 If you love adventure and mystery, food tasting, and ice gliding, you'll love the Enchant Maze, which is unique. This holiday maze is filled with light and Christmas figures leading to a mystery.
There Christmas market at St Petersberg is a must where you can find unique Holiday gifts and stock up for next Christmas.
Naples
Whether it's a vacation or a quick weekend getaway, the beautiful weather in Florida is warm year-round. Naples, Florida, is known for its sunny beaches and warm temperatures, with some of the highest annual holiday traditions to enjoy.
Free entertainment at Victoria Park and Third Street includes a monthly parade, an annual art festival, and live music every Thursday. The gardens at night are illuminated with Christmas lights, and guests can also sip themed cocktails.
Sarasota
Sarasota is an excellent place to visit to enjoy a Christmas celebration in Florida.
Temple Sinai and the Jewish Community Center of Greater Tampa celebrate Hanukkah by putting on an incredible holiday celebration called Holidays on the Green. Grab some food and enjoy some Hanukkah storytime.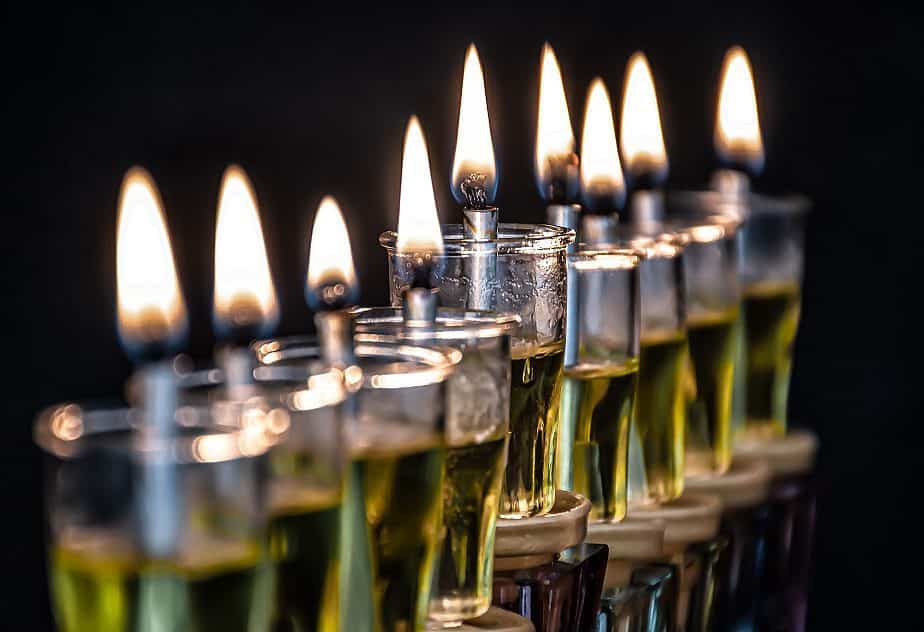 Fort Lauderdale
This is a great place to consider if you want to celebrate Christmas in Florida. It's commonly referred to as the Venice of America. The annual "Parade of Lights" is an event where every boat, from small sailboats to big yachts, is made to glow with lights.
For a night filled with gorgeous melodies, musical performances, and beautiful scenery, you must see the Fort Lauderdale Christmas Pageant.
Winter Wonderland at the Las Olas Beach Boardwalk
The Winter Wonderland at the Las Olas Beach Boardwalk is a fun, family-friendly event that features a winter festival, choirs, bounce houses, and other activities. For a historical twist on your holiday celebration, stroll to Stranahan House Museum, where you can learn a little more about the history of Fort Lauderdale while enjoying the holiday lights, live performances, and festive spirit that goes along with the holidays.
FAQs
What is the most Christmassy town in Florida?
St. Augustine, Florida's most historic town, also hosts one of the area's largest Christmas parades. The tour begins at the Shrine of Our Lady of La Leche and ends at the Visitor Center.
Where is the best place to go in Florida for Christmas?
There are several places you can go for Christmas to enjoy yourself with your friends and family. The most popular cities are St. Augustine, Pensacola, Miami., St. Petersburg, and Orlando.
What Florida town keeps a Christmas tree all year round?
Christmas, Florida, is a small town of about 1,100 people on the east end of Orange County that celebrates Christmas year aroundA a giant Christmas tree on the main highway and a nativity scene displayed year-round.
How do Floridians celebrate Christmas?
Floridians celebrate Christmas by lighting their trees, roasting chestnuts, drinking eggnog, and watching holiday movies.
What Christmas trees grow best in Florida?
Several Christmas trees are grown in Florida, including red cedar, Virginia pine, sand pine, spruce pine, and Leyland cypress. To achieve the full, bushy appearance people prefer, young trees need to be pruned and shaped every year.
Closing Thoughts
A great way to spend Christmas is to visit one of the cute Christmas towns in Florida. There are so many pretty Christmas towns in Florida that you will be hard-pressed to find one that doesn't appeal to you.
Whether you are looking for something warm and cozy or something with a wild side, there is a town that suits your interests.
Looking for more seasonal things to do in Florida? Start here:
We participate in the Amazon Services LLC Associates Program, an affiliate advertising program designed to provide a means for us to earn fees by linking to Amazon.com and affiliated sites.
Brit On The Move™ Travel Resources
Ready to book your next trip? Use these resources that work:
Need more help planning your trip? Check out our Resources Page, highlighting the great companies we trust when traveling.