The Christmas lights in Florida are more magnificent than anywhere else in the country. People from all over the world come here during the holiday season to visit. The light displays are incredible. They can be seen everywhere in the state. Some of the presentations are so big that you can't miss them. The people who live in the area love to watch them, and people from out of state love to come during the holidays to see them.
The best part is that you can walk through most of the light displays. Some of them you can even drive through! You can see the houses, the Christmas trees, the decorations, and the presents, all from the safety of your car. Also, see it all from the comfort of your home. You may even be able to see Santa Claus. They say he comes to Florida and looks at the Christmas lights yearly!
If you plan to go to Florida for the Christmas lights, you need to know where to start. This article highlights some of the best Christmas light displays in Florida.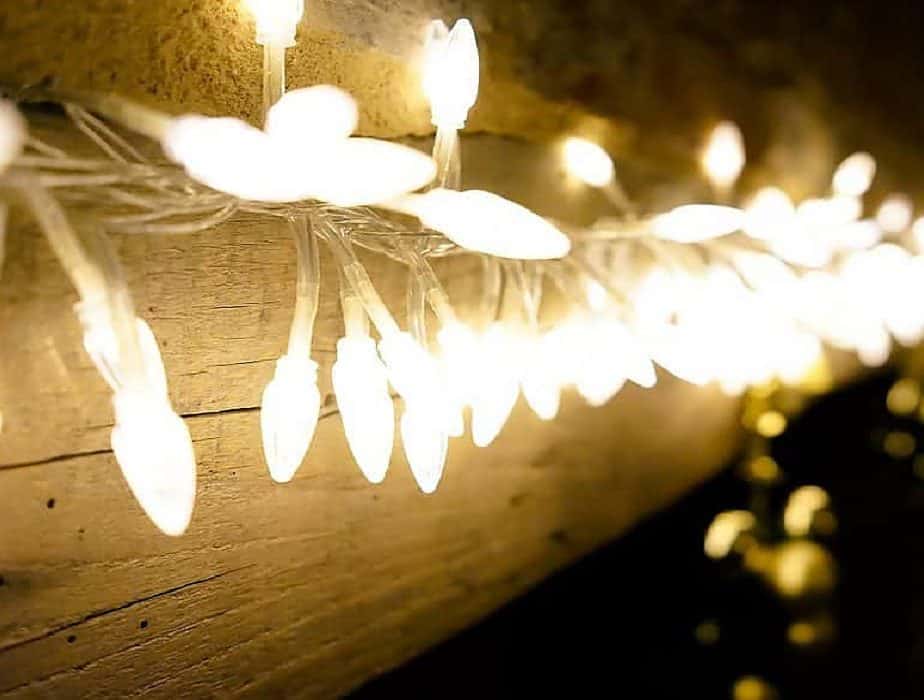 This post may contain affiliate links. Please read our disclosure and privacy policy for more information.
20 Best Places To See Christmas Lights in Florida
The Christmas season is upon people who are gearing up for their favorite holiday traditions. From shopping to dining out to enjoying some of the best family gatherings, there's so much to do during the holiday season. This post lists 20 places perfect for seeing Florida's beautiful Christmas lights.
Botanical Gardens in Largo
The Florida Botanical Garden shines during the holiday season with over one million lights. They are open daily except on Christmas DayYear'sew Year's Eve. Located in Largo and is open from 8 am to dusk. The gardens offer many activities throughout the year.
The gardens also host the Largo Christmas Festival from November 26th to December 31st. It includes music, arts and crafts vendors, train rides, hayrides, and a nightly light show. A great place to enjoy the holidays!
Dazzling Nights in Jacksonville
The Dazzling Nights is an annual holiday light extravaganza at the Jacksonville Arboretum & Botanical Gardens. This event showcases some great Christmas lights and music to keep you entertained. It's great for a date night or as an outing with friends. You'll get to walk through The Jacksonville Arboretum & Botanical Gardens and take in a variety of Christmas light displays. You might even see some snow!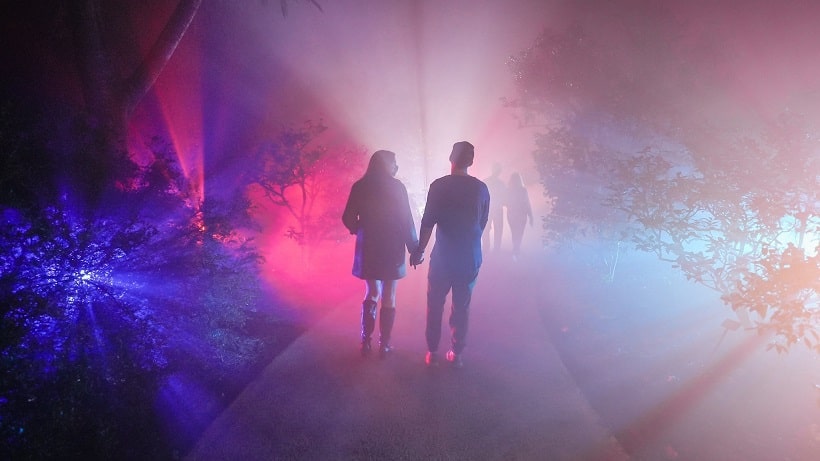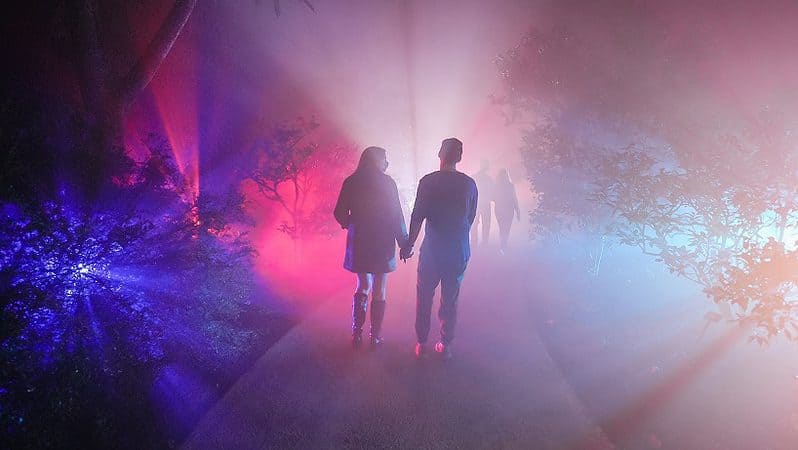 Image Credit: Dazzling Nights – Photo Credit Memoir Agency
The lights are incredible, and you'll hear the best holiday music playing. The event features some beautiful and unique Christmas lights in Florida.
Dickens on Centre Festival in Amelia Island
If you want a great place to see Christmas lights in Florida, come to Amelia Island. It's the perfect place for families to visit during the holiday season. You will enjoy the festive atmosphere of the village. It's a great place for kids to see Santa Claus and hear carols sung by live singers. There are plenty of shops to visit and things to do.
Image Credits: Amelia Island Tourist Development Council (AITDC)
You will find stores filled with handcrafted items. Visit the historic district, and you will see beautifully decorated homes. Many of these houses are decorated with lights. You can also see Christmas lights strung along downtown Fernandina's streets.
Life-sized snow globes, Adults-only Dickens After Dark in real Victorian homes, incredible new vendors, exciting entertainment, and much more await you at Dickens on Centre festival!
Disney's Epcot
Disney's Epcot is the perfect place to view the Christmas lights in Florida. You will see beautiful Christmas trees decorated with real snow. Epcot also offers holiday treats, such as hot chocolate and gingerbread cookies. You can also enjoy seasonal entertainment. In addition to incredible holiday decorations, you can listen to wonderful holiday music. If you want to have fun this holiday season, Epcot is a great place to visit. You can visit Epcot during the holidays to experience the magic of Christmas.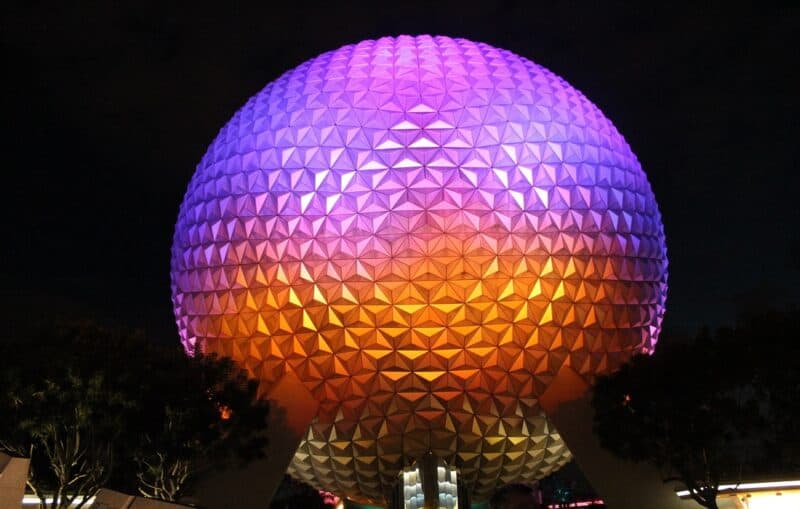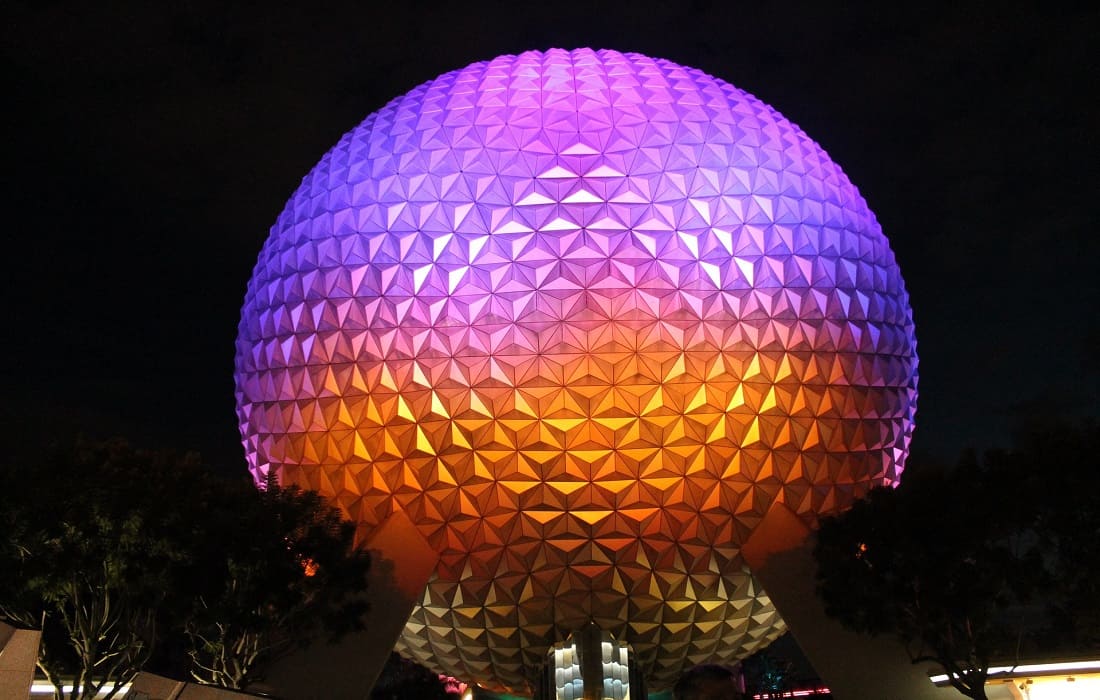 Disney Springs
Christmas Tree Stroll is a great way to see the Christmas lights in Disney Springs. This is a free nighttime walking tour of the resort. The Christmas Tree Stroll starts in Town Center and ends in the Marketplace. You can enjoy the lights, shop, eat, and listen to holiday music.
Edison and Ford Holiday Nights
Christmas lights in South Florida are a sight to behold. It's great to see the Christmas lights in Fort Myers, Florida, at the Edison and Ford Winter Estates. In addition to all the holiday displays, the gardens are beautiful and offer a lovely environment for relaxation. Many people come here to see the displays during the holidays. The gardens are located at 901 South Dixie Highway in Fort Myers, Florida. The gardens do not have an admission fee. You can bring your food and beverages and sit on the lawns with family and friends.
Enchant St. Petersburg
When planning your next vacation to St. Petersburg, Florida, make sure you spend some time at Enchant Christmas. This fantastic holiday attraction has some of the most incredible Christmas lights in the country. A vast light display takes place at night; the best part is that it is free to visit. The lights are bright and beautiful, and they make for a great time during the holidays.
In addition, they also have ice skating through a dazzling forest of Christmas lights. A story-themed Christmas light maze, an epic 100-foot tall Christmas tree, and the Village. The Village is packed with tiny shops of artisan vendors, specialty crafts, and boutiques. Finally, they have Santa's Magic Timepiece gives Santa, and you can help find the missing parts to put it back together in time to get Santa on his way!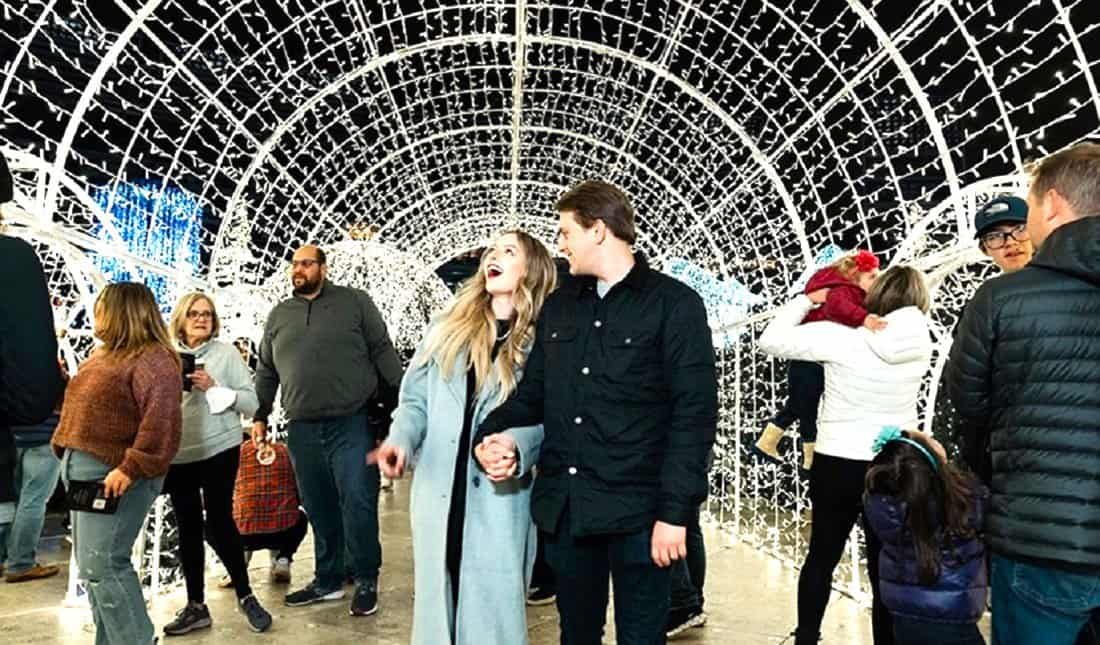 Image Credit: Enchant St. Petersburg
Garden of Lights at Flamingo Gardens
The Garden of Lights at Flamingo Gardens is one of the best places to see Christmas lights in Florida. The winter holiday season is complete, and the lights are starting to come on. Every year the Flamingo Gardens become more popular during the holidays. This is due to the beautiful lighting displays that take place every evening. Guests can enjoy the beautiful lights that are set up around the park. The lighting displays are awe-inspiring. Visitors to the gardens can enjoy watching the lighting displays as they walk around the park.
Holiday Lighted Boat Parade in Tampa
The holiday season in Florida means the city of Tampa has gone all out to decorate its downtown area with Christmas lights. There are several ways to enjoy the holiday season in Tampa, including the Holiday Lighted Boat Parade.
When you arrive in Tampa, you find the boat parade downtown. The boat parade takes place on the Hillsborough River, the largest in Tampa. It is a fun way to see the holiday lights in Florida. The boats in the boat parade are lit up in red, green, yellow, and white. They are a sight to see. You also see the boats traveling along the river, which makes for a great experience.
Johnsonville Night Lights in the Garden
When it comes to finding the best Christmas lights in the South Florida area, it's all about the Johnsonville Night Lights in the garden.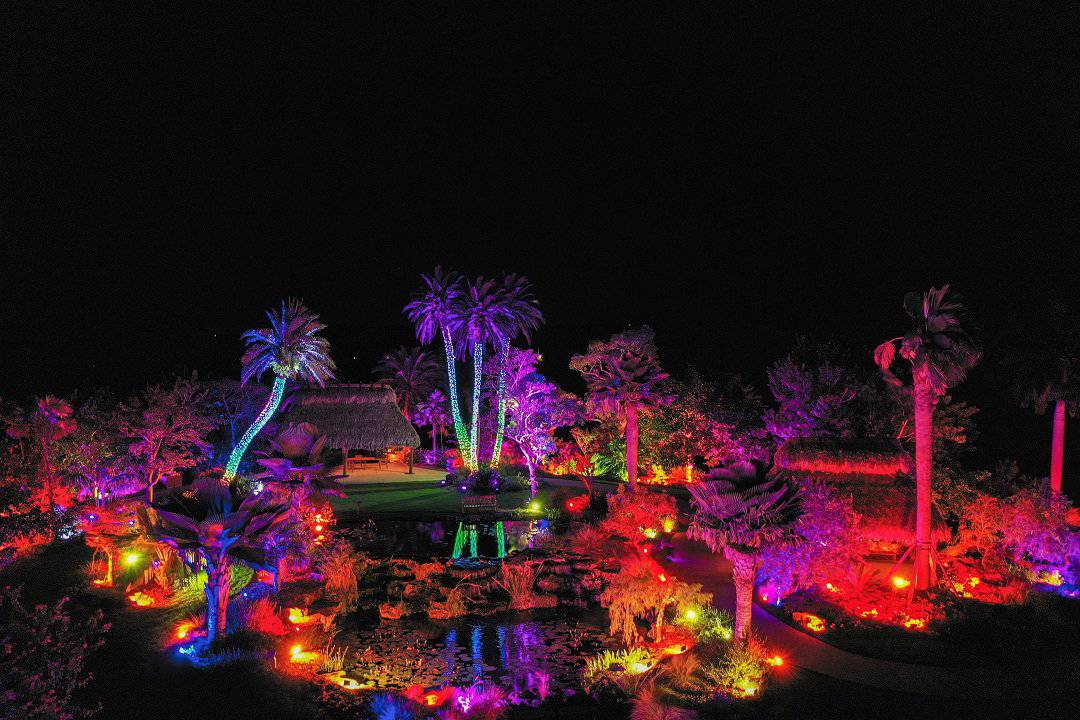 Image Credit: Naples Botanical Garden
This fantastic annual event at Naples Botanical Garden takes place each year during the Christmas season. The garden is illuminated with thousands of Christmas lights. The lights come from the Johnsonville company. You can find these lights displayed in the garden each year. This is a popular event because it allows everyone to view the Christmas lights.
Light Up Eustis
This free party to celebrate the holiday lights of Eustis brings Santa and Mrs. Claus to downtown along with real reindeer, live music, food vendors, and more. 5 to 9 pm. This year there will also be snow and a 75′ snow slide for the kids.
Light Up Mount Dora
You will see the best Christmas displays downtown at Donnelly Park. It has a big fountain with Christmas trees and a skating rink for children and adults. In addition, there are several shops where you can buy Christmas gifts and decorations. There are also lots of restaurants to help you get some food.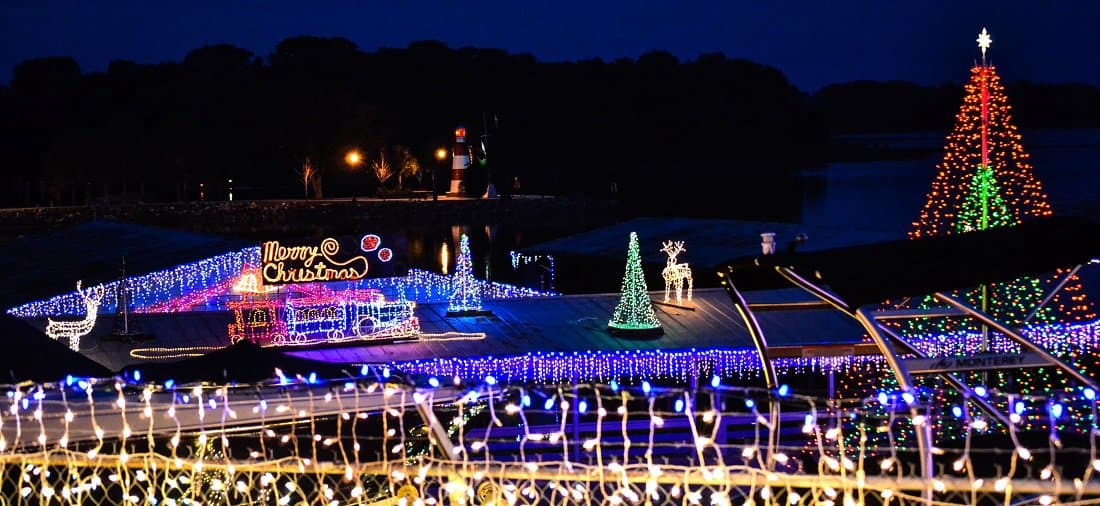 Image Credit: City of Mount Dora
This beautiful park offers free concerts and dancing during the holiday season. Many talented local performers will entertain you. There are so many great places to see Christmas lights in Mount Dora that you should visit them all.
Nights of Lights in St. Augustine
The Nights of Lights is an annual event in Florida, attracting thousands of visitors worldwide. This popular event is held in the historic district of St. Augustine, founded by the Spanish in 1565. In the summer of 1695, it was established as the oldest city in the United States.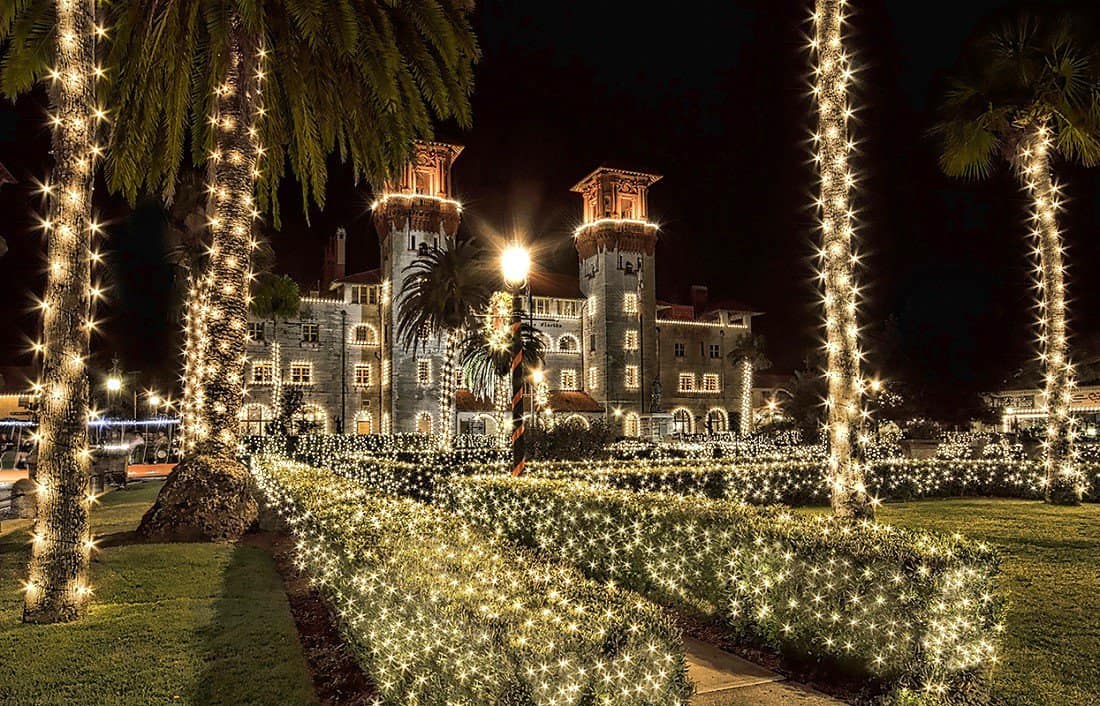 The tradition of Christmas lights in St. Augustine dates back to the 1940s. In 1946, the Lights of St. Augustine began to light up the famous fountain. The City of St. Augustine and the St. Augustine Preservation Society sponsored them. Since then, the Lights of St. Augustine has become a significant attraction for people of all ages.
NightGarden in Miami
One of the best places to see Christmas lights in Miami is at Fairchild Tropical Botanic Garden. At night, it is transformed into a magical fairyland. The botanical garden's beauty is one reason why people visit it. If you want to see beautiful things, you should consider visiting the garden. From December to January, the garden is decorated with twinkling light bulbs created by millions of tiny bulbs. The night garden has unique attractions during Christmas. A giant Christmas tree is lit at night, and millions of little lights surround it. You can enjoy a warm and cozy atmosphere in the garden when you visit it.
Related: Miami to Key West – Florida's Best Road Or Boat Trip!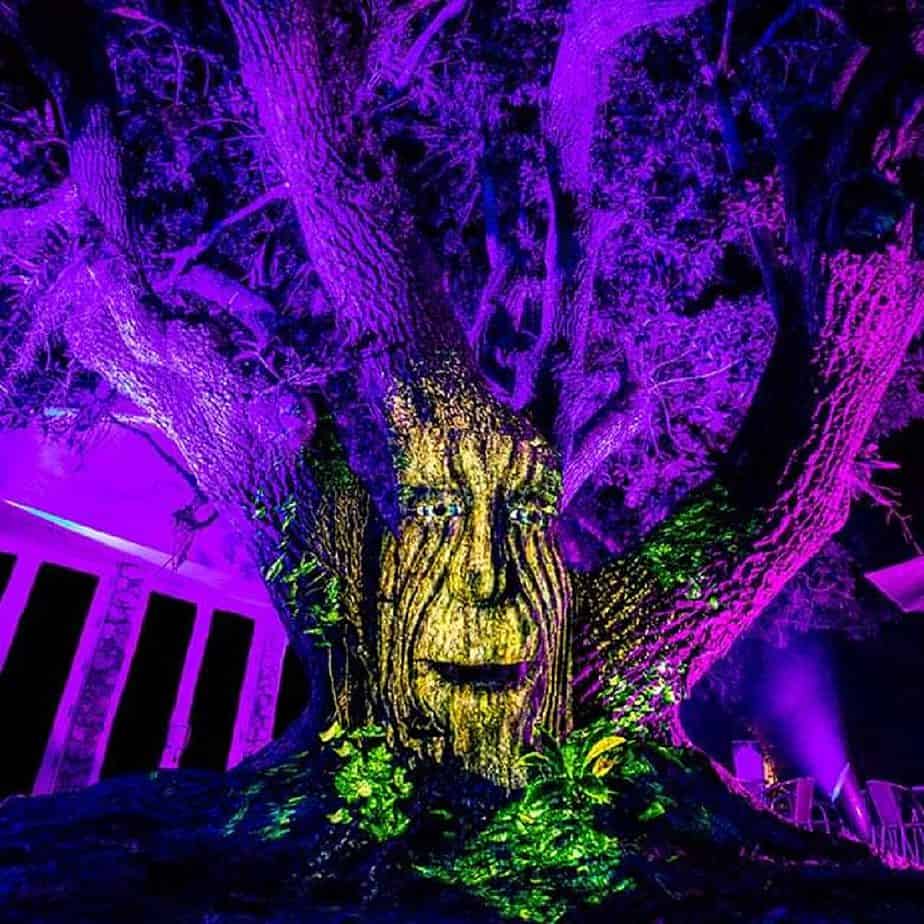 Image Credit: NightGarden
Pensacola Winterfest
The best place to see the Christmas lights in Pensacola is on the Winterfest Express. This new electric train will take you through downtown Pensacola, where you will see some of the most beautiful Christmas lights in the state.
Largo Central Park
Every year, Largo Central Park hosts a free Christmas light display. This event takes place in December and lasts for about a month. In the past, the city of Largo provided Christmas light displays for the public, but now they are doing it for free. This is a fun and unique way to spend the holiday with your family and friends.
Rainbow Springs State Park
A special section in Rainbow Springs State Park is decorated with colorful Christmas lights. This is a great place to visit during the holiday season. You can walk among the lights while listening to live music. If you want to experience Rainbow Springs during Christmas, visiting from November through January is best. The park is open daily during the holiday season. On Mondays and Tuesdays, it is closed. The park is open every day in the summer, so it is best to visit then.
Sanford Holiday Tour of Homes
The annual Holiday Tour of Homes is a holiday walk through some of
Sanford
's most beautifully restored and preserved homes. On the tour route, you won't want to miss the classic car show and holiday market! Over 30 vendors and food trucks will be on hand at the market, which is open to the public.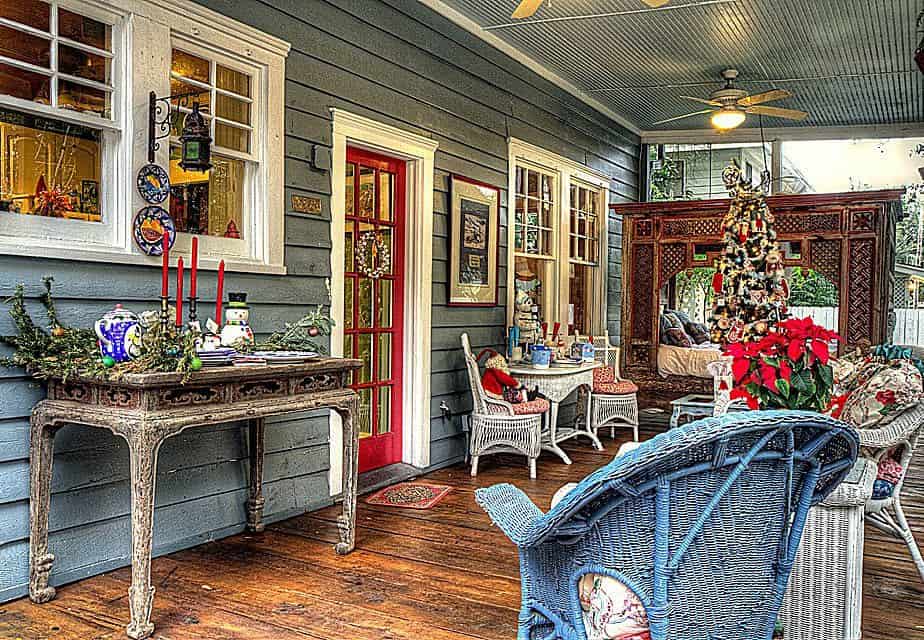 Image Credit:

Sanford Historic Trust
Sanford Parade Of Lights
Historic downtown Sanford welcomes back a favorite annual tradition! Due to its nighttime location and illuminated floats, this parade uniquely appeals. After the parade, head to one of the breweries for a cup of warm Christmas cheer or grab an early dinner at one of the beautiful restaurants.
Santa's Enchanted Forest in Miami
We can't continue our discussion without talking about Santa's Enchanted Forest in Miami! This is a park with everything for the whole family and one of the best places to see Christmas lights in Miami. If you love Christmas lights, you can't miss them. There are many different things to do, and Santa's Enchanted Forest is one of the best places to see Christmas lights in Miami! This is the world's largest Christmas theme park and one of the most popular things to do in Miami at Christmastime. There is no shortage of Christmas lights, from Santa's Sky High Wheel to interactive holiday displays.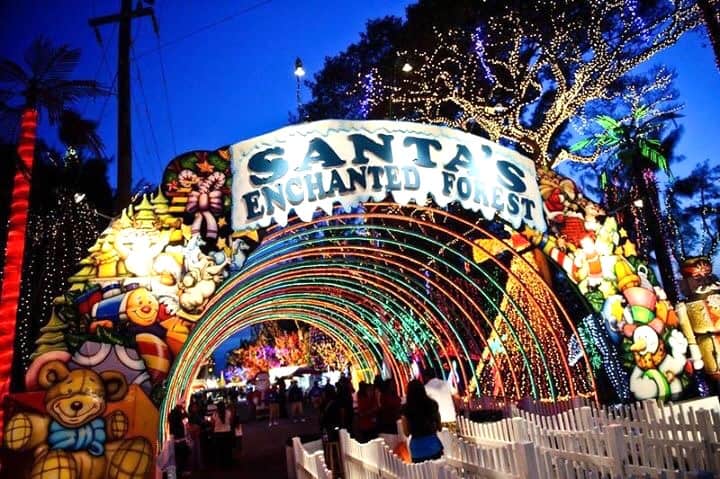 Stephen Foster Folk Culture Center
Stephen Foster Folk Culture Center is fun to visit during the holidays. It is located in downtown St. Petersburg, Florida. It has beautiful Christmas lights and decorations. The Festival of Lights is an annual event that takes place there. The event celebrates the winter season with its beautiful lights. This event is popular with children, families, and couples.
Stetson Mansion Christmas Spectacular
In recent years, The Stetson Mansion has been one of the most popular places to see Christmas lights in Florida. The house is located in Palm Beach Gardens, Florida. There are over 7,000 twinkling white lights in the Stetson Mansion. Visitors can enjoy Christmas carols throughout the house and see the Christmas scenes and displays. The property also has several themed rooms. These include a Gingerbread House, a Candy Cane Room, a Snowman Room, and a Gingerbread Village.
The Lights on Jeater Bend
Celebration, Florida's Lights on Jeater Bend, is one of the best holiday experiences you can have. Halloween and Christmas decorations are generally beautiful on the homes here. Through the holiday season, this unique Christmas light display runs every night. Even though this street is only in a residential neighborhood during this annual event, it does take on the feel of a full-fledged Christmas town.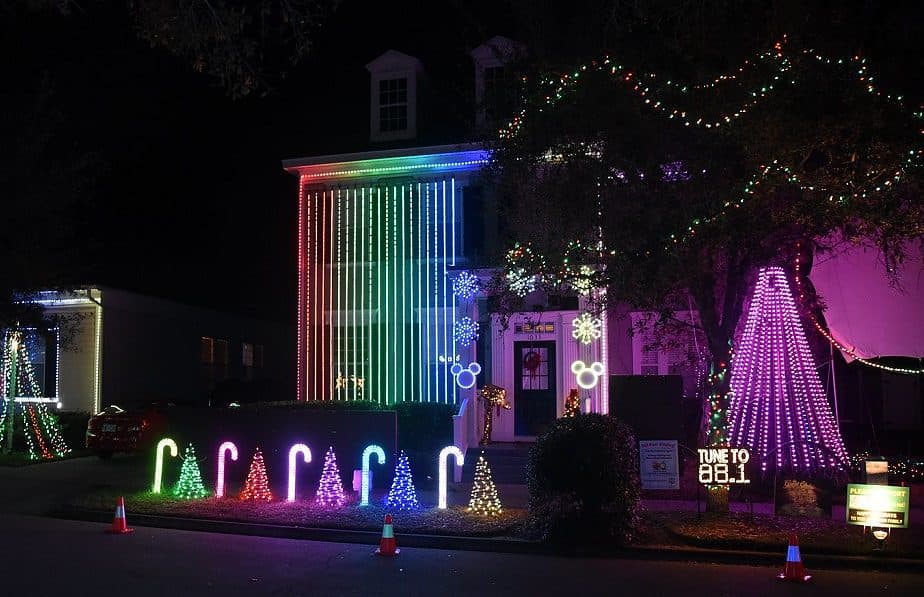 There aren't many better light displays in Florida than this! This event is made special every year by the homeowners here. Music, fire, water, and projections are synchronized with the lights. This gives the event a distinctive Florida magic flavor and flair.
Fun is also had by dressing up as characters, holiday movies on display, plus falling snow flurries.
The best way to view the lights is to park on Celebration Avenue and walk up and down from there.
Tradewinds Park Holiday Fantasy of Lights
Tradewinds Park Holiday Fantasy Lights is a great place to see Christmas lights in Florida. It is located in Coconut Creek, Florida. You can drive through the park's holiday displays, which are covered in Christmas lights. The exhibits change yearly. You will see everything from Santa Claus to gingerbread houses and a pirate ship. You can also see an illuminated tree. To see the most Christmas lights in Florida, you should visit Tradewinds Park Holiday Fantasy Lights. It is one of the best places to see Christmas lights in Florida.
Closing Thoughts
The Christmas Lights in Florida are so bright and colorful that its hair's to fall in love with them. They are also the perfect holiday decoration for a Florida home. In addition to the lights, you can also buy wreaths, garlands, and other holiday decorations at the Christmas Light Show.
I hope you've loved this post on the Christmas Lights in Florida. We would love to hear your thoughts and comments about the article.
Looking for more seasonal things to do in Florida? Start here:
We participate in the Amazon Services LLC Associates Program, an affiliate advertising program designed to provide a means for us to earn fees by linking to Amazon.com and affiliated sites.
Brit On The Move™ Travel Resources
Ready to book your next trip? Use these resources that work:
Need more help planning your trip? Check out our Resources Page, highlighting the great companies we trust when traveling.