Travel in Florida is at its most popular during the summer. Summer tends to be the most popular time to visit. Children are out of school, the weather is hot which is great for the beaches and it's tradition for many to take a summer holiday. Out of all the states to visit in the United States, Florida seems to be on the top of the list for summer vacation. Located in the southeastern part of the country with coastlines on the Atlantic Ocean and the Gulf of Mexico, the Sunshine State is home to plenty of surprises.
From the incredible weather all year round and the beautiful sandy beaches to the delicious seafood and plenty of day trip adventures, Florida can be a remarkable experience for people of all ages.
To help you make the most of your travel in Florida, here are ten tips for the Sunshine State.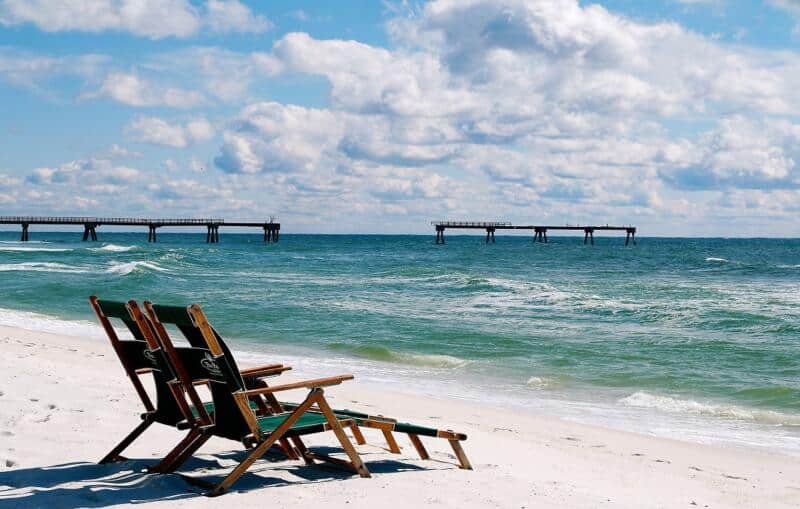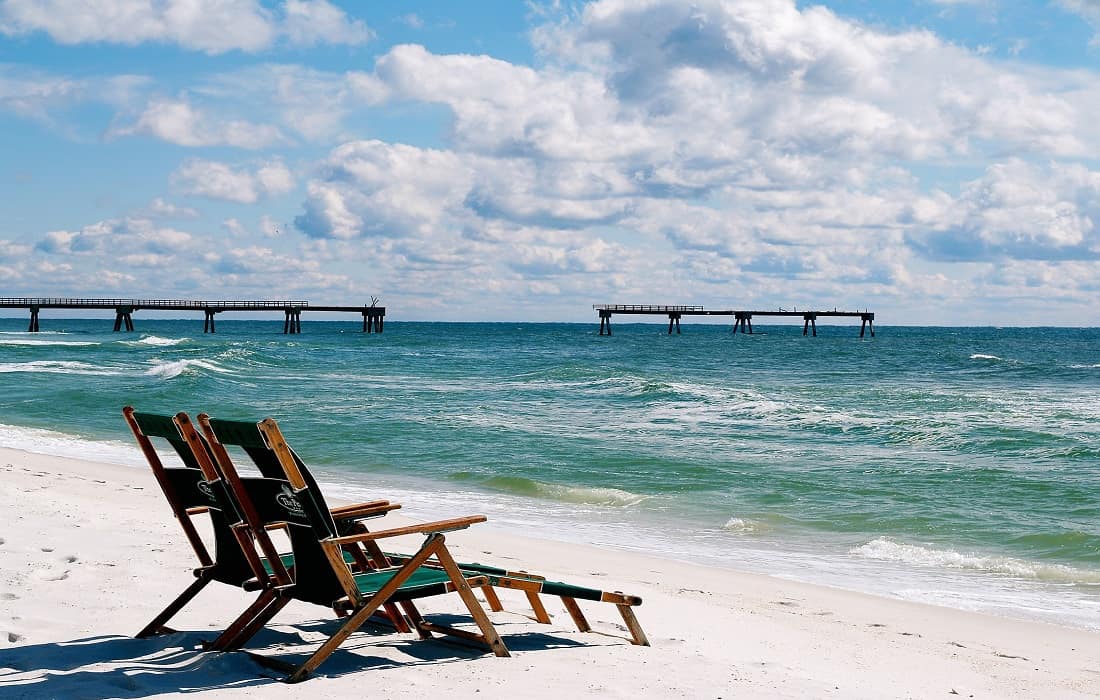 This post may contain affiliate links. Please read our disclosure and privacy policy for more information.
Florida Weather
Long before you head to Florida you need to be aware of the weather. Some will tell you that Florida has two seasons – hot and hotter. This is not off-base but we do actually have four seasons:
Winter December 1 to February 28
Spring March 1 to May 31
Autumn September 1 to November 30
Summer June 1 to August 31
The summer is an excellent choice if you love the heat and are willing to take your chance with the rain. Summer in Florida is the "rainy season". However, know this about the summer:
The average temperature is anywhere from 70 degrees to 80 degrees. Add in an extra 10 degrees for humidity.
It rains daily, without fail. Typically it does not rain until the late afternoon, around about 4 pm, but it can be earlier.
Hurricane Season In Florida
Florida has a long and unpredictable hurricane season. The season runs from June 1 to November 30 which crosses through the summer season. Sadly, there's no way to predict what lies ahead. IF you plan to travel in Florida during the summer season make sure you take out insurance for everything and be sure it covers the weather!
Pack For Florida's Summer Weather
The summer heat can be unbearable at times. It is hot and balmy. Florida's heat is not dry heat, it's wet. So, you should pack lots of comfortable t-shirts, shorts, and sundresses made out of breathable fabrics to keep you cool. Despite the heat, it is advised that you also pack a lightweight jacket or cardigan for evenings as the afternoon tropical showers can make the weather a bit chilly at night. You also should also bring an umbrella, bug spray, sunscreen, and comfy walking shoes.
As mentioned above June through November is considered Hurricane Season. The weather can be less favorable, and you may experience a hurricane and the weather it creates.
Essentials You Need If You Travel In Florida During The Summer
Find The Best Accommodation
Florida has an overwhelming amount of accommodations making it difficult for travelers to choose where to stay while vacationing. Florida has every type of accommodation. Five-star luxury hotels, beach resorts, apartments, cabins, and plenty more. Florida is home to eleven State Parks and many others and almost all offer camping or rentals. There is something within everyone's budget range and style in Florida.
If you are looking for something in between a luxury resort and camping renting studio apartments in Miami or in another metropolitan city in Florida is a great, affordable option. An apartment rental caters to both families and friends. All you have to do is decide on where you want to stay then make your reservations ahead of time.
However, for the more adventurous travelers consider camping or glamping in one of Florida's State Parks or nature reserves.
Visit Florida's Best Beaches
Thanks to the state's thousands of miles of coastline, there are plenty of stunning beaches with soft sand and crystal clear water, just a short drive away. Among travelers, some of the most popular ones include Vero Beach, Siesta Beach, Sanibel Island, Daytona Beach, Santa Rosa Beach, South Beach, Fort Lauderdale Beach, Clearwater Beach, and Cocoa Beach.
For example, Fort Lauderdale Beach is a family-friendly destination with a vibrant arts scene and cultural attractions. There are many amazing things to see, from the mansions and yachts dotting Millionaires Row to the Fort Lauderdale Riverwalk and the Arts and Entertainment District.
On the other hand, South Beach is perfect for those looking for eccentric liveliness, plenty of water activities, and sun-kissed beaches. This is Miami's nightlife hotspot with an energetic vibe that mainly attracts the youth. Still, it is as worthy of a stay by anyone due to the numerous activities it offers.
Go to Disney World
Everyone should visit Dinsey World at least once in their lives. It's one of Florida's top attractions and it's on many people's bucket lists. Disney World has four theme parks – Magic Kingdom, Disney's Hollywood Studios, Epcot, and Disney's Animal Kingdom. These theme parks welcome up to 60 million visitors each year. Disney World is located just south of Orlando.
The Magic Kingdom is Disney's original theme park and home to Cinderellas castle – the iconic castle that everyone associates with Disney. You will also see the Haunted Mansion, "It's a small world," Seven Dwarfs Mine Train, and Space Mountain at The Magic Kingdom. Disney World also has two water parks Typhoon Lagoon and Blizzard Beach.
If you are a Star Wars fan, head to Disney's Hollywood Studios. The new Star Wars: Galaxy's Edge attraction lets guests enter the remote planet of Batuu and is packed with immersive attractions.
Stay On-Site At Disney World
Besides the parks' timeless attractions, if travel in Florida, you can also stay in one of the on-property resorts. Staying at a Disney World Resort is as exciting as visiting the parks. And, while expensive you can save 50% off by renting Disney Vacation Club Points from someone who would not use them for that year. You DO NOT need to be an owner of the Disney Vacation Club or a Davids Vacation Club Rentals member to take advantage of this strategy!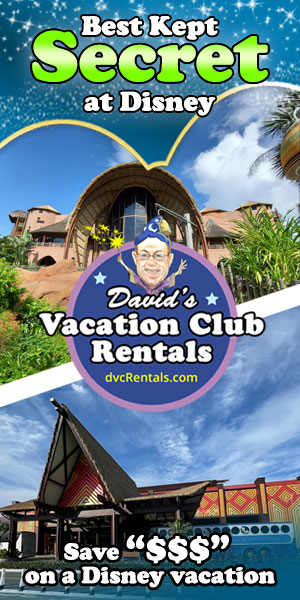 Staying onsite has many advantages. Here are the FREE benefits:
Early Access to FastPass+ Planning. Get access to reserve select shows and attractions up to 60 days before arrival.
Extra Magic Hours! Spend extra time at one of the theme parks each day—valid theme park admission and Resort ID required.
Complimentary MagicBands for everyone traveling in your group. This is a neat perk as you get to customize the bands and add your names to them. A generic MagicBand purchased on-site costs $14.99 per person.
Leave the Park, Not the Magic. Staying at a Walt Disney World Resort hotel puts you in the middle of the magic, close to the theme parks, water parks, and shopping at Disney Springs.
Complimentary Transportation

Disney's Magical Express Service transports you and your party between Orlando International Airport and your Disney Resort hotel via motorcoach, including luggage delivery service.
Use motor coach, ferryboat, and monorail services to navigate through Walt Disney World Resorts or parks.

Complimentary Parking at the resort and the parks. Parking at parks costs $25 a day.
Check Out Kennedy Space Center
Besides Disney World, the Kennedy Space Center is another popular tourist attraction you should include in your plan. It is located on a massive piece of land, considered a wildlife sanctuary situated only two hours south of Jacksonville and one hour east of Orlando. Commonly known as Space Coast, the Space Center is the best place where you can learn all about the space program and see where rockets get launched.
The complex features dozens of mind-blowing space-related attractions, including seeing NASA's genuine launch pads and official facilities, exploring massive rockets, tasting astronaut food, experiencing a simulated launch, and even flying to Mars.
If you get tired from your space tour, you can always take a break and dine in one of the restaurants at Kennedy Space Center and meet an astronaut who will tell you firsthand about their career and space missions.
Visit The Florida Keys
If you want to get a real taste of tropical Florida, you should consider taking a trip to the Florida Keys. You can either fly out from one of the state's airports or drive to the islands via the Florida Keys Overseas Highway, where you will see some of the most varied and beautiful scenery in the Sunshine State.
While vacationing in the Keys, explore the Dry Tortuga National Park. This park comprises seven small islands surrounding Key West, all of which feature breathtaking beaches with powdery white sand and crystal blue waters. They are the perfect place to spend an afternoon on the beach and watch the sunset.
Or, if you are looking for an adventure on the water through the Florida Keys, you can choose between a wide variety of water sports to make the most of your stay.
Eat Florida's Food Specialties
Believe it or not, Florida is also famous for its delicious food specialties specifically seafood which is mostly locally sourced. Stone Crab, Blue Crab, Shrimp, Gator, and oysters appear on many menus.
My personal favorite is blue crab!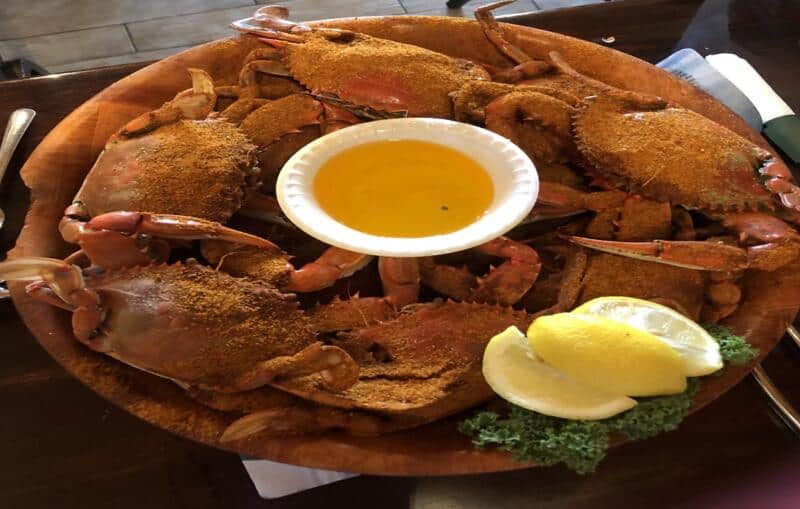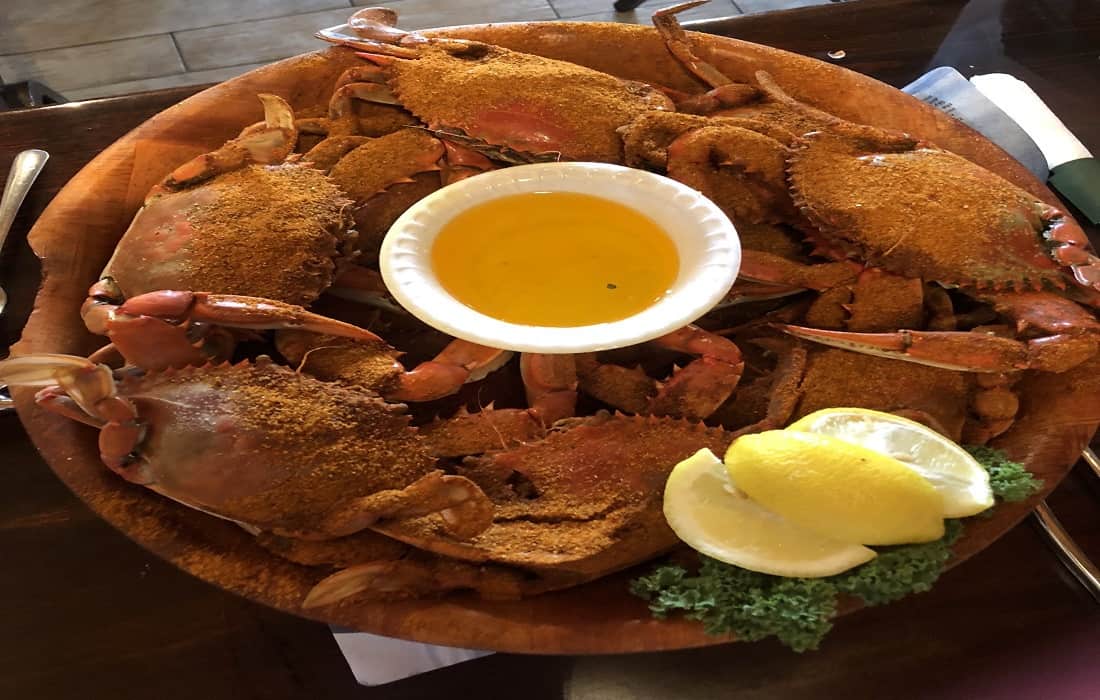 Then there is key lime pie! A visit will not be complete without having a proper slice of the state's most popular key lime pie. This dessert is a rich blend of condensed milk, egg yolks, and fresh key limes, nestled in a graham cracker crust and topped with whipped cream or meringue. Its most authentic version can be found in Key West, although restaurants throughout the state serve their takes on this signature dessert.
Another food specialty you must try while visiting the Sunshine State is fried gator bites. This is fresh alligator meat often soaked in cornmeal and then fried and served in small bites known as fritters. It is a popular exotic dish throughout the state which surprisingly tastes similar to chicken.
Experience Miami's Nightlife
Miami is often called the Magic City due to its thriving nightlife. Every neighborhood in the city enjoys its own nightlife identity with all kinds of clubs and bars which suit every style. Whether you want to go clubbing in South Beach, go salsa dancing in Little Havana or relax in an artsy cocktail bar in Wynwood, there is something for everyone here.
Some of the most popular nightclubs in the city are E11EVEN, which offers round-the-clock service, LIV where you'd find most celebrities, Space and Story.
There are other things to do at night while in Miami for those who want to escape the party scenes but are still looking to have fun. For example, you can catch live jazz performances in the city's most famous venue, Ball & Chain, or go for a night walk along Miami's most colorfully decorated art district in Wynwood.
Camp When You Travel In Florida
If you are feeling more adventurous, you can also choose to camp out on one of Florida's best campgrounds. Some camping spots which are a favorite among travelers include Long Key State Park, Rainbow Springs State Park, Bahia Honda State Park, and Blackwater River State Park.
For example, Rainbow Springs is most famous for its lush, mossy hammocks and artificial waterfalls. The crystal clear, blue waters are a sight, serving as an ideal place to cool off after exploring the grounds. The campsite features almost all essential amenities, including a campground store, restrooms, a laundry facility, and a playground.
However, if you don't have much time to squeeze in a full-on camping trip, you should head to Bahia Honda. This beachside park is perfect for all kinds of water activities and features furnished cabins for which you must make reservations in advance.
Safety In Florida
Although your safety might be the last thing on your mind when planning a trip to Florida, it is still a good idea to prepare well before you head out to make your stay worry-free.
The most important thing you need to be careful about is keeping your items in check. It is easy to get lost in the sights, sounds, and flavors of the Sunshine State, so you must stay alert, especially in crowded areas. Your best option is to wear a crossbody or belt bag to keep your belongings close to you.
If you choose to live in an Airbnb or to rent an apartment, make sure that the place you will stay is in a good area and has a good home security system.
Also, if you are using public transport, make sure you opt for authorized ground transportation services, official taxis, or ride-sharing apps like Uber. If you choose to ride-share, check to see if the license plate on the car matches the one on the app and ask who they are picking up before you hop in.
Closing Thoughts
If you haven't decided where to go for your summer vacation this year, you should consider Florida as your top destination. The Sunshine State is home to some of the world's most stunning beaches, beautiful landmarks, delicious food, and various activities that can simply enhance your traveling experience.
If you need help booking your trip to Florida, be sure to read our post and follow the tips mentioned here so you can make the most of your time on your holiday.
Looking for more posts on things to do in Florida? Start here:
We participate in the Amazon Services LLC Associates Program, an affiliate advertising program designed to provide a means for us to earn fees by linking to Amazon.com and affiliated sites.
Brit On The Move™ Travel Resources
Ready to book your next trip? Use these resources that work:
Need more help planning your trip? Check out our Resources Page, highlighting the great companies we trust when traveling.